Rob Price
Gutbrain Records
rob + gutbrain.com = email
---
Nat Karmichael has added another book to his campaign to preserve Australian comics history with Emile Mercier: A Collection of Cartoons.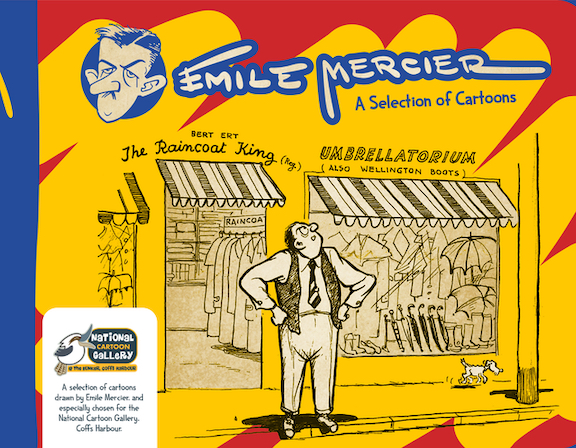 Mercier was a born in New Caledonia but lived in Sydney most of his life, writing and drawing gag cartoons for The Sun.
His career there spanned the years from 1949 and 1968, and the humor is of its time, droll and mischievous.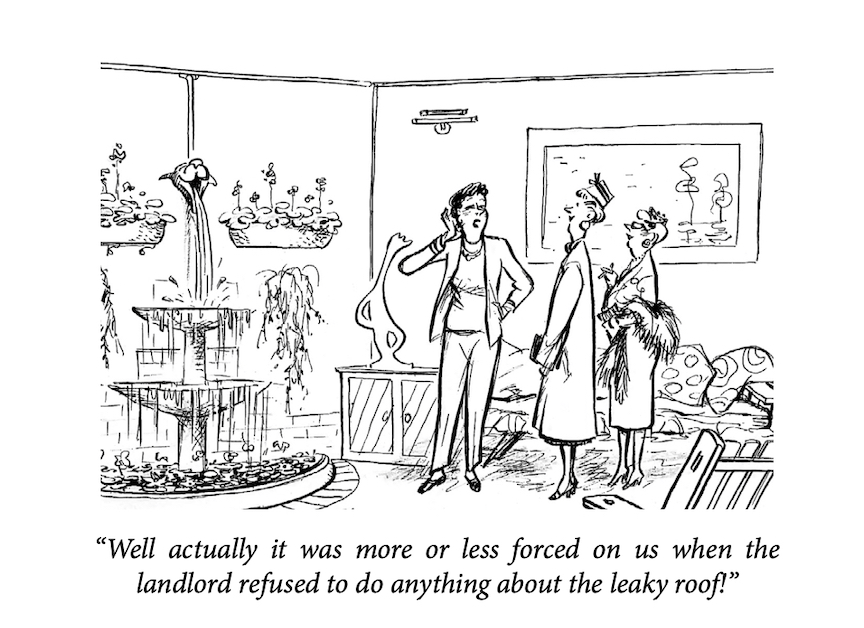 The book is handsomely produced, juxtaposing Mercier's original art with the printed product, as well as including numerous photographs an biographical information.
It's been thrill to learn about Australian comic strip history, thanks to Karmichael's efforts. I hope there will be more soon!
---
2022 June 27 • Monday
The 732nd Soundtrack of the Week is from this La-La Land Records box set of scores for Paramount Westerns. This one is Alfred Newman's music for Nevada Smith, also the title of the collection.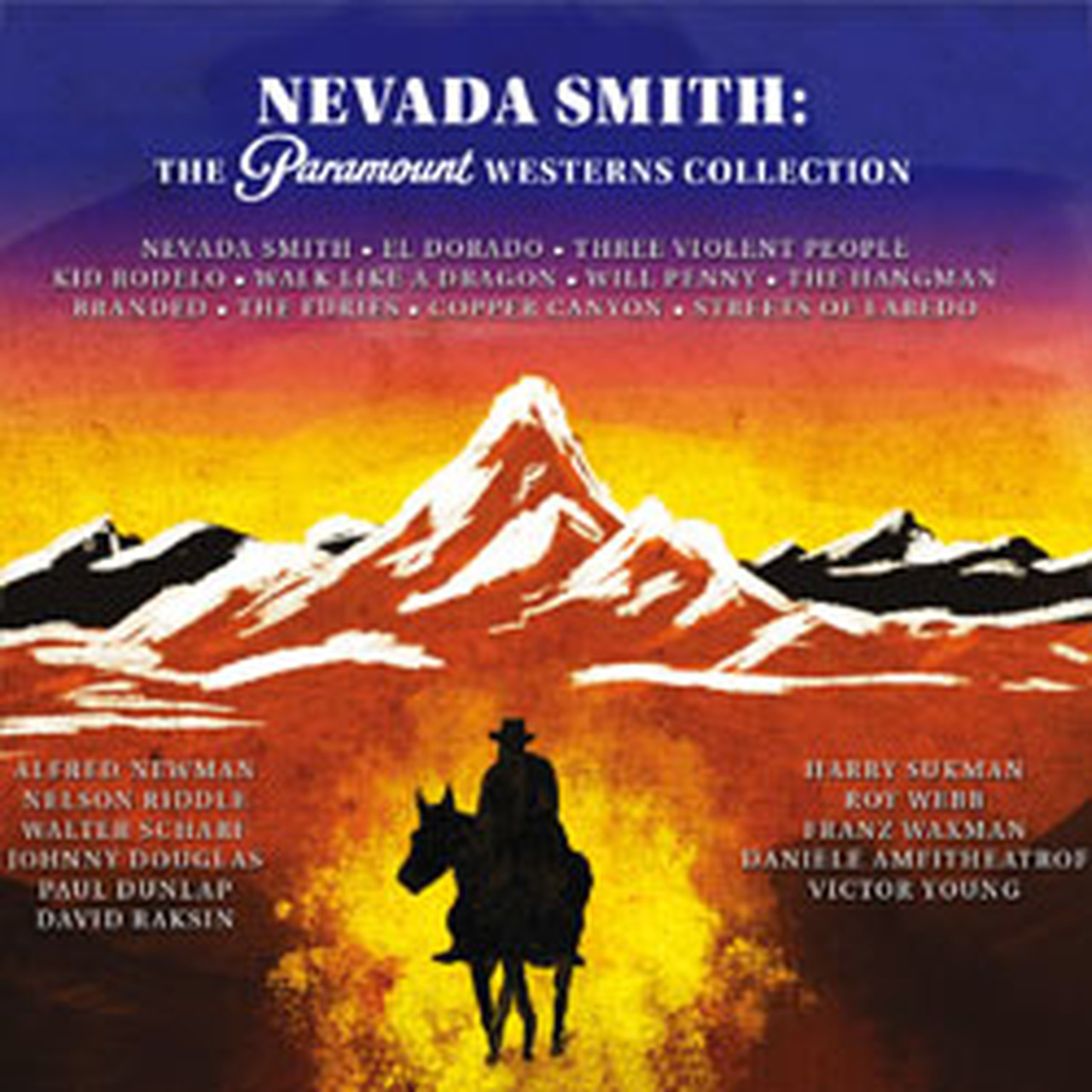 The main title starts off with the full orchestra belting out the main theme with a lot of power. Melodically it's a stirring Americana piece with an unexpected blue note in it, startling a comparison to, perhaps, Gershwin or an old spiritual or perhaps the sadness that always seems to be found in beauty.

Horns and percussion get "The Desperadoes Ride Off/Death and Desolation" off to a rousing and high energy start, with swings swirling in to join them. After alternating with some quieter passages, the strings thicken and make way for a melancholy oboe feature. At the end the main title theme is revisited, but in a slower, more meditative arrangement. "The Lonely Prairie" has an Aaron Copland feel to it mixed with some very evocative writing for the strings that conveys powerfully a sense of being alone in nature's vastness. Flute and percussion work together at the end to heighten the sense of solitude. Solo guitar plucks and strums the main theme for "The Next Morning" before it's picked up by accordion with gentle support from the strings. Percussion and pensive writing for the orchestra end this cue on a note of uneasiness. The main theme is giving a subdued but uplifting run through at the beginning of "Going West" but the piece concludes with a high-energy blast of "let's get moving" music and a compelling sense of forward momentum.

Then we get to a different theme, presumably a love theme for "Neesa, the Indian Girl". Newman has reeds and winds playing in a modality that was probably meant to suggest Native American culture to audiences of the time. Once the strings come in it becomes a beautiful and lush romantic piece.

Then it's a swinging jazz band for "Mississippi River Boat" with banjo, clarinet, trumpet, bass and drums playing cheerfully.

Guitar and flute start off "Pilar, the Cajun Girl/Second Meeting" very quietly and delicately. Accordion and percussion come in, then strings, adding heft to the melodic shape, already quite lovely. The second half scales it back to more or less how it started.

"Escape Through the Swamp" is different from the other cues, being long and almost entirely defined by apprehension and danger, with Newman coaxing some unsettling sounds out of the orchestra and balancing them with more consonant writing for the strings that gets near Bernard Herrmann territory. Pure sadness comed next with the restrained and lonely "Pilar's Death and Burial", which touches on the main theme while also creating an atmosphere of grief and loss. The next cue is the total opposite. "Eldorado County/Eldorado Frontier" is a perky, upbeat, "hittin' the trail" number complete with a suggestion of horse hooves from the percussion and some sprightly banjo playing. Flutes, reeds and guitars combine for some arresting sonic environments in the beginning of "The Mission Chapel/The Padre's Parable" before other instruments come in and place the listener on familiar ground. There's a nice clarinet passage and typically gorgeous writing for strings that sounds like it could have been foundational for John Barry. Then there's a minute and a half of action, tension and danger for "Fitch's Hideout", remarkably spare and subtle but as vivid as a rattlesnake. "The Gold Wagon" is another energetic forward momentum piece, but this time with a martial flavor to it. And then there's the end title, presented first by guitar and accordion before the rest of the orchestra comes crashing in for real send-off.
---
2022 June 24 • Friday
Once again we've added a very specific reference book to the Gutbrain bookshelves.
This time we're pleased to welcome Peter Bosch's American TV Comic Books (1940s–1980s): From the Small Screen to the Printed Page.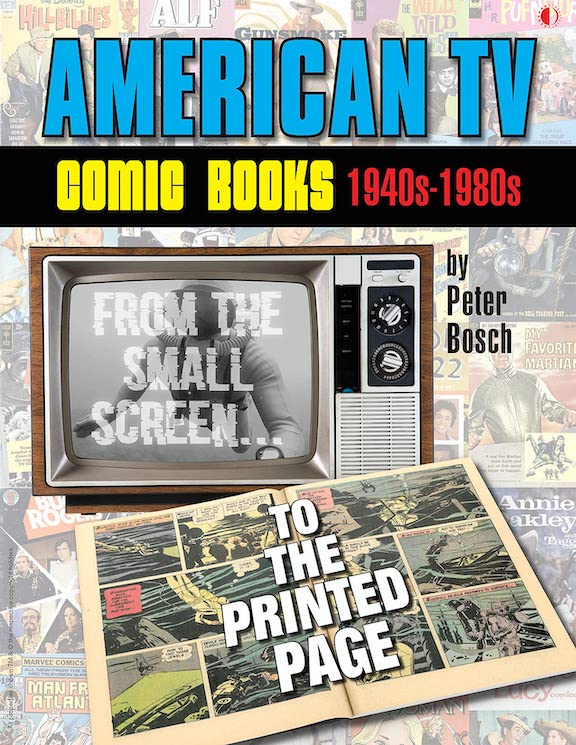 The title clearly indicates the contents. But there are a lot more comic book adaptations of American television programs than we expected, and quite a bit of variety.
Bosch limited himself to just these decadces of American television because any expansion of the parameters would have required multiple books. Which we hope are forthcoming!
It's fascinating to learn about so many shows, particularly older ones that were new to us. And that Bosch was able to learn about and track down so many of the comic book adaptations, some being extremely obscure, is just incredible.
The book is lavishly illustrated, well written and informative, including features on specific comic book artists.
Who knew that we would be running into Norman Foster here?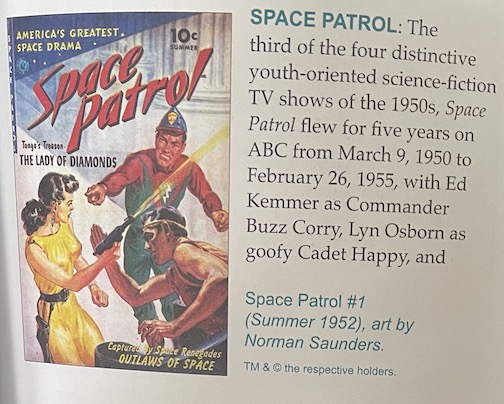 It's a fantastic volume, made even better by our purchasing it at St. Mark's Comics's new location in Industry City.
---
2022 June 22 • Wednesday
Here's another great tennis autobiography, very different from Althea Gibson's but a real page-turner and also inspiring: Andre Agassi's Open.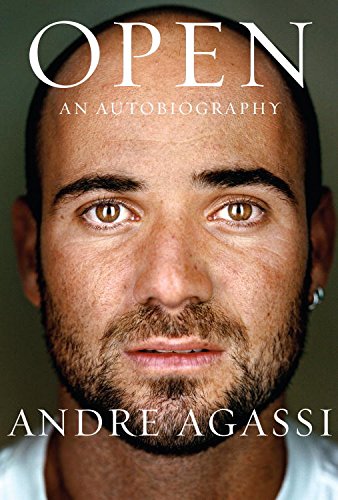 I wasn't paying much attention to tennis during Agassi's run, although I knew who he was and definitely caught some of bits of him in action here and there. And I was aware of the Sampras/Agassi rivalry.
Agassi was tabloid fodder for much of his professional sports career. He was a flamboyant, unpredictable and often disruptive player, as likely to lose a match by shouting obscenities and thus getting disqualified as he was to win by virtue of a powerful and relentless baseline game.
Dating and marrying Brooke Shields took his fame and infamy up a notch and just reading about the mechanics of their lives is tiring and somewhat dispiriting. There are highs but the lows are more frequent or more affecting.
Before all that, there's Agassi's hellish childhood, which is like something out of Dickens if Dickens had ever come up with the idea of children being forced to toil in tennis factories.
Agassi says often that he's always hated tennis and after reading about his experiences being forced to do nothing but tennis, always training and competing and suffering almost constant psychological and emotional distress and sometimes abuse, it's easy to believe him.
Lucky for all of us, we know there's a happy ending. The book starts with "The End", with Agassi wrapping up his career, happily married to Steffi Graf, whose life has been in some ways similar.
The tormented tennis prodigy has a hard-won inner peace, a family part blood relatives and part crafted by life and much to live for.
It's not just the events described that make the book so riveting, it's the quality of the writing as well: frequently touching, often funny, always absorbing.
The first line is "I open my eyes and don't know where I am or who I am".
---
2022 June 20 • Monday
The 731st Soundtrack of the Week is the "Original TV Special Sound Track" for The Trini Lopez Show!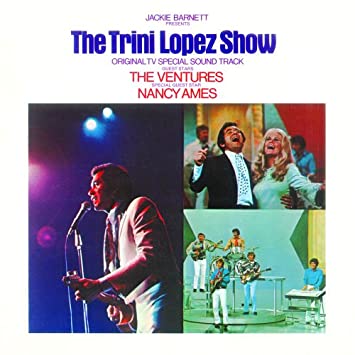 The first side of this record finds Lopez in the company of singer Nancy Ames and none other than The Ventures!

All of them join forces on the first song, "Twenty-Five Miles", which has horn arrangements that quote "Sunshine of Your Love". Then Trini Lopez does "Games People Play", a bouncy song thatm, like everything he did, is thoroughly enjoyable thanks to his fantastic guitar playing and lovely voice. After that The Ventures take the stage for "Hawaii Five-0". This is on YouTube and it's quite clear that they're not actually playing. The instruments aren't plugged into anything and the drummer is pretending that the floor tom is a timpani while the Farfisa player pretends that his keyboard is an entire orchestra. Lopez joins The Ventures after that for a cover of "Light My Fire". It's pretty good! They give it a lighter, breezier energy than the original and Lopez finds ways to make it slightly more melodics. The Ventures might actually be playing for this. Certainly it's Lopez singing and the instrumentation matches what's on stage.

A song called "Reza" follows, a duet for Lopez and Ames. This is a fantastic Latin jazzy kind of number that reallys wings and is very pretty with some nice harmonic directions in it.

Simon & Garfunkel's "Mrs. Robinson" gets the same Ames/Lopez duet treatment and it's a really cool rendition. It combines some simmering garage rock energy with soulful and affecting vocal harmonies that bring just a touch of pathos to the lyrics.

You could never escape this kind of thing, however, without hearing a song that you've already heard way too many times. Lopez and Ames and The Ventures team up for the obligatory "Land of a Thousand Dances". It's not bad but this is the least interesting segment here.

The B Side is all Lopez. First there's a whale of a medley: "Gotta Travel On/ Down by the Riverside/Marianne/Heart of My Heart/Goody Goody/Oh, Lonesome Me/This Land Is Your Land/Bye Bye Blackbird/If I Had a Hammer". Whew!

They're all done with the same up tempo groove, driven by Lopez's strong rhythm playing and soaring vocals. He's backed up mostly by just bass and drums and the audience's hand-clapping, though some horns do come in eventually for the big finish.

And then he closes with "La Golondrina", which is just a short snippet of a slow number while Lopez gives some closing remarks, then a blast of energy from the horns,
---
2022 June 17 • Friday
Even though Althea Gibson is the soul of modesty in her autobiography, I Always Wanted To Be Somebody, much more inclined to be self-effacing than self-aggrandizing and throwing to primary sources more often than not when her praises need to be sung, this reader did get the impression that she was good at everything she tried.
All the sports, of course, from boxing to basketball to tennis to whatever else. But she also played the saxophone in jazz bands and was quite serious about singing.
Apparently she had dreams of following in Ella Fitzgerald's footsteps and demanded, when encountering resistance, that she study singing simultaneously with her tennis career.
She sang on The Ed Sullivan Show a couple of times and, in 1958, cut a record of jazz standards with a small combo.
Althea Gibson Sings is the harmonious result.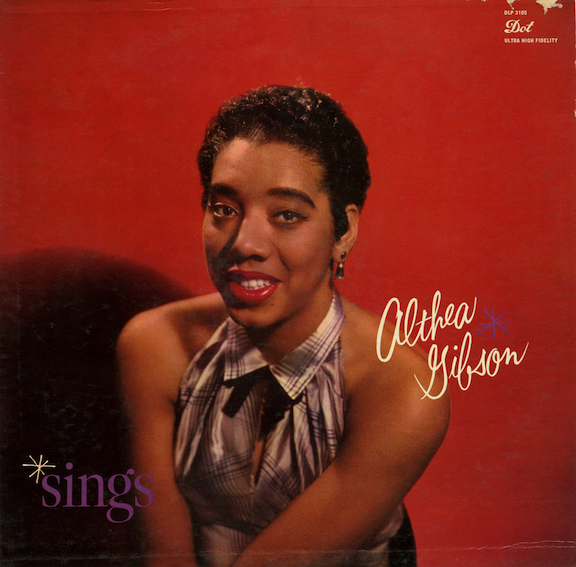 Twelve tunes, all pretty much mid tempo, nice playing from the musicians, especially the guitarist and Gibson's voice has a honeyed and relaxed quality, positioned somewhere in between, say, Lena Horne and Nina Simone perhaps.
If you like these kinds of albums, 1950s recordings of jazz tunes done in a deceptively simple style, then you should like this one as well!
---
2022 June 15 • Wednesday
It's not unusual for famous athletes to write autobiographies but I doubt that they are often as charming, witty and understated as Althea Gibson's I Always Wanted To Be Somebody.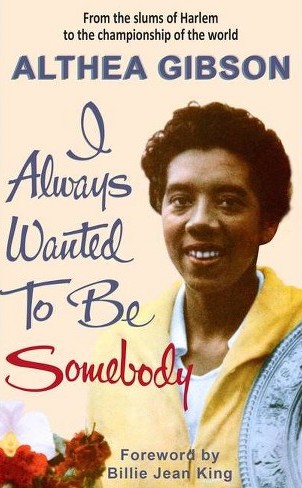 While South Carolina was her birthplace (or so "They tell me", she writes with typical deft reserve), Gibson grew up kind of rough in Harlem. She skipped school a lot and got into a lot of fights. She and her own father punched each other enough for them to consider a professional career as a boxer for her.
She loved basketball and several other sports, was good at all of them, and was also loved movies and music. She played the saxophone and was a good enough singer to make a record and appear on The Ed Sullivan Show a couple of times.
Discovering tennis was life-changing, of course, and set her on a very adventurous path. That it was also a hard, lonely, demanding and often rocky journey is quite clear, although Gibson treats everything with a lightness of touch and not even momentarily indulges in self-pity of any kind.
As you might expect, there's a fair amount of primary source reporting about racism, segregation and the unique pressures put on her as the first black tennis player to be permitted to play in several championships.
Gibson reports on the bigotry and discrimination as coolly and precisely as she does everything else and is at her most assertive when describing her simple desire to be judged as an individual. She doesn't want to represent anyone but herself and neither does shew want to be drafted into serving a cause, as noble and sympathetic as such cause might be.
Indeed, as the title itself says, she wants to be somebody, and that somebody is her.
Her book is inspiring on many levels. Even readers with no interest in or knowledge of tennis should arrive at the end feeling strengthened and invigorated by spending time in the company of such a remarkable person who, by virtue of her honesty and individuality, could be a role model for almost anyone.
The first line is "I always wanted to be somebody".
---
2022 June 13 • Monday
The Intrada label's CD release of two Leonard Rosenman score, for Making Love and Race with the Devil, is the 730th Soundtrack of the Week.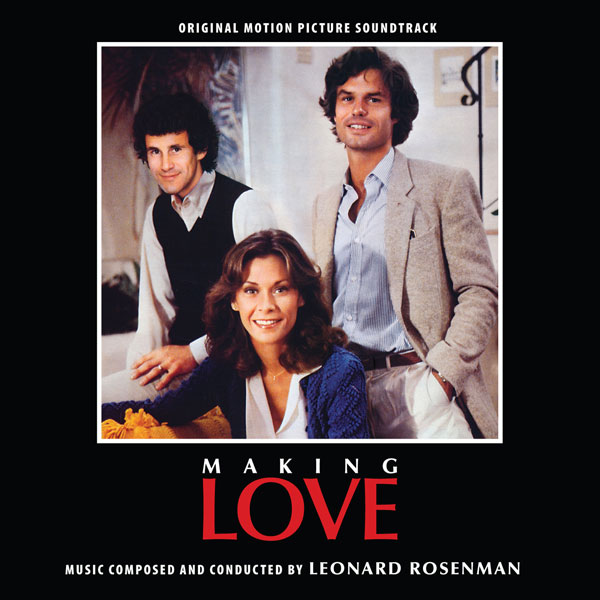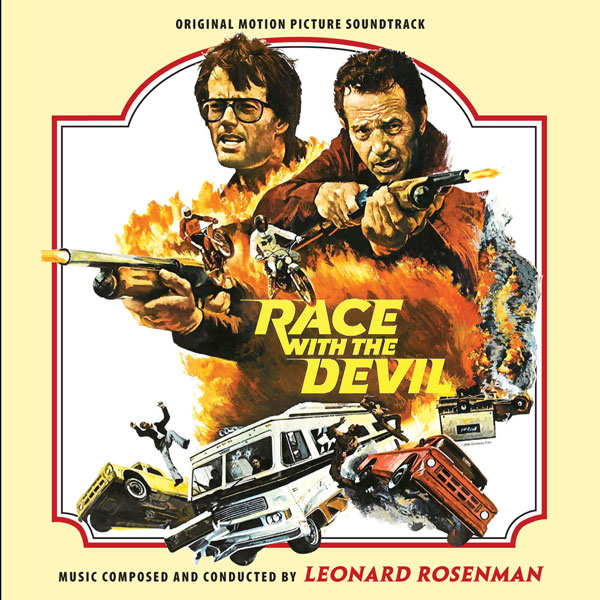 The Making Love score starts with "Prelude", which is a long exploration of the movie's main theme, played first on piano, then flute, then by strings in a few different arrangements.

After this comes a laidback jazz clarinet and saxophone feature, "Bart", gently swinging and very lyrical. "Zack" explores the main theme while surrounding it with smooth and steady orchestral support while "Zack and Claire" brings the melody up an octave and adds harp and "Driving" is a more or less straight reprise. The emotion intensifies in "Claire Sees Zack", with beautiful interplay between strings and flute. The long "Postlude" is more intense than the "Prelude" and goes into some dramatically heavier territories. The harpsichord is used subtly and effectively. Also on the CD are a few alternate cues, as well as a jazz version, a ballad version and song demo of the theme. The Race with the Devil "Main Title" is ominous, modernist, nerve jaggling tension music, all sharp angles, piercing pitches and weird sounds. For "The Alamo" and "Crossing Bridge" we have some happy peppy vacationers having fun music. Things get a little more sedate with the Americana of "The Campsite", followed by the part cartoonish, part pensive "Bike Race". Then we're back in horror land with the creepiness of "Devil's Note/The Pool", which has low rumbling percussion and some weird, hard to identify sounds from other instruments that increase the feeling of dread. "Hanging Dog" is a shock cue that starts with some sharp and forceful blasts from various wind instruments and stretches tones for tension while also sketching out some slight lyricism. This is followed by terror and danger music for "The Snake", a bit similar to some of the classic monster movie music of a previous era (The Creature from the Black Lagoon, for instance). There's some sad and moving music for "Dog's Grave", which features flute and cello, and some of the same musical atmosphere is carried over into the tenser "General Store". "Gas Man" gets a lot out of the lower registers of the string section while the winds create some uncomfortably keening and wailing sounds accompanied by timpani. Clavinet (I think) adds some weird texture to "The Crash" while brass and percussion intensify the atmosphere of violence and danger, building to some impressively dense eruptions of sound. The tension continues in a similar vein for "Wizard Reacts", which also uses percussion and brass and clarinet for tension with Rosenman using density as a tool for shaping the dynamics of the piece. While "A Tree" still sounds dreadful and ominous, long disonant string tones and various unsettling sounds, it's relatively quiet and laidback. The music explodes again for "Phony Accident", another incredibly forceful slab of clavinet, brass and percussion. Finally there's the "End Title Strings", which, while short, is a very strange and unsettling cue, just strings sawing away, possibly with some electric enhancements.
---
2022 June 10 • Friday
If you tried to get Reuben Radding's Undefeated photo zine after reading about it here a couple of days ago and found that it was sold out, here's some good news.
If you go here you can get another Reuben Radding photo zine!
This one is called Humans Against Music and is a selection of his photos from a regular Brooklyn karaoke night of the same name.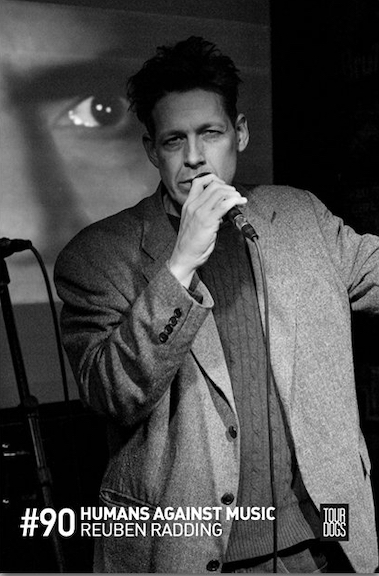 As always, it's highly recommended. It even makes me want to go to one of these nights!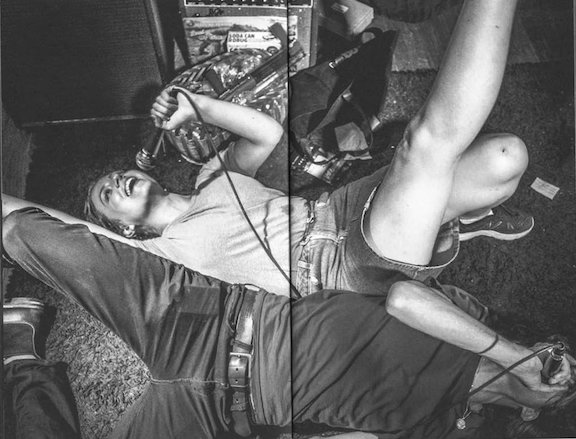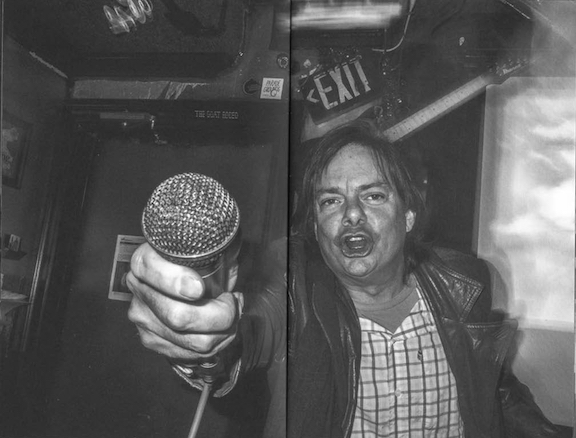 ---
2022 June 08 • Wednesday
It might not be too late. At time of writing, it seems that if you go here, you can still get a copy of Reuben Radding's newest street photography photo zine. This one is called Undefeated and it is, as usual, highly recommended.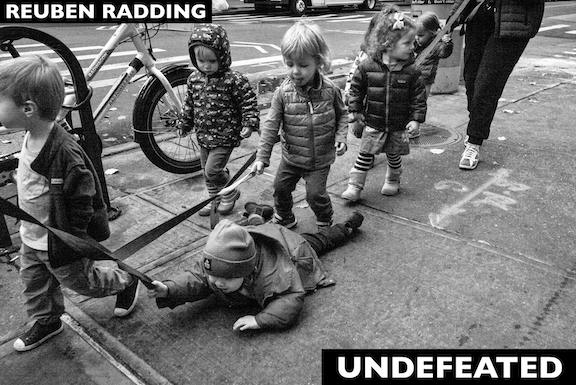 Reuben's notes about the circumstances of these photos indicate an internal struggle he was challenged by at the time. I'm not sure to what extent the photos might reveal this, but the focus seems to be more directly on people as people, rather than a compositional element. And Radding's partiality to hands is perhaps more apparent than it has been in the past.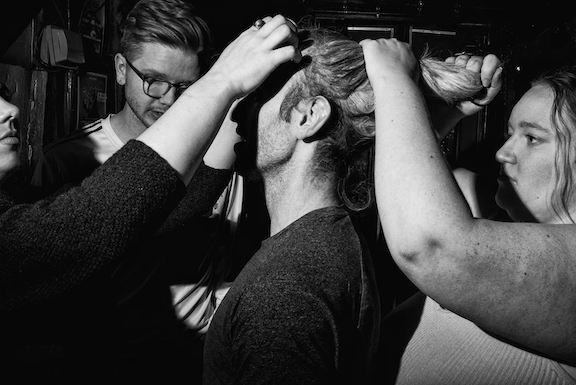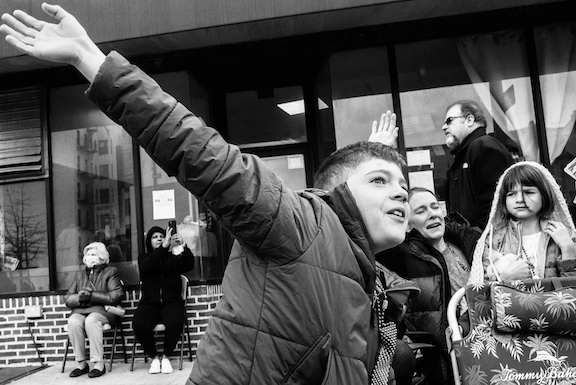 By all means get it while you can!
---
2022 June 06 • Monday
Taj Mahal's music for Sounder is the 729th Soundtrack of the Week.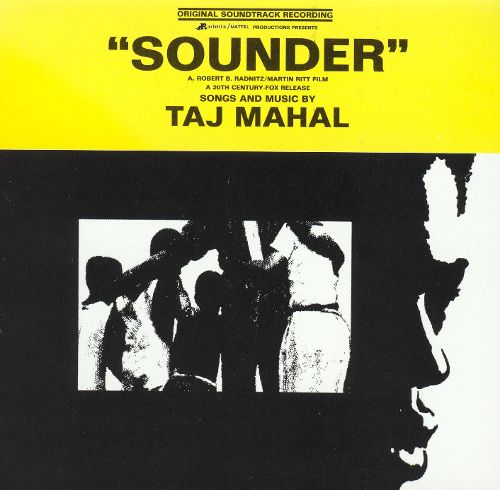 The first track is a classic blues recording, "Needed Time" Lightnin' Sam Hopkins. It's a song of prayer and beseeching Jesus in a time of need. This is reprised later in another vocal and guitar number, but without wordd, as "Needed Time (Hummin' and Pickin')".

Then an energetic, brisk and bluesy piece for solo harmonica, "Sounder Chases a Coon". Sprightly solo banjo starts off "Morning Work/N' Meat's on the Stove" and increases tempo and density for the second half with impressive finger picking. "I'm Running and I'm Happy" is a short piece for solo fingerstyle acoustic guitar, followed by a guitar and voice blues called "Speedball", which sounds like it contains dialogue from the movie too. The next track also sounds like it has surrounding dialogue from whatever scene in the movie it's in, two more solo guitar/voice blues number, with applause from whoever's listening, "Goin' to the Country/Critters in the Woods". Then there's a powerful wordless vocal and handclaps only number, "Motherless Children", which has a spiritual sounds to it despite the lack of lyrics. A similar vocal approach is matched with some vary spare guitar playing in the lonesome "Jailhouse Blues". Handclaps and a voicd singing about working make up the very short "Just Workin'". Then there's another short movie scene with a tiny bit of guitar music for the short "Harriet's Dance Song". After that there's s big change, as an ethereal-sounding but powerful flute plays alone for "Two Spirits Reunited". "David Runs Again" is another fast banjo piece, followed by the relaxed and mellow "Curiosity Blues" for solo guitar. Then there's solo voicd, with words, for the spiritual blues "Someday Be a Change" and then a cheerful and jaunty tune, "Horseshoes", for guitar and whistling. "Cheraw" is another energetic banjo solo and "David's Dream" another clear and solid flute solo. The record wraps up with a solo guitar instrumental version of "Needed Time" and another version for banjo and hand clapping.
---
2022 June 03 • Friday
Happy birthday!
A recent visit to San Francisco's redoubtable Kayo Books led to my reading a Donald Goines book for the first time. Street Players, a story about a pimp named Earl the Black Pearl, was Goines's fourth novel.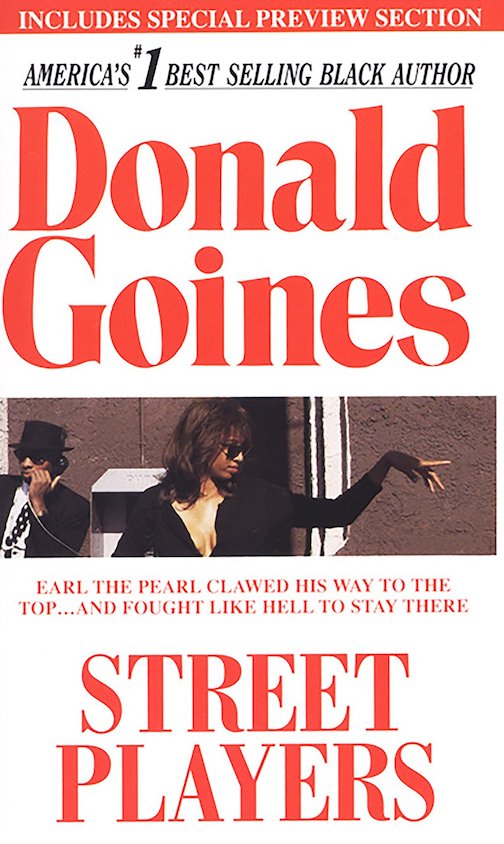 When we first meet Earl, he's doing really well.

He took his time selecting a suit from the dozens that hung in his well-stocked closet. After a long hesitation, he selected a dark blue silk suit and laid it across the bed. He walked back to the closet and removed a pair of midnbight-blue suede shoes from his shoe rack. He then stopped at the dresser and removed a light-blue silk shirt and matching tie. He took as much trouble dressing as a woman would, slow and meticulous. He applied his cologne with an excessive amount of care. Silk shorts followed with a silk undershirt. After finally dressing, he examined his handiwork in the full-length mirror. He straightened his diamond stickpin twice before becoming satisfied, then went on to his hat rack. It took him fifteen minutes to become satisfied with the way the Dobbs Fifty fit his head. He tilted the short-brimmed hat slightly towards his forehead. The clock began to chime, and he counted the sounds as he went out. It was midnight on the nose as he stepped through the door on his way into the streets for the night.


The main story is shaped by Earl's brutal disposal of one prostitute and bringing a new woman into his stable. Each causes a problem. In the first case, Earl's response to being disrespected in public is too violent and too extreme, giving the woman nothing to lose and making her desperate enough to go to the police and seriously threaten Earl. In the second case, Earl actually falls in love, something that he never expected to happen. As the problems with the police intensify, Earl runs out of money and is desperate enough to start dealing drugs, an activity he hates. It's written in a very blunt style and is extremely violent. The first line is "Earl's apartment was elaborately, tastefully and expensively furnished".
---
2022 June 01 • Wednesday
Happy birthday!
Recently I read an international bestseller while on an airplane. It's a thing to do! The book was Gu Byeong-Mo's The Old Woman with the Knife, about a professional assassin her 60s.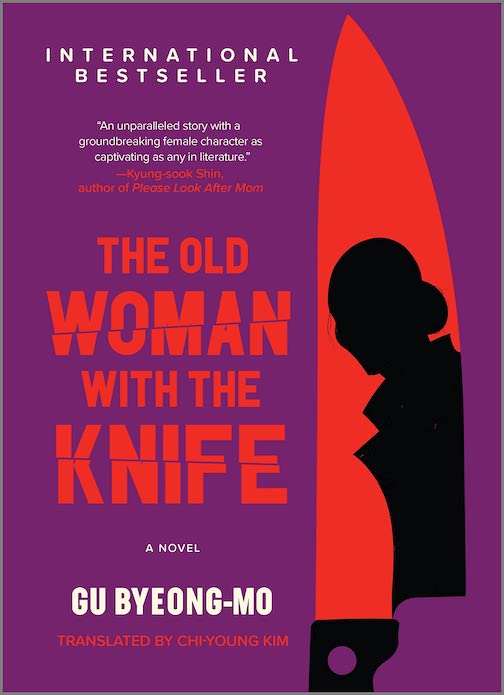 Stories about assassins frequently tempt me. And here was one from South Korea, and one in which the assassin character was wrestling with possibly aging out of her profession. I had high hopes.

But for me, it didn't deliver. It starts off well, with Hornclaw—the people who work for the agency have names like this: Hornclaw, Bullfight, Worryfixer; it's clunky in English but perhaps works better in Korean—pulling off a slick and secretive hit during a rush hour commute. But it doesn't really go anywhere and the pacing is sluggish. As interested as I am in other people from other places, I'm usually reluctant to read literature in translation because so often what makes writing really go is the sensuality of it, the sounds, the rhythms, the movement of words and structure of sentences. While I'm in no position to judge the merits of the translation of this particular book, the English text kind of plods along with few moments of pure pleasure. The story itself isn't that compelling either. We spend time with Hornclaw as she takes care of her dog and visits her doctor and puzzles over being harrassed by another assassin, a younger man who works for the same agency. When the cause of this tension gets revealed, the book ditches both subtlety and believability, leading to an action set piece that's unconvincing and unexciting. It wasn't for me. But it's an international bestseller, so it doesn't have to be!

The first line is "So this is what it's like on the subway on Friday nights".
---