Rob Price
Gutbrain Records
rob + gutbrain.com = email
---
The 728th Soundtrack of the Week is the music from Electric Jesus which is mostly, I think, by someone called Daniel Smith.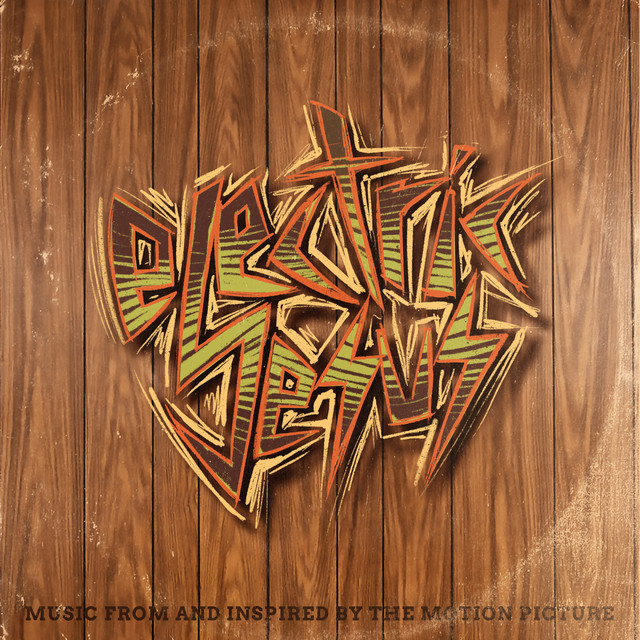 It's on multi-color splatter vinyl!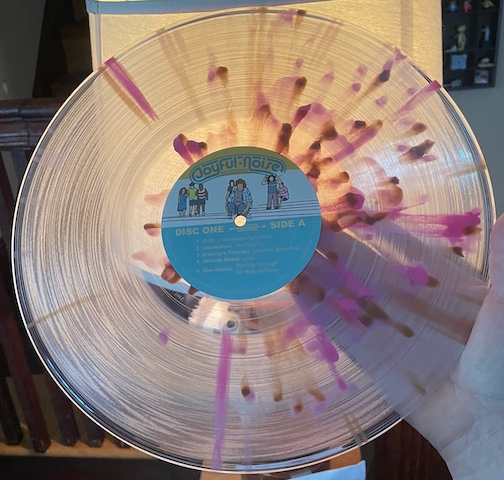 Electric Jesus is a movie about a fictional Christian rock band and so, you know, Smith had to come up with a bunch of songs not just for that band but other bands in the scene.
Since it takes place in the mid-'80s, heavy metal hair bands were more or less the target.
The film's subject is a band called 316, and so naturally they are most represented, but there are several other bands, including Danielson (which is also Daniel Smith), Bloody Mass, Soul Exhumation, Satan's Clutch and Joy Explosion.
A lot of these songs are really great!
I hadn't heard of Smith before but I'm impressed.
---
2022 May 27 • Friday
And now let's take a moment to consider the David McCallum album Music: A Bit More of Me.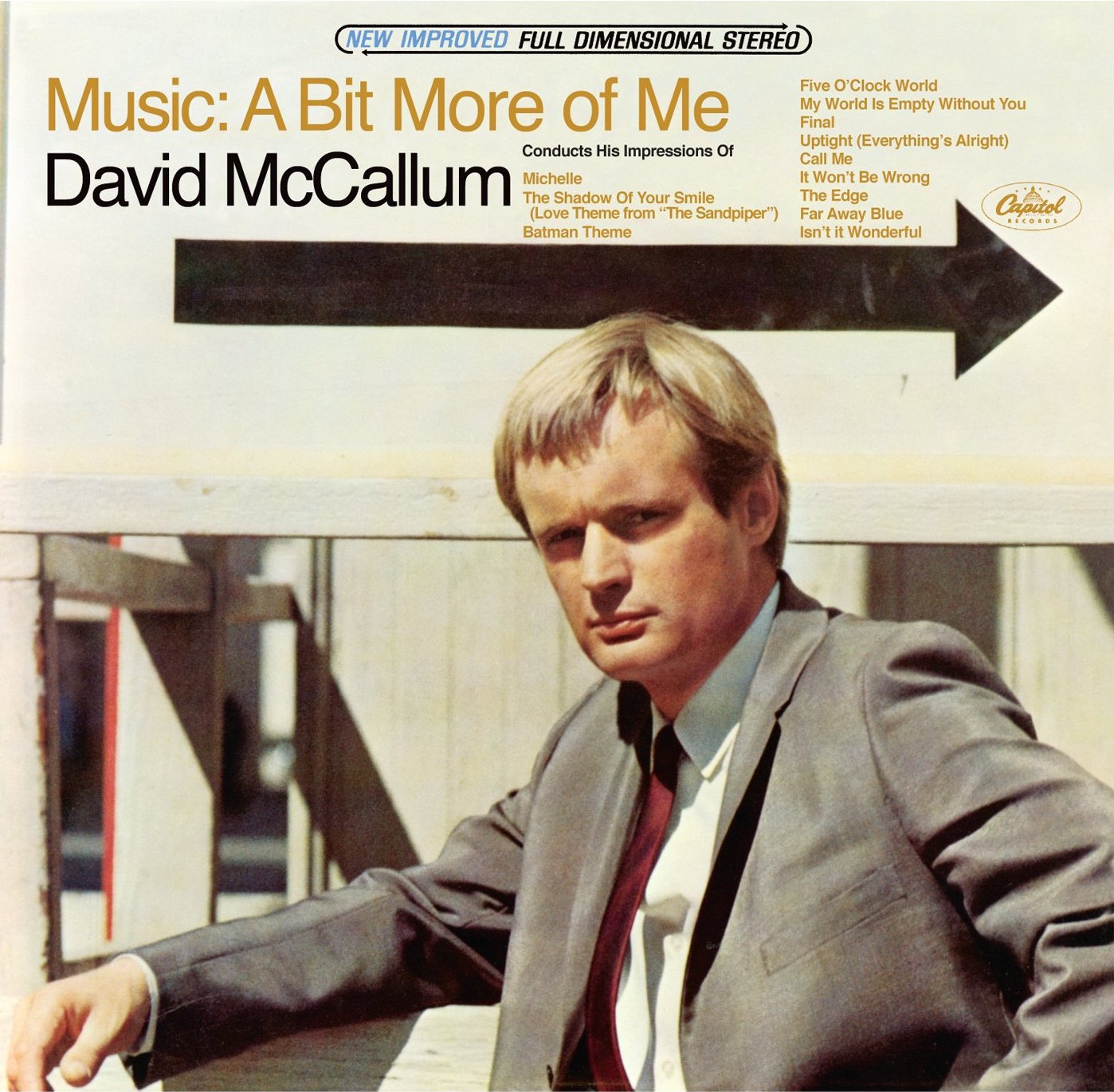 This seemed like it was going to be McCallum singing a bunch of popular songs but it's all instrumental so presumably this is meant to feature McCallum's talents as an arranger.

Which... they're fine. Definitely good use of electric guitar, which has a good sound, and a fairly unsurprising repertoire: "Uptight (Everything's Alright)", "Michelle" "Batman Theme", "The Shadow of Your Smile" etc.

If you like this kind of thing then you'll like this.

Apparently one of the pieces on here, "The Edge", was sampled by Dr. Dre for some big hit. "The Edge" is an original by David Axelrod.
---
2022 May 25 • Wednesday
Fans of The Shadows and other surf/instro bands should love this record: Guitars About Town by The Jumping Jewels.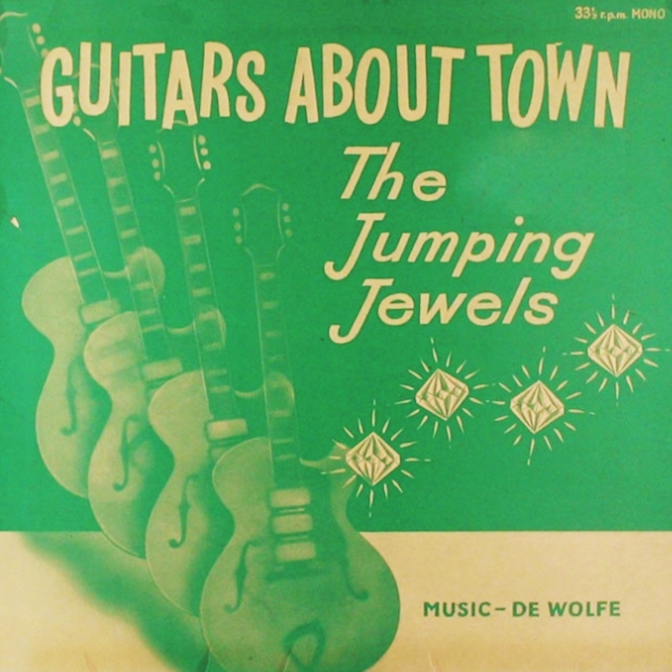 A dozen songs, all really great compositions, all new to me, none of the standard repertoire, great playing and a great sound: it's an asotnishingly good album!
The record itself is part of the De Wolfe Music Library, so in theory it would have been used as music for something somewhere.
I wonder who this band was. They're so clearly talented that they should have been able to find success on the stage.
---
2022 May 23 • Monday
It's back to the great Quincy Jones for our 727th Soundtrack of the Week: $, a.k.a. Dollars.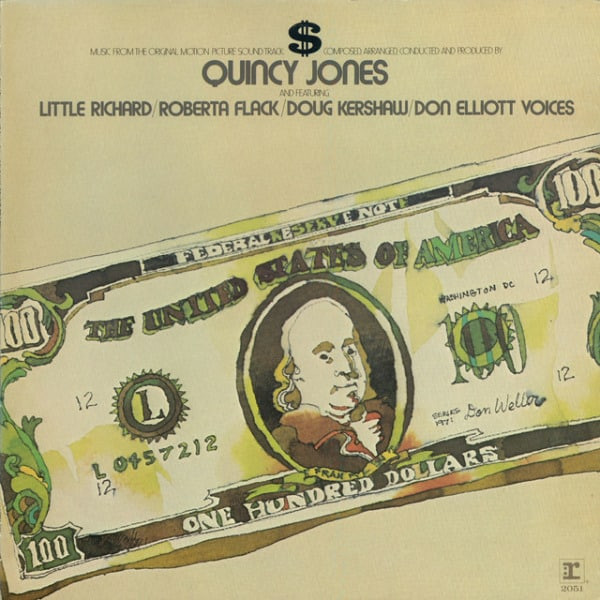 It's on green (of course) vinyl!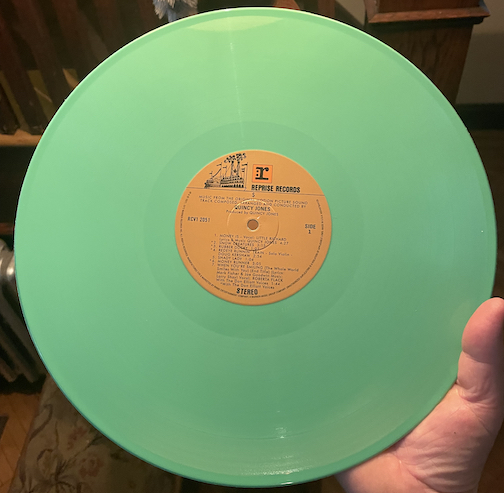 It starts with the song "Money Is", an awesome Quincy Jones soul/funk groover with lyrics sung by the legendary Little Richard! "I got a Ph.D. in how to make ends meet / I graduated from the college of the street / Inflation in the nation, don't bother me / 'Cause I'm a scholar when it comes to the almighty dollar."
Next is "Snow Creatures", a slow and slinky tune at first, as it vamps until The Don Elliott Voices come in, along with a cuica. The groove changes a few more times and there's some really good guitar and percussion playing.
Things get kind of silly and bouncy and lighthearted with "Rubber Ducky", which has some great electric piano playing.
"Redeye Runnin' Train" has the drums doing a fast train beat while the bass throbs and Doug Kershaw gets featured on violin playing.
Then we get to a short cue with a sultry feel for "Shady Lady".
"Money Runner" is an instrumental version of "Money Is" and then Side A ends with "When You're Smiling (The Whole World Smiles with You)", with vocals by Roberta Flack!
Side B opens with another Little Richard number, "Do It—To It". This is an up-tempo rocker with a lot of hand percussion and some impressive electric guitar and electric bass playing. "You gotta do it to it if you want to get it done."
After this comes "Candy Man", which is the first piece to sound like dramatic underscore. It's got that 1970s crime jazz suspense thing going on, with the triangle and some great electric piano soloing as well as some nice reverby guitar playing and some cool percussion work.
Then things get deep into classic blues territory with "Passin' the Buck". It would be great to know who's doing the fantastic blues guitar playing here. It could be Eric Gale, Arthur Adams, Elek Bacsik or David T. Walker.
"Kitty with the Bent Frame" starts out as a reprise of "Candy Man" but halfway through becomes very ominous and mysterious before returning to the more easygoing mood it started in.
Finally there's a long wrap up, the almost ten minutes-long "Brooks' 50¢ Tour (Main Title Collage)", which starts with a fog horn and then goes through a dizzying array of different musical styles, some already heard and some not, featuring Little Richard and Roberta Flack as well as sitar and tuba.
---
2022 May 20 • Friday
Here's another great surf record—a new record by a band active right now! Are we in a surf music golden age? Whatever the case, we highly recommend 10,000 Ways To Die by The Delstroyers.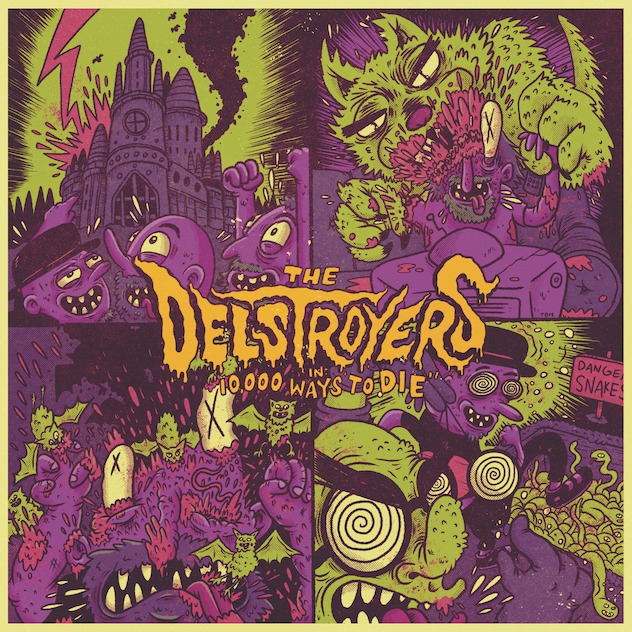 They're a trio from Seattle and they have an impressively large sound for a three piece. I bet they're great live.

The new record consists of fourteen instrumentals and they are all great!

You should definitely buy it!
---
2022 May 18 • Wednesday
Wow, here's an amazing CD: Reverb Nation: Live at the 2017 Surf Guitar 101 Convention.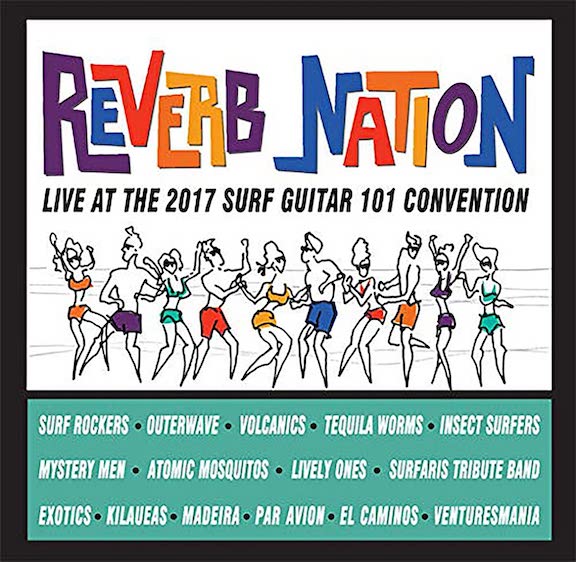 What you get is two songs from twelve different bands plus one song from three additional bands.
It's all recorded live so you hear audience applause in between tracks as well as the occasional song intro from a band or band intro from whoever is emceeing.
But what matters here is the music. Every single band is great, and staying true to the spirit of the music as it was more or less sixty years ago. No fancy effects or anything and the guitar playing generally trends toward the power side of things, Dick Dale being sort of the Charlie Christian of surf guitar playing.
There are, however, quite a few slow, pretty, atmospheric numbers. Whatever song it is, the playing is impeccable all the time. It's kind of astounding that there were this many great surf bands in one place back in 2017.
And now, in 2022, are there still as many? Maybe more?
No idea, but this particular collection is a must-have.
---
2022 May 16 • Monday
The 726th Soundtrack of the Week is the music, mostly by Philippe Besombes, for a movie called Libra.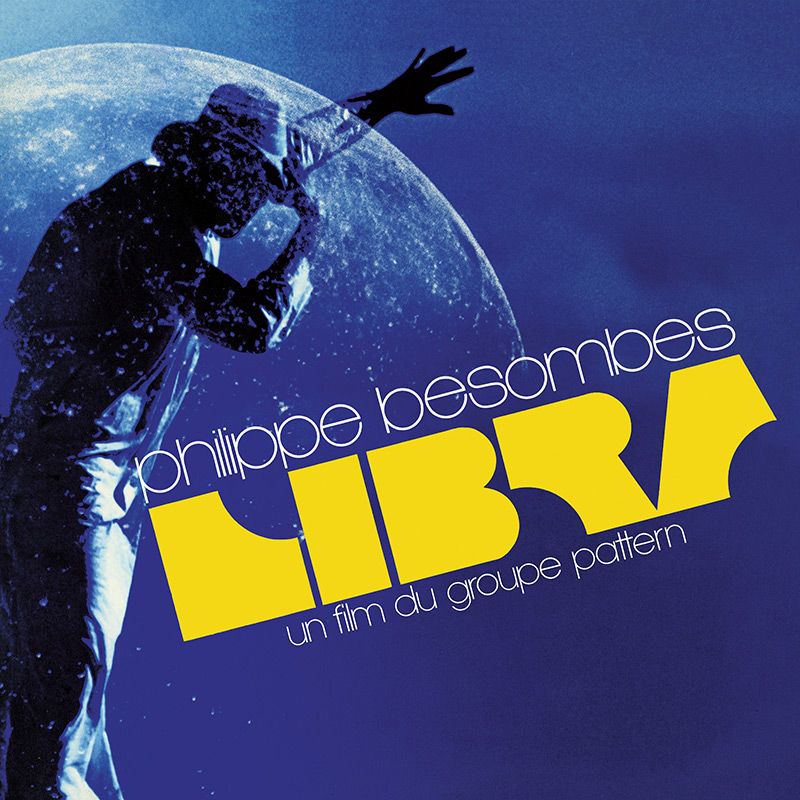 It's on blue vinyl!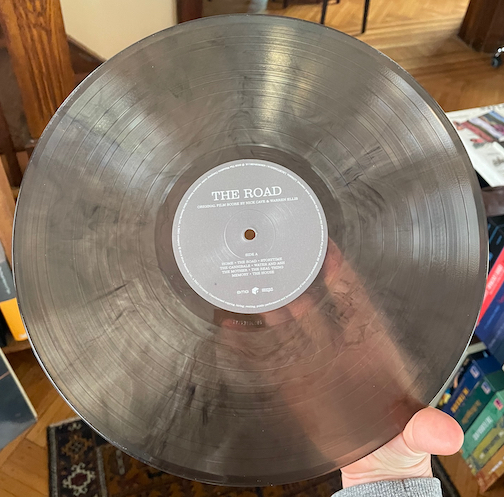 First up is "La Plage", layers of synth sounds creating a strange atmosphere, eventually joined by the sound of a woman laughing and vocalizing wordlessly and gasping. Then there's another female voice singing a melody kind of far off in the distance while the electronic noises take the foreground.
Blues-rock electric guitar with drumas and upright bass start off "Rugby". At first it's sort of a meandering jam with lots of reverb on the guitar but then it unexpectedly starts an energetic groove with lots of synth freak out noises and some weird male vocals, maybe in French, maybe electronically manipulated.
More weird synth noises introduce "Theme Grave", which also has a keening, siren-like line running through it. Eventually there's a sort of bass line played on what sounds like one of the synths, organ plays a sort of melodic thing and there's a smattering of drums.
"Ballade en Velo" is a normal, easygoing pop song with a familiar structure and instrumentation, very laid back and mellow. This piece isn't by Besombes but by bandmate Alain Legros. There's some fuzzed out electric guitar in it too.
We return to ambient layers of synth sounds in "Les Diapos", which also has some stabbing keyboard statements and various other weird stuff and vocalizations scattered around. It's not too far off from some of Sun Ra's stuff.
Hearing an organ play a familiar descending harmonic line in "Ceremonie" is definitely a contrast. Eventually added to it is kind of an electronic wind sound and then a vocal choir.
After that comes "Jaune", an acid rock freak-out with pounding drums, groovy bass line and just kind of whatever happening along with it, mostly from keybaords and synthesizers.
"PJF 261" starts with organ playing freely, snippets of dialogue and then a lone female voice singing a slow, soaring but descending line while fragmented echoes of unintelligible voices whiz by, along with occasional spasms of keyboard playing. It's another one that sounds like it might have been influenced by Sun Ra.
The interestingly named "Raggacountry" starts with sitar and low drones. It eventually finds a country blues-ish groove, with acoustic slide guitar, but keeps the sitar going. I guess the title merges country with raga, despite the "ragga" spelling.
The A side concludes with "Boogimmick", an explosive blues rock number with electric guitar soloing all the way and a much higher energy level than anything else so far.
Side B starts with "Hache 06", which itself begins with electric bass laying down a groove, soon to be joined by drums, for another kind of trippy jazz/rock number. At first it's really a feature for organ and other keyboards but then there's plenty of electric guitar in there.
"Apple de Libra" and "Pursuit" are two short cues, the first being a synth drone under female vocals, one singing an ethereal line, the other speak-singing in, I guess, French—I hear the word "Libra" a lot—before getting stomped on by organ. The second has reerb percussion, more electronic, lower-pitched synth sounds and what sounds like creaking floorboards, before bass and drums come in with a groove that supports some keyboard soloing, which might include clavinet.
The record then takes us to "La Ville", which starts with drums and quickly finds kind of an old-fashioned and easy-going groove. There's a lot going on here, sitar playing and various other fuzzy and floating sounds as well as maybe tape manipulation or other kinds of musique concrète.
"Les Cosmonautes" is a very spacy cue, with some high-pitched synthesizer swoops that are maybe meant to sound like a theremin, thick blocks of sound from the organ and ethereal female vocals flying around. Later on there are some real space invaders-like sounds that come crashing in.
An organ drone, keyboard freak outs, a distant female voice frenetically uttering words and sounds: that's "Avecandista".
The record ends with "Tis a Song", another more familiar rock/pop song, this one even with English-language vocals! It's somewhat enervated, to be honest. After all the weirdness and go-for-it rock/jazz jamming, it's a bit of an anticlimax.
---
2022 May 13 • Friday
Bill Frisell's guitar playing is so extraordinary that it's possible never to get past it and give equal time to his compositions.
One way to do it is to get his compositions off by themselves. There's no better approach than this record: Unscientific Italians Play the Music of Bill Frisell Volume 1.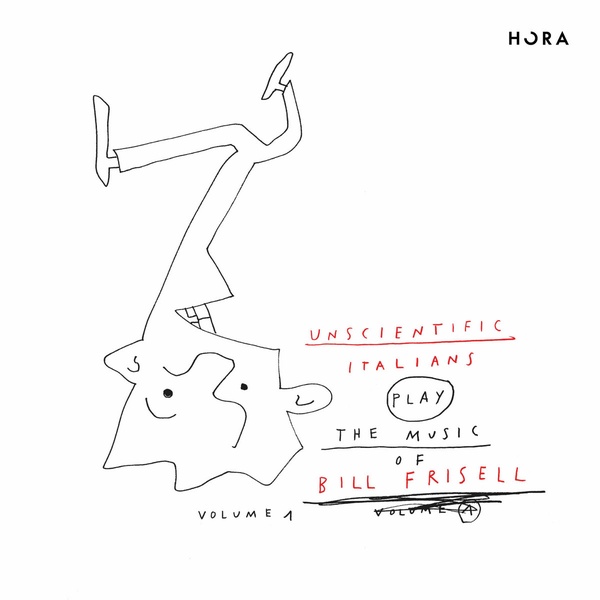 It's brilliant. Crucially, there's no guitar on it. It's an ensemble of eleven people, mostly wind instruments with bass, drums, a bit of piano and electronics.
This first volume takes seven tunes in beautiful arrangements with lush textures and sonorities as well as a strong sense of swing.
The record itself has drawings by Frisell and so presumably has his official blessing. I have to assume he's very pleased with the result!
---
2022 May 11 • Wednesday
Here's a record that just came out and I'm very proud to be on it!
Cool, instrumental jazz/ska from Ireland courtesy of my old friend Patrick Carayannis, aided by the musical wizardry of another old friend, Jay Nugent!
The other musicians are new friends and great players!
The band is called The Piseógs and the record is Take the Gods Bowling.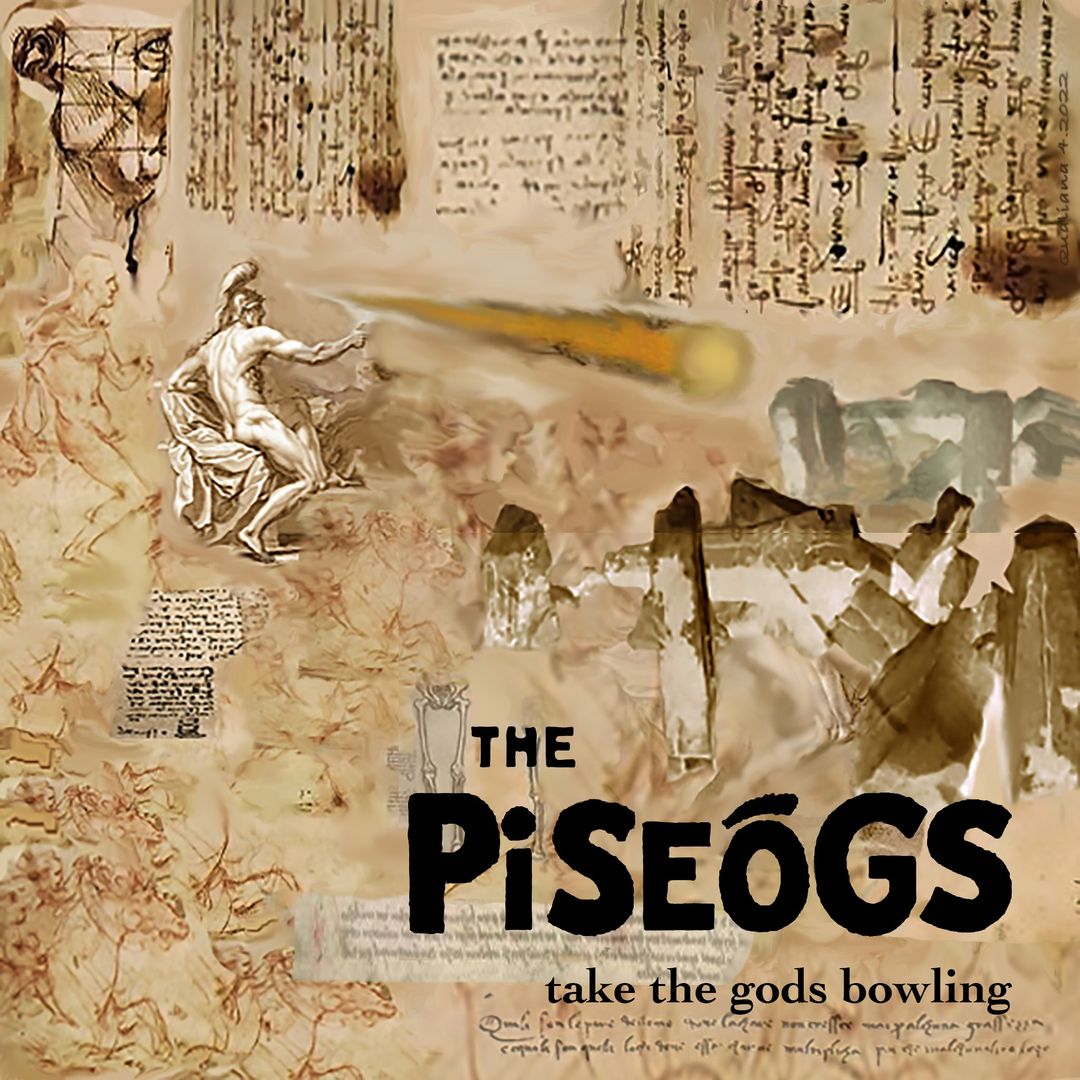 You can get it here!
---
2022 May 09 • Monday
Inspired by the Nick Cave and Warren Ellis concert we attended last month, we picked their score for The Road as the 725th Soundtrack of the Week.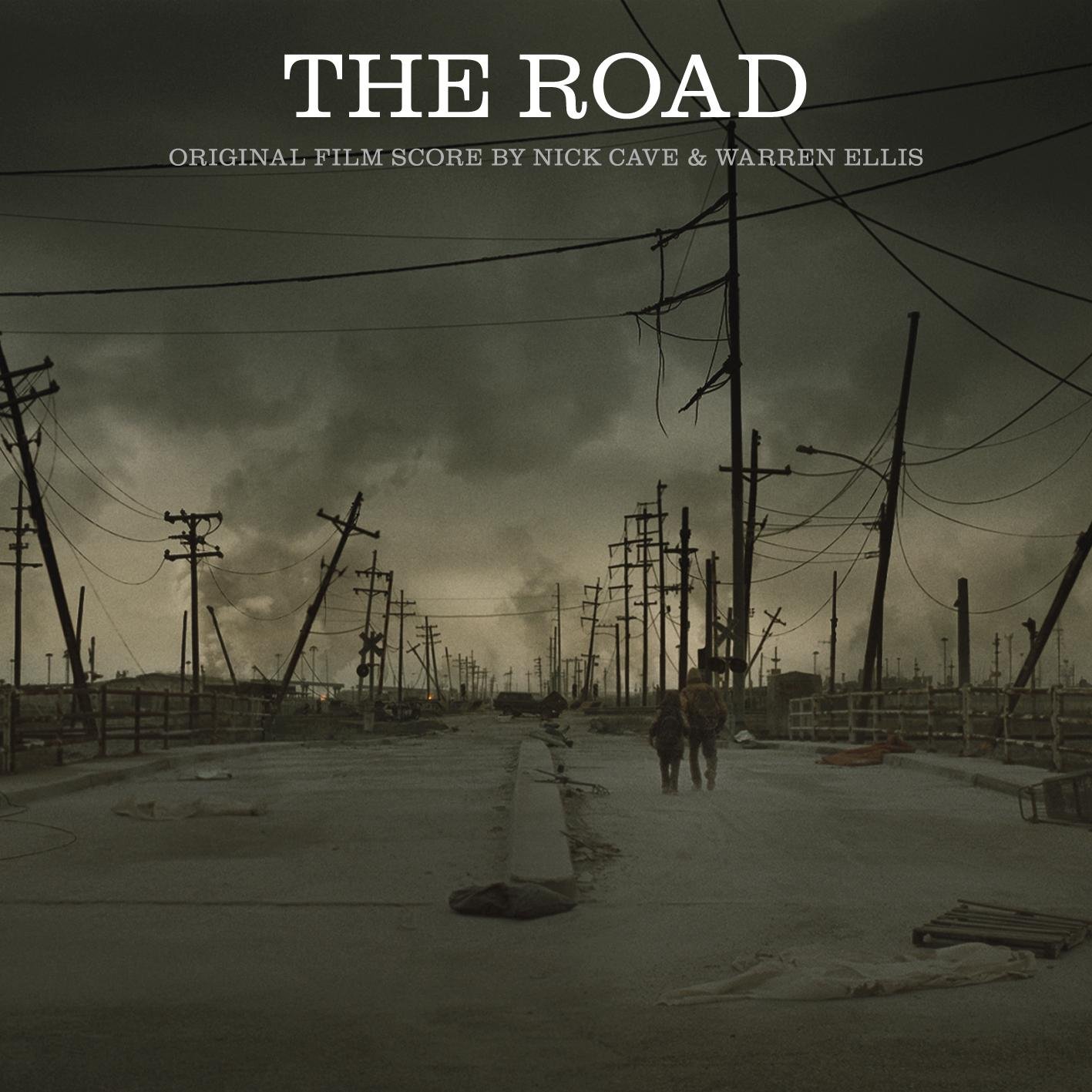 It's on what appears to be grey smoked vinyl!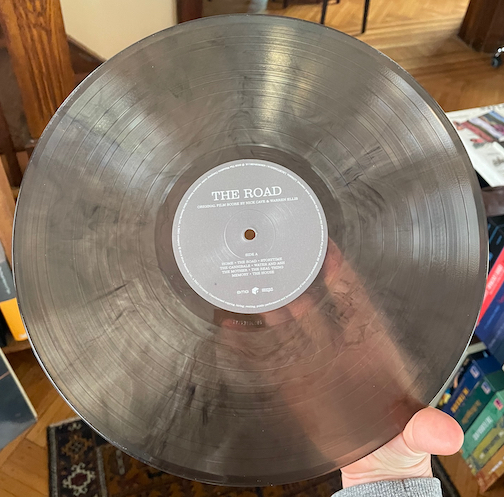 The record starts with "Home", a peaceful and meditative cue with delicate piano and what sounds like celeste or glockenspiel or possibly xylophone responding to the piano's call, while flutes create a soft background.
Then there's the title track, a gentle 3/4 piece that starts with piano alone, presumably Cave, eventually joined by violin, presumably Ellis. It's a simple and plantive piece with subtle support by some other string instruments that gradually thicken the atmosphere.
This is followed by "Storytime" another cue with violin and piano talking to each other as strings give them restrained support.
Swirling, swooping and sizzling strings and didgeridoo-like drones start off "The Cannibals", soon to be joined by pounding percussion for a dreadful and ominous cue that flows seamlessly into "Water and Ash", melancholy violin accompanied by a single note drone. This also leads directly and organically into "The Mother", a touching and lyrical piece for string ensemble.
"The Real Thing" is a gently hypnotic piano and violin feature in 6/8 with sensitive support, once again, from the strings.
Another drone, but a higher pitched, more hopeful sort of drone, starts off "Memory" but the music then shifts to some gorgeous blocks of chords from the string ensemble, one melting into another as Ellis's violin sings beside them.
Side A concludes with "The House", an eerie piece that has Cage generating sounds from inside the piano and Ellis's violin playing in ghostly high registers while the larger ensemble builds tension, eventually exploding into a rock art groove with pounding drums and what could be distorted electric instruments or acoustic instruments being pushed to their limits. Or both. There's definitely something electronic going on in here.
Side B kicks off with "The Far Road", essentially a reprise of the title track but with the melody presented less as a solo violin feature.
This theme then gets transformed into the similar but much sunnier "The Church", which is all lightness and major chords, still subtle and delicate.
Don't get comfortable, though, because "The Journey" then takes us to shadowy, horror-film type landscapes, low rumbling doom-laden piano playing with drums remorselesssly poundind away in the background. When the other instruments come in, it's to solidify the feelings of dread, terror and sadness. A melody emerges from this, mostly from Ellis's violin, but it's suggestive of grief and loss.
"The Cellar" returns us to ominous drones again, this time with some low booming percussion and eventually a solid scream of sound, strings and drums for sure but who the hell knows what else going on in there. It fades out quickly and bleeds right into the eerie wailing of "The Bath", which eventually adds some poignant piano playing to its air of despair. Also making an appearance here is the harmonica, blending with the violin and creating a strong Americana feeling.
Higher-pitched droning strings and lower-frequency throbbing piano and percussion start off "The Family", another cue that seems to indicate extreme disturbance of one sort or another. But it effortlessly relaxes into a much calmer, peaceful, healthier-sounding musical landscape, where the drones feel like blue sky and Ellis's violin suggests the fulfillment of aspirations.
"The Beach" picks up right where this leaves off, but with Cage's affecting piano playing and Ellis's violin starting out with nothing but space, no drones, and when the other strings join them, it's in a comforting and supportive role.
And then it ends with "The Boy", in which multiple soft drones create a foundation for quietly shining wooden flute lines, presumably played by Ellis.
---
2022 May 06 • Friday
This haunting new release of old recordings by a guitarist named Branko Mataja is just stunning.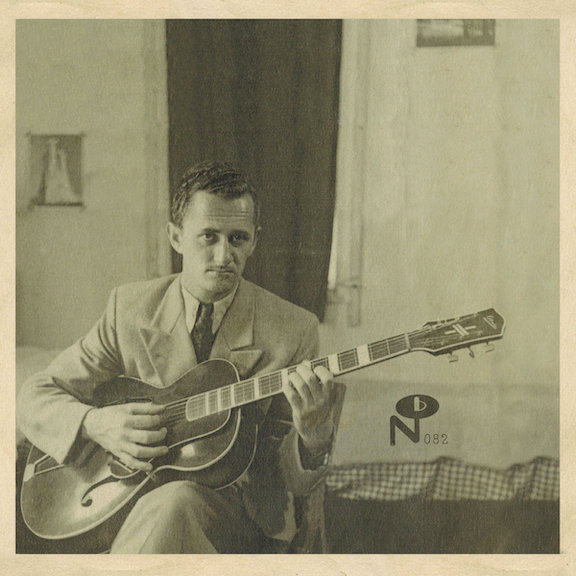 It's on white vinyl!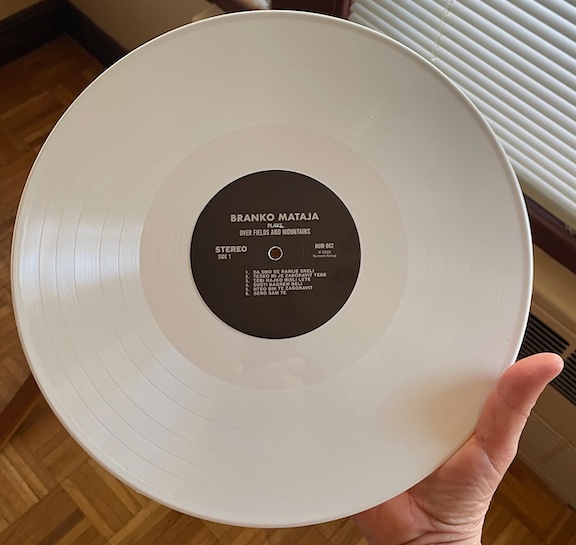 Mataja was born in what is now Croatia and grew up in Yugoslavia. He ended up in California where eventually he recorded the music on this record.
I think it's all Yugoslavian folk songs and it seems to be all Mataja, layering tracks on tape recorders and creating echoey effects by playing parts in different octaves and double picking.
It's gorgeous and occasionally melancholy but always fantastic. The Numero label has really hit it out of the park with this one!
---
2022 May 04 • Wednesday
Who's playing surf music these days? A lot of people, it turns out. And a lot of them are really good. One of the best of today's bands is undoubtedly Toronto's The Surfrajettes. We've been big fans of them for years and immediately pre-ordered their first full-length LP. And now it's here!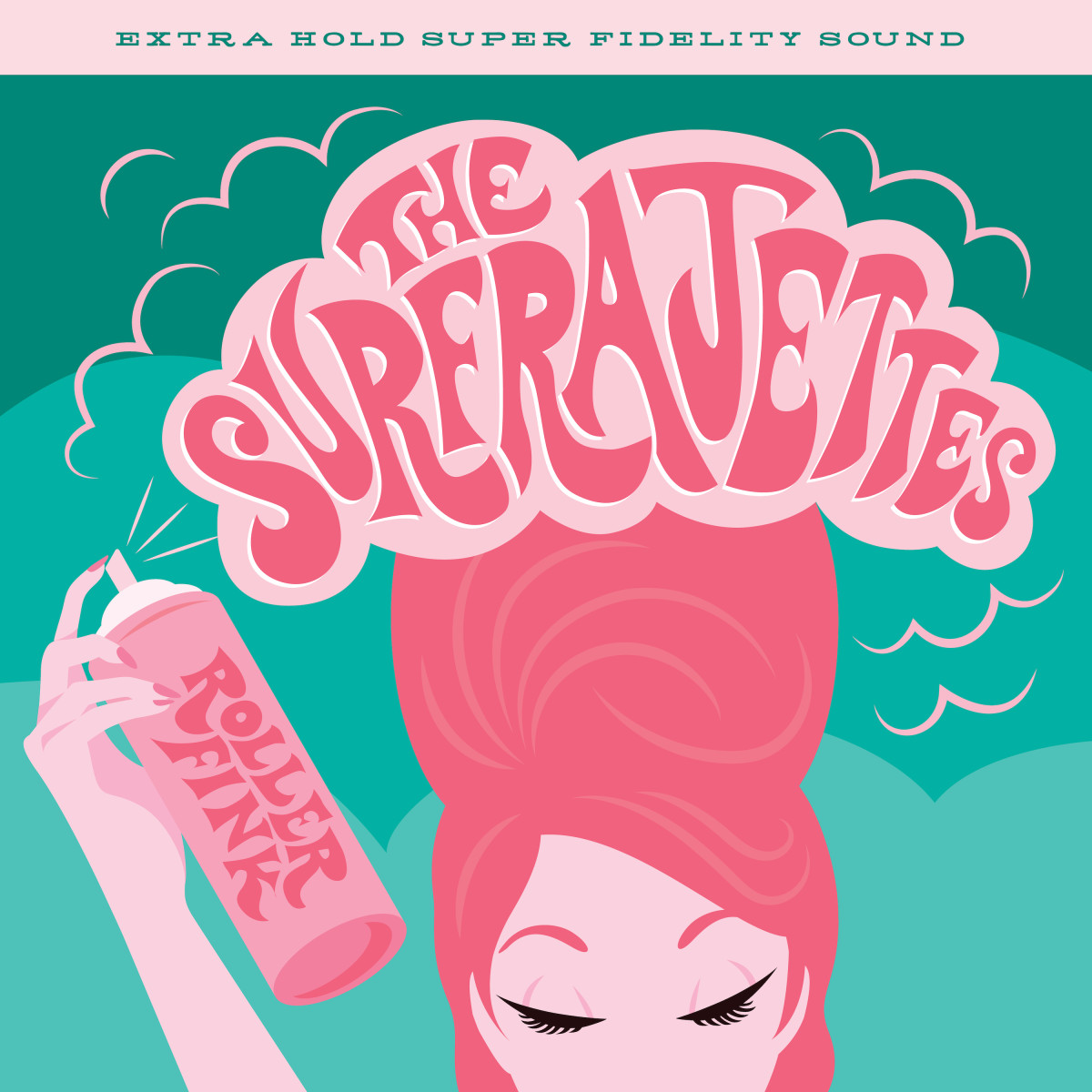 It's on pink candy floss vinyl!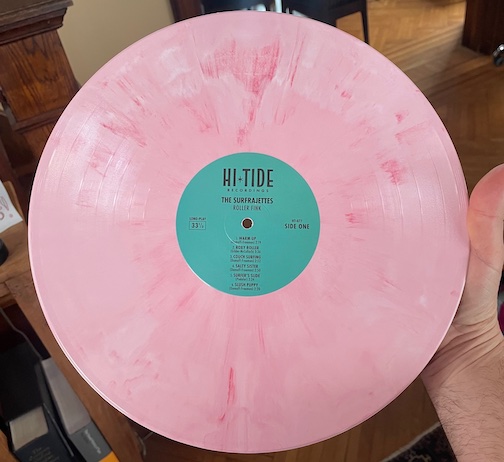 They're a traditional surf band: no guitar effects beyond reverb and vibrato or some other echo effect. While the recording quality is clearly of this century, the palying could be from sixty years ago.
They've written several superb originals and also do some great covers, including "Train Kept a Rollin'", The Beatles' "She Loves Your" and Blondie's "Heart of Glass".
The inclusion of such familiar songs is a reminder of the versatility of the genre. You can do almost anything as a surf song. But can you do it well?
The Surfrajettes can and do! They are really fantastic. When will they play New York or Chicago?
In the meantime, buy their new record here!
---
2022 May 02 • Monday
The 724th Soundtrack of the Week is the music from Edgar Wright's documentary The Sparks Brothers.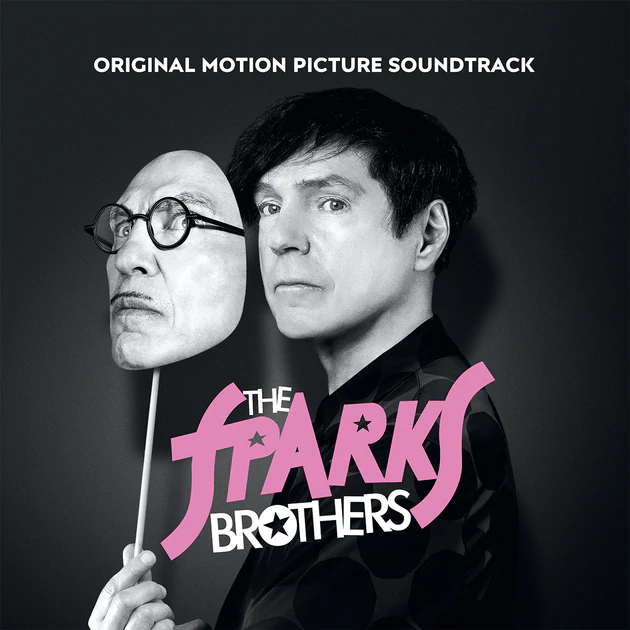 It's on pink vinyl!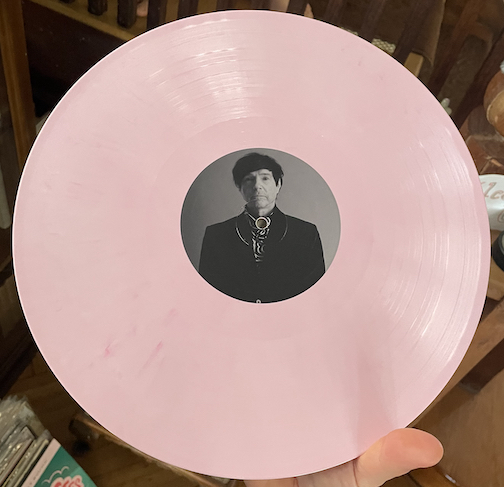 It's actually on four pink LPS beautifully packaged by Waxworks.
So this is essentially a career retrospective or Sparks. There are a few movie-specific tracks, such as the amusing "Sparks Documentary Film Fanfare" and Neil Gaiman's reading the lyrics of "Amateur Hour", which I assume you won't find on a Sparks album.
But really it's just a lot of their songs with a few live versions thrown in at the end.
Part of what's interesting about Sparks is how they seemed to anticipate directions pop music was about to go in. They always seemed to be there first and whily they themselves were never exactly famous, a lot of famous people sure sounded like them a lot of the time.
I had never heard of Sparks before this documentary but I liked them enough to buy a few of their records.
My favorite songs on the soundtrack are "Never Turn Your Back on Mother Earth" and "When Do I Get To Sing 'My Way'".
---