Rob Price
Gutbrain Records
rob + gutbrain.com = email
---
2022 February 28 • Monday
The 715th Soundtrack of the Week is an extremely short score by our dear friend and collaborator Chris Cawthray: All of Us Create Friction!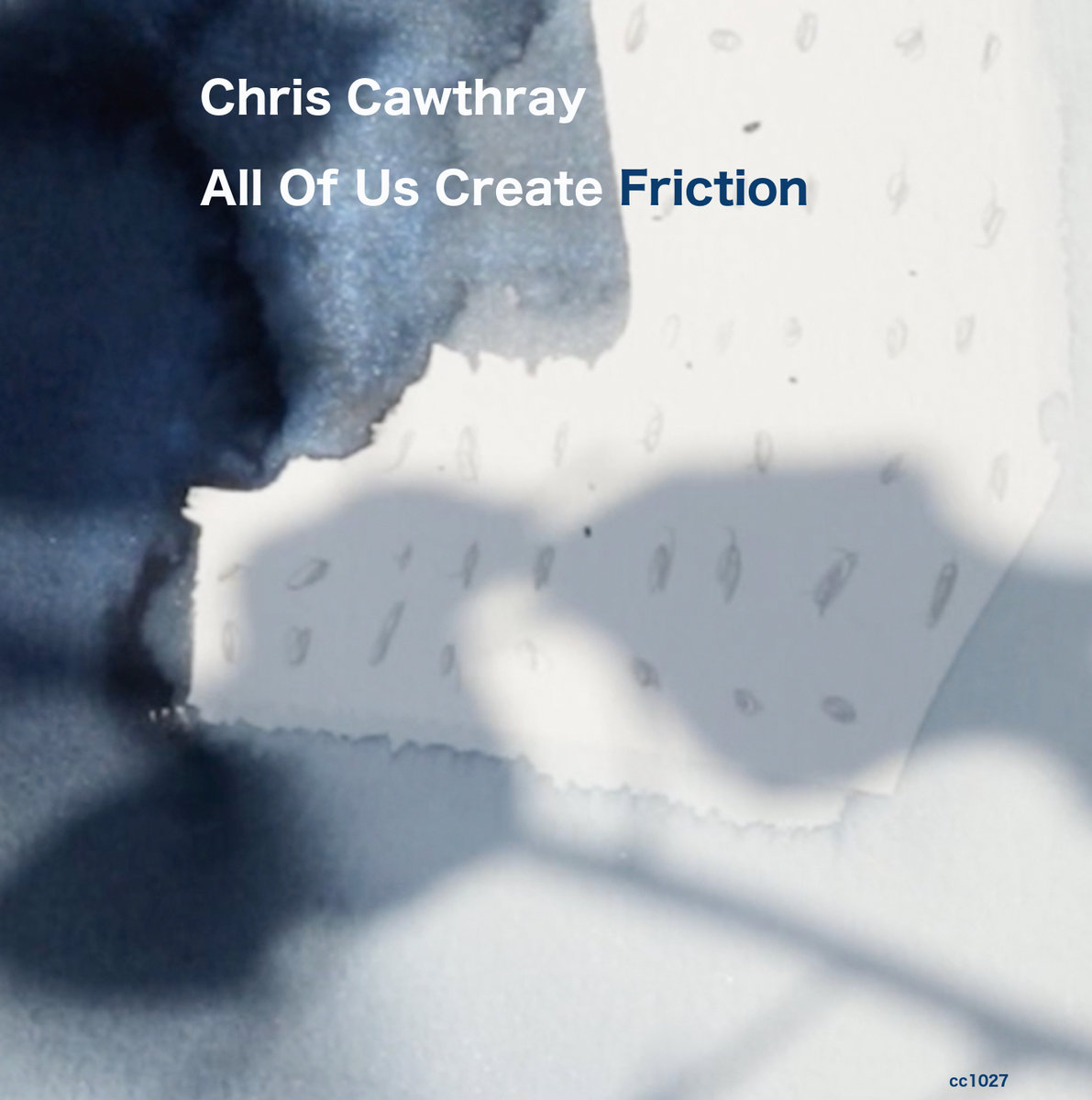 It's only about 40 seconds long but still manages to develop a complex sonic landscape and guide different voices into an intriguing and pleasing shape.

Cawthray used all virtual instruments and layered three diferent parts, getting especially nice sounds out of digital percussion.

The composer suggests looping it. A good idea. Buy it here and try it!
---
2022 February 25 • Friday
As long as you're over at Bandcamp buying this 2018 live recording of the Chris Cawthray trio with myself and Andrew Furlon, you should also buy this: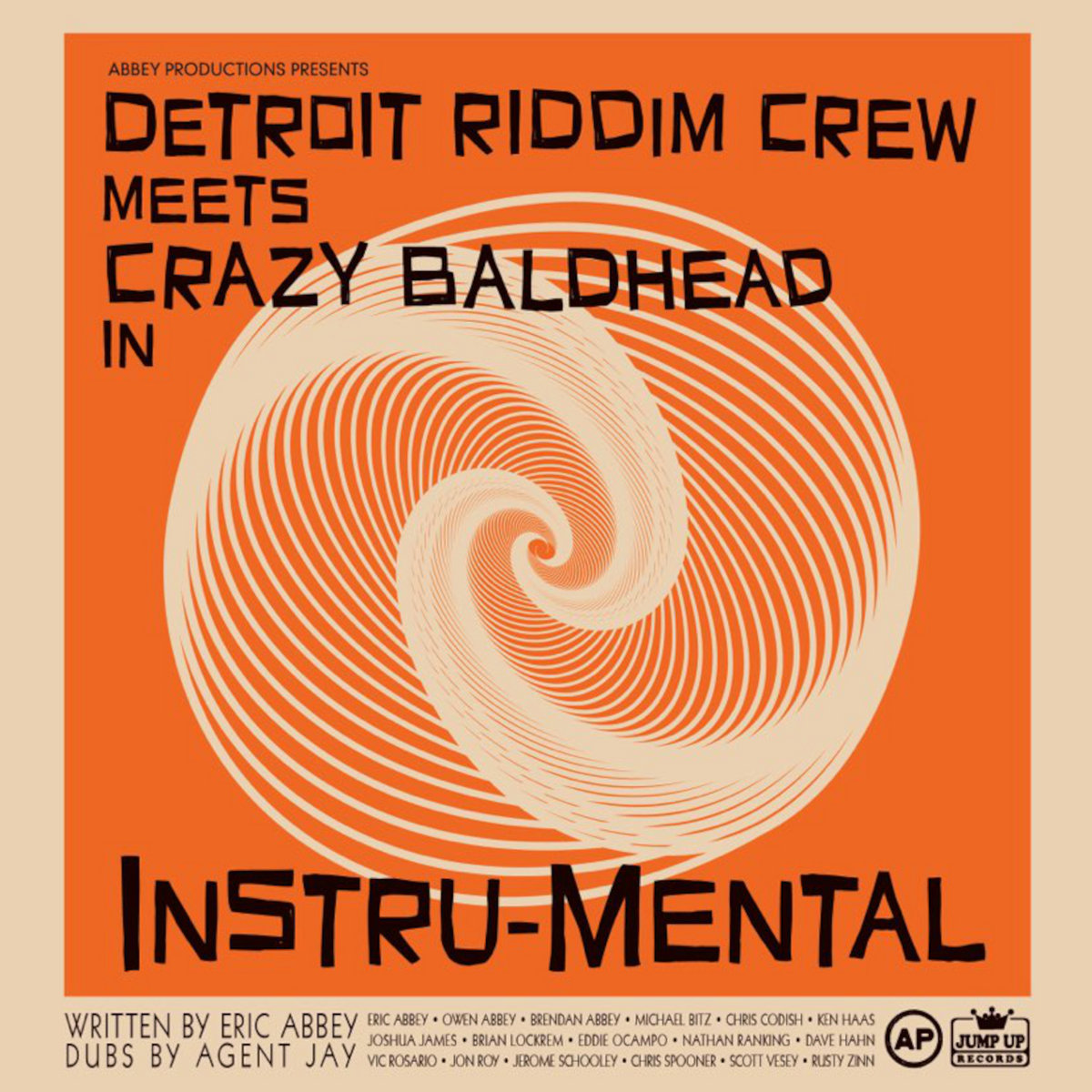 Instru-Mental is a really cool record. Actually it's two records in one.

The A side is all recordings by a band called Detroit Riddim Crew, very cool instrumental ska and reggae.

But I'll admit to really being into the B side, in which the genius guitarist/ composer/producer/DJ/etc. known as Crazy Baldhead and/or Agent Jay created dub remixes that are so cool it's like magic.

It's on vinyl and sounds amazing. You should get it!
---
2022 February 23 • Wednesday
A live recording of Chris Cawthray's trio with myself on guitar and Andrew Furlong on bass is now available on Bandcamp!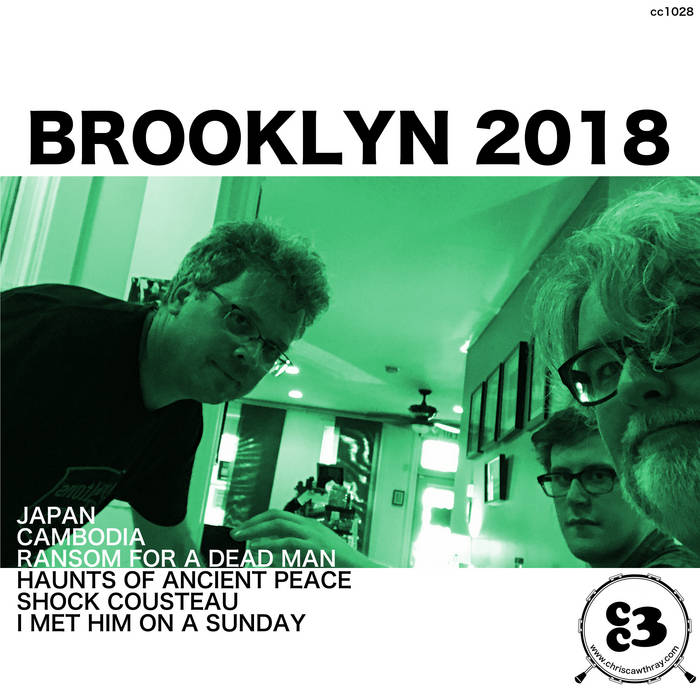 This was in 2018, I think August, and one of a few shows we did that week, not just in New York but also in Pennsylvania and maybe some other places. I don't remember.

But I do remember enjoying these gigs. I was playing a cool Japanese electric guitar from the '60s, a fairly obscure model that I took a chance on buying on eBay. I scored! Great guitar, very playable and with a great sound.

You can hear it for yourself right here!
---
2022 February 21 • Monday
The James Horner score for 48 Hrs. is our 714th Soundtrack of the Week!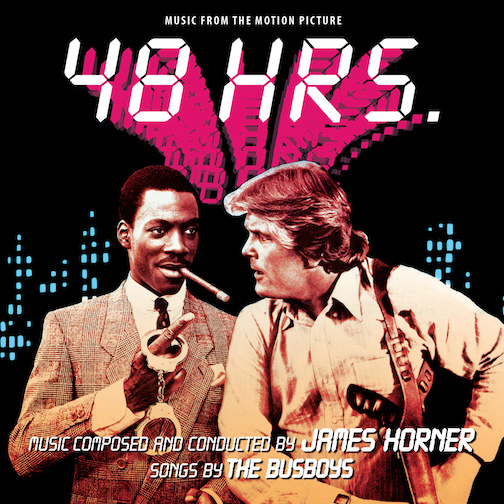 The "Main Title", at over five minutes in length, is something of a tour de force, a mini-suite of compelling themes with electric bass guitar, harp, synthesizers and saxophone as main voices, alternating between grooves, snakey melodic lines and more menacing dramatic underscore that might make you think that Klingons are nearby.

"Jack Leaves Elaine's Apartment" is a short piece with electric bass guitar and saxophone doing much of the talking, but also includes steel drums as a crucial element.

Things get into very intense action and suspense moods, bordering on horror movie soundtrack territory, in "The Walden Hotel", with wailing and divebombing strings and menacing bass frequency stomps. The mood lightens after that for a cheery, swinging and relaxed steel drum feature, "Aerobics.

Then the steel drum works together with synthesizers to create a bewitchingly multi-faceted line that floats above some heavy and suspenseful orchestral parts. At the end Horner shows just how effective one single note can be.

A deep percussion groove kicks off "Subway Station", which gives lots of space for the saxophone and steel drums.

"Subway Chase" is like a classic orchestral cue, perhaps one of the more menacing ones from Horner's Star Trek II: The Wrath of Khan score, but with the addition of synthesizers and steel drums giving it kind of a prog rock feel. This idea continues to be explored in the next tracks, "Luther's Bus.

Another longish cue, more than five minutes in duration, "The Alley" starts off with some of the same ideas from "Subway Chase" and "Luther's Bus" but then gets into eerie and spacious territories, creating a mini-suite similar to the "Main Title".

After that come four songs by The BusBoys.

"(The Boys) Are Back in Town" is a classic '80s rock song and absolutely perfect for a movie like this.

"48 HRS" provides a bit of commentary on the plot of the movie itself and is another catchy and energetic soulful rock number.

"Love Songs Are for Crazies" is a lilting and melodic number, bluesy and swinging with a bit of an old-fashioned feel to it.

"New Shoes" brings us back to the loud, high-energy rock of the other songs. All of these songs are a real pleasure.

The CD is rounded out with alternate versions of "Main Title", "Subway Station" and "Luther's Bus" as well as two pieces of source music: "Ira Newborn's "Torchy Blues" is a scorching country rock guitar instrumental and "Saratoga Blues" is a solo piano honkytonk blues number by Ralph Grierson.
---
2022 February 18 • Friday
Victoria Coren Mitchell is one of our favorite people here at Gutbrain HQ. I suppose I first became aware of her via Q.I. and then Only Connect, the world's best quiz show, which she hosts. And then I saw her a few times on Would I Lie to You? with her husband, David Mitchell.
But she's also a professional poker player. She was the first woman to win the European Poker Tour and the first person to win it twice.
Since I had ordered David Mitchell's memoir and Robert Webb's memoir from UK Amazon, I received an algorithmic suggestion that I might like also to buy Victoria Coren's memoir.
The algorithm couldn't have been more right. For Richer, For Poorer: Confessions of a Player by Victoria Coren (pre-Mitchell) is one of the best books I've ever read.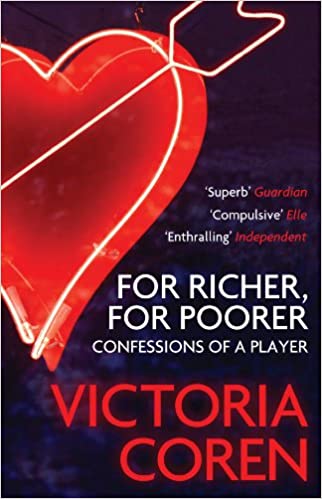 This is the kind of book high schools students should be given to read. It's got everything.

It's brilliantly written, thrilling, moving, educational, honest, very funny and quite moral. The structure of the book itself is exciting, with each chapter starting with Coren's progress through life and growth as a gambler and ending with an italicized section recounting the EPT final hand by hand.

(Even if your goal were to encourage the acts of reading and writing, regardless of content, this book should do the trick.)

Every page has something delightful and thoughtful on it. Especially valuable are Coren's observations about character, about plain human decency and the importance of the families we create for ourselves ousides of those we're born into.

(The anecdote about a sports gambler known herein only as The Lizard is especially instructive.)

This isn't just a memoir or a book about poker. This is a book that could be important and inspiring to any number of people. In addition to being great, it's also fun! Imagine that!

The first line is "Today, I might win a quarter of a million dollars".
---
2022 February 16 • Wednesday
Sara Gran's Come Closer is a brilliant horror novel, perfectly modulated and surgically precise in its execution.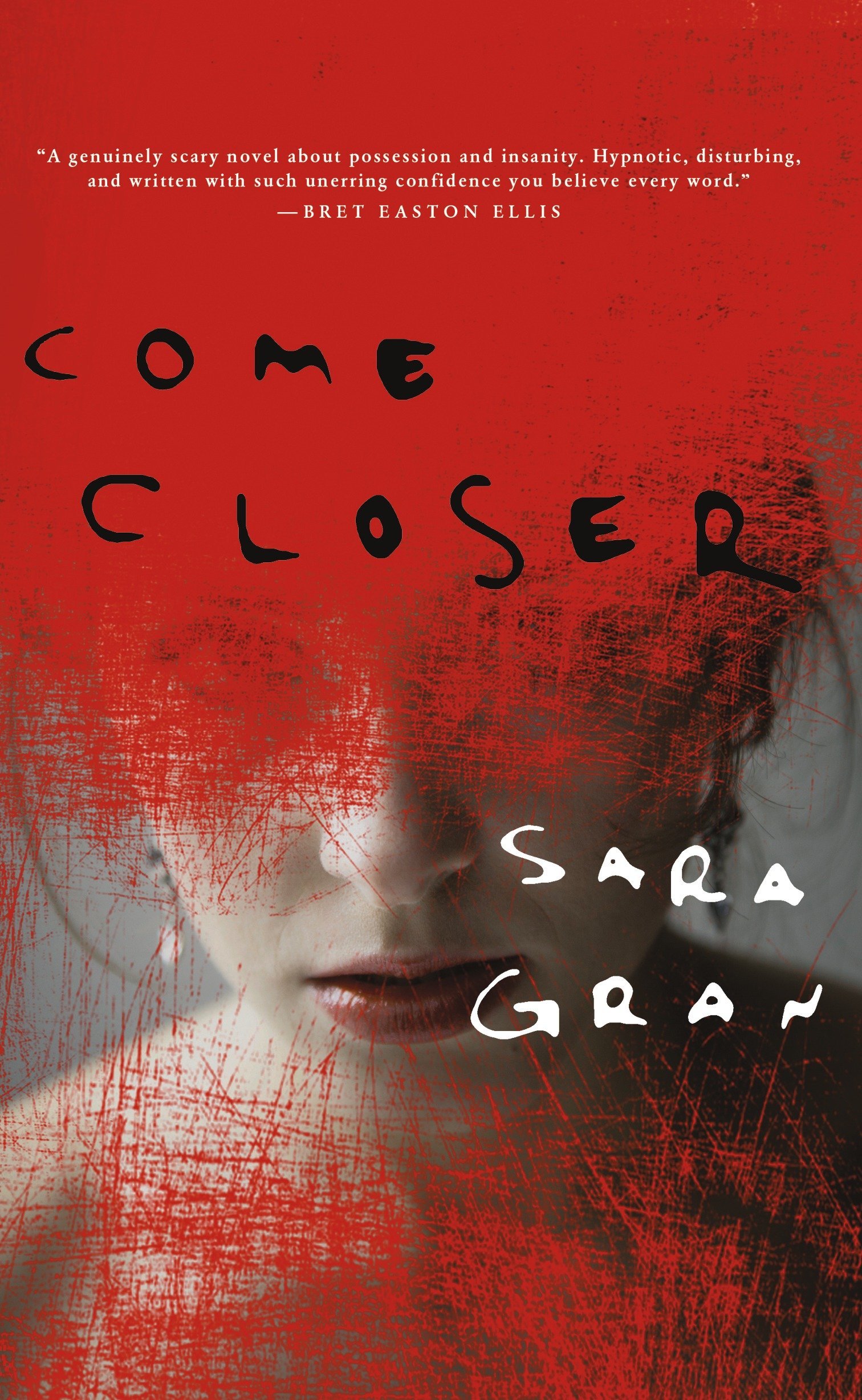 Thanks are due to the stalwarts at Paperback Warrior for bringing it to our attention.

It's about demonic possession and rather unusual in that it's told from the point of view, first-person narration, of the person being possessed.

It gives the story both painful empathy and excruciating believability. Amanda knows when things start being a bit strange and then she knows when things are very definitely wrong. She knows when she's a danger to herself and she knows when she's a danger to others.

And she can't escape. As the Paperback Warrior review pointed out, there's a parallel here with an addict's story: another angle that gives weight to the story.

If this sounds interesting, by all means check it out.

The first line is "In January I had a proposal due to my boss, Leon Fields, on a new project".
---
2022 February 14 • Monday
Happy Valentine's Day! We brought flowers: Alberto Iglesias's music for La flor de mi secreto, the 713th Soundtrack of the Week!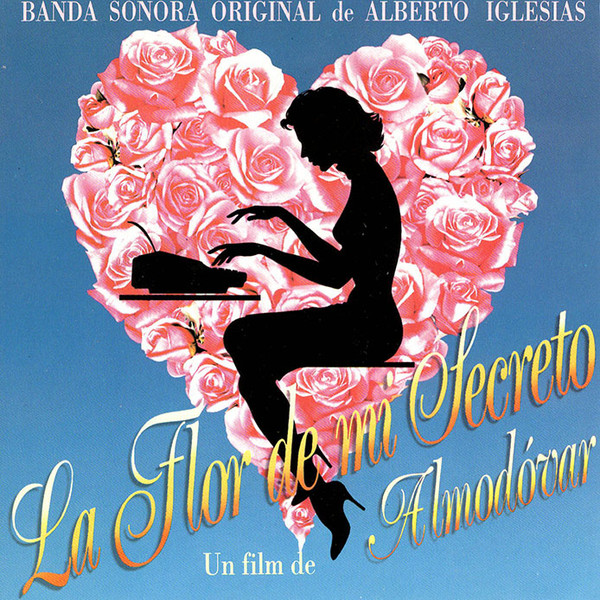 It's a moving and romantic score, starting with "Titulos" that are a duet for violin and flamenco dancing (or so it sounds to me).

"Casa con ventanas y libros" is an urgently flowing piece with violing and clarinet handling a lovely melodic line while the strings chop away rhythmically.

The strings are very agitated in for the very brief "Brevemente" and then there's a kind of moody waltz, "Retrato de Amanda Gris". "Tango de Paris" is a short tango piece with violins and accordion or bandoneon.

Then there's another short cue, not so rhythmic but more pensive, "En Madrid nunca es tarde, again a feature for the strings.

The tempo and feel pick up again for another waltz time number, this time with the flamenco boots again, for "Fascinación".

"¿Existe alguna posibilidad, por pequeña que sea, de salvar lo nuestro?" has the strings playing with and against each other for an atmopshere that impressively mixes the modern and the romantic.

After that we get a breather with the long, textural "Interior", which sounds like clouds and very slow breathing.

Then more swooping and soaring strings drive the short and insistent "Escribe compulsivamente".

"Duo" is 22-second piece for boots and cello, followed by the mysterious and beautifully billowing "Ingenua", another showcase for the string section.

Flute gets to share the spotlight with the luscious string playing in the brief but gorgeous "Mi aldea".

Then two more very short cues, about half a minute each, the waltz time "¿Qué leo?" and the almost Herrmannesque, unsettling "Vertigo" (coincidence?).

"Sola" is achingly beautiful and sounds like loneliness. .

Clarinet gets to take the lead for "La flor de mi secreto", a lovely sinuous tune reminiscent of both Bernard Herrmann and Nino Rota.

The CD ends with a few pieces of music from outside the score, such as Caetano Veloso's "Tonada de luna llena" and "Soleá" from the Miles Davis Sketches of Spain record.
---
2022 February 11 • Friday
The recent snowstorm inspired us to bake cookies and take a look at an old magazine from the pile beside our desk. More or less at random we selected this "Special Boating Issue" of Mechanix Illustrated, March, 1964.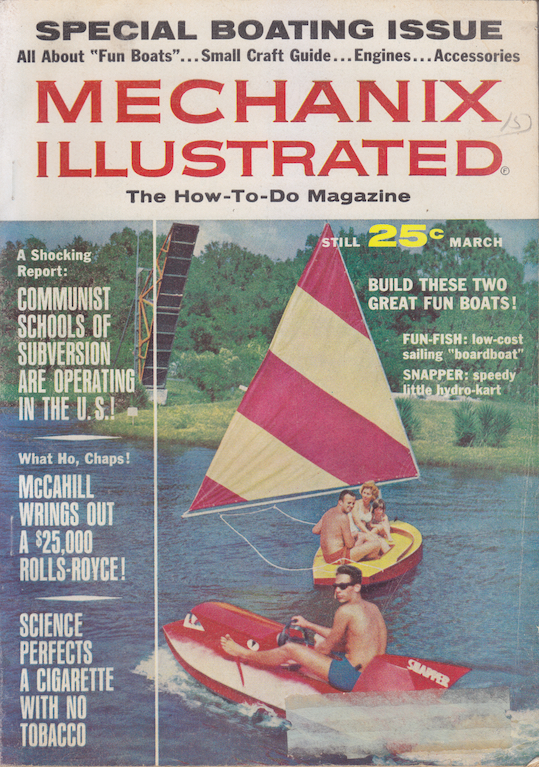 Of course we were interested in the "Shocking Report" that "Communist Schools of Subversion Are Operating in the U.S.!".

But it wasn't much. The article doesn't have much to say other than that there is one (1) music school on the Upper West Side of Manhattan that has some teachers that are or were or probably are or were Communists or Communist sympathizers.

Of greater interest was this presumably quite early appearance of snowboarding, the board itself called a Sno-Surfer here.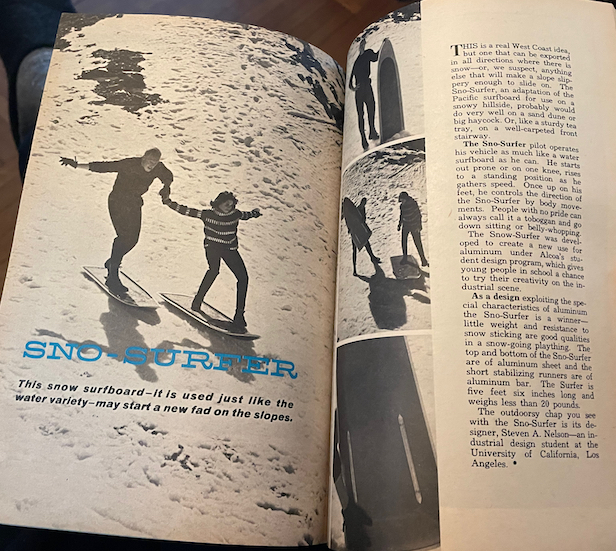 What about the cigarette without tobacco? You might be thinking of vaping or some such thing but in this case it's cabbage instead of tobacco leaf. It does not sound good and if it ever caught on, we never heard about it.
---
2022 February 09 • Wednesday
Peter Watts's Blindsight is a dazzlingly complex "hard science fiction" novel and an extremely enjoyable and pleasurably challenging reading experience.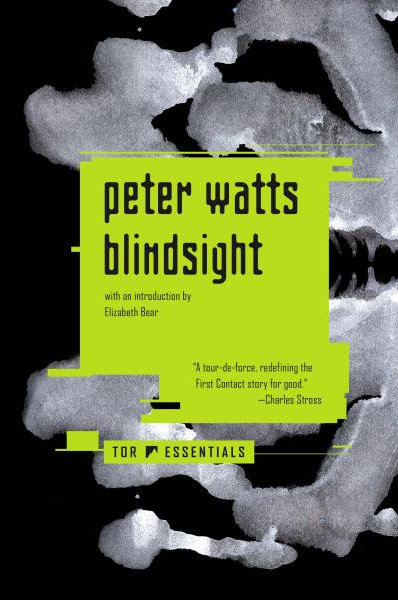 What's it about? Ha! Good luck with that. I mean, you can describe the story pretty simply. It's the late twenty-first century, alien probes surround Earth, nothing actually happens, they're just there, but it freaks out humanity enough to shoot the works on blasting a manned space craft way out there in an effort to make contact with whatever intelligence sent the probes.

And that's a little bit like saying that Moby Dick is about a whaling ship chasing a whale. It's not wrong but it's comically missing all the points.

Blindsight is a bit like Moby Dick, actually. Our narrator, Siri Keeton, tells us in the prologue that he's relating the story of the voyage of the Theseus (and if you immediately started thinking about the Ship of Theseus thought experiment then you are absolutely in the right zone for this book) from the point of view of being "blind, talking to myself, trapped in a coffin falling past the edge of the solar system". Ishmael ended up in a similar situation.

Siri Keeton had half of his brain removed when he was a child, though, and replaced with, well, circuitry (or something) that allows him to fake being a human pretty well. With no ability for empathy or even much knowledge of human thoughts and feelings, other than a few memories, he uses perceptions of surfaces to derive algorithmically what might be underneath. He reads people extremely well by their topography (a somewhat Ballardian touch). And not just people. Hence his value to the mission. Officially an ubiased observor but unoffically a potential analytical tool.

Who else is there? Well, the leader is a vampire, an actual vampire. Watts creates a wonderful alternative vampire mythology that's kind of brilliant. He folds it into the story so expertly that it seems completely plausible. He does this with a lot of the science in the book, some theoretical, some established, some purely speculative.

The rest of the crew is pretty standard. There's one woman who is actually four different people all at once, each with different names, personalities and attributes. There's the military respresentative, just in case. As Keeton puts it, "If you have to up unarmed against an angry T. rex with a four-digit IQ, it can't hurt to have a trained combat specialist at your side".

And the last crew member is a cyborg, someone who's traded all his organic senses for artifical ones that can supply exponentially more data about everything, even though he himself can no longer really "see" with his eyes.

I shouldn't say much more. I've probably said too much already. But this was a thrilling and astounding book, not a sprint or a light jog but a hugely satisfying adventure whose real subject turns out to be consciousness and sentience.

The first line is "It didn't start out here".
---
2022 February 07 • Monday
Piero Piccioni's music for Colpo Rovente is the 712th Soundtrack of the Week!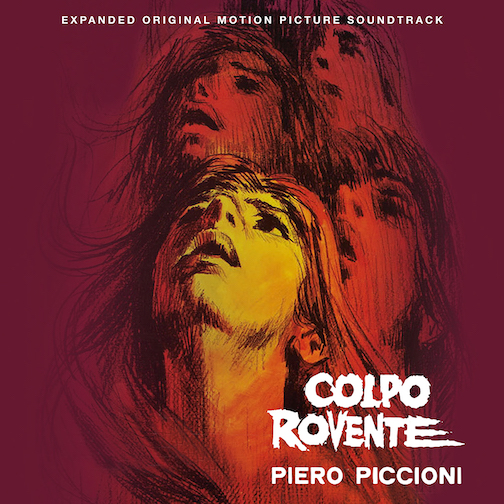 The title track is a slinky and groovy piece in 6/4 with some nice electric guitar playing and a great trombone solo.

This is followed by "Kintabù", kind of a jazz piano feature but with very reverby Duane Eddy-like guitar and a really cool drum/percussion part. It's over much too quickly.

The first thing you hear on "Identikit" sounds like prepared piano laying down another really cool groove. It also sounds like the inside of the piano is being played too. Just in the first three tracks Piccioni is doing an amazing job of mixing catchy rhythmic feels with very sensual atmopsheres. Things get pretty crazy, as you might expect, in "LSD (Red Hot)", which basically has the strings sliding all over the place making a lot of weird noise, before the band comes in to reprise the title theme.

The harp and strings opening of "Eros" suggests a flashback at first but the ideas are developed with the addition of percussion and shaping of the string part so it ends up being an atmosphere of romantic anticipation.

"Fuoco" starts off as a tension cue but ends up reprising the swinging main theme again.

Then it's groove time again with the mellow shake of "Easy Dreamer (Choir)", in which Hammond organ takes the spotlight for a soul-blues-pop number that, sure enough, does tack on a wordless choir.

The percussion does a lot in the laidback and gentle "China Town Drugs", which also features some delicate piano and guitar playing. It's a beautiful cue.

The main theme returns for "Colpo Rovente (Red Hot)" and then there's an abrupt shift to the lush "Mexican Dream", a lovely exotica travelogue type of piece.

The Mexican dream apparently takes place in "Acapulco", a very loungey number that's a feature for the piano and organ.

Those are basically all the cues but there's a lot more music on this CD from Quartet Records, as there are numerous alternates, sometimes as many as four of each. This is a fantastic release from a great label.
---
2022 February 04 • Friday
We just caught up with the latest issue of Paperback Fanatic, a magnificent fanzine dedicated to vintage paperbacks, a favorite thing around here.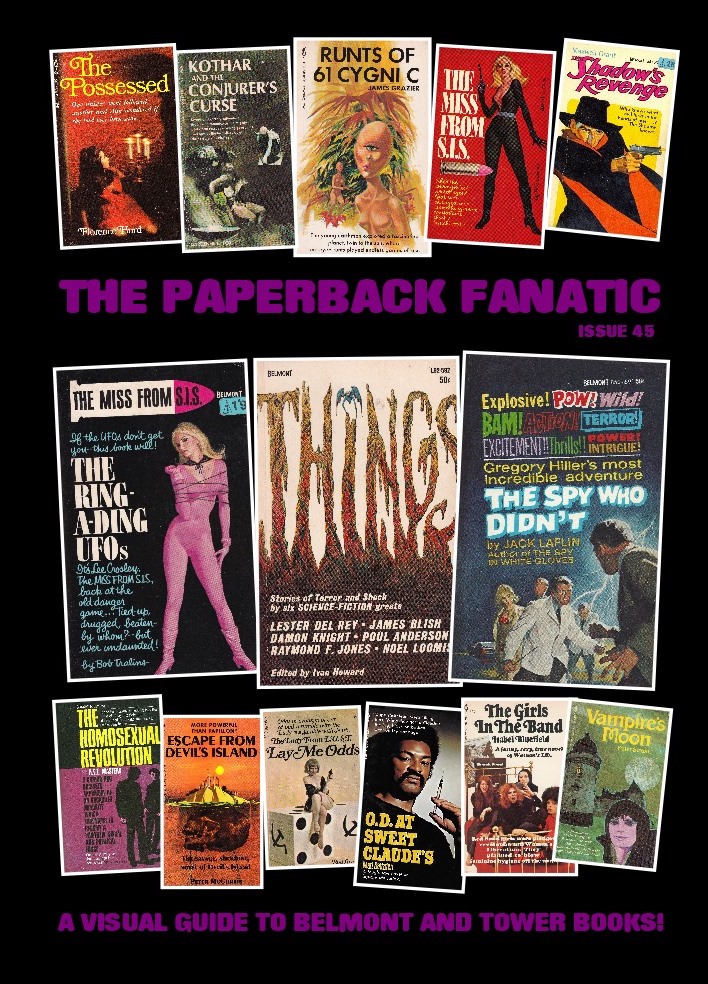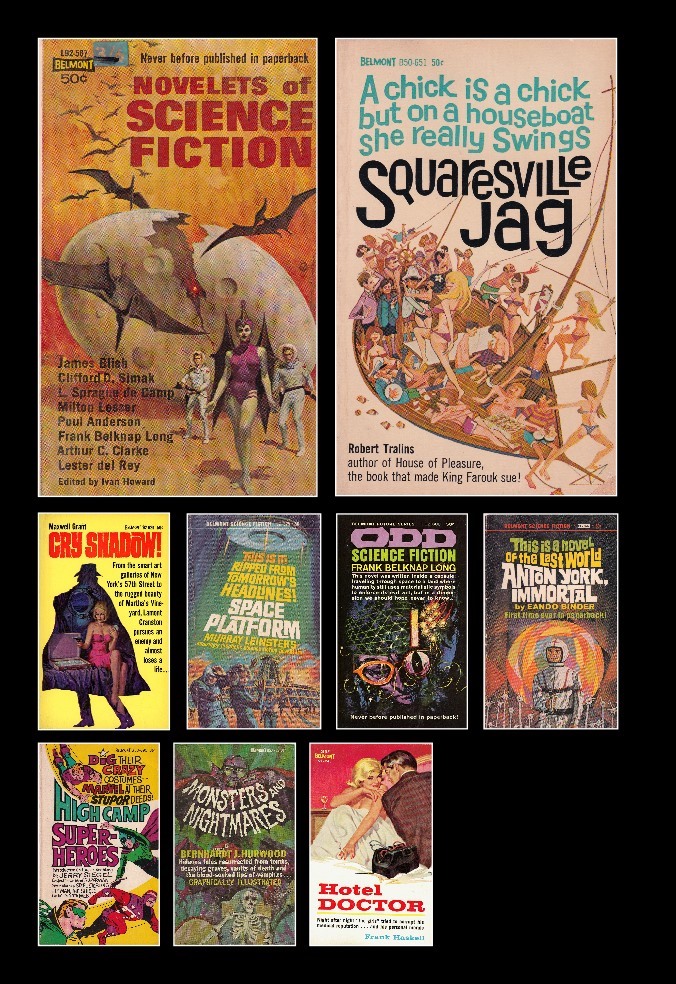 This issue focuses on titles published by Belmont and Tower and has hundreds of cover reproductions as well as thumbnail comments about the books.

It's terrific and I ended up ordering at least three books after being smitten by the glimpse I got of them.
---
2022 February 02 • Wednesday
Martin Amis once kicked off a piece about Don Quixote by remarking that it was unreadable and he knew this because he had just read it.
This line could be adapted for a review of The Strange Death of Alex Raymond by Dave Sim with an assist from Carson Grubaugh. It would be better than the comparison to Finnegans Wake that always pops up in search results.
If Don Quixote is unreadable, as Martin Amis says it is, then The Strange Death of Alex Raymond is probably unreadable too. Not only have I just read it but I went through it a second time and took five pages of notes in an effort to understand it in some kind of coherent fashion.

The problems start with the title. Alex Raymond's death might not be strange. He lost control of his friend and fellow artist Stan Drake's new Corvette. Raymond was killed and Drake thrown clear.

Sim finds this to be intrigue of the highest order and has lots of challenges to "the official story". These challenges aren't especially persuasive and in some cases, such as whether it was impossible for Raymond to have been injured by shards of glass, to be based on incorrect assumptions.

On an online Corvette Forum, questions about this accident were posed by someone assisting Sim with storyboarding and research. The overwhelming response was that it was a fairly banal accident.

Unfortunate, to be sure, but not especially surprising or suspicious.

Unless you're Dave Sim and your research into the great comic artists who brought photorealistic illustration to newspapers leads you to some very strange places.

It's a mixed bag of a book. The art, layout and design are at an extremely high level, frequently genius and occasionally mad genius.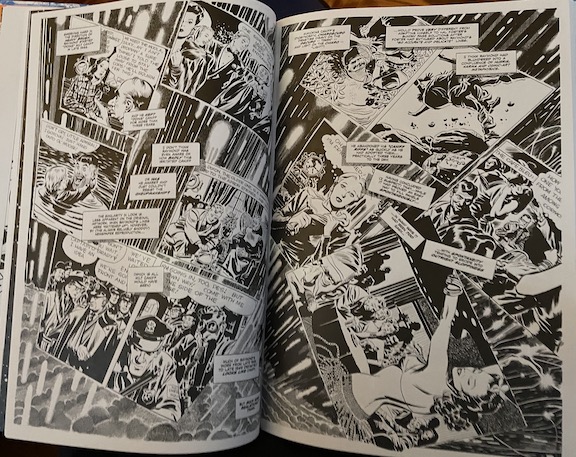 The first part of the book, although saddled with an awkward and intrusive framing device, is a fascinating deep dive into art history and the development of photorealistic illustration styles. It gets a little bit technical, with discussion of pens and brushes and such, but absolutely friendly to a general readership.
But after a bit of this, there's an abrupt shift in which you'll encounter some variation of the word "metaphysics" about a thousand times and find yourself being pulled down various rabbit holes with Sim as he attempts to connect dozens and dozens of comic strips, real people and events, fictitious people and events, unexplained exictement over inconsistent and vague numerological observations, what are most likely coincidences and/or lazy writing, to form a picture of, well, reality itself, in which, apparently, one man, Ward Greene, used occult powers to manipulate people and influence events in the past, present and future.
I think that's really what it's about. Sim pretty much says so, I think, as does Grubaugh when he shows up at the end to wrap things up.
For instance, although this is not about Greene but about William Seabrook, who meets Greene in 1912 and is also interested in the occult:
…Seabrook's pre-Ward Greene presence at the Atlanta Journal in 1909 begins triggering far-reaching metaphysical effects… backwards and forwards in space-time… He's 20 years away from the publication of his 1929 Haitian voodoo expose, The Magic Island… but, because he will write it — he always wrote it — always had written it, it affects events in his past, which is simultaneously his present and which is simultaneously his future.
It's not persuasive but the notion is at least more or less comprehensible, even if the mechanics of how such a thing might be achieved and what the limitations and ramifications of such powers might be, details like that, are completely absent.
And there's such a dizzying deluge of names, dates, stories, it's like trying to keep track of a single snowflake in a blizzard.
For instance: "Linking Toni Benson to 'Bad Impression's 'Peggy' to Sara Jane Strickland to Bessie Montez to Babs and Belle to Jane and Peggy to Peggy and Raymond to Mary Drake to Maid Margaret Smithers to Margaret Blythe to Hester Prynne to Ann Hibbins to Hester Prince to Hester Prentiss".
I can't remember what any of that was supposed to mean and I'm not sure I understood it either time I read this book.
Central to all of this is Margaret Mitchell, author of Gone With the Wind, by the way.
While I had originally planned to write a much longer piece in which I assiduously go through my notes and argue, comment and observe, just thinking about it makes me feel weary.
If any bit of this interests you at all, then I highly recommend the book. It is nothing if not impressive and you're unlikely to exhaust its potential in one trip from front cover to back.
---