2021 December 06 • Monday
The 703rd Soundtrack of the Week is Together Brothers by Barry White!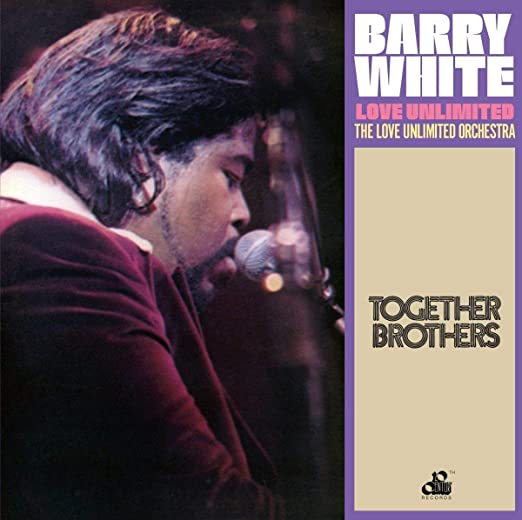 It starts off with "Somebody's Gonna Off the Man", a song with a great groove and lyrics along the lines of "In the name of justice / In the name of peace / When will this killing and fighting / Ever cease". It's got great energy, especially from the drummer, and the arrangement and structure are reminiscent of "Eleanor Rigby", which I wasn't expecting. Then there's "So Nice To Hear", which sounds like a love theme. It's an instrumental, with lots of strings, a harp, and melody played on various instruments, including what sounds like a glockenspiel at one point. Things get funky again with "Alive and Well", a short instrumental based on a segment of "Somebody's Gonna Off the Man". "Find the Man Bros." starts off with some sharp musical stabs before launching into a lean and muscular funk groove with some killer rhythm guitar work before ending on a brief and surprisingly ethereal note. Another short but devastating hard groove comes right up in the solid and spare "You Gotta Case", which also has great guitar playing. Whistling starts out "Killer's Lullaby", which has an eerie and off-kilter sound and feel, with the piano doing almost all of the work in the first half, before the rest of the orchestra comes in, with what sounds like synthesizer and harp most prominent. It's only at this point that we get the "Theme from Together Brothers", a funk/soul that continues the pizzicato motif from "Somebody's Gonna Off the Man" but puts it in service to a different number with swooping string lines, razor-edged wah-wah guitar and am impressively "modern" melody. "Getaway" starts out sounding like traditional dramatic underscore for a suspense sequence but then some electric instruments start sneaking in and then it just explodes with one of the heaviest grooves yet. This is followed by instrumental versions of two songs, "People of Tomorrow Are the Children of Today", which we haven't heard yet but is a soaring soul anthem, and "Somebody's Gonna Off the Man", basically the same as we heard it before but without the lyrics. Perky percussion and flute followed by some John Williams-ish string work make "The Rip" into a cue that could fit into any number of movies that needed music for a tense and suspenseful sequence. Then there's "Stick Up", a variation on the main idea for "Find the Man Bros.". "Dreamin'" is a very short and lush love cue with weeping strings and a deep pocket from the rhythm section. The eerie whistling from "Killer's Lullaby" returns for "Killer's Back" and the mysterious atmosphere continues, but in a very groovy way, for "Do Drop In". In "Killer Don't Do It", the whistling is paired with what sounds like a bassoon and some kind of analog synth for a very unsettling cue that would easily fit a horror movie.

Lalo Schifrin's Mission: Impossible music seems to be explicitly referenced in "Here Comes the Man", which also throws in some string writing that suggests more mystery.

The deep groove and lush vibe of "Dreamin'" is revisited for "Dream On", which has some beautiful playing by the rhythm section as well as saxophone before bursting into some staccato action figures unexpectedly at the end.

And then we get Mr. White singing again in the full-on soul attack of "Honey Please, Can't Ya See", very much like his hit songs that we know and love.

"Can't Seem To Find Him" is a mix of hard funk grooves with bits of music that would work for action or horror movie cues.

And then the record concludes with the vocal version of "People of Tomorrow Are the Children of Today", great melody and uplifting lyrics.
---