2021 November 29 • Monday
The month of jazz interpretations of soundtrack music concludes with an unusual record: Movies by Franco Ambrosetti "and Friends", the 702nd Soundtrack of the Week.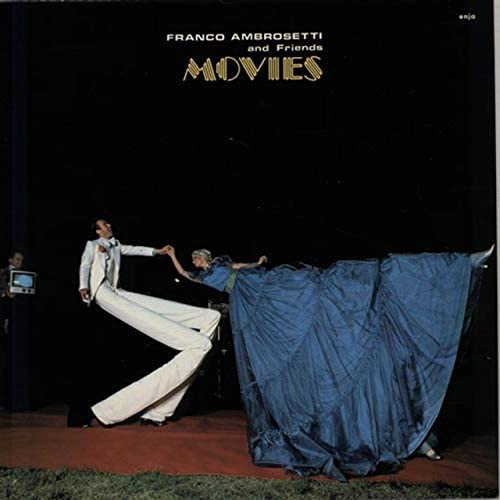 Ambrosetti plays trumpet and flugelhorn and his friends here are John Scofield on guitar, Geri Allen on piano and synthesizer, Michael Formanek on bass, Daniel Humair on drums and Jerry Gonzalez on percussion. That's quite a band. Quite a group of friends. The record starts with Gershwin's "Summertime", which was of course featured in the film version of Porgy and Bess It has a slinky and atmospheric feel at first, with Allen and Humair in particular contributing to its ethereal nature. Then it goes into an uptempo raging bebop zone with some blistering trumpet playing from Ambrosetti. Scofield fans will also love the guitar solo. When it's Allen's turn, she magically keeps the pace and intensity while also steering the band toward a more expansive space, giving everyone's contributions more of an impact. Next up is "Yellow Submarine", which begins as what sounds like free improv of the downtown NYC variety, circa 1985. Ambrosetti starts adding the melody to the sonics around him, Allen raises the stakes with some aggressive piano statements, the rhythm section flutters around and once again we're off into very fast modern jazz but this time very quietly, very lightly, with Ambrosetti using the mute and Humair and Allen having such deft and delicate touches on their respective instruments despite playing so fast. Uh, yeah, and Scofield again with a blazing guitar solo. Do people know about this record? A Herbie Hancock tune, "Chan's Song (Never Said)", which I guess was in the movie Round Midnight, comes after the radical (and often unrecognizable) interpretation of "Yellow Submarine". It starts with a very pretty guitar solo and is immediately the most "normal" thing on the record so far. And what we've got here is a relaxed, lovely ballad, and it's a good time for it, as well, as the first two tunes were pretty crazy. The next track, "That Old Black Magic", which was in the movie Star Spangled Rhythm, is the first to feature Jerry Gonzalez and it features the hell out of him. It's actuall a trio of Gonzalez, Scofield and Ambrosetti, and all three of them stretch out and play just mindblowingly well. Again, I have to wonder, do people know about this record?

Flip the record and you hear a beautifully sensitive interpretation of "Good Morning Heartache", connected to the movie theme by the Billie Holiday biopic Lady Sings the Blues. No tricks or craziness here, just a soulful exploration of this wonderful song.

After that come the most soundtracky piece in the set, Elmer Bernstein's theme from The Magnificent Seven, which has been essayed by quite a few groups in the past, but mostly from the rock and roll camp. Here it starts with Gonzalez generating a lot of energy on percussion, soon joined by Humair and then the rest of the band. It's an extremely high octane rhythmic foundation for Bernstein's timeless melody to soar above. It's a risky arrangement and an inspired choice that works brilliantly and allows all the musicians to shine.

Then they get to sneak in another standard, and another lovely ballad as well, played as a trumpet/guitar duet, and achingly lovely. It's "Falling in Love Again", also known as "Ich bin von Kopf bis Fuss auf Liebe eingestellt" from the movie The Blue Angel.

And then, sadly, the record wraps up with an Ambrosetti composition, "Be a Brave Utopist", from a movie called Die Reise. It starts out with a great drum solo, after which the bass and guitar come in with some great, snaky Scofield playing over an uptempo walking bass line. It's a great fast jazz tune, straightforward changes, lots of stretching out from the players. Really a great and unusual album.
---