2021 November 08 • Monday
Next in the November series of jazz interpretations of soundtrack music is Ray Bryant's record Hollywood Jazz Beat, the 699th Soundtrack of the Week.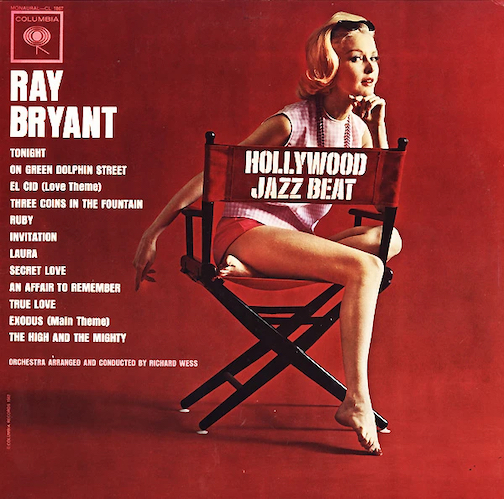 The personnel is basically Ray Bryant's trio with some strings and horns thrown in. Is it the same bass player and drummer from other records? It doesn't say on the album. It starts with the very often played standard "On Green Dolphin Street", which Bryant takes at a mid-tempo pace but with a lot of energy. There's some subtle Freddie Green-like guitar comping in there as well. Bryant starts "Ruby" by himself, his hands dancing on the keyboard as they create light runs and hopping chords. The accompaniment for this one is mostly sparer, with the strings swelling only at about the halfway mark and the oboe also adding considerably to the texture. Strings, horns and timpani start off "Invitation", creating a lush and dramatic atmosphere that vanished for Bryant to start the melody solo. Then the rest of the instruments come back in and there's some strong support from the flute. "Secret Love" has always been a favorite song around here and the sprightly and sparkling version of it here is a delight. The orchestral introduction to "An Affair To Remember" ends on a high note for the violins, a bowed harmonic, a bit surprising. Then the trio comes in swinging and the strings change to pizzicato after a bit more bowing, for this lovely tune that's a bit similar to "It's Almost Like Being in Love". Soaring and swirling orchestral patterns provide an apt introduction to "The High and the Mighty", an inspiring and cheerful melody, similar to Elizabeth Cotton's "Freight Train". There's a flute solo and the drummer plays especially well on this one. The very well known main theme from Exodus then gets an interesting interpretation. It's only two minutes and almost a quarter of it goes by before Bryant starts playing. But this is great, really driving and up-tempo with Bryant racing around the keys with ease. And there are bongos and pounding timpani! The only criticism here is that it fades out instead of having an ending. After that you might want to catch your breath and here's an opportunity to do so. Everyone knows "Laura", I'm sure, but Bryant makes it sound new here, with impressive sensitivity and musicality. The string backing starts unobtrusively with just single long tones before developing into something with a bit more weight but still using a lot of space and maintaining simple harmonies. And after that we're still taking it essy with the slow and relaxed "Three Coins in a Fountain", which gives the orchestra more of a chance to shine than usual. Is that a glockenspiel I hear? Some "exotica" modalities are up next for the love theme from El Cid. This is another short one and another one which allows the orchestra to handle some more of the heavy lifting with Bryant playing less a soloist than as part of the orchestra. Everyone probably knows "Tonight" from West Side Story but I've never heard it done in this syncopated, swinging, breezy way. The gravity and sobriety of the original are here replaced by pleasure and joy. "True Love" is a relaxed waltz whose melody is first handled by reeds and strings before Bryant takes over with some lovely intervallic lines. There are several great Ray Bryant records out there and this is definitely one of them. He doesn't need strings and horns but this kind of thing is quite nice when you're in the right mood.
---