The 692nd Soundtrack of the Week is Nathan Furst's music for the movie Dust to Glory a documentary about an off-road race in Baja. It's directed by Dana Bron, son of The Endless Summer filmmaker Bruce Brown.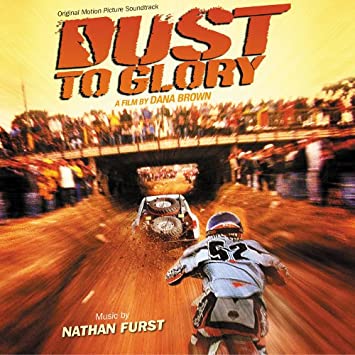 The "Dust to Glory Theme" is, unexpectedly, a Middle Eastern-sounding piece with a lot of momentum and energy. It's followed by a triumphant and stirring orchestral cue in a John Williams vein, "Heart of the Baja".
"Race Day" takes its time getting started, with some suspenseful electronic pulses and subtle sounds appearing around a delicate piano part. It builds too full orchestra with electronics and what sounds like a chorus, a massive wave of music that's still very lyrical.
Folksy acoustic guitar playing kicks off "The McMillins", which stays in this interesting zone of Americana mixed with instruments from other places around the glove, North Africa and Japan among them, by my guess. At one point it becomes somewhat reminiscent of Howard Shore's theme for the Shire.
Then Furst kicks it in to gear with the rocking "Falling from the Sky", pounding riffs delivered by rock band instrumentation and a male vocalist who's somewhere in between Radiohead and Iron Maiden.
Things get dreamy/suspenseful with "Andy Closes the Gap", which has a poignant melody played over insistent percussion and a desert sort of feel to it.
A lovely female soprano voice is the feature of the lushly beautiful "Weatherman", another piece that might recall Howard Shore or John Williams.
"Riding Dust" continues some of the previous feels and melodic ideas for a short cue that sounds like it's for a tense action moment.
A hyper and nervous 3/4 meter (and sometimes 6/8?) help give "The Beach" a dangerous off-kilter quality.
It leads directly into "On the Other Side" which relaxes into a romantic cue which recalls the "Heart of the Baja" theme.
After this comes a delightful surprise: The Sandals! Immortal for their "Theme from The Endless Summer" they appear here to play a wonderful and dreamy acoustic number called "Lorena".
"Sharing Dust" brings back more sensitive piano playing after some long tones and various textures create an atmosphere of what sounds like mourning someone beloved.
More stirring orchestral music with some global music selections kicks off "A Pattern Developing/Silt" before getting into a cool groove with some insistently strummed strings and other vigorous ostinati.
The acoustic guitar and piano do almost all of the work for the very tender "Coco's Corner".
The same two instruments are the main voices in the mysterious "Baja Shadows".
"Open Terrain" has some of the same momentum as the main theme but is presented as a quieter and more laidback piece with an ethereal melodic line floating above everything before it explodes at the end.
Then another song, this one a kind of rock/pop/funk/whatever number called "Yes I Will", one of those energetic affirmations of all the things the singer is going to do (yes, he will).
Flutes add a lot to "Not to Finish", a short and atmospheric piece that's like a passing cloud of mixed emotions.
The melody is continued, but with an earthier foundation, in the next cue "One More Mile", with strings being the main voice.
"The Dust" revisits elements of the main theme and finally there's another song to close the record, the contemporary country rock "Once Knew You".
---