The 690thSoundtrack of the Week is Jean-Pierre Bourtayre and Jean Bouchéty's music for the movie The Game Is Over.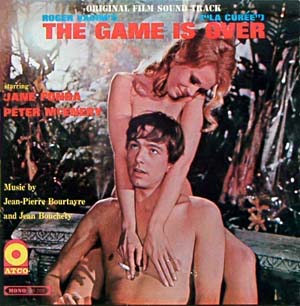 It begins with "Generique Debut (Opening Theme", a short cue of solo sitar playing with a lot of space and establishing the main theme.
Then we swing into a bossa nova with acoustic guitar and a Paul Desmondesque saxophone backed by a jazz ensemble. This is "Un Certain Regard (A Certain Look)" and it's a really nice tune. It would be great to know who the musicians are.
This is followed by "Scene d'Amour (Love Scene)", just over a minute of dreamy melody, the main theme again, with wonderful harp accompaniment.
"Renee" is even a few seconds shorter and reprises the same melody, this time with flute and a slightly sparser harp part.
The sitar then returns, this time with tabla and harp for some gentle atmospheric psychedelia before reprising the main theme again and then fading back into the quasi-Indian music.
The last cue on the A side is "Scene du Lac (Lake Scene)", another fairly short one, starting with snarls of distorted electric guitar that ends up doing its own acid rock version of the main theme.
The B side begins with "Attente (Waiting)", another laidback feature for the sitar.
"Avant Toi (Before You)" is a fairly energetic hybrid of Vegas show/lounge music and acid rock/pop with perky horns pumping out sunny phrases here and there while electric guitar and Hammond organ freak out. The melody has some similarities to the Hawaii Five-0 theme.
Then comes "Baby You Know What You're Doing", which is the same ensemble as the previous track but this time with a male vocalist singing "Oh baby you know what you're doing / When you do that to me" etc.
Another song with the same singer and same band, but this time with fuzzed out guitar and no horns, comes next. "Don't Tell Me" is a pretty straightforward '60s rock song and it's good!
The main theme then returns in "Depart de Renee (Renée's Departure)", again presented by flute and harp.
"Bal Vert (The Green Ball)" is another '60s rock song but this time with a different singer and a pre-psychedlic sound. It's bouncy and unoriginal, nothing special but not bad and with some good Hammond playing.
And then finally there's "Generique Fin (Closing Theme)", a melancholy solo flute take on the main theme followed by solo sitar playing the same.
---