The story of Bernard Herrmann and Alfred Hitchcock is an interesting one. What the story actually is tends to change depending on who tells it. But without wading into that particular swamp, let us say that it is simply a fact that Herrmann's association with Hitchcock tends to be the most salient fact deployed in descriptions of his career, despite the fact that Herrmann's first movie score was Citizen Kane and his last Taxi Driver, with numerous works of genius in between, for directors as diverse as François Truffaut and Larry Cohen.

And that's not even mentioning his work for television, in particular The Twilight Zone. And that's not even delving into his work for radio, his opera, his role as a conductor who championed new concert music, in particular Charles Ives. Et cetera.

Our 689thSoundtrack of the Week is Herrmann's Phase 4 re-recording of suites from some of his Hitchcock movie scores, Music from the Great Movie Thrillers.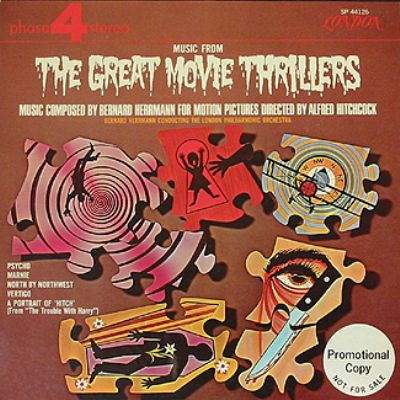 So what's the deal with this? The Phase 4 Stereo concept had something to do with microphone placement and quadrophonic stereo—I think. I'm not an audiophile and I don't feel like researching it right now.
But this is Herrmann conducting suites of his own music from Psycho, Marnie, Vertigo and The Trouble with Harry (Herrmann's first collaboration with Hitchcock; the suite here is called "A Portrait of Hitch" for whatever reason).
Also included is the main theme from North by Northwest.
Without the constraints of timing music to moving image, Herrmann tended to slow things down, but I don't think this will bother any listeners of this CD.
The music itself is almost all so powerful and enchanting that it works.
Perhaps the real treasure here is the music from Vertigo since Herrmann didn't get to conduct the original soundtrack recording, because of musician strikes.
The recording quality and the music itself are both incredible, even though I've never been able to find a way into the music from The Trouble with Harry. Certainly the rest of the record is enough for me.
---