The 688thSoundtrack of the Week is this record we picked up a few weeks ago at Cheapos Records in Cambridge, MA: music mostly by Stu Phillips for a movie called Jud.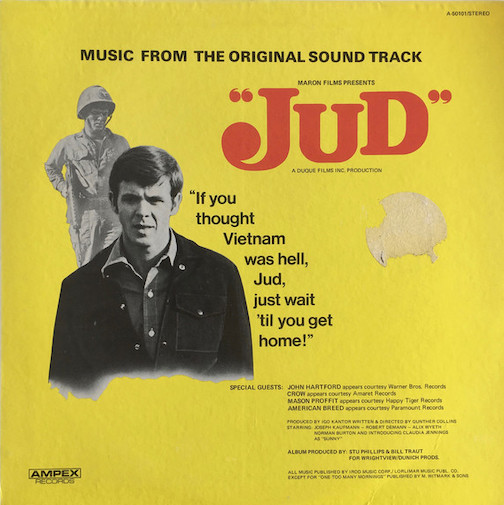 The A side has a selection of songs, of which three were co-written by Stu Phillips while the B side is all Phillips's music.
First up is a cover of Bob Dylan's "One Too Many Mornings" performed by John Hartford, with a backing that includes some Muzaky strings. I suppose it's not what was originally intended but I like it.
The next song is "Solitary Sanctuary" performed by The American Breed, a sort of country/hippie rock number with a hard and deep groove and some nice drumming and guitar playing.
The country influence continues in "Comin' Down Easy", a pleasant and plaintive song with some nice steel guitar playing as well as an appealing harmonic structure. The performer is Mason Proffit.
"Something in Your Blood" by Crow is a high energy rock number with some aggressive guitar and drum playing as well as a singer who seems to be channeling Steppenwolf or Ozzy or Iron Butterfly etc, really going for it. Great song.
This side of the record ends on a laidback, loungey note, with the quasi-bossa "Come to Me, Anytime" by Barbara Robison, another piece with a really nice melody and chord progessions.
On the flip side we get a bunch of Stu Phillips pieces, beginning with "Gear Down", which sounds like a tense action piece with some Lalo Schifrin Mission: Impossible music influence and some wild keyboard soloing.
This is followed by a dreamy instrumental cover of "Solitary Sanctuary", one of the songs from the A side.
"Jud Escapes" is a great dramatic cue, reminiscent of some of Jerry Goldsmith's work, particularly in its use of strings and spiky staccato note clusters.
It's followed by menacing ostinatos, hand percussion, and swelling groups of instruments as well as some trippy vocalizations in "Bud Flips". It really does sound like it would accompany someone's freak out.
Then there's a lot of space and lot of quiet, despite fuzzed out guitar and electric bass for "Retrospection", an otherworldly atmospheric piece.
And the record wraps up with an instrumental rock number featuring the Hammond organ, "Comin' Back", a cool upbeat tune.
---