Spain is probably lovely this time of year. And so our 685th Soundtrack of the Week is Alberto Iglesias's score for Hable con ella.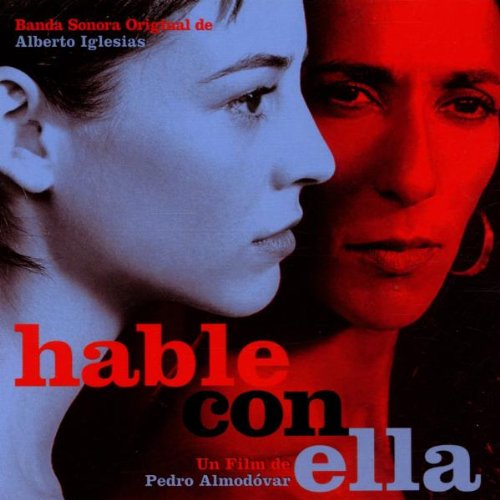 It begins with "Sabana santa", a short and restrained piece for strings that has more mood than melody.
Then for the title theme, strings act as the rhythm section, creating a somewhat energetic 3/4 rhythmic pulse. A trumpet plays a few notes and then there are spotlights on statements made by cello, guitar and violin. It's a beautiful piece that builds in an exciting manner and even includes what sounds like handclapping and footstamping.
Arco bass playing very lowly and mysteriously, combined with some ethereal percussion, begins "El grito". Then the title theme comes back in, at a slightly slower tempo.
"La mesita de noche" is a short but lushly atmospheric piece with lovely contributions from harp and trumpet.
The next cue, "Jordania", sounds like it's meant for a stressful scene, with agitatedly sawing strings establishing a tense framework. Then it ends up being relaxed and lyrical.
Then there's an eight and a half minute track, "El amante menguante", starting with solo bowed bass but soon involving all the strings, and taking the listener through numerous different musical ideas. It's very much a suite of various themes and moods.
After that it's a relief to get back to an easygoing waltz, "María Santísma de Araceli", which is a bit similar to the title theme.
"La noche y el viento" is similar to "El grito" but without the reprise of the title theme.
There's more great use of the harp in "Trincheras/Decadence", as well as some effective blending of winds and strings and wonderfully subtle use of what might be some electronics. (And might not. I can't tell.)
At first ominous and then perhaps just sorrowful, "Habitación de Alicia" surprises by deploying piano in a typically plaintive way but since we've mostly been hearing just strings, it's like a bright new color suddenly appeared.
The next track, "A portagayola", is another tense one with agitato strings and also a beautiful soaring violin line as well as some unusual percussion (or electronic?) sounds.
As startling as was the appearance of the piano, so too is the arrival of vibraphone in "La discusión viaja en coche", which also has some brilliant percussion (and/or electronic?) touches as well as some extreme panning. This is a good one to listen to on headphones.
Gentle, delicate and reverberant piano tells us that "Alicia vive". For a while there's only the vestige of an accompaniment but eventually strings, harp and trumpet come in.
"Los olivos" is just for the strings and has a calm and spacious feel to it before it builds to a majestic conclusion.
More agitatedly sawing strings come from all directions in the appropriately titled "Amanecer agitato", which starts with very high energy and downshifts for the last thirty seconds.
Then it's another lovely and romantic piece in 3/4, "Soy Marco", which has gorgeous violin playing and an exquisite orchestral arrangement that's like a setting for a jewel.
And after that, an actual song with vocals. It's very minimalist, just bass and cello and guitar and voice. The lyrics are in Spanish so I don't know what it's about but the song's called "Raquel".
The last track is "The Plaint: O Let Me Weep, For Ever Weep", and this might be a group called The Plaint doing a song of that name. Guitars and bass and simple percussion and intoxicatingly swaying and sensual.
---