Billy Goldenberg's music for The Grasshopper is our 683rd Soundtrack of the Week!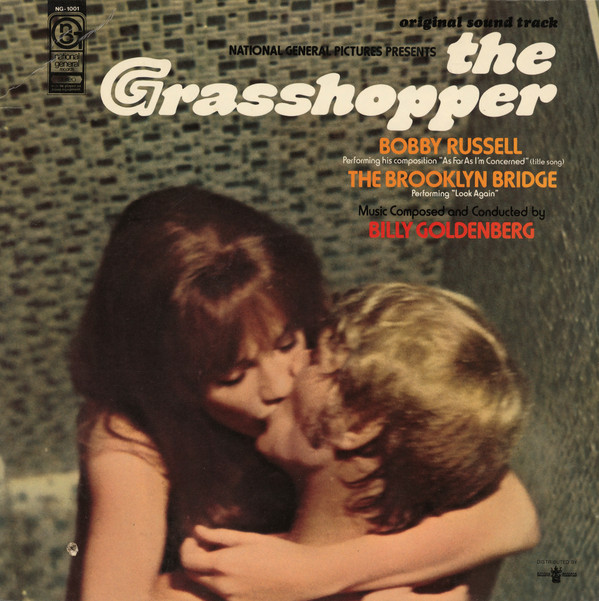 While Goldenberg coposed and conducted the score, there's at least one song by somebody else, "As Far As I'm Concerned", written and sung by Bobby Russell. It's the first track on the album and musically it falls somewhere in between "Me and Bobby McGee" and "Theme from A Summer Place" The lyrics make it a road song or at least a journey song: "There are places you will travel / Folks are gonan look at you in doubt / Just remember it's not where you are / But who you are inside that's gonna count".
Goldenberg's first track is "Traveling with a Star", an airy and pleasant piece that's actually an arrangement of the Bobby Russell song we just heard.
Things then get pretty much awesome with "Christine in Las Vegas", a blast of 1970s thudding electric bass guitar, wah-wah guitars, blaring horns, even sitar and tabla out of nowhere for some reason. Nobody writes music like this anymore.
Then there's a shift to waltz time for the first half of "Bonanza Paree/Return to Vegas", which could fit nicely into a Flint movie soundtrack and has some impressive saxophone soloing. The second half is more orchestral and flowing and back to 4/4 time.
"Sunset with Christine" starts off with acoustic guitar and trumpet and has a valedictory "good night" feel. Then the sitar comes back and we get a much more mellow theme for the end of the cue.
The tune "Soft Music for Rosie" is what you'd probably expect from the title, gentle, swaying, lounge sounds that build on what Henry Mancini has done so brilliantly.
The A side ends with the song "Used To Be" sung by Vicki Lawrence. It's a sweetly plaintive song with some nice use of minor chords and a pretty melody. "We were young but we knew love / Love was all we thought of."
Side B starts with "Christine (Theme from The Grasshopper)", which has sitar joining wind instruments and strings for the melody.
Then there's a vocal number, "La De Da", performed by Shawn and David. The vocals sound like children and the song itself is like a psychedlically-tinged variant of "Do You Know How Christmas Trees Are Grown?" from John Barry's On Her Majesty's Secret Service score.
"Tommy Doesn't Like Rosie At All" is traditional dramatic underscore with strings creating tension and some ominous low tones from the winds.
Strange sounds, probably from some kind of electronic instrument or electronically processed instrument, starts off "Tommy's Gone" but soon things settle into a breezy and swaying cue that suggests the main theme for a while before stating it explicitly.
This is followed by "classical" music, the "Sonata for Eleanor". Presumably this is a Goldenberg composition that successfully recreates that "concert music" experience.
There's another song up next, "Look Again" performed by The Brooklyn Bridge. It's one of those uplifting '60s about looking around, seeing rainbows, etc. It's a good song and apparently not written by Goldenberg. It has a nice shift in the second half with some overdriven guitar and a different rhythmic feel.
And then we close with Sousa's "Washington Post March", perhaps because some kind of minimum eclecticism quotient had to be reached. It's done straight.
---