It's the first day of summer and summertime is surfing time so the 679th Soundtrack of the Week is the music for Thomas Campbell's surf movie The Present.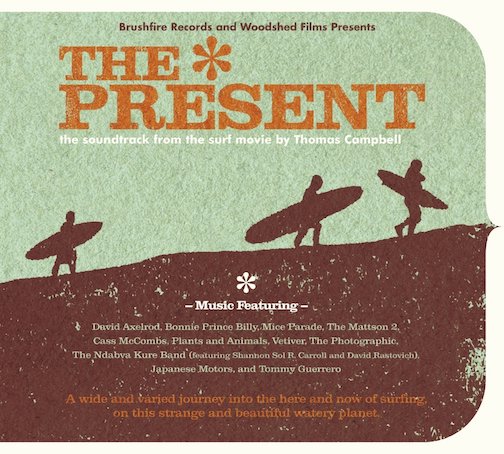 The first piece is "The Smile" by David Axelrod, a varied instrumental with tough over-driven guitar as well as strings, sometimes moody, sometimes soaring, ending unexpectedly with a delicate solo piano passage.
Vetiver's "You May Be Blue" almost sounds like it could be a Tonbruket tune with its insistently pulsing bass and drums supporting floaty vibes and electric guitar. When the singer comes in, though, it becomes a different sort of song, by turns sunny and bluesy.
Up next are The Mattson 2, a band we've enjoyed in the past, with "Longing of Leftist". This is a typically atmospheric and rocking number from them with impeccable drumming and electric guitar playing as well as vibes adding some different colors and textures.
Then it's Mice Parade's "Open Air Dance Pt. 2", a mixture of kind of "house" style drum kit beats with acoustic instruments from around the world plus electric piano coming together in a kind of world jazz fusion dance number.
Bonnie "Prince" Billy is familiar to us more by name than music so it was a pleasure to hear his "New Wedding" song here, a lean, tough, heartfelt song with uplifting energy.
"No Time for Time" by Tommy Guerero is like a post-Radiohead, post-MMW surf-pop instrumental piece with a few different sonic layers.
After that comes "When the Bible Was Wrote" by Cass McCombs, which takes the harmonic structure of the Endless Summer and numerous other surf instrumentals but adds lyrics and some gentle guitar embellishments.
Beautiful acoustic guitar playing as well as what sound like thumb pianos and perhaps steel drums as well as some other hand percussion create the dreamy and beautiful African piece "Ndabva Kure" by The Ndabva Kure Band Featuring Shannon Sol R. Carroll and Chris Berry.
Then there's a definite Lou Reed feel to "Spendin' Days" by Japanese Motors, a "Sweet Jane" type of song.
"A Contrivance" by The Photographic is the longest piece here at over eight minutes. It's a somewhat hypnotic instrumental that might remind you of Pell Mell or something like that.
The next song we've heard a zillion times, "Spellbinder" by Gabor Szabo. What to say? Incredble groove and phenomenal guitar playing as well as just an awesome number. Never get sick of this!
It's a tough act to follow and the record goes quite wisely to a more recent rock/pop song, "Good Friend" by Plants and Animals. This sounds like something you might hear on college radio now or sometime in the last twenty years. I like it.
Then The Mattson 2 come back to close out the record with a bonus track, "Yeppers", in which they're collaborating with skateboarder/musician Ray Barbee. It's fairly jazzy with nice saxophone soloing and of course guitar playing.
---