The 678th Soundtrack of the Week is Stephen Lawrence's music for Alice, Sweet Alice.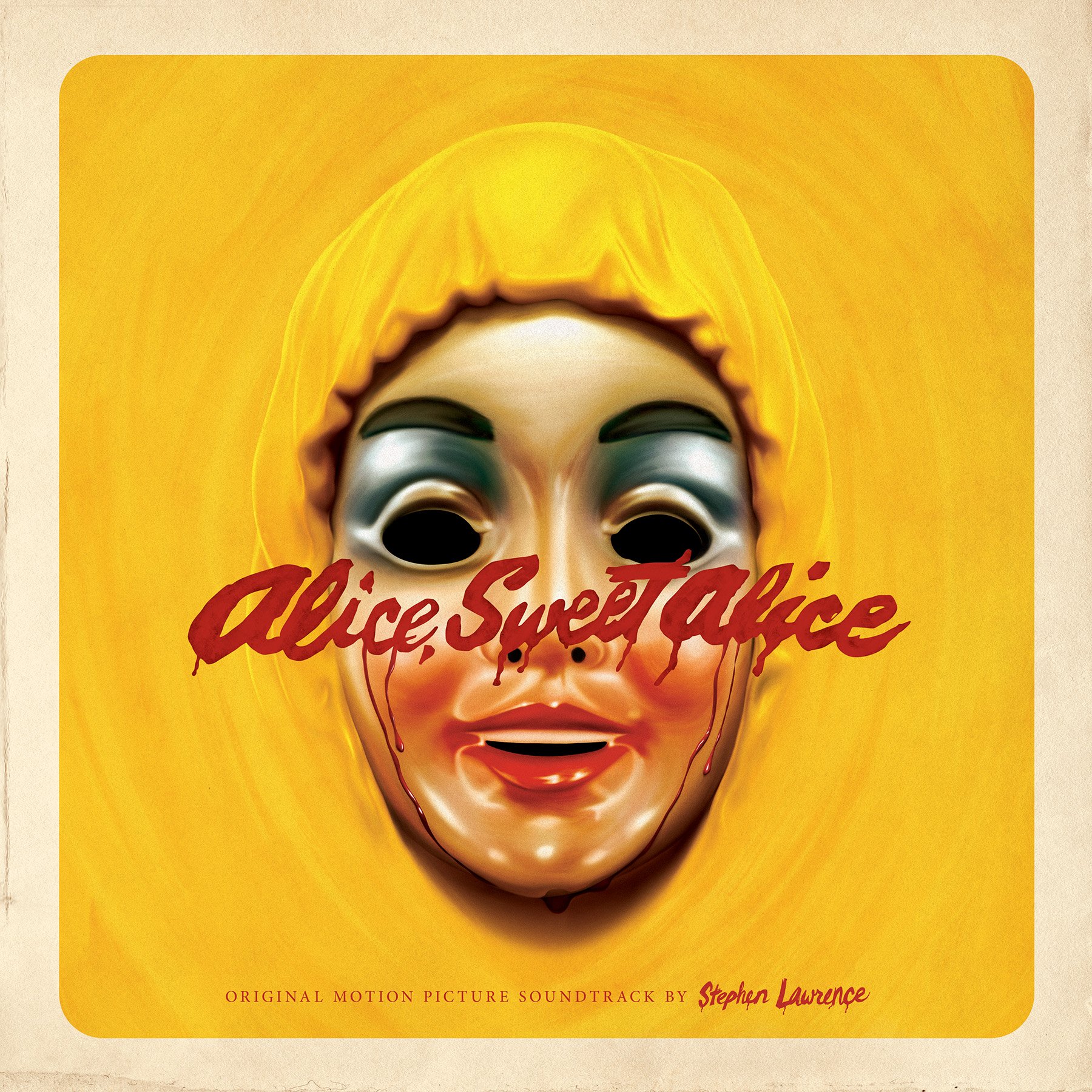 It's on "Yellow Rain Coat with Blood Red Splatter" vinyl!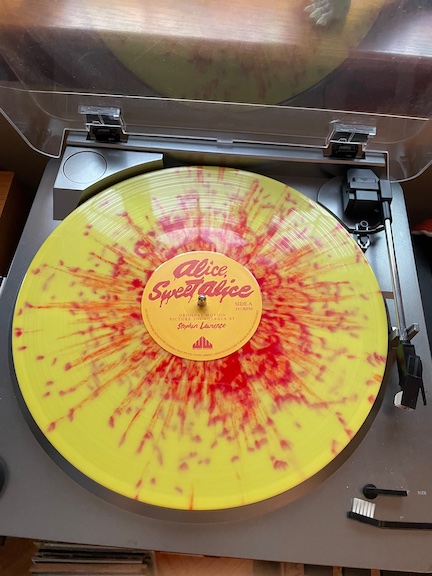 The "Prelude" is immediately eerie and atmospheric, with wordless childlike singing and keening strings behind a hynpotic repearing figure.
This followed by a stately waltz of a "Main Title" with a romantic and melancholy feel to it.
Then it's time for more creepiness and suspense has bowed bass, the strings from the "Prelude", the strummed piano strings, interesting uses of percussion and other instruments, create portraits of "Alice in the Basement", "Psychologist's Office" and "Dom and Alice in the Basement".
"Rent Check Opera" is actually an operatic piece with vocals and everything. Lawrence went the distance for this movie!
The "Prelude" is recalled for "Alice in the Warehouse" and then "Alice and Angela" tags the waltz mood of the "Main Title" while also creating some tense atmospheres.
A dissonant and disturbing take on a lullaby theme gets "Karen Locked Up" and then church organ announces that "The Casket Heats Up", for a scene in a creamtorium or funeral parlor, I imagine.
Similar motifs become more intense for "Dom at the Warehouse" and the "Prelude" is revisited for "Karen on Her Bike".
"Romance/Mrs. Tredoni" is a very different cue, with delicately arpeggiated piano playing and comforting string parts, giving a nice alternative to the tension and general scariness that's come before. Although the second hal of the cue is another moody and slightly ominous cue, immediately reprised in the next track, "Mrs. Tredoni 2".
Side A concludes with "At the Warehouse/Chase", another haunting and lilting piece with menacing low tones at first, ending up with a more muscular and tenser cue for the "Chase".
The B side begins with "Processional", a Bach-like church organ piece, followed by "The Pathologist", a return to the horror waltz theme.
The organ then returns for "At the Church" and then there's an abrupt shift to dive-bombing strings and a very Herrmannesque cue, "Not Again", which also brings back the church organ.
"Mrs. Tredoni Fixs a Fish" is a pretty but also suspenseful cue that suggests unsettling activities.
Then "Rolling Dom" is a swirl of different sounds from the orchestra that leads into the very Psycho- and It's Alive/em>-like "Driving in the Rain".
"Alice and the Roaches" and "The Roaches" revisit the moody horror waltz and then there are "Main Theme 2", "Rolling Dom 2" and "Prelude 2", which are pretty self-explanatory.
---