And it's back to soundtrack master Jerry Goldsmith for our 677th Soundtrack of the Week: Shamus.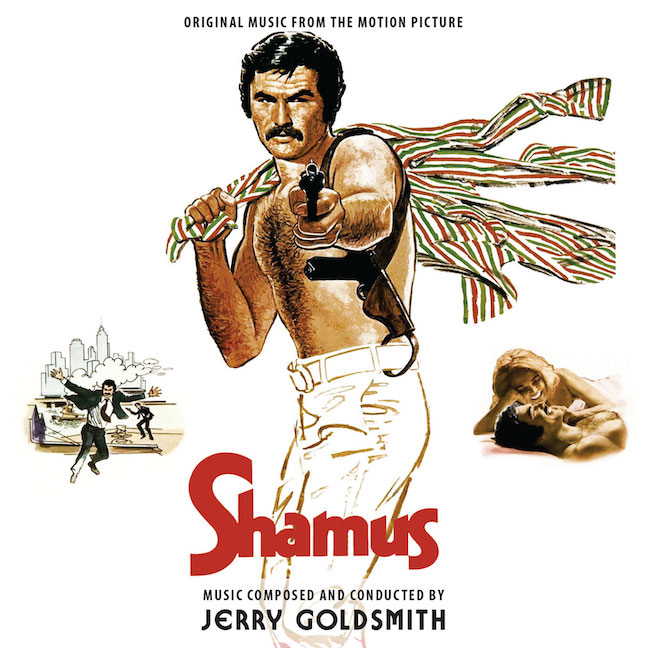 First of all it's a pleasure to see so many favorite musicians on the session: Shelly Manne on drums, Ann Stockton on harp, Milt Holland on percussion, and Al Hendrickson on guitar. ("Al" turns out to be short for "Alton"!)
There's also Moog in the ensemble, played by Michael Lang, not a familiar name to me.
The "Main Title" is a beautiful, gentle, swinging 9/8 piece with exquisite piano and keyboard playing by Artie Kane or Pearl Kaufman or both. Hendrickson does some very subtle and restrained wah-wah guitar as well.
The same theme is then given a mood transformation for a shaggier and tougher sound in the short cues "A Real Dog No. 1" and "A Real Dog No. 2".
A sprightlier, brighter version of the main theme, led by electric piano, is the focus of "The Warehouse".
"Here I Come—Part I" and "Here I Come—Part II" are exciting action pieces in 6/8 with some similarites for Goldsmith's music for the Flint movies. Hendrickson's guitar is a feature in the second part.
Then there's the love theme, "Getting Acquainted", also in two parts. It's another reworking of the main theme but subtly arranged so that the same melody sounds very different. Part of this is due to the different rhythms expressed by different instruments, perhaps similar to what Jimmy Giuffre used to call slow-motion counterpoint.
And then things get groovy in "Surprise Visit", in which guitar and harp really get to make an impression and Goldsmith lets the strings create a sumptuous atmosphere, while drums and tabla keep things swaying irresistibly.
The Moog has a lot to say in "A Broken Limb", a tense and lean action piece with Goldsmith deploying piano and percussion in terse and jagged figures that might remind you of how effectively he scored First Blood as well as the Flint movies.
This delightful but too short score concludes with the tender and dreamy "Stay in My Life", a recapitulation of the main theme.
---