So glad we haven't run out of Henry Mancini records yet. The 675th Soundtrack of the Week is this Mancini-arranged album of The Cop Show Themes.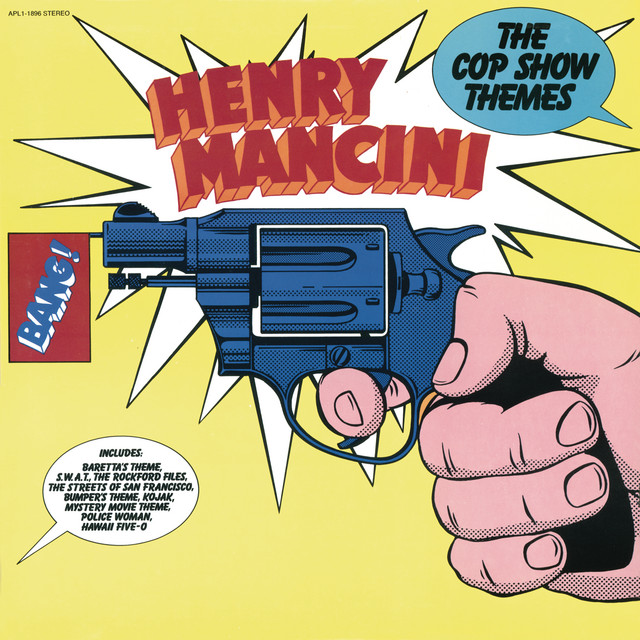 It starts with Mancini's own Mystery Movie Theme, which manages somehow to be eerie and sunny at the same time, due in part to the organ playing of Clare Fischer.

Things get pretty serious pretty fast after that with the wailing and rocking funk jazz theme from The Streets of San Francisco, which has excellent electric piano soloing by Artie Kane.

The next piece is "Bumper's Theme" from The Blue Knight, a show I'm not familiar with. It's a gently swinging, slightly bluesy and laid back number with more Artie Kane electric piano as well as an alto sax solo by Ronny Lang.

Next up is an old favorite, Bill Goldenberg's theme to Kojak, a show I still watch every so often. (Just a couple of days ago, in fact, the episode called "The Betrayal".) Mancini supercharges this theme, giving it a high octane opening and a leaner, tougher sound throughout, deploying his particular genius for strings and even throwing in some James Bondish touches to make this really stand out.

And it's actually the first part of a medley, zooming seamlessly into the funk-drama masterpiece theme from S. W. A. T., which has a guitar solo from Lee Ritenour. Mancini's arrangement even brings out some tenderness in this otherwise hard-driving piece.

After that comes "Baretta's Theme", a.k.a. "Keep Your Eye on the Sparrow", from Baretta, of course. Abraham Laboriel's electric bass playing is the star of the show here and the arrangement takes its time to get into the groove, starting spaciously and letting things develop very gradually.

The theme from The Rockford Files is very faithful to the original but replaces the electric keyboard with harpsichord and applies the Mancini touch to the strings and wind instruments.

Hawaii Five-0 is next and has some intriguing electronic growls but is otherewise a fairly straightforward rendition that plays down the electric guitar in favor of the horns, particularly trombone, which takes a solo after the band modulates to a different key and creates a Fred Wesley-like space for trombonist Dick Nash.

The record closes with the theme from Police Woman, an old favorite of mine, done marvellously here, with tough break beat drumming and lush handling of both the melody and surrounding textures.
---