Jazz soundtracks get some attention, but it often seems to be the same scores every time around. And they're definitely great, the ones you always hear about. But there are many, many others deserving of attention. Mal Waldron's music for Sweet Love, Bitter, our 672nd Soundtrack of the Week is one.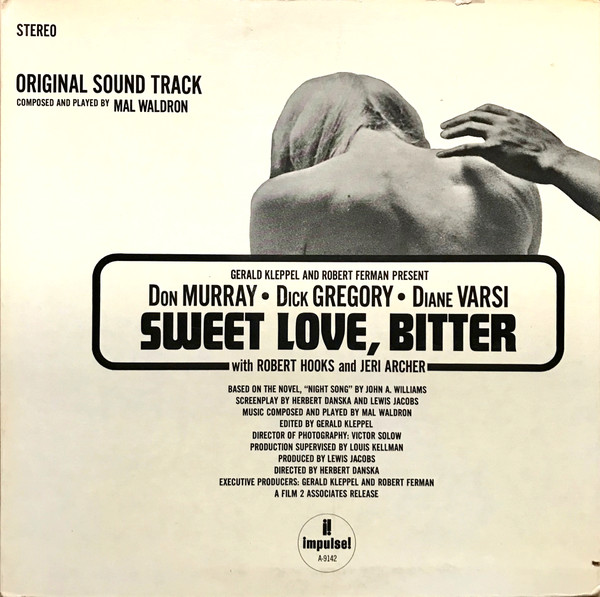 If it's a jazz soundtrack, you'll want to know who's playing. Mal Waldron is on piano, of course, in addition to writing the music. Then there's George Coleman on tenor and alto saxophone, Charless Davis on baritone saxophone, Dave Burns on trumpet, Al Dreares on drums and bass handled by either Richard Davis or George Duvivier, depending on what tune it is.
The main theme for the movie is called "Loser's Lament" and it's a late night, unhurried, bluesy and poignant sort of piece with some Duke Ellington feeling to it.
A similar mood and tempo is continued in "Della", but the form of the piece is different, more contained and with some more urgency from the drums.
A lighter and sprightlier energy manifests itself for the nimble "Hillary", an infectious and breezy piece in 6/4.
"Espresso Time" is another light and breezy tune, with great soling by Coleman.
After that comes a return to the bluesier and slightly heavier feel of the main theme with "Keel", which showcases the trumpet especially.
Up-tempo modern jazz—post bop? I don't know—is perhaps a good description of "Smokin'", which should really be played by whoever is playing Charlie Parker and Lee Konitz tunes.
Waldron himself kicks off "Della's Dream", a jazz waltz for piano trio.
Then it's time for just drums and bass (George Duvivier) in the somewhat avantgarde and very percussive "The Search".
The percussive intensity increases with the hard-driving "Candy's Ride", another piano trio piece with machine-gunning snare drum.
The horns then return for "'Bread'", another bluesy, jazzy number which should get your toe tappins.
"Eagle Flips Out" has the horns laying back over a really fast rhythm section part, with some thick, long tones and occasional staccato parts.
This is followed by the piece that sounds the most like dramatic underscore, with Duvivier bowing his bass and Dreares mostly sticking just to cymbals while leaving lots of space. Coleman solos first and the piece ends with Dreares alone.
The record ends with "Sleep Baby Sleep", which has a melodic structure similar to a lullaby but with strong and solid horn lines that give it an anthemic quality.
This one is really great. Check it out!
---