The 671st Soundtrack of the Week is Paco de Lucia's gorgeous score for The Hit.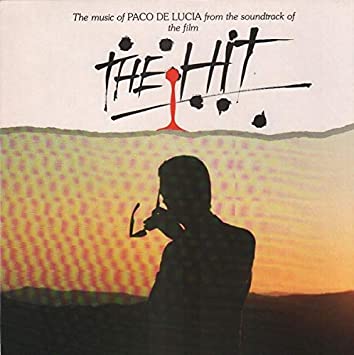 It starts with the main title theme, performed by de Lucia himself with assistance from a string section arranged by Juan Albert, who also plays piano. The other musicians are Pepe de Lucia and Ramon Algeciras on second guitar, Jorge Pardo on flute and J. Carlos Rebato.
"The hit" is a stunning feature for de Lucia's Spanish classical guitar playing and a mesmerizing theme as well.
It gets reprised right away in "Willies theme" which also features the electric bass guitar and a second theme handled by flute.
"Spanish sun - The funeral - Andalucia" starts out with solo guitar and some very nimble playing on the part of the composer. Then you hear bells and a male vocalist whose part sounds similar to a call to prayer. I assume the words are in Spanish and fitting for a funeral. There's more compelling guitar playing to accompany it as well. The third and final part is another guitar piece, this time a duet, I believe, and a whirling and hypnotic melody that brilliantly plays with space and movement.
"Willies theme" is heard again as "John Lennon" but this time with piano. It's followed by "Kidnap - Convoy" which is percussive and driving, featuring both sharp attacks on the guitars strings and castanets as well as hands slapping the body of the guitar.
The exploration of the guitar's percussive potential continues in "Braddock's Theme", which has resonant chords being strummed while the second guitar is doing something with its strings to produce a metallic and rattly rhythm foundation.
The next cue, "Windmills", is another exciting Spanish guitar feature, an infectious and propulsive tune that has two guitars, castanets and foot stomping.
There's a shift to a more spacious and open mood with the solo guitar piece "To Madrid (Willy Parker)" and then a shadowy and pensive guitar piece, "Double indemnity".
The A side closes with "Wasteland - Cracking" which starts with the most high energy music so far, a blaze of lightning guitars, castanets, feet music and the same singer from "The funeral". Then it's time again for just the guitars to talk, and the second half of the cue is a classically tinged piece with alternating spaciousness and sprightly fretboard running. It's wonderful to hear the notes hang in the air.
The B side starts out with "Maggies problem", a mostly major key Spanish guitar piece with fast and deft guitar playing.
Paco de Lucia's incredible technical facility, that only ever strikes you after you've recovered from his beautiful musicality, asserts itself right away in "Roncevalles", a short solo guitar piece.
Then things get percussive again for the breezy and urgent pulse of "The canyon".
"Cojones" starts out with very dense and intense guitar and percussion but then alternates this idea with some unexpected spaces and surprisingly delicate electric bass guitar playing.
This is followed by "Waterfall parts 1 + 2", which brings back the string section in force for a very moody atmosphere. Guitar strings are also muted or bent in some way to exploit their percussive qualities. The effect is of a romantic and suspenseful melody soaring above a feeling of tension.
After that comes another brilliant guitar feature, the deeply impressive "Moonlight". Some of this music really should be part of the classical guitar repertoire, if it isn't already.
The strings return for another atmospheric piece, "Hilltop", lush and contemplative, with some nice moments for the bass guitar.
Then "Maggie fights back", urgently strummed guitars and the usual feet stomping, hand clapping and also the vocals adding to the general excitement.
Pace de Lucia then flips the energy for the gentler and more easygoing "Very lucky girl", a relaxed cue with lots of breathing room.
Finally there's "The hit part 2", a reprise, naturally, and a satisfying conlcusion to a great record. I wonder if this is all the music that's in the film. It's so good, we should have every note.
---