The 669th Soundtrack of the Week is Elmer Bernstein's Legal Eagles score.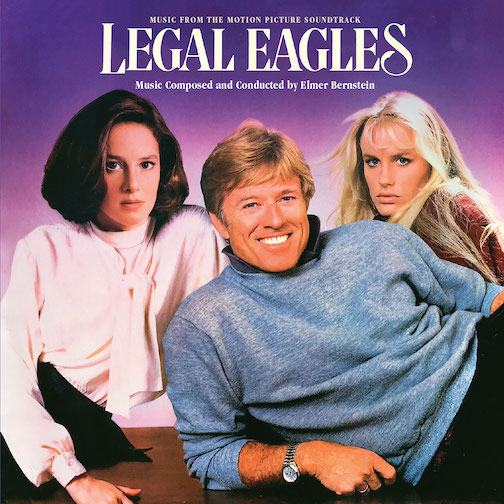 The record has great opening with the lilting and lyrical "Legal Eagles Love (Instrumental Theme from Legal Eagles)", which uses the ondes Martenot to create a sense of intrigue to go with the lovely melody.
After that comes the delicately sprightly "Moving On", a cheerful and peppy cue that no doubt imbued the movie with effervescence.
"Hypnotice Eyes" is a mysterious-sounding and aptly named atmospheric piece that also benefits from the ondes Martenot.
After that comes "Happy Birthday", which refers back to the main theme and has the ondes Martenot contributing lines in a higher register while crystalline percussion adds much to the mood.
And then a cover of "Good Lovin'" by The Rascals, good rendition done in a straightforward way.
This is followed by "Put Out the Fire", a moody, shadowy sort of club slow dance art rock kind of number with spoken vocals by Daryl Hannah.
"Tom and Kelly" get us back to more familiar dramatic underscore, which starts as a light action cue but ends up in a romantic place and reprises the main theme.
Strings, space and suspense characterize "Scared", which does indeed generate feelings of tension and anxiety while also relaxing into gentler more romantic moods.
Bernstein's last cue is "Fire and Rescue", a propulsive and energetic action piece that's colorful and exciting and even maybe references Bernard Herrmann's famous Psycho score while also revisiting the Legal Eagles theme.
And then there's Steepenwolf's "Magic Carpet Ride", which presumably played over the end credits.
Elmer Bernstein was one of the greats and we're lucky to have this release from Intrada!
---