2021 April 07 • Wednesday
Thanks to my friend Mikael, I've been introduced to a lot of great Swedish music, particularly from that country's jazz scene.
One of the most important of these encounters was with the group Tonbruket, led by bassist Dan Berglund. While every member of the band is great, the guitarist Johan Lindström really stood out for me and I started seeking out other recordings he played on.
He's a pretty busy guy playing on a lot of people's records but a few years ago he had time to make an album of his own music playing his own tunes.
The first Johan Lindström Septett record is called Music for Empty Halls and it's amazing.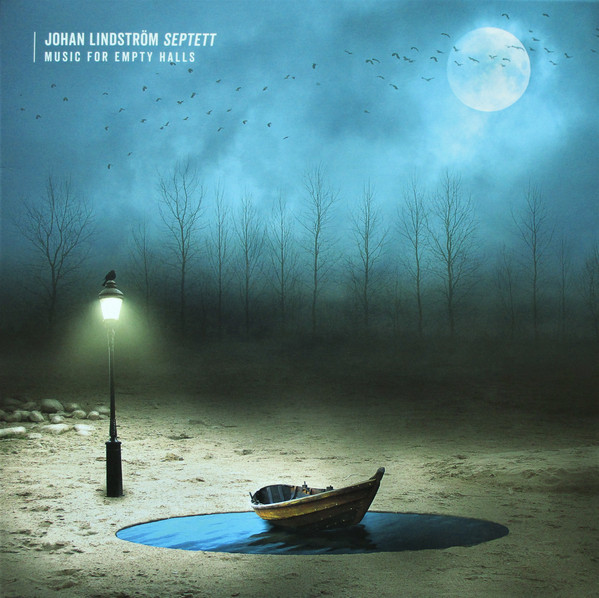 Lindström demonstrates his exquisite taste and facility on both guitar and pedal steel guitar here, seamlessly incorporating jazz, rock and classical elements in his playing.
Joining him are Jonas Kullhammar on alto, tenor, baritone and even bass saxophone (!), Per Johansson on clarinet, bass clarinet, contrabass clarinet (!) and tenor saxophone, Mats Äleklint on trombone and bass trombone (you can tell there's a love for low tones here), Jesper Nordenström on piano and organ, Torbjörn Zetterberg on upright and electric basses and Konrad Agnas on drums and percussion.
Each piece is unhurried and richly layered, atmospheric, sometimes cinematic, frequently drawing from numerous areas of music—some West Coast jazz here, maybe a bit of Gil Evans influence there, some Frisell-like ideas, grooves, occasionally free improv or rock-like, lots of space and depth and very much the sound of a real band, an ensemble of people who, to my ears, sound like they know each other very well as collaborators.
As eclectic as it might seem, the record really feels like a solidly crafted work whose parts all fit together perfectly. There's a flow to the tunes and a strong sense of identity to all the pieces, a throughline that runs through everything.
It reminds me of the some of the exciting things that were happening in the NYC jazz scene in the 1980s. particularly downtown and involving people like Tim Berne, Bill Frisell, Herb Robertson etc. But this is also brand new music that belongs to its creators.
There really isn't anything I can say about it that will be as valuable as the experience of listening to it, so... you know what to do!
---