We never heard of Face 2 fAKE before and we never saw the Japanese surfing movie Ueshima Jane so it makes perfect sense that the 668th Soundtrack of the Week is Face 2 fAKE's score for the sequel to Ueshima Jane, Ueshima Jane Beyond.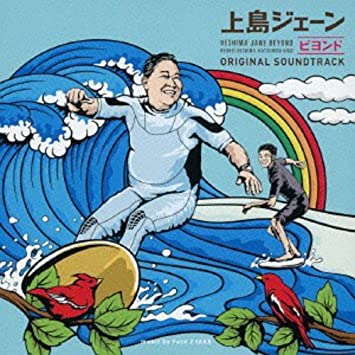 It's actually really great.
The people involved seem to really know their stuff and pay tribute to the conventions and traditions of surf music and old rock and roll while blending in much more modern sounds and tones.
It starts with "Point Break", which deploys all the classic instrumental surf elements: reverb guitars playing big resonant chords and double picking both melodically and rhythmically, pounding drums, a very Farfisa-sounding keyboard and even wailing trumpet.
Then they turn into a more hard rock zone with "Let's Get It On", which has chunky and overdriven guitars and a no-nonsense rhythm section pushing everything forward relentlessly, while keyboard and slide guitar add some softer textures.
After that it's back to the beach for the cheerful "Funky Rider", a surf instrumental that's pretty traditional except for the jazzy and more modern guitar soloing.
"Jerk Chicken" starts out with some percussive muted electric guitar playing that suggests another surf number but ends up being a Bob Marleyish reggae instrumental.
Then we get a number that's kind of in between straight '80s rock and old-fashioned surf, "Rats". As always, the guitar playing is really good.
If you weren't expecting something kind of death metal to come along next, you should have been, because that's what "Awesome!" is, complete with double bass drumming!
Then it's time for a "Surfer Girl"-type ballad with the 6/8 "Your Eyes", which is a really nice piece though I think it could have benefited from slightly different production, a softer touch perhaps.
"Goofy" is another surf instro classic, familiar sounding and impeccably executed.
The next track, "A Piece of Cake", takes us back to another old-fashioned mood, a mid-tempo number that would be good at a mid-century high school dance. It probably sounds a lot like some famous oldie but it also reminded me of Henry Mancini's "Cream Puff".
Inspiration is almost certainly drawn from "House of the Rising Sun", and more specifically The Ventures' version of it, for the electric guitar duet "Sly Guys".
Finally there are two version of "I Need You", one vocal and one instrumental. It's a poppy and perky number with some "oh yeah"s and "bop shoo bop" stuff sprinkled in with the Japanese lyrics. And the instrumental version more or less just has the vocals taken out.
---