2021 March 15 • Monday
Andrei Petrov's score for the Russian film A Cruel Romance is the 665th Soundtrack of the Week.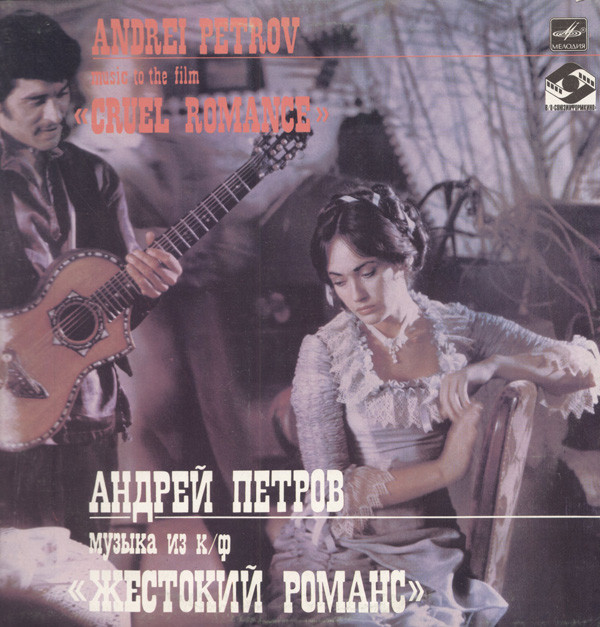 Many of the tracks are lovely Russian vocal numbers with some tasteful accompaniment, often featuring the guitar. The first piece is one of these and I believe the title translates as "Romance on Romance" The female singer has wonderfully clear and relaxed voice and the arrangement brings out many different musical colors, from guitar, harp, strings and piano, building them up to something formidable by the end of the cue.

The next piece is called "Waltz" and sure enough, that's what you get, though the instrumentation has kind of a martial sound in places. In fact, I think it's played by a marching band. It has a bit of a Nino Rota feel, as do a few of the other pieces.

After that comes "Snow Maiden" ("Снегурочка"), a beautiful piece for voice (the same singer as on the first track, whose name might be B. Akhmadulina) and two acoustic guitars, played by A. Kuznetsov and M. Kochetkov (my transliterations). It's a gentle and lilting piece in 3/4, very nice. I should play it the next time it snows.

Then the marching band comes back for another cue, this one called "March". It sounds like what you'd expect.

This is followed by "Love — Magic Land", another beautiful voice and two guitars piece, the same guitarists as before but perhaps a different woman singing. This one has more of pop feel to it, though it's very delicate and understated.

Flip the record and then you'll hear what Google Translate suggets is "Under the Caress of a Plush Blanket", which works for me. It picks up more or less right where the last piece left off, another beautiful song, female vocalist, two acoustic guitars, subtle, romantic, breezy and beautiful.

Next is a mini-suite of three pieces. "A Gypsy Goes" is a feature for a male singer with some acoustic guitar accompaniment that in parts reminded me a little bit of Anton Karas's zither playing.

Things get sprightlier for "Gypsy Dance", a whirling, accelerating, energetic number. Then there's a more somber section with plantive violin playing. It ends up with some minor key guitar playing and singing that builds up speed again.

It ends with "Oh, Thoughtful", a number for a group of vocalists, with some dexterous "Gypsy" guitar playing.

Following in the tradition of "Waltz" and "March", the next cue is "Chase". It's the marching band again but this time with strings and sounding again like Fellini-era Nino Rota. It's at a brisker tempo than most of them music here but it's not frantic. For a chase cue, it's pretty relaxed.

"And in the End I Will Tell" reunites the first woman singer (I think) with our two acoustic guitarists for another beautiful and affecting romantic song. The whole point of the record is these songs, if you ask me. And they are really good.

The record wraps up with a reprise of "Romance on Romance", which was perhaps the main theme for the film.
---