2021 March 08 • Monday
You can satisfy a craving for hearing just about any kind of music by listening to the appropriate soundtrack. Just now, for instance, I felt like listening to Charles Mingus. And so I reached for this LP of Mingus's music for the John Cassavetes movie Shadows. It's our 664th Soundtrack of the Week.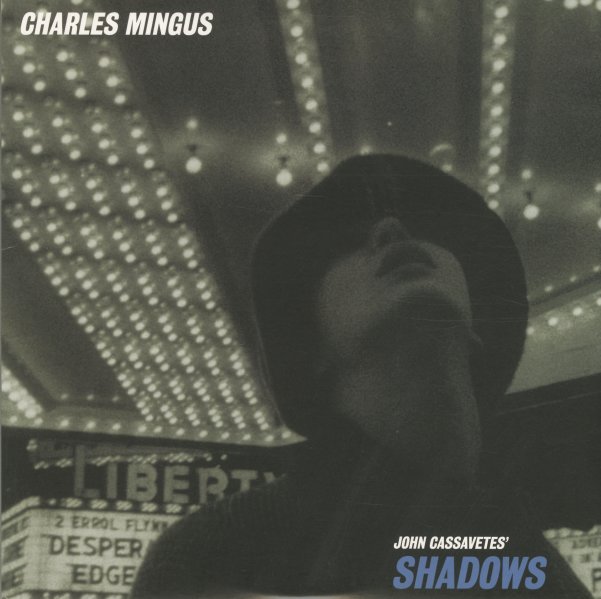 It starts out with "Untitled Percussion Composition", which sounds mostly improvised to my ears, and features Shafi Hadi on flute while Mingus, Jimmy Knepper, Horace Parlan (or possibly Phineas Newborn) and Clarence Shaw play percussion while drummer Dannie Richmond makes contributions from behind his kit. You can also hear Mingus vocalizing a lot and playing a bit of piano.

After that we get two amazing jazz compositions with brilliant soloing by the quintet of Mingus with John Handy on alto sax, Booker Ervin on tenor sax, Richard Wylands on piano and Dannie Richmond on drums.

"Nostalgia in Times Square" and "Alice's Wonderland" are both complex and deeply swinging, the latter being a slower, bluesier piece than the former. They were written for the film and later included on the live album Jazz Portraits, a.k.a. Wonderland, a.k.a. Jazz Portraits: Mingus in Wonderland (same personnel as the Shadows recording).

(Since both of these end with applause, I wonder if these are the same recordings as on the Mingus release.)

A vocal version of "Nostalgia in Times Square" with lyrics appears as "Strollin'" on the record Mingus Dynasty.

Finally there's "Self-Portrait in Three Colors", of which a different recording appears on Mingus Ah-Um. Here it's played by a sextet of Mingus on bass with Booker Ervin and Shafi Hadi on tenor saxophones, Willie Dennis on trombone, Horace Parlan on piano and Dannie Richmond on drums.

This is a lovely meditative piece with haunting horn lines, the two saxophones often in unison with the trombone adding a third layer to great effect, dreamy and sensitive and transporting.
---