The 663rd Soundtrack of the Week is Bill Loose's music for Vixen.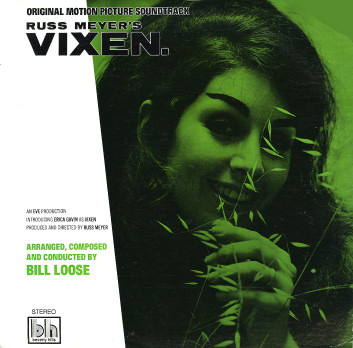 It's on green vinyl!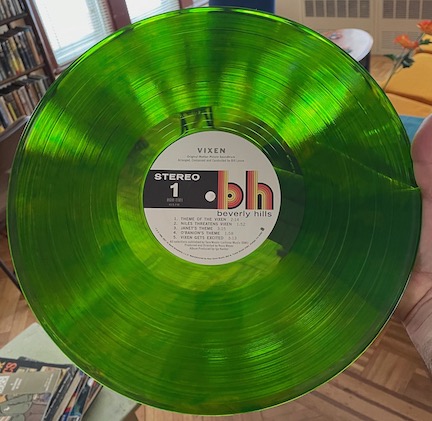 The first track is "Theme of 'The Vixen' (Main Title)" and it's loungey sort of number with nice harmonic movement and also features the harpsichord, which is always appreciated around here.
After that, electric bass and percussion, along with what sounds like electric harpsichord, create a tense cue for "Niles Threatens Vixen".
Then comes a slow 6/8 bluesy late night jazz number, "Janet's Theme", with alto saxophone and electric guitar as the lead voices.
"O'Banion's Theme" brings back the electric harpsichord and borrows a melody from — what? It's incredibly familiar but I can't place it at the moment. Something from the classical world, I think.
Side A ends with "Vixen Gets Excited", a repirse of the main theme, but with a bit more of a denser freak-out approach from the band. It's almost psychedelic but not quite.
The B side opens with "Canadian Romp", a very Vegas lounge-style tune, pretty swinging actually.
Then it's back to that melody that I can't place yet, which we first heard in "O'Banion's Theme" and here it is again, with marimba or xylophone accompaniment, in "O'Banion Spins His Web".
Then there's the aptly named "In a Blue Mood" with, first, some very smoky after-hour trumpet playing and then saxophone, both in a very laid back jazz/blues atmosphere.
Things get a little jumpier for "Niles Confronts Vixen", a rewarding combination of electric bass, electirc harpsichord, percussion, flute, drum set.
"Conversation Piece" returns us to another rendition of the main theme, this time in a sunnyy 6/8 treatment.
Then, finally, there's "Vixen's Dilemma (End Title)", another reprise of Vixen's theme, this time played by jazz/rock combo and a bit chunkier, with more of an edge. It builds to a tense climax.
It's a groovy record and a lot of fun to listen to!
---