2021 February 22 • Monday
When Tobe Hooper made his remake of Invaders from Mars, Christopher Young composed a score that was rejected as "too weird" and hastily replaced by different music from David Storrs. The ten minutes of Young's effort, released on a green 45 as part of the Record Store Day edition of Aaron Lupton and Jeff Szpirglas's book Planet Wax: Sci-Fi/Fantasy Soundtracks on Vinylis our 662nd Soundtrack of the Week.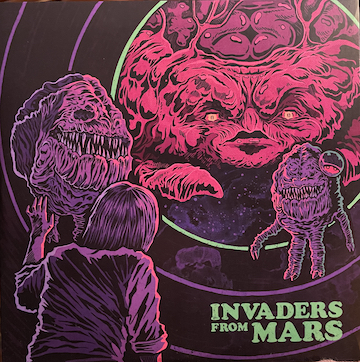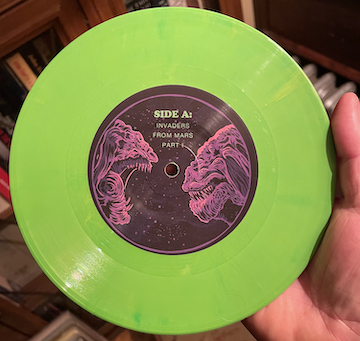 The authors of Planet Wax interviewed Young for their book and he seems to describe his Invaders from Mars effort as "over-experimenting".
We can't judge how it would work in the movie and of course there's only about ten minutes of music for us to listen to, but to my ears it sounds amazingly good.
Young was thinking more in terms of sound design and musique concrète than in more conventional modes and that's certainly what you'll hear on this 45.
He says that he recorded lots of natural sounds—waterfalls, power drills, Grand Central Station at rush hour, etc.—and used those in creating an orchestral-electronic score that was just too out there for whoever was in a position to make decisions about the production.
It's encouraging that at least this bit of it has shown up. Maybe the rest will come out someday!
---