2021 February 15 • Monday
Enrique Ubieta's charming and beautiful music for El Super is our 661st Soundtrack of the Week.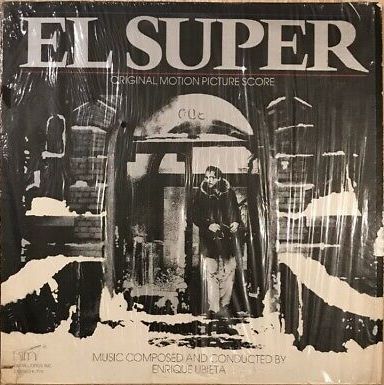 As far as I know, the vinyl release from 1981, which only has about twenty minutes of music on it is the only release of the score. I'd love to find out that I'm wrong and there's more of this music somewhere.
It exists somewhere in an overlap of Latin jazz, chamber music and, of course soundtracks.
The main theme, "New York Rush", gently but firmly pulses all the way through as strings and winds take turns laying back and pushing ahead.
"El Barrio … Family … Friends … Letters from Miami …" has a of call and response playing as well as many unison figures played by small clusters of instruments. A syncopated rhythmic pulse comes and goes in concert with a sprightlier mood and the main theme is quoted in a duet for cello and bass.
That's it for the first side. Side B starts with "¡Y Cambie El Viento! (Cinco), a vocal number. It's got a killer groove but very airy. According to the liner notes, "Cinco" refers to a Cuban rhythm invented by Ubieta. The vocal harmonies are exquisite and the playing by all the musicians throughout the record is impeccable.
It ends with the sound of wind blowing, which is an appropriate lead-in to the last piece on this too short album: "Snow … Windy Chill … Superintendency … Nostalgia … Language Barrier …". This one has more of a "classical" feel to it, though it retains the Latin rhythms and percussion instruments. The wind sound is back, along with a very recverby flute that delivers the most soundtrack-like sounding moment of the record.
It's a brilliant and very unusual work and I'd like to hear more of it.
---