The 660th Soundtrack of the Week is some of the music from a movie called Norwood. Most of it is composed by Al De Lory or Mac Davis but probably the only reason this record exists is that it includes eight songs sung by Glen Campbell, who was also the star of the film.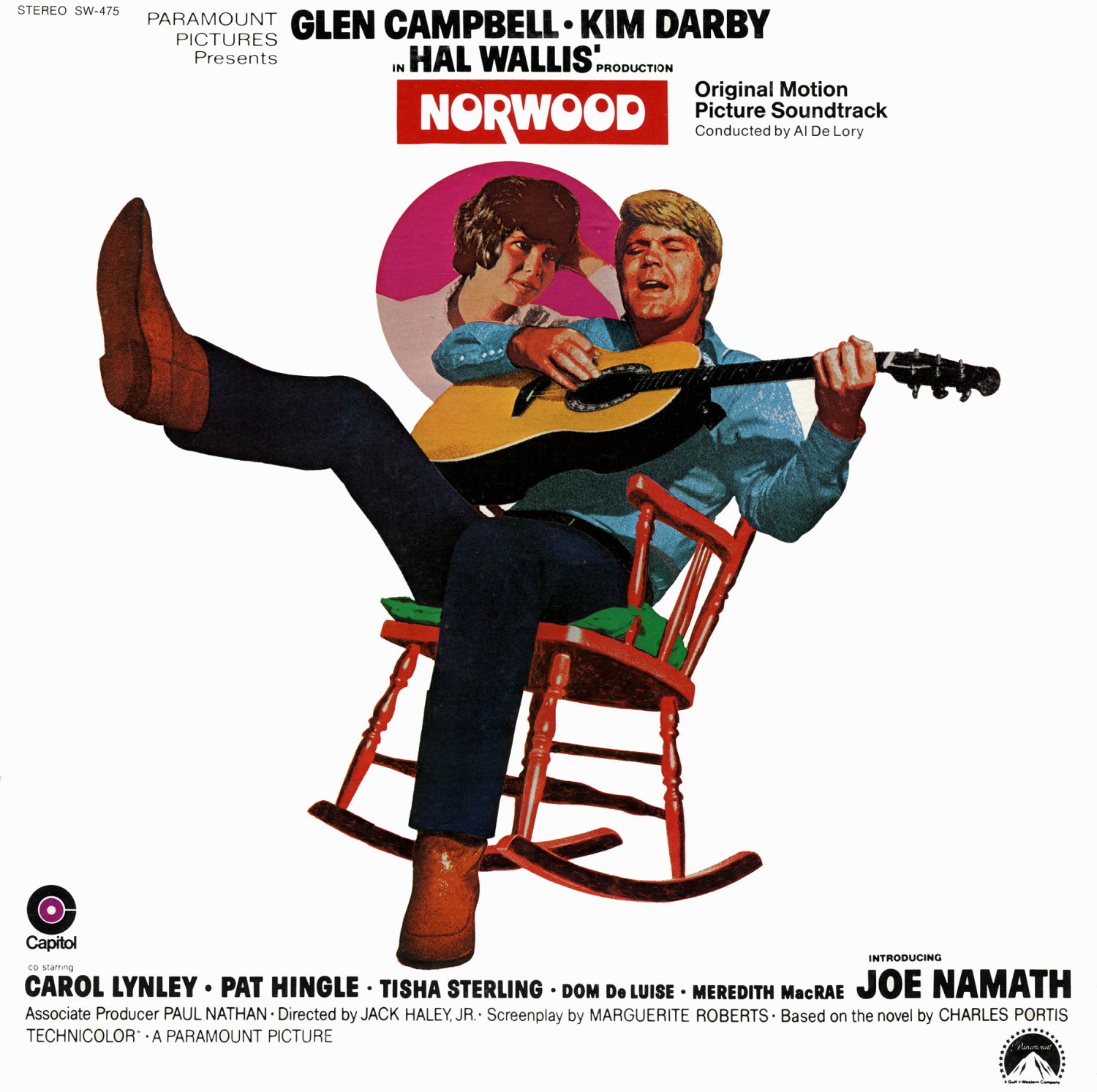 It kicks off with "Ol' Norwood's Comin' Home", a bouncy countryish song with lyrics that presumably inform the movie's story. "He ain't changed though he's a little older / Still wears a guitar around his shoulder." There's some whistling and the major key melody isn't far off from the public domain song that was the source for both "Mind Your Own Business" and "Rock Around the Clock", among others".
After this comes the first of six instrumental pieces. "Country Girl" is a great piano-driven country ballad with some lovely electric tremolo guitar playing.
Campbell's next song is "Marie". Is she the country girl of the previous number? Probably! It's a leisurely love song. "Marie / You're a strange little one / Marie / Always on the run / Marie." It's a good number, lyrical and tender and not overdone though there's a break for the string section that might make you feel like you're in a supermarket. This isn't a problem for me.
Then there's "The Brass Ensemble of Ralph, Texas" which is unexpectedly a groovy number with organ and electric guitar but also some mariachi-like horn playing.
Mr. Campbell is up again after that with "The Repo Man" and while Mr. Iggy Pop has nothing to worry about, it's a really good number with a syncopated rocking rhythm and some fast patter lyrics that might remind you of Jerry Reed's "Lord Mr. Ford" or something like that.
Continuing the pattern of alternating vocal tracks with instrumentals, the next piece is "Hot Wheels", a lively cue with some fast picked guitar and banjo and some harmonica soloing on top of brisk driving music. There are some unexpected breaks and just when you're thinking it's easy to imagine this being the accompaniment for a car chase scene the sounds of car engines and police sirens join the music.
The last track on Side A is "I'll Paint You a Song", a very restrained love song with a delicate acoustic guitar backing and even a vocal choir which sounds pretty good.
The B side starts up with "Norwood (Me and My Guitar)", a somewhat sappy song for Mr. Campbell. "Me and my guitar / Here we go a bummin' / Searching near and far / For the rainbow's end."
"The Fring Thing" is another one that might make you feel like you're in a supermarket, a sort of happy druggy bouncy library music-type cue.
Campbell is then back on again for "Down Home", a swaying and moving sentimental song about returning back home, which I guess is what the movie is about. "Down home / Where smiling faces shine like the morning dew / My fondest memories lie here / I was born here and I'll die here / With my heart full of happiness and you."
After that comes an instrumental with the dreaded saloon piano sound, "Chicken Out (Joann's Theme)". It's typically upbeat and slightly goofy.
Then there's a reprise of "I'll Paint You a Song" followed by "A Different Kind of Rock", which is kind of a soul jazz funk piece with saxophone soloing throughout.
The record ends with one more Campbell song, "Everything a Man Could Ever Need", a brisk and breezy number with a wistful feel to it and lyrics about the singer's contentment. It reminded me of Bobbie Lee Gentry's "Natural To Be Gone" although the two songs have very different stories to tell.
---