The 656th Soundtrack of the Week is an interesting collaboration: music by Henry Mancini and lyrics by Rod McKuen for the movie Me, Natalie, which starred Patty Duke and also happens to be the first movie Al Pacino was ever in.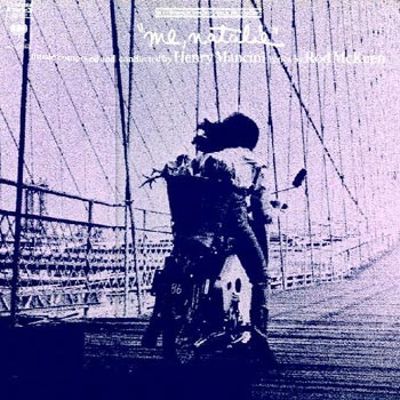 It opens with "Natalie", in which Mancini's swaying, velvety orchestral wizardry backs up a smooth, gentle yet emotional vocal turn by McKuen himself. It's one of Mancini's great melodies.
The second track heavily leans on that L.A. jazz chorus concept that I really don't like very much. They sing without words and it's a good tune with a nice groove, called "Free!", sort of a pop bossa swing thing with some nice saxophone playing. Listen closely and you'll hear a figure that anticipates Mancini's theme for Silver Streak.
The same orchestra and chorus return in the next cut for "Sequence for Uncle Harold (Includes 'Natalie')", a more soundtracky arrangement of McKuen's opening number, again with a lovely groove and nice string arrangements as well as an intriguing keyboard part—clavinet? harpsichord? something else?— but also the wordless vocal group.
Probably whenever you see a soundtrack record from the 1960s that has an instrumental track called "A Groovy Mood", you should just get it. The mood on this one is quite groovy, with a massive organ—Hammond? Wurlitzer?—swinging hard with terrific backing from bass and drums. I'm guessing it's Shelly Manne on the kit.
Then we get the promisingly titled "Off-Ramp to Nowhere", performed by The Die-Hard Trippers and with vocals by Alan Braunstein. This is a fairly straightforward acid rock blues number, fairly raw in comparison to the rest of the music here but not particularly special in any way. Presumably this is source music for a club scene or something.
Side A ends with another instrumental, "Theme for Losers", a sensitive and plaintive piano number that sounds very much like a love theme and is pure Mancini magic, with pillowy strings and gently strummed guitar.
Flip the record over and we get another Rod McKuen vocal number, this one called "We". It's an uplifting and hopeful song with inspirational lyrics about seeing the sun rise in the morning and taking your own road in life, etc. It's another lovely song, similar to "Natalie" as well as the "Theme for Losers".
Another instrumental, "W. A. Mozart, I Love You", comes next, and it's a peppy, chirpy and brisk piece whose good cheer is irresistible. Just when you think you know it, it goes into an acid rock break beat section with a somewhat frenzied flute solo!
"In and Out of Love Montage (Includes 'Natalie' and 'We')" credits the orchestra and chorus but there's no singing on it. Other than that, most of it sounds like you'd expect, though it has piano as the main voice for the first part and then that harpsichord-like keyboard as the main voice for the second part with a bit of celeste or glockenspiel thrown in as well. The conclusion of the piece is all about the strings and ventures into some moodier and more ominous-sounding places.
The very short cue "Bench Warmer" is a bouncy and swinging number with some wailing electric keyboard playing. Is it a Continental or some other organ? It's hard to tell whether the melody is played just by horns or whether it's a combination of horns and voices.
Finally there's "Dear David (Includes 'Natalie and 'We')", which features some of Patty Duke's dialogue from the film, in which we hear her voice reading the text of a letter her character has written to another character named David. The sung vocals are handled by the jazz chorus.
---