For the 655th Soundtrack of the Week we return to one of our favorite composers, the great Les Baxter, and one of his more unusual assignments, the music for Alakazam the Great.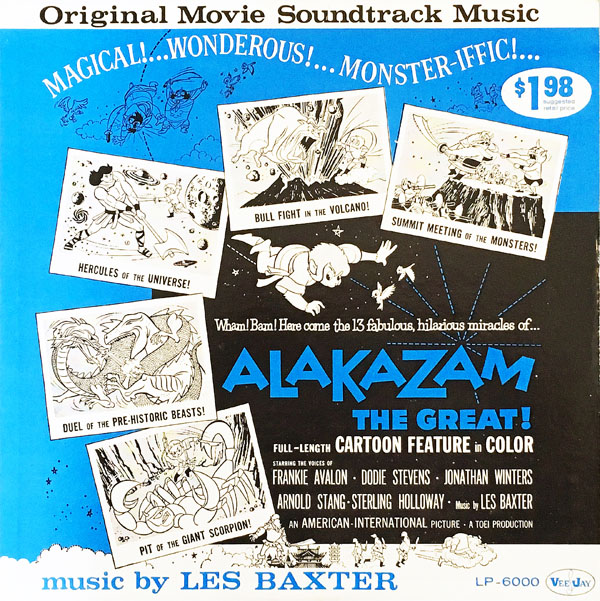 This was a Japanese animated movie from 1960 that got a US release after some editing and, of course, dubbing the voices into English.
Those voices included Jonathan Winters and, in the lead role, Frankie Avalon.
Avalon is credited only with "singing voice" on both imdb and wikipedia but on the record all of the songs have vocals by Bobby Adano.
Is it just Adano on the record but Avalon in the movie? I have no idea. I apologize in advance if you lose sleep over this mystery.
But there is the music to consider. Les Baxter receives sole credit for each piece but surely the lyrics must have come from somewhere else, presumably from whoever wrote the English-language version? Or perhaps not. Maybe Mr. Baxter was brought on board to do everything. I just don't know of any other examples of him writing lyrics.
The first track is called "Introduction" and it has a lush and dramatic orchestration that serves as background for expository narration. In fact you can barely hear the music under the talking.
But it's over with fast and then we're in the very swinging "Aliki Aliko Alakazam", which could have been used as an arrangement for a Sinatra session. It's certainly up there with Nelson Riddle and his peers. In addition to singing there's also some whistling.
This is followed by another bit of spoken narration that sets the narration to another very swinging tune, "Ali's Song", which again reminds me of Sinatra sessions circa his move from Capitol to Reprise.
The narrator checks in again and then we have the instrumental "Magic Man", which has more of a rock beat to it while combining elements of big band/orchestral sing and some of Baxter's skill with exotica. The piano playing is particularly good and I have to wonder if it's Mr. Baxter himself.
Again a little bit of speaking about what's happening in the story and then we get "Hey, I'm in Love Again", which is a fairly corny song, reminiscent of "Aliki Aliko Alakazam" but with a croony section added and some good use of electric guitar and percussion.
After another check-in with our raconteur we get the last tune on Side A, "Magic Man", another foot-tapping swinging piece with great drumming.
The B side starts out with our narrator, of course, explaining that one of the characters, feeling lonely, asks bluebirds for help and that gives us our first real shift in mood, the poignant and richly textured "Blue Bird in the Cherry Tree", which combines Baxter's knowledge of instruments from other countries with writing for strings that's up there with Henry Mancini.
A test of courage, we're told, involving a waterfall, comes next, with the perky and pleasingly syncopated "Under the Roaring Waterfall", which gives Mr. Baxter the most room so far for flexing his exotica muscles. and also quotes "Aliki Aliko Alakazam".
Then there's an instrumental version of "Blue Bird in the Cherry Tree", very much a feature for the strings and more subdued than the vocal version.
"Alakazam Ballet Fantasy" is probably pretty self-explanatory but get a spoken intro about the hero trying to find a secret passage. It's another shift in the music, now more like dramatic underscore than anything else on the record, and a good demonstration of Baxrter's composing and arranging chops. The music is similar to Tchaikovsky maybe?
And then we come to the end and "Finale", preceded by one last bit of narration that includes a triumphant declaration of the title. The music itself revisits the various themes we've heard before while ending on an energetic and amusing note.
---