The Sandals' music for The Endless Summer is one of our favorite soundtrack albums but we also really love their sophomore effort, The Last of the Ski Bums. And so it's our 655th Soundtrack of the Week.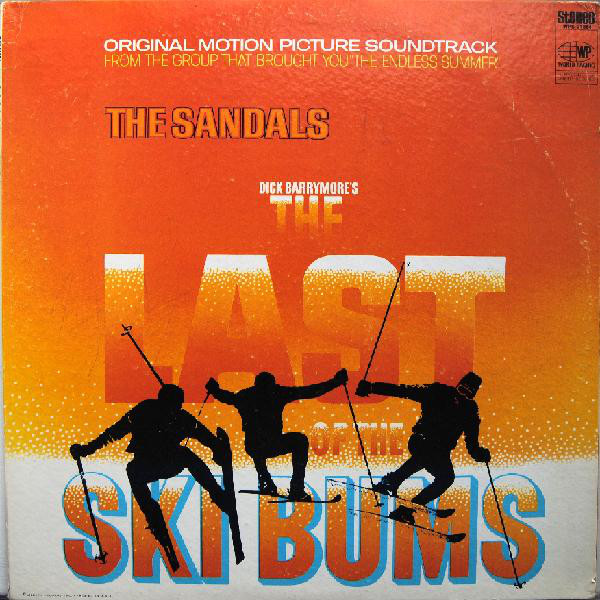 The record opens with "Winter Spell", a dreamy and floaty song which has a lovely blend of acoustic guitar and organ.
Then we get a vocal number with a country rock shuffle groove, "Ski Bum", probably something that accompanies the opening credits. "Cheese and crackers / Cool red wine / Back seat living / Suits me fine."
"Children of the Sun" starts out with resonant strumemd acoustic guitar chords. A bit of dissonance and bowed upright bass comes in and then what sounds like tablas. Electric guitar and organ eventually join and the tuen has an expansive and pleasantly sedate psychedelic sound.
The organ kicks off "Agunus Night", which might remind you of "While My Guitar Gently Weeps". Certainly the electri guitar, bass and drums are in that zone, but then there's an uenexpected shift to acoustic guitar and tabla and, later, another organ break. These different approaches are smoothly alternated and the resulting number is really cool and interesting.
Folky/baroquey acoustic guitars open "Yellow Night", another dreamy instrumental. The groove gets heavy at the end.
The last tune on the A side is a gritty country acid rock piece, the amusingly titled "Soul Something" which has some really cool-sounding keyboard playing in it as well as lots of lead electric guitar. Really love the bridge in this song.
Flip the record and you're "Coming Down Slow" with a flurry of a drum intro and then a floaty and swinging instrumental that's really catchy and shows, I think, some Booker T & The M.G.'s influence. Interestingly, after a high-energy opening the music falls through a trap door into a surprise space where everything gets slower and sparser. and then gradually builds in intensity.
"Summer's Gone" is a very wistful tune that features harmonica and in parts has a "House of the Rising Sun" feel.
Frantic bongo playing provides the introduction to "Return from the Casino", which has a very spacey and free-floating feel to it, with resonant cymbal crashes, vibrating long tones from the organ and electric guitars. Then the acoustic guitar sets the pace with an attack-heavy flurry of strumming and plucking. Tablas come in, too, and the effect is very exciting. It ends with an electric psycheelic freak out.
"Flowers To Dance On" has kind of a Byrds feeling to it and shines a spotlight on the guitars and keyboards. It's the only number written by the keyboard player in the band.
Then we're back in wistful territory with "Water and Stone" and acoustic guitar and harmonica. There's a great watery-sounding solo from either electric guitar or keyboard; not really sure which it is.
The record comes to an end with "Porsche", a bouncy keyboard-driven song whose melody is a bit like "Eleanor Rigby". Typically, the band likes to balance this groove with a stark contrast in rhythm and feel. They're full of surprises! Some really good guitar and organ soloing here as well.
---