Rob Price
Gutbrain Records
rob + gutbrain.com = email
---
Here's a neat recent addition to the Gutbrain library: David Koenig's Couers Noirs: Film Noir Newsprint Advertising of the 40's & 50's.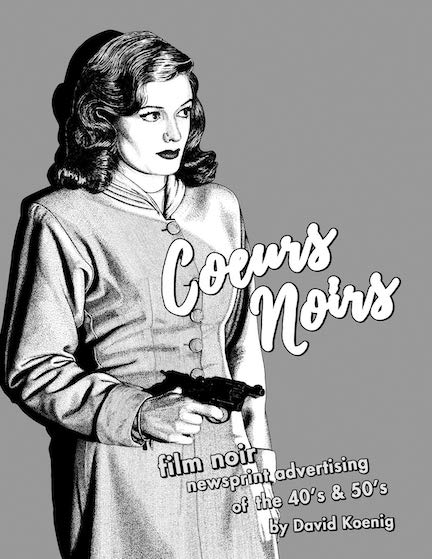 The title says it all. The book is packed from start to finish with tons of newspaper ads for noir movies.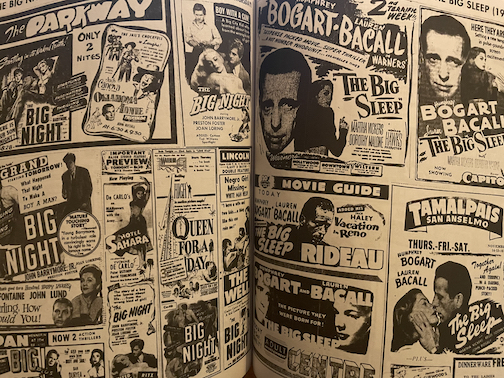 My only complaint is that movies that begin with "The" are alphabetically placed under T and movies that begin with "A" are in the A section.
So A Double Life is under A and The Big Sleep is under T.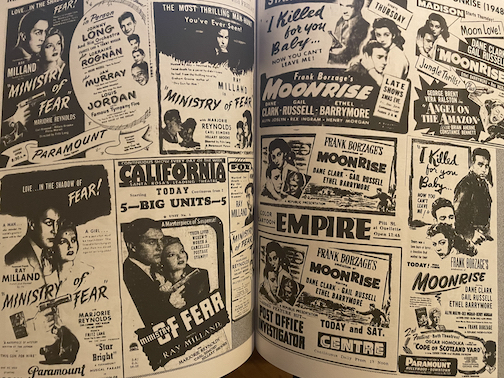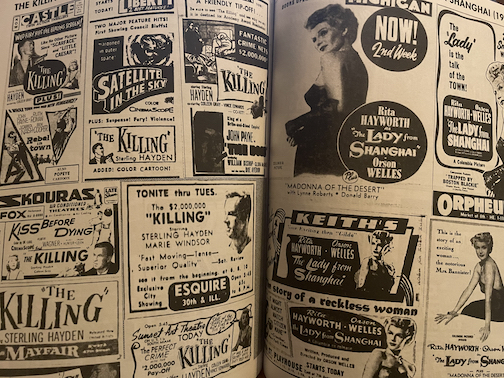 But no big deal. You figure this out pretty quickly.
---
2021 September 27 • Monday
The 693rd Soundtrack of the Week is perhaps for completists only. It's a CD of music from Shin Toho's "Line" series of films that were directed by Teruo Ishii. Black Line, Fire Line, Sexy Line, Yellow Line.
These were cutting edge crime films at the time, late 1950s an early 1960s, and are absolutely worth watching.
The music is a big part of it, mostly menacing action jazz, sometimes influenced by Elmer Bernstein. The composers are Chumei Watanabe, Seiji Hiraoka and Riichiro Manabe.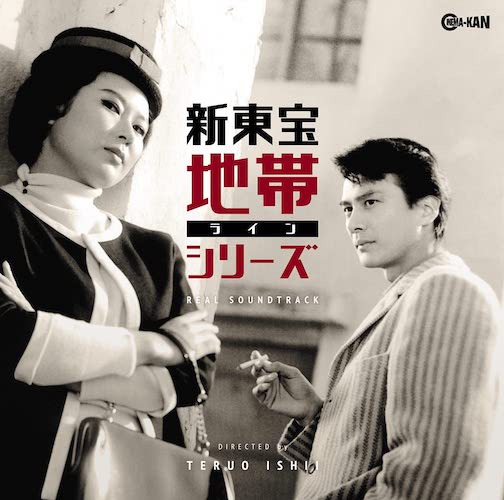 The original tapes are long gone so you hear a lot of dialogue and sound effects mixed in with the music. So you might as well watch the movies!
But I'm thrilled that this is available. The willingness to do this kind of thing is typical of Cinema-kan.
---
2021 September 24 • Friday
If you enjoyed hearing about Stuck on VHS then you'll be thrilled to know that there is another VHS fanzine!
Lunchmeat is more like the fanzines that proliferated in the '80s and '90s (and as an erstwhile full-time employee at legendary zine store See Hear from 1994 to, uh, years later, I should know).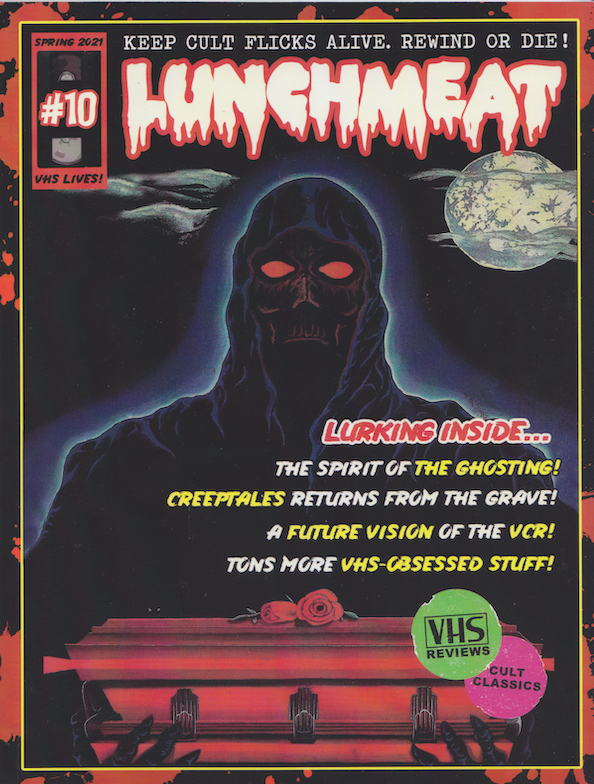 This is Lunchmeat #10 ("VHS LIVES!") and it's a treasure trove of fringe movie ephemera.
Who knew that there were videotapes of people reacting to farts in public? Or that some teenage fans of The Crow spent years shooting their own more faithful film adaption of the comic. On video! (Lunchmeat gives it a rave review.)
And there's a wide range of material in here, from David Lynch's On the Air tv show to reviews of cartoon porn, as well as fascinating interviews with fringe filmmakers you've probably never heard of.
Once again, thanks to Quimby's for being the kind of place where you find this kind of thing!
---
2021 September 22 • Wednesday
While I'd noticed that audio cassettes were making something of a comeback, I hadn't been aware that, apparently, video cassettes were also experiencing a revival of sorts.
For some reason, I hadn't noticed the book Stuck on VHS but the last time I was in Quimby's Chicago, I picked up the first supplement to that book, a wonderful fanzine that revels in the glory of the videotape.
Be kind, rewind, indeed.
While the main focus is on the stickers that used to adorn videotapes and their cases—and this is one of the most delightfully specific ephemeral subjects I've ever encountered— there is some other interesting content, particularly the story of Dave Sharkey's mobile video rental service in New Jersey, which ran from March 1985 to November 2017.
It's an inspiring and uplifting account and this zine is worth picking up for that alone.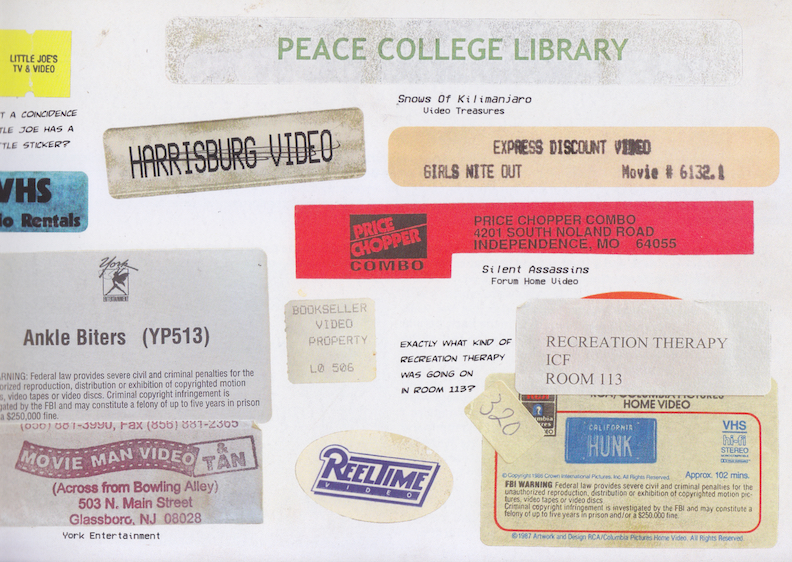 Fanzines like this, and places like Quimby's where you can find them, are increasingly rare these days. Let's not let them go the way of the videotape. If you're in Chicago or New York City, go to Quimby's. If you're somewhere else, why not search for something like it?
---
2021 September 20 • Monday
The 692nd Soundtrack of the Week is Nathan Furst's music for the movie Dust to Glory a documentary about an off-road race in Baja. It's directed by Dana Bron, son of The Endless Summer filmmaker Bruce Brown.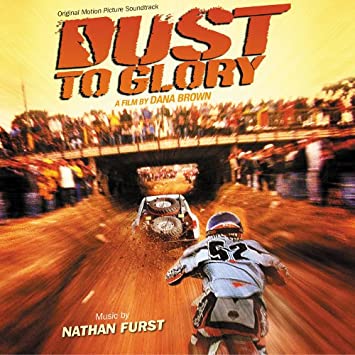 The "Dust to Glory Theme" is, unexpectedly, a Middle Eastern-sounding piece with a lot of momentum and energy. It's followed by a triumphant and stirring orchestral cue in a John Williams vein, "Heart of the Baja".
"Race Day" takes its time getting started, with some suspenseful electronic pulses and subtle sounds appearing around a delicate piano part. It builds too full orchestra with electronics and what sounds like a chorus, a massive wave of music that's still very lyrical.
Folksy acoustic guitar playing kicks off "The McMillins", which stays in this interesting zone of Americana mixed with instruments from other places around the glove, North Africa and Japan among them, by my guess. At one point it becomes somewhat reminiscent of Howard Shore's theme for the Shire.
Then Furst kicks it in to gear with the rocking "Falling from the Sky", pounding riffs delivered by rock band instrumentation and a male vocalist who's somewhere in between Radiohead and Iron Maiden.
Things get dreamy/suspenseful with "Andy Closes the Gap", which has a poignant melody played over insistent percussion and a desert sort of feel to it.
A lovely female soprano voice is the feature of the lushly beautiful "Weatherman", another piece that might recall Howard Shore or John Williams.
"Riding Dust" continues some of the previous feels and melodic ideas for a short cue that sounds like it's for a tense action moment.
A hyper and nervous 3/4 meter (and sometimes 6/8?) help give "The Beach" a dangerous off-kilter quality.
It leads directly into "On the Other Side" which relaxes into a romantic cue which recalls the "Heart of the Baja" theme.
After this comes a delightful surprise: The Sandals! Immortal for their "Theme from The Endless Summer" they appear here to play a wonderful and dreamy acoustic number called "Lorena".
"Sharing Dust" brings back more sensitive piano playing after some long tones and various textures create an atmosphere of what sounds like mourning someone beloved.
More stirring orchestral music with some global music selections kicks off "A Pattern Developing/Silt" before getting into a cool groove with some insistently strummed strings and other vigorous ostinati.
The acoustic guitar and piano do almost all of the work for the very tender "Coco's Corner".
The same two instruments are the main voices in the mysterious "Baja Shadows".
"Open Terrain" has some of the same momentum as the main theme but is presented as a quieter and more laidback piece with an ethereal melodic line floating above everything before it explodes at the end.
Then another song, this one a kind of rock/pop/funk/whatever number called "Yes I Will", one of those energetic affirmations of all the things the singer is going to do (yes, he will).
Flutes add a lot to "Not to Finish", a short and atmospheric piece that's like a passing cloud of mixed emotions.
The melody is continued, but with an earthier foundation, in the next cue "One More Mile", with strings being the main voice.
"The Dust" revisits elements of the main theme and finally there's another song to close the record, the contemporary country rock "Once Knew You".
---
2021 September 17 • Friday
Here's the second entry in our Meta Marquee series.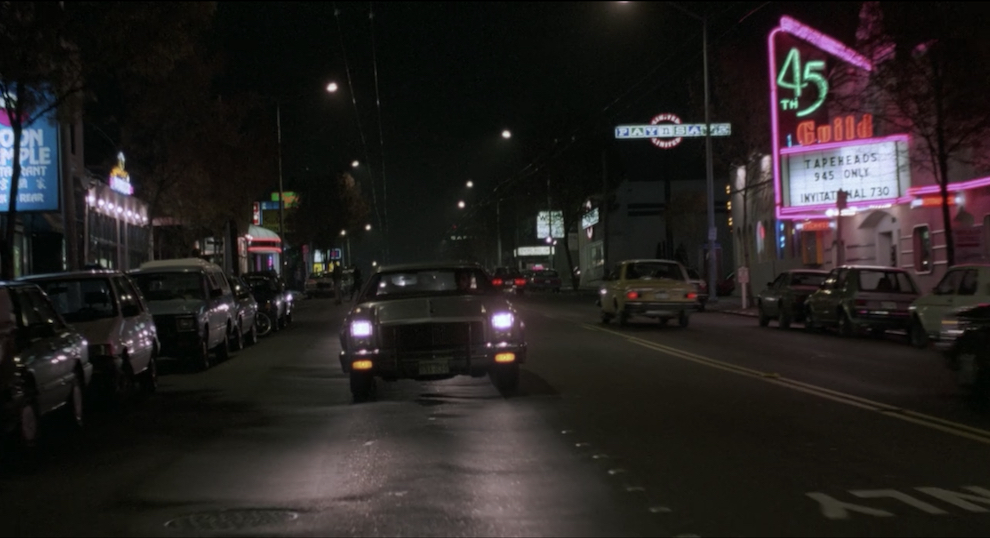 That's John Cusack (in the car) in 1989's Say Anything driving by a cinema that's showing 1988's Tapeheads, also starring John Cusack.
---
2021 September 15 • Wednesday
Since I haven't seen my favorite headlines in a while, I've decided to start a new series of pointless observations about movies.
This will be called Meta Marquee and it's basically when someone in a movie or television show appears on screen with a marquee for a theatre showing something else that that person appears in.
It's not complicated. This first example is probably all the explanation you need.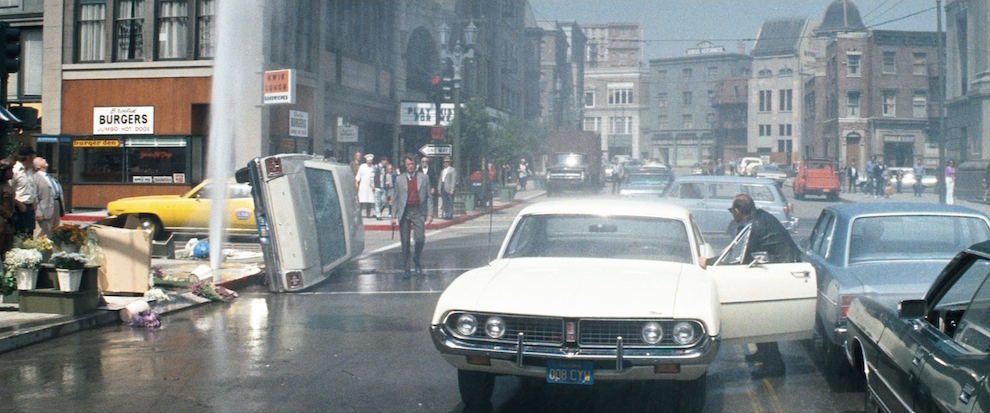 That's Clint Eastwood in Dirty Harry standing in front of a movie theatre that's showing Play Misty For Me, also from 1971, also starring (and in the latter case directed by) Clint Eastwood.
Get it? Good. If you notice other such examples I'd be pleased to hear about them.
---
2021 September 13 • Monday
A certain very important Brooklyn resident has a first day of school in Manhattan today. And so what better way to mark the occasion than by making Fred Mollin's music for Friday the 13th Part VIII: Jason Takes Manhattan the 691st Soundtrack of the Week?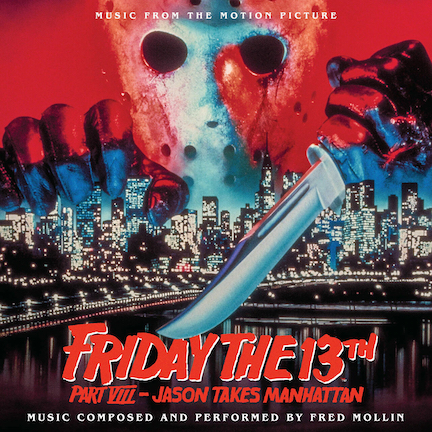 First you'll hear a very '80s song, "The Darkest Side of the Night", back beat driven with lyrics like "The darkest side of the night / Burns like a fire / For the wasted lives / There's no way you can fight / Just show some respect / And try to survive".
Then there's some classic horror movie scoring, bells and percussion and keyboards and some wailing lines, repeating figures and bending tones in "The Story of Jason / Jason Resurrected / Impractical Joke".
Things get tenser and stabbier in "The End of Jimmy / Goodbye Suzi" (spoiler alert?) which concludes with some interesting, airy, almost all percussion music that builds to a climax.
The bells, long tones and studden stabs of music return in "The Ghost People / Jason on Board / Porthole Flashback". There are interesting variations in tone and density throughout and some of the score might remind you of the music for Henry: Portrait of a Serial Killer.
"False Alarm / Sauna Death / Rennie Overboard" (spoiler alert?) is mostly more pensive while things get active again for "Mirror Flashback / Saynoara Tamara / To the Bridge, Masked Man".
"Discovering Dad / McCulloch Gets Angry / Dropping the Anchor / Eva Finds Tamara / Wayne's Demise / Wayne Fries" continues with the varied textures and use of space while suffering a bit from the limitations of synthesizer tones available.
A welcome surprise is what sounds like an actual acoustic harp starting out "Jason Kills Two / Flashback in the Cabin / In the Galley / Jump Ship". Also surprisingly, the cue finds a pretty cool groove at one point with the strings suggesting a lyrical melody on top.
Things calm down and get almost romantic for "In the Lifeboat / Arriving in New York / Jason Arrives in New York / Rennie's Abduction". At first. Then of course we get back into the horror tension zone.
Suspense and tension start out "Rennie and the Punks / Jason and the Punk / Jason and Julius / Heads Up, Julius", and eventually Harry Manfredini's classic "Jason" sting is referenced.
More lyrical passages alternating with explosions of musical dread constitute "Sean Finds Rennie / Freeze! / Police Car Adventure" while "After the Collision / Sink or Swim / Goodbye McCulloch" begins with a stirring valedictory feel while continuing with the same very effective musical ideas.
"Sean and Rennie / Jason Breaks It Up / Into the Subway / Subway Chase / Jason Fries" starts out with a love theme but... well you know what happens next.
Another love theme-sounding cue starts out "Safe at Last (Just Kidding) / Rennie and Sean See Jason / Jason and the Waitress / Down to the Sewer / Goodbye Sewer Worker" and it even has a bit of smooth saxophone playing. It won't last, of course.
The grand finale comes with the aggravated tension and violence of "Sewer Chase / Toxic Flood / The End of Jason".
The record also has a few more songs at the end.
Terry Crawford's "Broken Dream" is very '80s hard rock that you could imagine hearing in a gym.
"Livin' in the City" by King Lou is rap that goes for some of the sounds that made MC Hammer's "U Can't Touch This" a hit. It's not much of a song. "Livin' in the city ain't no big deal / You gotta have a heart made of US steel / If the crack don't get you then the hookers will / Livin' in the city ain't no big deal."
Then there's "J.J.'s Blues", a short blast of '80s guitar rock instrumental, followed by an instrumental version of "The Darkest Side of the Night".
---
2021 September 10 • Friday
Every once in a while there's a new David Collier book and it's always a cause for celebration. In this context "new" means new to me as there's a certain amount of luck involved in finding his latest effort.
Morton: A Cross-Country Rail Journey has a 2017 copyright date on it but it was only last month that I came across it at The Strand. (For some reason I haven't seen it in any of the numerous comic book shops I've visited in the last four years.)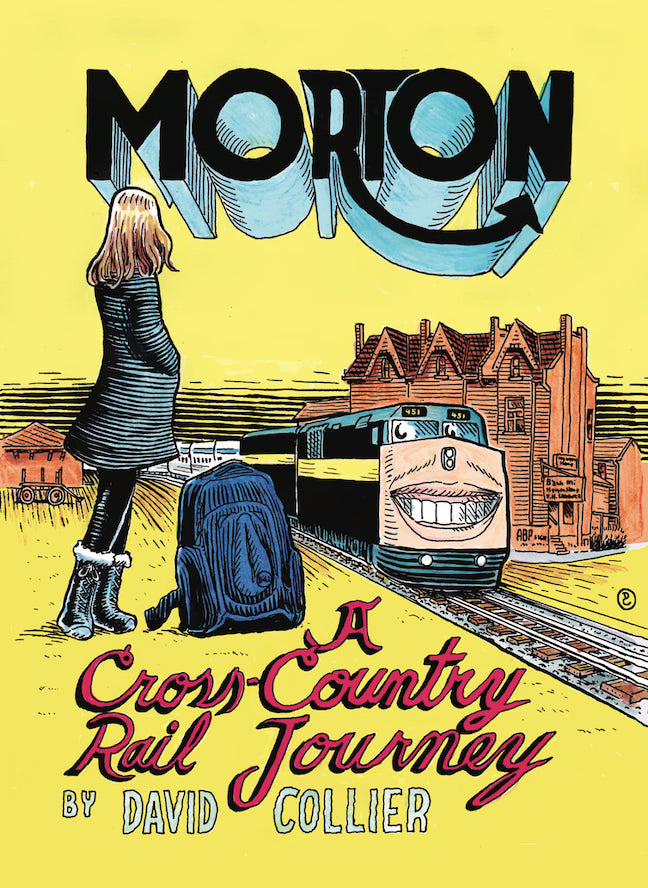 Collier is a Canadian cartoonist who has always and exclusively, as far as I know, created works of non-fiction: autobiography, biography and history.
His art style might remind your of Robert Crumb or Chester Brown but his sensibility is quite different, as is his approach to the material.
Morton is an exquisitely detailed account of a long train trip across Canada undertaken by Collier with his wife and son. The physical journey is paralleled by temporal journeys, back in time to the history of the country as well as to Collier's own past.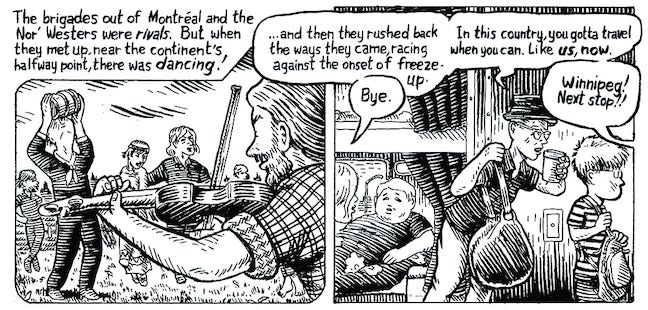 There are many interactions with friends and strangers along the way, some of them quite poignant. (Learning of one friend's death gives the book its title.)
There's a long wait in between Collier books but it's always worth it.
Hey, this came out in 2017! Maybe there's another one by now!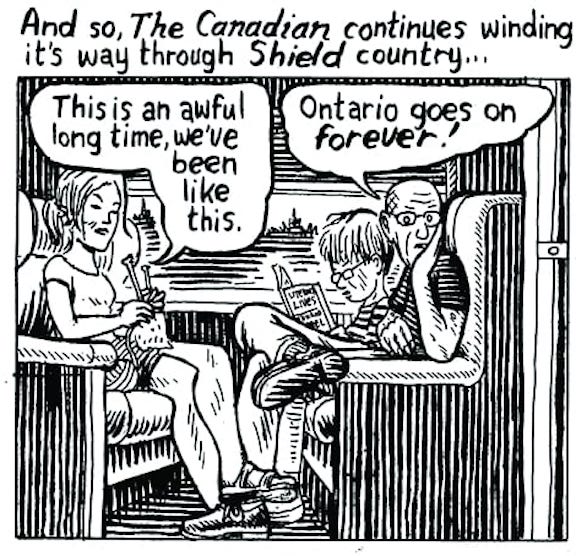 ---
2021 September 08 • Wednesday
Brattle Book Shop in Boston, MA, conveniently located quite near the Boston Common and a short walk from South Station, is one of the last great book shops. On a recent visit there we dove into their impressively large collection of vintage paperbacks—all priced at $5—and surfaced with several nuggets, including Fever Heat by Angus Vicker.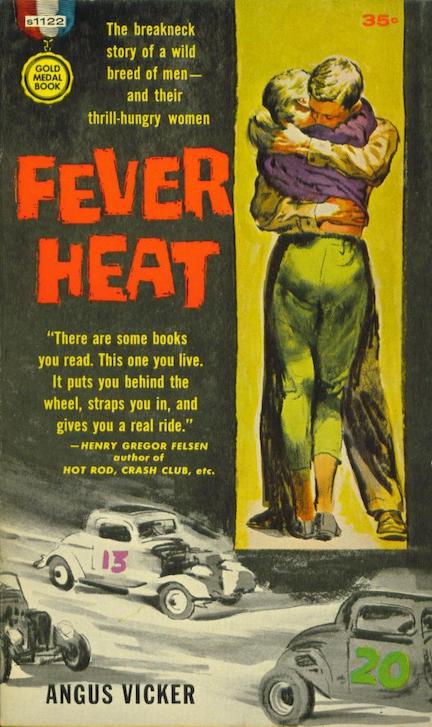 This was an unusual book, very well written, and had a brisk, smooth, inexorable pace. It combines hot rod genre conventions—stock car racing being the setting here—with noir fatalism and motivations (greed, lust, hate, etc.).

I can't remember ever reading a book like it. Ace Jones used to be a great racer but his wife's infidelities turned him into a crazed madman on the track, more of a homicidal maniac than a driver. So he switched to being a mechanic and knows everything there is to know about cars, inside and out.

The book opens with Jones on a crosscountry drive. When he's aggressively and dangerously cut off and almost run off the road by another car he sees red, slips back into his aggressive racing mentality and exacts automotive revenge, easing up at the last minute so that the other driver and his car don't suffer significant damage.

Then Jones arrives at a town called Town. He moves in on a widow who's running a failing garage and whose husband was killed racing in the local stock car event— an incident that might not be the accident everybody thinks it was.

Jones does the big city mover in the small town bit, dominating the rubes and playing everything really slick but makes the mistake of underestimating some of the locals, particularly the man who runs the stock car races.

This guy turns out not only to be the man Ace had his highway duel with in the first chapter but also one of a couple of competitors for the widow's affections.

But no matter. The story is told with downbeat noir inexorability, blended with fast cars, sex and incessant conflict. All books like these claim to be thrilling but this one really was.

The first line is "The guy shouldn't have passed me the way he did because it made me mad, and it's not good to get mad behind the wheel".
---
2021 September 06 • Monday
The 690th Soundtrack of the Week is Jean-Pierre Bourtayre and Jean Bouchéty's music for the movie The Game Is Over.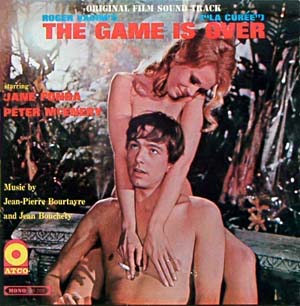 It begins with "Generique Debut (Opening Theme", a short cue of solo sitar playing with a lot of space and establishing the main theme.
Then we swing into a bossa nova with acoustic guitar and a Paul Desmondesque saxophone backed by a jazz ensemble. This is "Un Certain Regard (A Certain Look)" and it's a really nice tune. It would be great to know who the musicians are.
This is followed by "Scene d'Amour (Love Scene)", just over a minute of dreamy melody, the main theme again, with wonderful harp accompaniment.
"Renee" is even a few seconds shorter and reprises the same melody, this time with flute and a slightly sparser harp part.
The sitar then returns, this time with tabla and harp for some gentle atmospheric psychedelia before reprising the main theme again and then fading back into the quasi-Indian music.
The last cue on the A side is "Scene du Lac (Lake Scene)", another fairly short one, starting with snarls of distorted electric guitar that ends up doing its own acid rock version of the main theme.
The B side begins with "Attente (Waiting)", another laidback feature for the sitar.
"Avant Toi (Before You)" is a fairly energetic hybrid of Vegas show/lounge music and acid rock/pop with perky horns pumping out sunny phrases here and there while electric guitar and Hammond organ freak out. The melody has some similarities to the Hawaii Five-0 theme.
Then comes "Baby You Know What You're Doing", which is the same ensemble as the previous track but this time with a male vocalist singing "Oh baby you know what you're doing / When you do that to me" etc.
Another song with the same singer and same band, but this time with fuzzed out guitar and no horns, comes next. "Don't Tell Me" is a pretty straightforward '60s rock song and it's good!
The main theme then returns in "Depart de Renee (Renée's Departure)", again presented by flute and harp.
"Bal Vert (The Green Ball)" is another '60s rock song but this time with a different singer and a pre-psychedlic sound. It's bouncy and unoriginal, nothing special but not bad and with some good Hammond playing.
And then finally there's "Generique Fin (Closing Theme)", a melancholy solo flute take on the main theme followed by solo sitar playing the same.
---
2021 September 03 • Friday
We had the opportunity over the summer to meet Alice Hoffman and hear her read from her novel Second Nature. And so of course we made sure to read the book itself first, Practical Magic being the only other Hoffman book we'd read before. (Don't judge it by the movie adaptation.)
Second Nature occupies a literary space that overlaps with many genres. Fairy tale and fantasy, certainly, as well as magical realism, romance, thriller, domestic drama, coming of age, the story of a small, insular community... It's not one thing.
The basic plot concerns an adult man who was raised by wolves in the wild since being the only survivor of a plane crash when he was a toddler. After getting caught in a hunter's animal trap, he's removed from his environment and brought into civilization, first to a hospital from which he's supposed to proceed to institutionalization.
After he asks a woman named Robin, a landscape gardener on Long Island whose brother is in charge of the man's case, for help, he goes home with her. Something they both in common is that they've both become involuntary lone wolves, Stephen by accident and Robin by splitting from her unfaithful husband, also the local sheriff, whose police force now harrasses her around the clock.
Stephen is Robin's secret at first, soon to be known to her teenage son, who's in the middle of his own intense first love experience while also weathering the emotional storm of his parents' separation.
As Stephen learns about human society and attempts to assimilate, he intends to use the knowledge he gains to return to the wild and to his wolf family.
At the same time, those who connect to Stephen also connect to a wild part of themselves buried within.
Usually this is with positive results. But then a series of killing begin and Hoffman slips in a reference to Little Red Riding Hood...
It's a satisfying book. Hoffman told us that part of its inspiration came from a dog she had that was extremely overprotective of one of her children, not allowing anyone near the child, and this got her thinking about a human-animal bond that our society doesn't allow for.
The first line is "By April most people had already forgotten about him, except for some of the nurses on the floor, who crossed themselves when they walked past his room".
---
2021 September 01 • Wednesday
One of the highlights of the summer of 2021 was Reuben Radding's new photozine, At Large.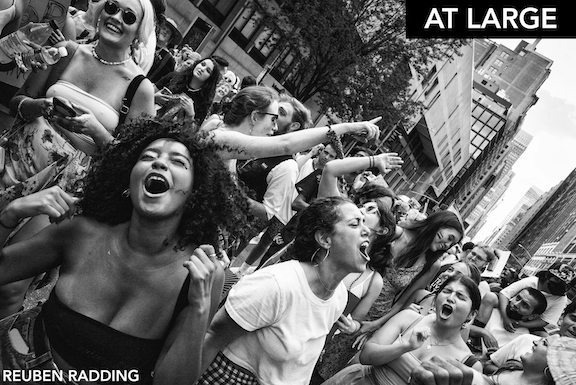 Following his photojournalism series documenting life during the pandemic and reactions to lockdowns and vaccination requirements, Radding turned his attention to something like the fallout.
In At Large he presents vivid and extraordinary images of people in the city, outside and, it appears, mostly feeling free.
As he notes on his website, this is an intentional rebuttal to "commonly accepted narratives of doom and gloom" that clashed with what he himself witnessed and felt. (A similar contrast between the media's NYC reality and that of the people actually living here occurred back in September 2001.)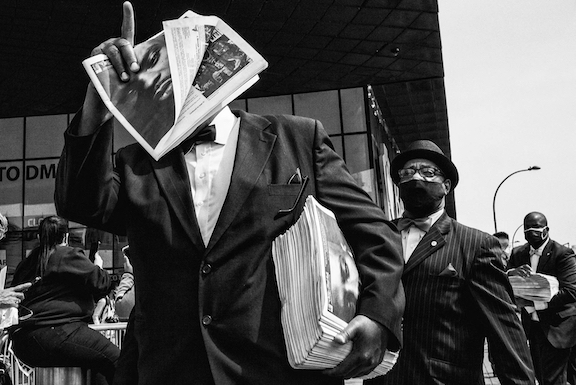 The pictures tell the stories. But Radding also asks an important question: "If all space becomes ruled by the forces of commerce, semi-privatization, or standards of conduct, where will be left for us where we don't have to buy things in order to find a neighbor and dance in the moonlight?"
---