Rob Price
Gutbrain Records
rob + gutbrain.com = email
---
The story of Bernard Herrmann and Alfred Hitchcock is an interesting one. What the story actually is tends to change depending on who tells it. But without wading into that particular swamp, let us say that it is simply a fact that Herrmann's association with Hitchcock tends to be the most salient fact deployed in descriptions of his career, despite the fact that Herrmann's first movie score was Citizen Kane and his last Taxi Driver, with numerous works of genius in between, for directors as diverse as François Truffaut and Larry Cohen.

And that's not even mentioning his work for television, in particular The Twilight Zone. And that's not even delving into his work for radio, his opera, his role as a conductor who championed new concert music, in particular Charles Ives. Et cetera.

Our 689thSoundtrack of the Week is Herrmann's Phase 4 re-recording of suites from some of his Hitchcock movie scores, Music from the Great Movie Thrillers.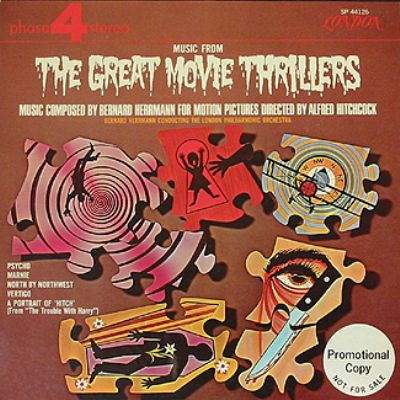 So what's the deal with this? The Phase 4 Stereo concept had something to do with microphone placement and quadrophonic stereo—I think. I'm not an audiophile and I don't feel like researching it right now.
But this is Herrmann conducting suites of his own music from Psycho, Marnie, Vertigo and The Trouble with Harry (Herrmann's first collaboration with Hitchcock; the suite here is called "A Portrait of Hitch" for whatever reason).
Also included is the main theme from North by Northwest.
Without the constraints of timing music to moving image, Herrmann tended to slow things down, but I don't think this will bother any listeners of this CD.
The music itself is almost all so powerful and enchanting that it works.
Perhaps the real treasure here is the music from Vertigo since Herrmann didn't get to conduct the original soundtrack recording, because of musician strikes.
The recording quality and the music itself are both incredible, even though I've never been able to find a way into the music from The Trouble with Harry. Certainly the rest of the record is enough for me.
---
2021 August 23 • Monday
The 688thSoundtrack of the Week is this record we picked up a few weeks ago at Cheapos Records in Cambridge, MA: music mostly by Stu Phillips for a movie called Jud.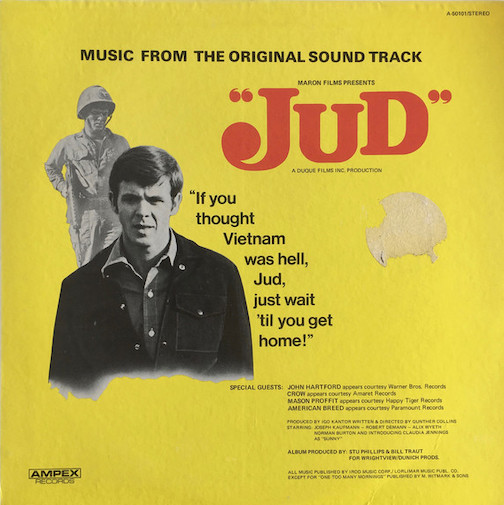 The A side has a selection of songs, of which three were co-written by Stu Phillips while the B side is all Phillips's music.
First up is a cover of Bob Dylan's "One Too Many Mornings" performed by John Hartford, with a backing that includes some Muzaky strings. I suppose it's not what was originally intended but I like it.
The next song is "Solitary Sanctuary" performed by The American Breed, a sort of country/hippie rock number with a hard and deep groove and some nice drumming and guitar playing.
The country influence continues in "Comin' Down Easy", a pleasant and plaintive song with some nice steel guitar playing as well as an appealing harmonic structure. The performer is Mason Proffit.
"Something in Your Blood" by Crow is a high energy rock number with some aggressive guitar and drum playing as well as a singer who seems to be channeling Steppenwolf or Ozzy or Iron Butterfly etc, really going for it. Great song.
This side of the record ends on a laidback, loungey note, with the quasi-bossa "Come to Me, Anytime" by Barbara Robison, another piece with a really nice melody and chord progessions.
On the flip side we get a bunch of Stu Phillips pieces, beginning with "Gear Down", which sounds like a tense action piece with some Lalo Schifrin Mission: Impossible music influence and some wild keyboard soloing.
This is followed by a dreamy instrumental cover of "Solitary Sanctuary", one of the songs from the A side.
"Jud Escapes" is a great dramatic cue, reminiscent of some of Jerry Goldsmith's work, particularly in its use of strings and spiky staccato note clusters.
It's followed by menacing ostinatos, hand percussion, and swelling groups of instruments as well as some trippy vocalizations in "Bud Flips". It really does sound like it would accompany someone's freak out.
Then there's a lot of space and lot of quiet, despite fuzzed out guitar and electric bass for "Retrospection", an otherworldly atmospheric piece.
And the record wraps up with an instrumental rock number featuring the Hammond organ, "Comin' Back", a cool upbeat tune.
---
2021 August 16 • Monday
We're big fans of giant monster movies here so we're listening to the music from Nikkatsu's take on the genre. Saitaro Omori's score for Gappa: The Triphibian Monster is our 687thSoundtrack of the Week.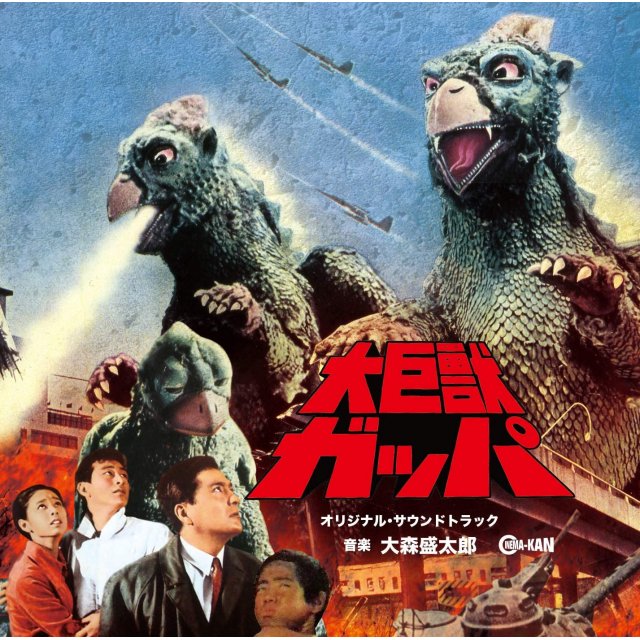 The movie's from 1967 and its main theme leans heavily on surf rock, which is a definite bonus. It has Japanese vocals in combination with the surf guitar and drums with some of the more martial music conventions commonly found in Japanese sci-fi and anime scores of the time.
There's another song, a tender ballad called "Good Luck, Baby Gappa", which sure makes me hope that Gappa is the hero of the movie. For some reason, I've never seen it or at least don't remember it.
Island exotica music is also well represented, in cues such as "Landing", "The Islanders", "Welcome Dance" and "Fire Dance".
"The Stone Statue/The Cavern" sounds very much like what you would hear in a Godzilla movie around the same time, both in its composition and arrangement.
The influence of Akira Ifukube's work might have played a part in some of the more somber and/or heavier cues such as "Baby Gappa Airlift Operation" and "Baby Gappa to Haneda Airport", although the instrumentation is not like Ifukube for the most part.
This typically great release from Cinema-kan also has some extras including trailer music and a sound effects collection.
---
2021 August 09 • Monday
La-La Land Records has just put out an expanded release of one of John Barry's most beloved scores. Somewhere in Time is the 686thSoundtrack of the Week.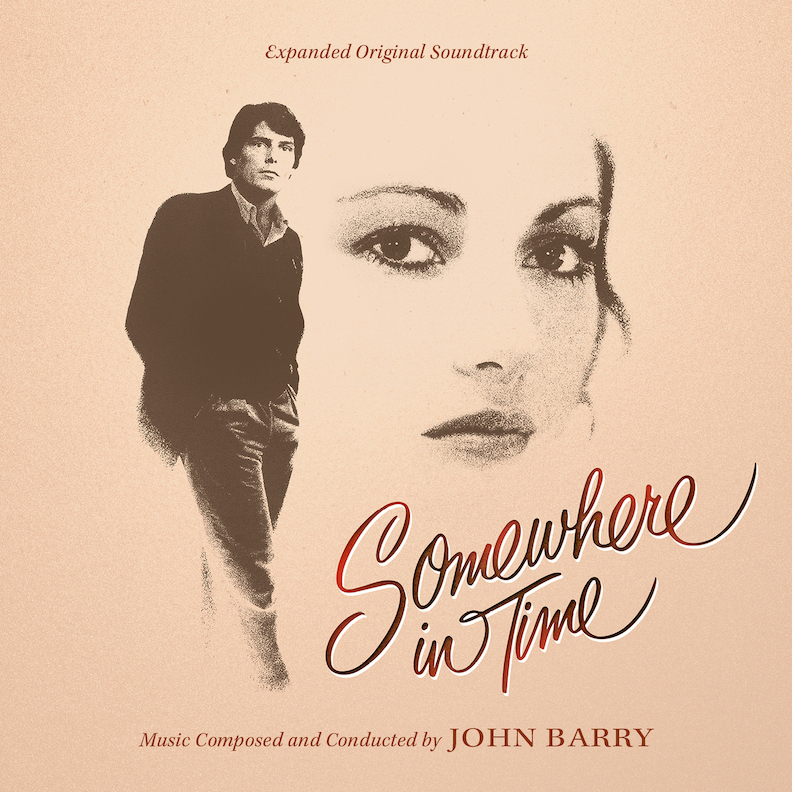 It has four main themes that you hear a lot. The "Theme from Somewhere in Time" (no surprise there), a theme first identified as "The Grand Hotel", the slow-burning and atmospheric theme first heard in "June 27th" (with beautiful writing for strings) and, finally, a piece by Rachmaninoff, "Rhapsody on a Theme of Paganini" (which Bill Murray plays on the piano at the end of Groundhog Day, perhaps a deliberate and fitting reference to Somewhere in Time.
Originally the classical music piece was supposed to be by Mahler, as per the film's source novel, but the Mahler piece wasn't working and the Rachmaninoff theme was Barry's suggestion.
After all the lush, romantic music, it's a bit of a shock when the source music starts up with the somewhat gritty funk jazz instrumental "After Party".
"Car Jazz" is more of a straight-ahead jazz tune featuring alto saxophone.
There are also some alternate takes and also some period songs such as "My Melancholy Baby".
---
2021 August 02 • Monday
Spain is probably lovely this time of year. And so our 685th Soundtrack of the Week is Alberto Iglesias's score for Hable con ella.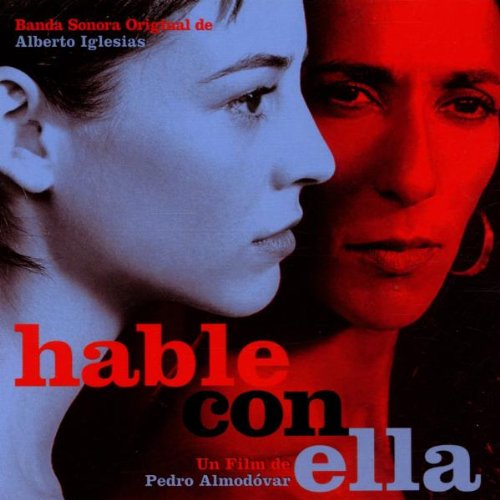 It begins with "Sabana santa", a short and restrained piece for strings that has more mood than melody.
Then for the title theme, strings act as the rhythm section, creating a somewhat energetic 3/4 rhythmic pulse. A trumpet plays a few notes and then there are spotlights on statements made by cello, guitar and violin. It's a beautiful piece that builds in an exciting manner and even includes what sounds like handclapping and footstamping.
Arco bass playing very lowly and mysteriously, combined with some ethereal percussion, begins "El grito". Then the title theme comes back in, at a slightly slower tempo.
"La mesita de noche" is a short but lushly atmospheric piece with lovely contributions from harp and trumpet.
The next cue, "Jordania", sounds like it's meant for a stressful scene, with agitatedly sawing strings establishing a tense framework. Then it ends up being relaxed and lyrical.
Then there's an eight and a half minute track, "El amante menguante", starting with solo bowed bass but soon involving all the strings, and taking the listener through numerous different musical ideas. It's very much a suite of various themes and moods.
After that it's a relief to get back to an easygoing waltz, "María Santísma de Araceli", which is a bit similar to the title theme.
"La noche y el viento" is similar to "El grito" but without the reprise of the title theme.
There's more great use of the harp in "Trincheras/Decadence", as well as some effective blending of winds and strings and wonderfully subtle use of what might be some electronics. (And might not. I can't tell.)
At first ominous and then perhaps just sorrowful, "Habitación de Alicia" surprises by deploying piano in a typically plaintive way but since we've mostly been hearing just strings, it's like a bright new color suddenly appeared.
The next track, "A portagayola", is another tense one with agitato strings and also a beautiful soaring violin line as well as some unusual percussion (or electronic?) sounds.
As startling as was the appearance of the piano, so too is the arrival of vibraphone in "La discusión viaja en coche", which also has some brilliant percussion (and/or electronic?) touches as well as some extreme panning. This is a good one to listen to on headphones.
Gentle, delicate and reverberant piano tells us that "Alicia vive". For a while there's only the vestige of an accompaniment but eventually strings, harp and trumpet come in.
"Los olivos" is just for the strings and has a calm and spacious feel to it before it builds to a majestic conclusion.
More agitatedly sawing strings come from all directions in the appropriately titled "Amanecer agitato", which starts with very high energy and downshifts for the last thirty seconds.
Then it's another lovely and romantic piece in 3/4, "Soy Marco", which has gorgeous violin playing and an exquisite orchestral arrangement that's like a setting for a jewel.
And after that, an actual song with vocals. It's very minimalist, just bass and cello and guitar and voice. The lyrics are in Spanish so I don't know what it's about but the song's called "Raquel".
The last track is "The Plaint: O Let Me Weep, For Ever Weep", and this might be a group called The Plaint doing a song of that name. Guitars and bass and simple percussion and intoxicatingly swaying and sensual.
---