Rob Price
Gutbrain Records
rob + gutbrain.com = email
---
The 684th Soundtrack of the Week is Earth, Wind & Fire's music for the movie That's the Way of the World, starring Harvey Keitel as a recording engineer in 1970s NYC who's forced by his mafia bosses to stop recording an amazing group called The Group (but who are in fact Earth, Wind & Fire) and to lend his talents as producer, arranger and engineer to a squeaky-clean, all-American family act.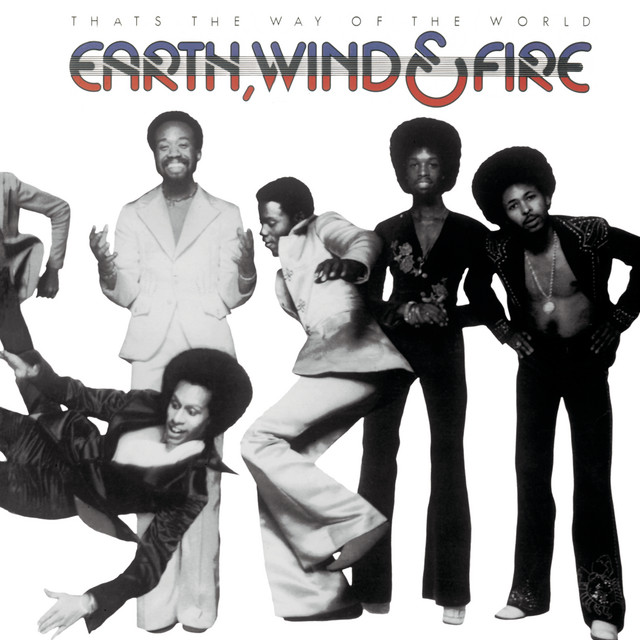 It's kind of an odd movie, not especiall good or bad but definitely an interesting document of the time and place. It's worth watching for the cast and the locations and also, of course, for Earth, Wind & Fire, who get a lot of screen time, including one memorable scene of them playing live at a roller disco.
As you might expect, the soundtrack album is all about their songs. Did the movie even have a score other than the songs? I can't remember.
"Shining Star" is an irresistible funk soul groover that's absolutely ready for radio at just under three minutes.
After that comes the title song, a sensitive love ballad but with the deep pocket you would expect.
Hand percussion and drum kit start off "Happy Feelin'", soon to be joined by a very active bassline and some horn stings and then vocals. There's also what sounds like a xylophone or marimba in there, too, as well as some great saxophone soloing.
Then it's time to get slow and sensual again with "All About Love", a soul ballad in 6/8 with lush sonorities and powerful use of the horn section.
"Yearnin' Learnin'" kicks off with just the piano playing an energetic riff until the rest of the band joins in with a sharp funk groove. "Once upon a time / A child was born / With a light to carry on / Didn't know what he had to be / Had a feelin' / He was bound to see."
Then another soul ballad, "Reasons", which has stunning singing in it, really a feature for the voice, which is given lots of space and knows what to do with it.
The next song starts with solo flute, something we might not have yet heard. It's joined by voices and then other instruments start trickling in. Don't worry, they get to another totally sick groove. Earth, Wind & Fire were such a great band, just incredible musicianship from everybody involved.
The record ends with perhaps the most complex song, "See the Light" ("Looking through the clouds / What do you see?").It starts out in a fast 7/4 and eventually lands on a much more laidback 4/4 before concluding with what sounds like some traditional African hand percussion and voice music.
---
2021 July 19 • Monday
Billy Goldenberg's music for The Grasshopper is our 683rd Soundtrack of the Week!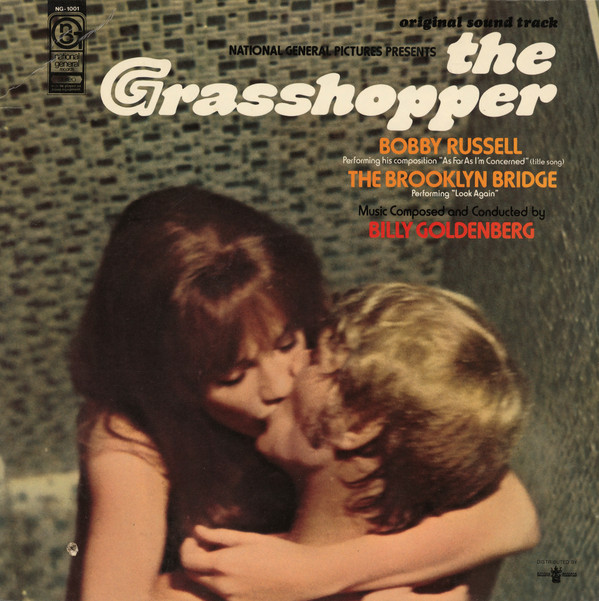 While Goldenberg coposed and conducted the score, there's at least one song by somebody else, "As Far As I'm Concerned", written and sung by Bobby Russell. It's the first track on the album and musically it falls somewhere in between "Me and Bobby McGee" and "Theme from A Summer Place" The lyrics make it a road song or at least a journey song: "There are places you will travel / Folks are gonan look at you in doubt / Just remember it's not where you are / But who you are inside that's gonna count".
Goldenberg's first track is "Traveling with a Star", an airy and pleasant piece that's actually an arrangement of the Bobby Russell song we just heard.
Things then get pretty much awesome with "Christine in Las Vegas", a blast of 1970s thudding electric bass guitar, wah-wah guitars, blaring horns, even sitar and tabla out of nowhere for some reason. Nobody writes music like this anymore.
Then there's a shift to waltz time for the first half of "Bonanza Paree/Return to Vegas", which could fit nicely into a Flint movie soundtrack and has some impressive saxophone soloing. The second half is more orchestral and flowing and back to 4/4 time.
"Sunset with Christine" starts off with acoustic guitar and trumpet and has a valedictory "good night" feel. Then the sitar comes back and we get a much more mellow theme for the end of the cue.
The tune "Soft Music for Rosie" is what you'd probably expect from the title, gentle, swaying, lounge sounds that build on what Henry Mancini has done so brilliantly.
The A side ends with the song "Used To Be" sung by Vicki Lawrence. It's a sweetly plaintive song with some nice use of minor chords and a pretty melody. "We were young but we knew love / Love was all we thought of."
Side B starts with "Christine (Theme from The Grasshopper)", which has sitar joining wind instruments and strings for the melody.
Then there's a vocal number, "La De Da", performed by Shawn and David. The vocals sound like children and the song itself is like a psychedlically-tinged variant of "Do You Know How Christmas Trees Are Grown?" from John Barry's On Her Majesty's Secret Service score.
"Tommy Doesn't Like Rosie At All" is traditional dramatic underscore with strings creating tension and some ominous low tones from the winds.
Strange sounds, probably from some kind of electronic instrument or electronically processed instrument, starts off "Tommy's Gone" but soon things settle into a breezy and swaying cue that suggests the main theme for a while before stating it explicitly.
This is followed by "classical" music, the "Sonata for Eleanor". Presumably this is a Goldenberg composition that successfully recreates that "concert music" experience.
There's another song up next, "Look Again" performed by The Brooklyn Bridge. It's one of those uplifting '60s about looking around, seeing rainbows, etc. It's a good song and apparently not written by Goldenberg. It has a nice shift in the second half with some overdriven guitar and a different rhythmic feel.
And then we close with Sousa's "Washington Post March", perhaps because some kind of minimum eclecticism quotient had to be reached. It's done straight.
---
2021 July 16 • Friday
Blink and you'll miss it but BILL AIDS OWNER ON FORECLOSURE in I Walk Alone (1947).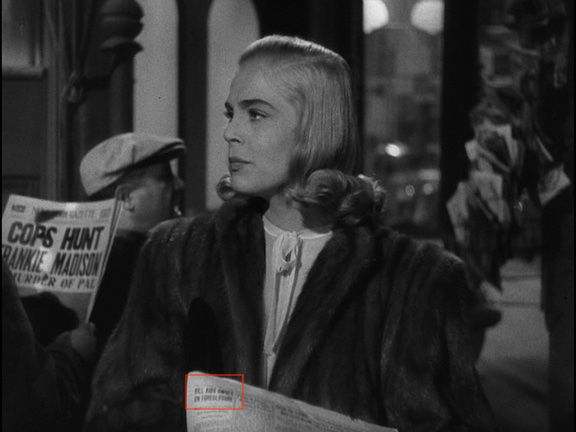 ---
2021 July 12 • Monday
Jazz guitarist Mundell Lowe has done some soundtrack work, including some cool records of television and movie themes. But I didn't realize that he was also responsible for the 682nd Soundtrack of the Week: Billy Jack.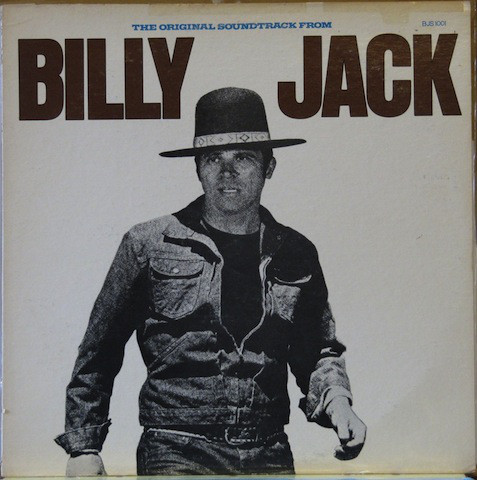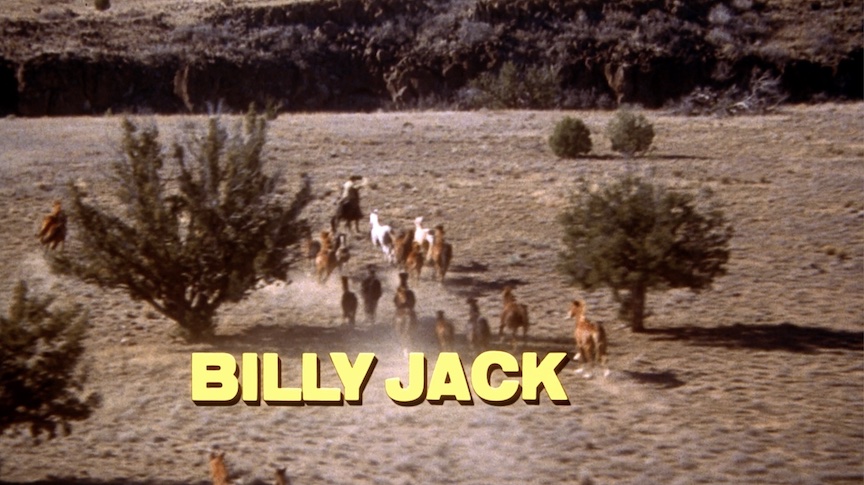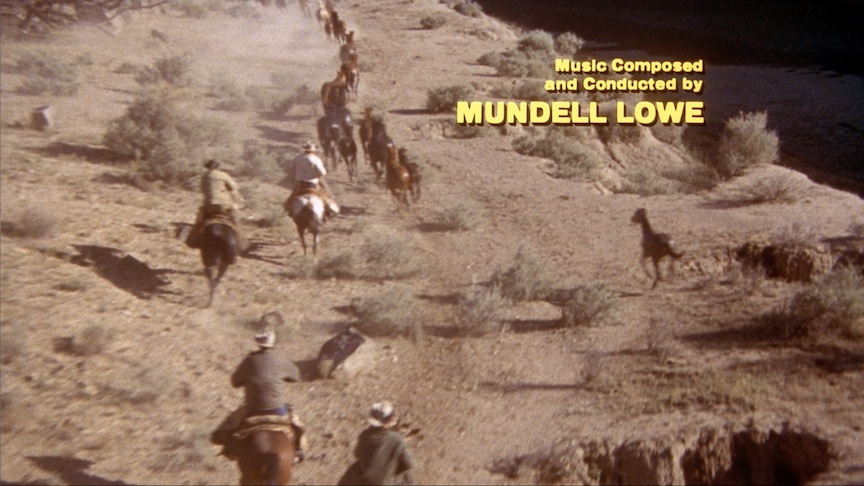 While Lowe contributed score, there are songs by others. And so the record begins with Dennis Lambert's and Brian Potter's "One Tin Soldier", performed by Coven. Apparently Coven was one of the first occult rock bands and singer Jinx Dawson a self described "Left Hand Path High Priestess and Ceremonial Mage".
The song itself is more or less an anti-war protest song with some martial elements to the arrangement, snare drum prominent, for example.
Next is Lowe's very short "Hello Billy Jack", an atmospheric 45 seconds or so of some percussion and wind moods.
Then there's one minute of "The Old and the New" which starts out with what sounds like Native American tribal music and, after ten or fifteen seconds, has some psychedlic rock faded into it so we hear both at the same time, the old and the new indeed.
Two songs written and sung by Teresa Kelly come next.
"Johnnie" is another anti-war protest song ("Why is there war? / Why is there killing?" etc.). It's a cool tune with acoustic guitar and wooden flutes as the platform for the singing.
"Look, Look to the Mountain" is a sunnier and sprightlier number with drums and a backing chorus, as well as cheerful lyrics about how the natural world is our treasure and such.
"When Will Billy Love Me" is a love song, as you might guess, written and sung by Lynn Baker. There are some nice touches in the arrangement, treatment of the flute which makes it sound almost electronic, as well as some subtle use of an instrument that might be some kind of keyboard or percussion instrument, I'm not sure. There's a daydreamy feel to this song and it's very nice.
Gwen Smith is up next, singing her song "Freedom Over Me", basically a gospel number. You only hear it for about half a minute and then it's onto Mundell Lowe's "All Forked Tongue Talk Alike", an unexpected jazz guitar feature with organ, bass and drums as well as a horn section. Presumably this is Lowe himself and it has that late '60s/early '70s jazz rock whatever thing going on.
Another Lowe piece, "The Challenge", follows and at first it sounds like standard dramatic underscore but eventually kicks into a sort of Vegas-y horn band number, as if Billy Jack's doing his stage show.
Side A ends with another gospel-like song, Lynn Baker's "A Rainbow Made of Children". It's like a much more energetic "Will the Circle Be Unbroken".
The B side is all Mundell Lowe cues, with the exception of a reprise of "One Tin Soldier" to conclude the record and "The Ring Song" written and performed by Katy Moffat.
First up is a half-minute Lowe composition called "A Most Beautiful Day", kind of a classic short soundtrack cue of the period that could be easily dropped into an episode of Columbo or Banacek or something like that.
The next piece is also by Lowe and the title, "An Indian Dance", sums up what you hear. Hand percussion, wooden flute, jingle bells and some vocalizing. It's followed by Lowe's "The Ceremonial Dance" which is surprisingly not more of the same but actually quintessential tv action/suspense music.
Then there's more lounge act jazz shuffling for "A Flick of the Wrist", which you could imagine hearing on The Love Boat.
"It's All She Left Me" is a slow version of the what sounds like the same melody from "A Flick of the Wrist" but with sinuous horns, acoustic guitar and flute as the main voice.
This mellow and somewhat pastoral feel is carried over into "You Shouldn't Do That" but the cue quickly becomes about action music. Having established that, however, Lowe takes the ensemble through various different zones of mood and texture, one minute just a solo bass clarinet, the next some percussion ostinato or staccato piano.
Up next is the previously mentioned "The Ring Song", which has kind of a Bobbie Lee Gentry crossed with Joan Baez quality. It's a brisk and engaging number with great guitar playing as well as energetic piano and rhythm section.
Lowe's "Thy Loving Hand" is next, basically a laidback gospel waltz.
After that comes "Say Goodbye, Cause You're Leavin'", a country rock tune with some great lap steel guitar playing.
And then there's just one more piece, Mundell Lowe's "I Think You Always Knew (The Theme from Billy Jack)", which starts out with some delicately beautiful nylon-string solo guitar playing that's a hybrid of classical and pop conventions. Then various wind instruments come in, flute and clarinet and such, eventually to be joined by electric guitar that also plays gently and precisely.
---
2021 July 09 • Friday
Here's another book that I found hard to put down: Lawrence Block's autobiographical account of the first steps in his professional writing journey, A Writer Prepares.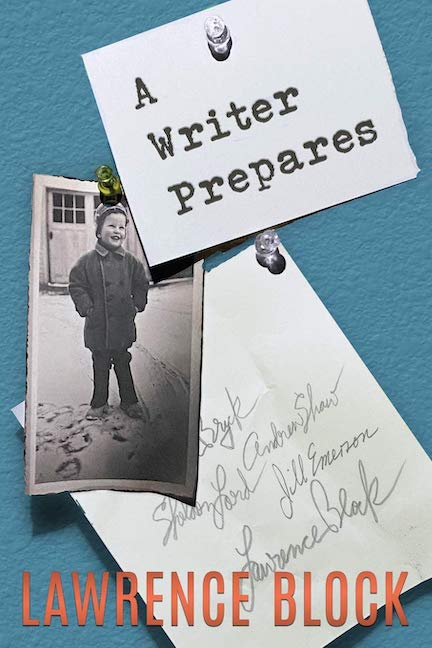 One of the strange things about this book is that it's only the second Lawrence Block book I've ever read. The first one was Hit Man, which I loved at the time.
But even though that was great and Block is a great writer and when I read Hit Man I was working at The Mysterious Bookshop, owned by Block's friend Otto Penzler, and surrounded by Lawrence Block books, I never read anything else by Block until now.
(I did meet Lawrence Block at the bookshop. I didn't know who he was and I accused him of shoplifting. He was innocent of the charge, it turned out. He didn't seem much bothered by the incident.)
A Writer Prepares is mostly one big flow of memory that came out onto the page for Block in 1994 while spending time at an art colony. Those pages could have gone somewhere but ended up not doing so, until Block decided to pick up the thread in 2020 and finish the job.
He's very up front about the process and the tone is conversational and candid throughout. This is not just Block the writer or Block the memoirist but Block the engaging companion with a hundred interesting stories to tell that he can tell well.
He goes as far back to his early writing efforts while still in school, to submitting poems to magazines about farming, to working on a college newspaper, and of course finding his way to New York City where he finds employment at a dubious sort of literary agency, where he would eventually meet future famous writer and dear friend Donald Westlake.
The nuts and bolts of the actual writing are fascinating reading. Pseudonymous sex novels that can go only so far and no farther, how to inflate page counts, the trap of guilt-free procrastination, writing as a ghost and hiring ghosts, covering the walls first with rejection slips and then with the covers of published books…
There are several remarkable characters in here and also some real-life crime as well. Not to mention some of the straight-world jobs Block also held, such as working for a journal about coin collecting or the Erie County Comptroller's Office.
In general it's a fascinating document of a long-gone time and place. In addition to giving us glimpses of authors like Hal Ellson, Block can also tell us a bit about the 1950s folk music scene, of which he was enough of a part to contribtue some songs!
And the writing on pseudonyms alone should be of interest to Block and Westlake fans. You might know that Westlake was often Alan Marshall— and the story of how "Marshall" was contracted to write a biography of Elizabeth Taylor is quite amusing—and that Block was often Sheldon Lord—now that's a pen name!—but there turns out to be quite a bit more to the story than that, such as at least one book that they wrote together, alternating chapters, and hiring other writers to turn out Marshall and Lord books, instructing them how to add those little touches that would identify them as Marshall and/or Lord novels, thus wrongfooting future bibliographers who believe they can prove that some book or another is a genuine Block or Westlake when, in fact, it simply isnt'.
The more recently written parts of the book touch on thoughts about mortality, as Block notes the passing of many friends and considers his own place nearer the finish line than the starting post. Perhaps this is part of the impetus to finish this project, a natural tendency to look back and consider and also for there to be a record.
I wish there were more books like this and I wish Lawrence Block would write a follow-up to this one.
The first line is "Hello there".
---
2021 July 07 • Wednesday
Donald Hamilton's Matt Helm series might be better known today if the movie versions had taken a more serious approach, instead of being goofy spy comedies starring Dean Martin. (Moddesty Blaise had the same problem but without Dean Martin.)
It's a shame because the first book in the series, Death of a Citizen, is really quite remarkable, though I don't think it would make a great movie, as written.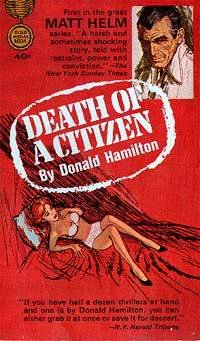 The citizen of the title is actually Helm himself, who leads a happy and placid domestic life, married with children, a professional writer, mostly of westerns.

Being a professional writer of westerns is one of many details that locate the story quite firmly in the mid-century United States and there are numerous others.

One of the interesting things about the book is how Hamilton distilled of elements of men's adventure magazines and Mickey Spillane's I, The Jury and put them into what seems to be the classic power fantasy, that a character seemingly ordinary, everyday, banal, not particularly exceptional, just like pretty much all of us, in other words, is secretly, underneath, a dynamo of power, skill, knowledge, competence, etc.

It's similar to The Bourne Identity, but without amnesia.

Matt Helm belonged to a secret US organization in World War II. The organization had to be secret because its purpose was to help win the war and to hell with Geneva Conventions or anything like that. Their jobs were straight-up terrorism, torture, murder and so on.

In addition to learning all sorts ways to do these things, Helm also learned ruthlessness. You didn't become too friendly with your comrades because if one of them, say, got injured and couldn't execute the escape plan with you, you're not going to change the plan or leave them behind. The only practical option is to kill them before they inconvenience you any further, and Helm did this.

The hook of the story is that while at a totally normal suburban cocktail party, one of the most mid-century American events possible, fifteen years after the war has ended and Helm started living as a regular citizen, Helm is startled to see one of his former comrades walk in the door.

He's so startled that he momentarily forgets to pretend that he's never seen her before but she quickly and unmistakably signals him to remember his training, they've never met, she's working and so, now, is he.

From there the book is off and running and it's a real page-turner.

Hamilton handles everything very well, including an understated but very effective approach to violence. The tone is also quite witty, without undermining the tension of the plot or brutality of the actions.

Once Helm is reactivated he views the world of the "citizen" with a sardonic gaze, and is critically mocking of himself as well.

Too much wit would overwhelm the book and it would also be a distasteful affair without any. Hamilton has the perfect balance and also, by taking mainstream what's usually called something like men's adventure magazine fiction, happened upon a very successful formula. I'm really looking forward to reading the next one.

The first line is "I was taking a Martini across the room to my wife, who was still chatting with our host, Amos Darrel, the physicist, when the front door of the house opened and a man came in to join the party".
---
2021 July 05 • Monday
For our 681st Soundtrack of the Week it's Riz Ortolani's avant funk psychedelic rock masterpiece, the score for L'invasione.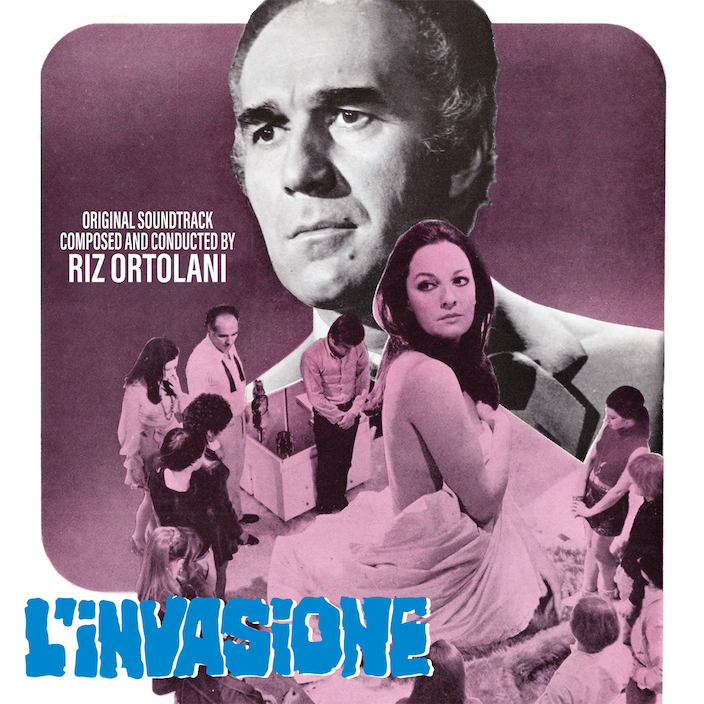 It starts especially strong, with "Main Titles" that begin with what sounds like free improv before kicking into an intense breakbeat prog acid rock freak out with organ, a sick electric guitar line and occasional screaming.
You get a bit of a break after that with "Love Theme #1 (Beat)", a loungey number with a lot more electric guitar than these pieces usually have, and a slightly overdriven one at that. It's reprised four times but without the guitar, using violin, harpsichord, string section etc instead.
"Urban Violence Mood" reprises the main title theme, arguably even more effectively by just diving right into it. The second half is really a feature for just the bass and drums as the other instruments drop out for the most part. (There are some organ touches here and there.)
This is followed by another devastating groove, the Morricone-esque "Dark Shake #1", just for bass and drums. "Dark Shake #2" is much the same except for a percussive coda.
At first "Psychedelic Shake" doesn't seem that psychedelic. It's more like a sunshine pop number, maybe something Bobbie Lee Gentry could have done something with. But then it takes a sharp turn into strange territory, sounding like something possibly freely improvised, before concluding where it began.
Things get really weird and strange-sounding with "Drugs", which combines human wailing with various perussion instruments (including the thunder effect) and splashes of organ, bass and guitar.
An organ-dominated and gloomier version of the main title theme comes next, as "City Shadows".
Then there's some straight-up church music for "Religious Moment", cathedral organ, chanting etc.
You'll want to hear a kicking beat after that and it comes with "Discoteque Shake", which starts out with another powerful bass and drums track before shifting gears to a slow jazz blues version of the main title.
"Hippies Revolution" is the organ freak-out version of the main title and it's fantastic.
Another unexpected turn comes with "Whisky in the Night", a raunchy, swinging New Orleans-ish cue that sounds like it might be for a strip club scene.
Then it's back to the main title again, but this time with harpsichord and saxophone, for "Pursued".
You might be thinking that it's time for something weird again and you'd be right. The first half of "Fear" is some very strange sonic territory, hard to describe, before it runs through the main title theme again.
It's a good thing the main title is so incredibly good because you hear it a lot. The last two tracks on the CD are "Sensual Mood", which is the main title done slow and slinky, and then a straight reprise for the "End Titles".
There are a lot of great Italian soundtracks from the 1960s and 1970s but this is one of the all-time best.
---
2021 July 02 • Friday
Alison Bechdel's new book, The Secret to Superhuman Strength, perhaps completes a trilogy.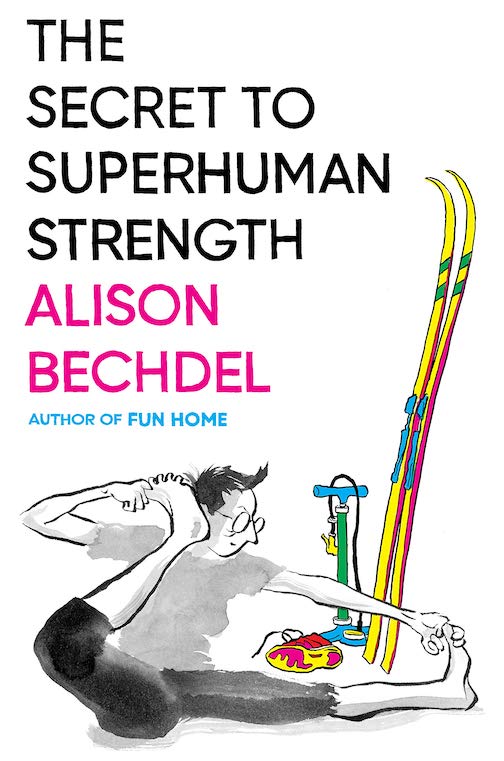 Fun Home focused on her father, Are You My Mother? was about, believe it or not, her mother and now, with The Secret to Superhuman Strength, she has presented us with a story about herself.
Of course all three books are also about her and about her mother and about her father and about other people in her life.
The distinction is one of, I don't know, perspective or approach or centering or something like that.
Fun Home had a narrative arc and some big events that presumably helped audiences to get swept away by it. Indeed, it became a successful Broadway musical, which is an extraordinary event for an autobiographical comic.
Are You My Mother? was a deeply psychological and psychoanalytic work, successfully presenting intensely interior mental and emotional events through Bechdel's virtuosic talent and skill. While I remember finding the story to be not everything I had hoped it would be, I thought the book was a powerful example of the potential of the medium and Bechdel's use of the medium to be genius.
With The Secret to Superhuman Strength, Bechdel is straightforward about her purpose, which is definitely a challenging one.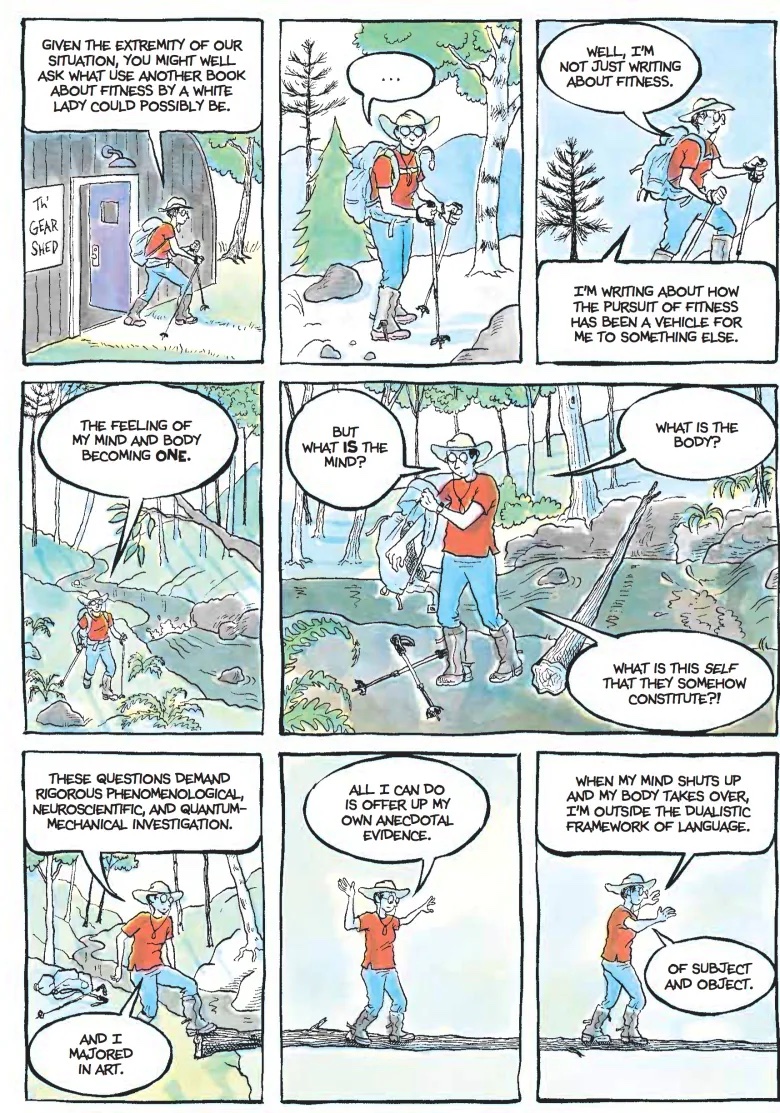 Who knew that fitness had been a constant in her life? And that she would follow this thread through a labyrinth of personal relationships, physical ordeals and study of figures as diverse as Jack Kerouac, Margaret Fuller and Samuel Coleridge, among others (such as Ralph Waldo Emerson, or "Waldo" as she usually calls him).
There's also Buddhism, meditation, martial arts, therapy, booze and pills.
The book is divided into decades, both hers (every ten years of her life) and ours (the 1970s, the 1980s, etc.)
There's often a television or newspaper or magazine cover in the background as a kind of signpost for where we are in the world of current events, and it's frequently helpful and often significant, such as when she sees how negative projection can go viral, so to speak, as it so lamentably has done recently.
And it's not just about her life but about the lives of others who came before and some who were there with her. It is, once again, an example of brilliance in the medium itself, though a sparer, quieter work.
Like all of her books, it is absolutely excellent reading for anyone struggling with themselves. Isn't that everyone?
---