Rob Price
Gutbrain Records
rob + gutbrain.com = email
---
The 671st Soundtrack of the Week is Paco de Lucia's gorgeous score for The Hit.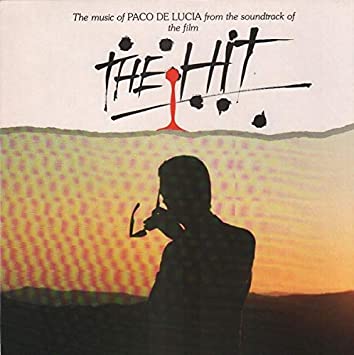 It starts with the main title theme, performed by de Lucia himself with assistance from a string section arranged by Juan Albert, who also plays piano. The other musicians are Pepe de Lucia and Ramon Algeciras on second guitar, Jorge Pardo on flute and J. Carlos Rebato.
"The hit" is a stunning feature for de Lucia's Spanish classical guitar playing and a mesmerizing theme as well.
It gets reprised right away in "Willies theme" which also features the electric bass guitar and a second theme handled by flute.
"Spanish sun - The funeral - Andalucia" starts out with solo guitar and some very nimble playing on the part of the composer. Then you hear bells and a male vocalist whose part sounds similar to a call to prayer. I assume the words are in Spanish and fitting for a funeral. There's more compelling guitar playing to accompany it as well. The third and final part is another guitar piece, this time a duet, I believe, and a whirling and hypnotic melody that brilliantly plays with space and movement.
"Willies theme" is heard again as "John Lennon" but this time with piano. It's followed by "Kidnap - Convoy" which is percussive and driving, featuring both sharp attacks on the guitars strings and castanets as well as hands slapping the body of the guitar.
The exploration of the guitar's percussive potential continues in "Braddock's Theme", which has resonant chords being strummed while the second guitar is doing something with its strings to produce a metallic and rattly rhythm foundation.
The next cue, "Windmills", is another exciting Spanish guitar feature, an infectious and propulsive tune that has two guitars, castanets and foot stomping.
There's a shift to a more spacious and open mood with the solo guitar piece "To Madrid (Willy Parker)" and then a shadowy and pensive guitar piece, "Double indemnity".
The A side closes with "Wasteland - Cracking" which starts with the most high energy music so far, a blaze of lightning guitars, castanets, feet music and the same singer from "The funeral". Then it's time again for just the guitars to talk, and the second half of the cue is a classically tinged piece with alternating spaciousness and sprightly fretboard running. It's wonderful to hear the notes hang in the air.
The B side starts out with "Maggies problem", a mostly major key Spanish guitar piece with fast and deft guitar playing.
Paco de Lucia's incredible technical facility, that only ever strikes you after you've recovered from his beautiful musicality, asserts itself right away in "Roncevalles", a short solo guitar piece.
Then things get percussive again for the breezy and urgent pulse of "The canyon".
"Cojones" starts out with very dense and intense guitar and percussion but then alternates this idea with some unexpected spaces and surprisingly delicate electric bass guitar playing.
This is followed by "Waterfall parts 1 + 2", which brings back the string section in force for a very moody atmosphere. Guitar strings are also muted or bent in some way to exploit their percussive qualities. The effect is of a romantic and suspenseful melody soaring above a feeling of tension.
After that comes another brilliant guitar feature, the deeply impressive "Moonlight". Some of this music really should be part of the classical guitar repertoire, if it isn't already.
The strings return for another atmospheric piece, "Hilltop", lush and contemplative, with some nice moments for the bass guitar.
Then "Maggie fights back", urgently strummed guitars and the usual feet stomping, hand clapping and also the vocals adding to the general excitement.
Pace de Lucia then flips the energy for the gentler and more easygoing "Very lucky girl", a relaxed cue with lots of breathing room.
Finally there's "The hit part 2", a reprise, naturally, and a satisfying conlcusion to a great record. I wonder if this is all the music that's in the film. It's so good, we should have every note.
---
2021 April 19 • Monday
A new vinyl release from one of our favorite labels, Trunk Records, is the 670th Soundtrack of the Week: Roger Webb's music for Bartleby.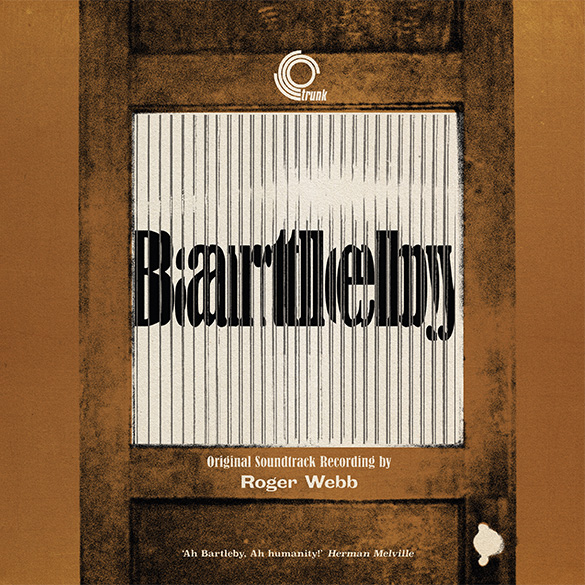 The names of the cues are "Bartleby 1", "Bartleby 2", "Bartleby 3" and so on. Side A has one through six the on the B side you'll find seven through eleven.
There are basically two different moods and atmospheres. The first one you hear is a delicate, pastoral one, with harmonica, harp, strings and occasional statements from upright bass.
It then slides smoothly into the other zone of the score, an irresistibly groovy funky backbeat sort of thing with flute handling melody on top of a fantastically solid rhythm section.
There's a lot of interesting cutting back and forth between these two ideas, often using long tones from the strings (with vibes, too, I think) as a transition device.
There's also a bit which is kind of a lounge jazz take on Satie. The whole thing is a very pleasant listening experience.
I think that Jonny Trunk said that this music had been much sampled for its sick beats. I believe it!
---
2021 April 14 • Wednesday
My list of ten best, even five best television shows of all time definitely includes Yes Minister, which has aged quite well and holds up to numerous re-watchings.
Over the last twenty years or so I've probably watched it a dozen times. The sequel/continuation Yes, Prime Minister also holds up though I don't find it quite as compelling.
Fans of the show will enjoy Graham McCann's A Very Courageous Decision: The Inside Story of Yes Minister.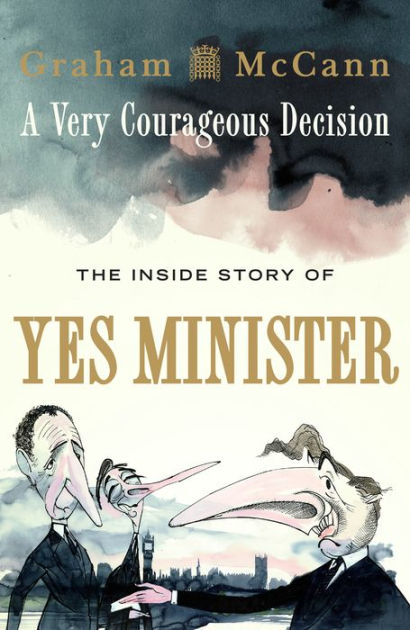 McCann is quite knowledgable not just about Yes Minister and Yes, Prime Minister but also about the history of British television in general and the British sitcom in particular.
While a lot of the book does cover material that won't be new to those familiar with the program—synopses of episodes and transcriptions of scenes—it's very interesting to hear about what was happening behind the scenes.
McCann starts with the show's creators, Antony Jay and Jonathan Lynn, both being fascinated by a blatant display of political hypocrisy on the part of a Labour MP named Frank Soskice. Jay and Lynn hadn't even met yet but when they did, and had the idea of making a show that was about politics—politics as opposed to politicians, one reason the show has aged so well—they both had the same point of departure.
Interesting also to learn how an unsuitable choice of director for the first episode nearly ruined the whole thing.
Inevitably there are areas some readers will wish had been explored in greater detail. A casual reference to a Yes, Prime Minister computer game is left cruelly unexplained. (What? When? Where? How? Okay, you can read about it on Wikipedia, of course, but it should have been covered in at least minimal detail in this book.)
Margaret Thatcher's famous love and support of the show, dismaying to at least one of its creators and two of its actors, is covered well and should add to our understanding of Thatcher as a complex person.
If you haven't seen the show, this book won't be of any interest. But if you're a fan, then I think you'll find it not courageous at all but in fact a real vote-winner!
The first line is "The day — Monday, 25 February 1980 — unfolded, in the context of British politics, much like any other day".
---
2021 April 12 • Monday
The 669th Soundtrack of the Week is Elmer Bernstein's Legal Eagles score.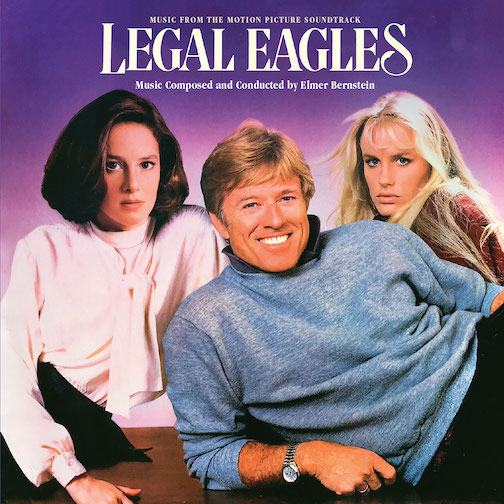 The record has great opening with the lilting and lyrical "Legal Eagles Love (Instrumental Theme from Legal Eagles)", which uses the ondes Martenot to create a sense of intrigue to go with the lovely melody.
After that comes the delicately sprightly "Moving On", a cheerful and peppy cue that no doubt imbued the movie with effervescence.
"Hypnotice Eyes" is a mysterious-sounding and aptly named atmospheric piece that also benefits from the ondes Martenot.
After that comes "Happy Birthday", which refers back to the main theme and has the ondes Martenot contributing lines in a higher register while crystalline percussion adds much to the mood.
And then a cover of "Good Lovin'" by The Rascals, good rendition done in a straightforward way.
This is followed by "Put Out the Fire", a moody, shadowy sort of club slow dance art rock kind of number with spoken vocals by Daryl Hannah.
"Tom and Kelly" get us back to more familiar dramatic underscore, which starts as a light action cue but ends up in a romantic place and reprises the main theme.
Strings, space and suspense characterize "Scared", which does indeed generate feelings of tension and anxiety while also relaxing into gentler more romantic moods.
Bernstein's last cue is "Fire and Rescue", a propulsive and energetic action piece that's colorful and exciting and even maybe references Bernard Herrmann's famous Psycho score while also revisiting the Legal Eagles theme.
And then there's Steepenwolf's "Magic Carpet Ride", which presumably played over the end credits.
Elmer Bernstein was one of the greats and we're lucky to have this release from Intrada!
---
2021 April 09 • Friday
It took a few years but a second Johan Lindström Septett record came out, just about two months ago!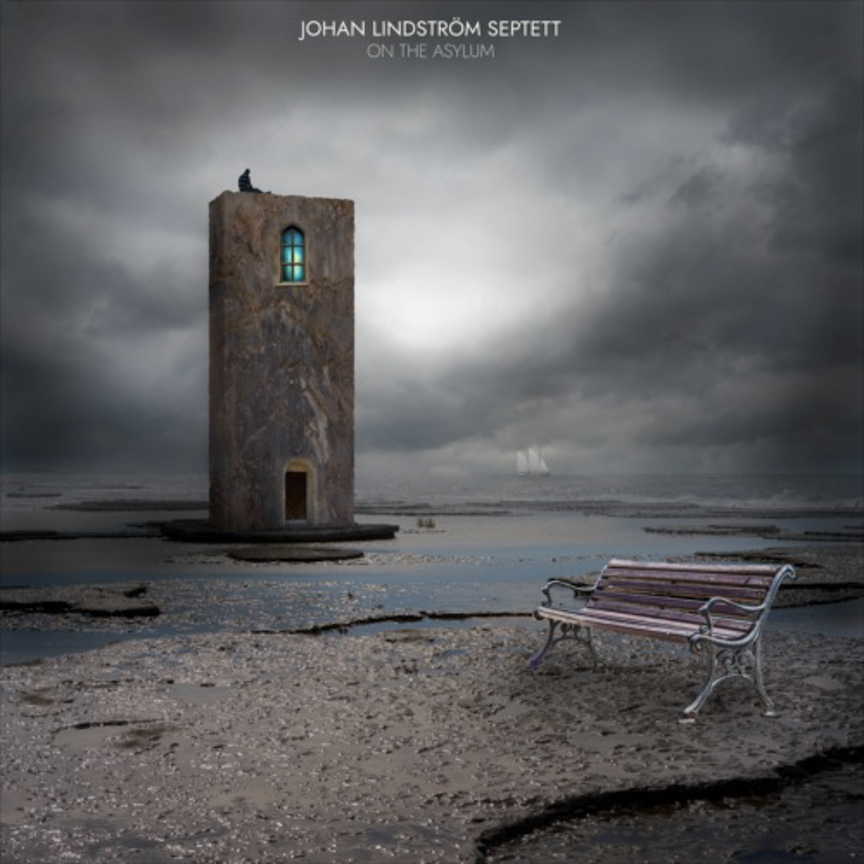 It's called On the Asylum and it feels like an organic extension and expansion of the musical landscape introduced by Music for Empty Halls.
The personnel are the same: Johan Lindström on guitar and pedal steel, Jonas Kullhammar on saxophones and flutes, Per Johansson on clarinets and saxophones, Mats Äleklint on trombone, Jesper Nordenström on piano and organ, Torbjörn Zetterberg on bass and Konrad Agnas on drums.
Once again each piece is unhurried, deep, lush, spacious, swinging and exquisite in execution. Lindström is a thoughtful and sensitive composer of beautiful, compelling and frequently cinematic pieces as well as a generous bandleader: there are more horn solos than guitar solos.
There are a few differences between the first and second albums, other than the natural evolution of the band itself and Lindström's writing.
The first one you'll notice is the inclusion of two vocalists. It's impossible to miss as the first track is a short number that's mostly a showcase for Elvis Costello reading an original poem, "What What". I found this to be something of an oddity. It doesn't seem to fit with the record as a whole and in my opinion isn't up to the remarkable high standard as the rest of the music. (The poem didn't do much for me either.)
The other vocalist is Sofie Livebrandt, who blends in seamlessly with the ensemble on two tracks, "Echoes Across the Dunes" and "Humming Ships", providing lovely and ethereal wordless singing.
There's also a harpist, Margareta Bengtson, on "Music Orbit Box", a heavenly and dreamy tune that's greatly enhanced by her contribution.
There's some noticeable use of electronics on this record as well, much more so than on the first one, practically an additional instrument unto itself. And in that vein, the last piece, "Worms of Underground", is four layered tracks of pedal steel guitar, of which some are making use of electronic manipulations and distortions.
It's a brilliant record with some of the best musicians in the world. We might have to wait three years for the next one but it'll be worth it!
---
2021 April 07 • Wednesday
Thanks to my friend Mikael, I've been introduced to a lot of great Swedish music, particularly from that country's jazz scene.
One of the most important of these encounters was with the group Tonbruket, led by bassist Dan Berglund. While every member of the band is great, the guitarist Johan Lindström really stood out for me and I started seeking out other recordings he played on.
He's a pretty busy guy playing on a lot of people's records but a few years ago he had time to make an album of his own music playing his own tunes.
The first Johan Lindström Septett record is called Music for Empty Halls and it's amazing.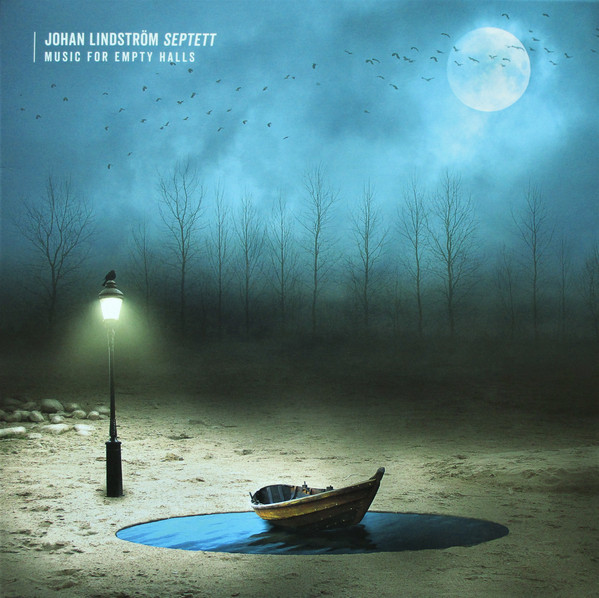 Lindström demonstrates his exquisite taste and facility on both guitar and pedal steel guitar here, seamlessly incorporating jazz, rock and classical elements in his playing.
Joining him are Jonas Kullhammar on alto, tenor, baritone and even bass saxophone (!), Per Johansson on clarinet, bass clarinet, contrabass clarinet (!) and tenor saxophone, Mats Äleklint on trombone and bass trombone (you can tell there's a love for low tones here), Jesper Nordenström on piano and organ, Torbjörn Zetterberg on upright and electric basses and Konrad Agnas on drums and percussion.
Each piece is unhurried and richly layered, atmospheric, sometimes cinematic, frequently drawing from numerous areas of music—some West Coast jazz here, maybe a bit of Gil Evans influence there, some Frisell-like ideas, grooves, occasionally free improv or rock-like, lots of space and depth and very much the sound of a real band, an ensemble of people who, to my ears, sound like they know each other very well as collaborators.
As eclectic as it might seem, the record really feels like a solidly crafted work whose parts all fit together perfectly. There's a flow to the tunes and a strong sense of identity to all the pieces, a throughline that runs through everything.
It reminds me of the some of the exciting things that were happening in the NYC jazz scene in the 1980s. particularly downtown and involving people like Tim Berne, Bill Frisell, Herb Robertson etc. But this is also brand new music that belongs to its creators.
There really isn't anything I can say about it that will be as valuable as the experience of listening to it, so... you know what to do!
---
2021 April 05 • Monday
We never heard of Face 2 fAKE before and we never saw the Japanese surfing movie Ueshima Jane so it makes perfect sense that the 668th Soundtrack of the Week is Face 2 fAKE's score for the sequel to Ueshima Jane, Ueshima Jane Beyond.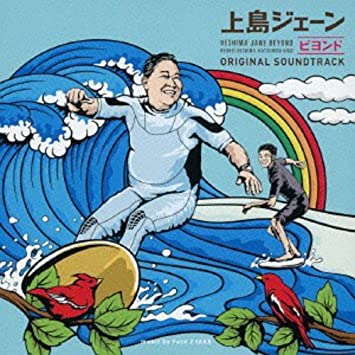 It's actually really great.
The people involved seem to really know their stuff and pay tribute to the conventions and traditions of surf music and old rock and roll while blending in much more modern sounds and tones.
It starts with "Point Break", which deploys all the classic instrumental surf elements: reverb guitars playing big resonant chords and double picking both melodically and rhythmically, pounding drums, a very Farfisa-sounding keyboard and even wailing trumpet.
Then they turn into a more hard rock zone with "Let's Get It On", which has chunky and overdriven guitars and a no-nonsense rhythm section pushing everything forward relentlessly, while keyboard and slide guitar add some softer textures.
After that it's back to the beach for the cheerful "Funky Rider", a surf instrumental that's pretty traditional except for the jazzy and more modern guitar soloing.
"Jerk Chicken" starts out with some percussive muted electric guitar playing that suggests another surf number but ends up being a Bob Marleyish reggae instrumental.
Then we get a number that's kind of in between straight '80s rock and old-fashioned surf, "Rats". As always, the guitar playing is really good.
If you weren't expecting something kind of death metal to come along next, you should have been, because that's what "Awesome!" is, complete with double bass drumming!
Then it's time for a "Surfer Girl"-type ballad with the 6/8 "Your Eyes", which is a really nice piece though I think it could have benefited from slightly different production, a softer touch perhaps.
"Goofy" is another surf instro classic, familiar sounding and impeccably executed.
The next track, "A Piece of Cake", takes us back to another old-fashioned mood, a mid-tempo number that would be good at a mid-century high school dance. It probably sounds a lot like some famous oldie but it also reminded me of Henry Mancini's "Cream Puff".
Inspiration is almost certainly drawn from "House of the Rising Sun", and more specifically The Ventures' version of it, for the electric guitar duet "Sly Guys".
Finally there are two version of "I Need You", one vocal and one instrumental. It's a poppy and perky number with some "oh yeah"s and "bop shoo bop" stuff sprinkled in with the Japanese lyrics. And the instrumental version more or less just has the vocals taken out.
---
2021 April 02 • Friday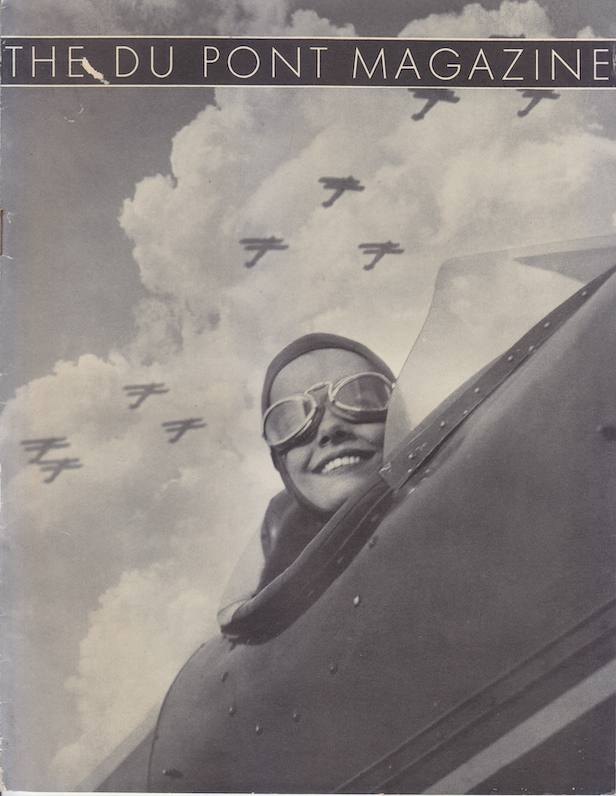 May, 1934.
---