Rob Price
Gutbrain Records
rob + gutbrain.com = email
---
A while back, Other Half released a couple of stouts that looked interesting.
"Ball or Sword" was an Imperial Stout (14.3% ABV, as of this writing and mistakenly listed on Other Half's website as an "Imperial IPA" under the Style heading) brewed with coffee and coconut.
"Choose One" was also an Imperial Stout (also 14.3% ABV), also brewed with coffee but with the addition of black sesame paste and vanilla.
The label for "Ball and Sword" showed a black and white drawing of a ball and a sword while the "Choose One" label had a black and white drawing of the sword cutting the ball in half.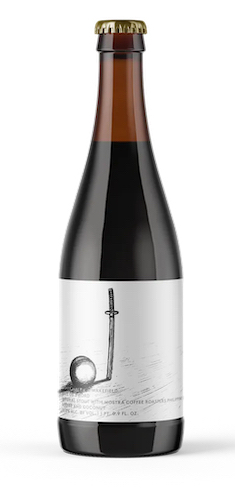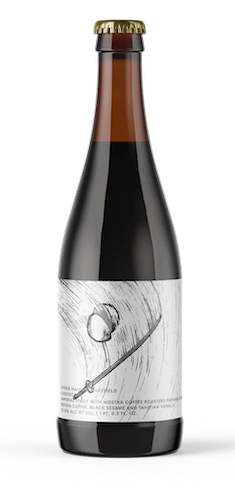 Apparently there are some Lone Wolf and Cub fans at Other Half!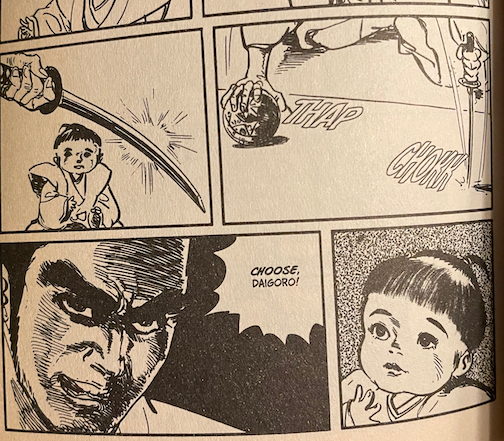 And so we toasted Itto Ogami with ours.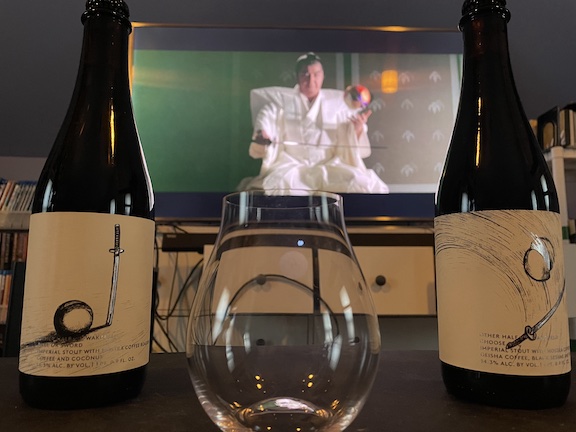 ---
2021 March 29 • Monday
Big Wave is a documentary from 1984 that's about a few different sports. Surfing is one but also paragliding, skydiving and also BMX, or so five seconds of internet browsing has led me to believe.
The music for this movie, by Tats Yamashita, is our 667th Soundtrack of the Week.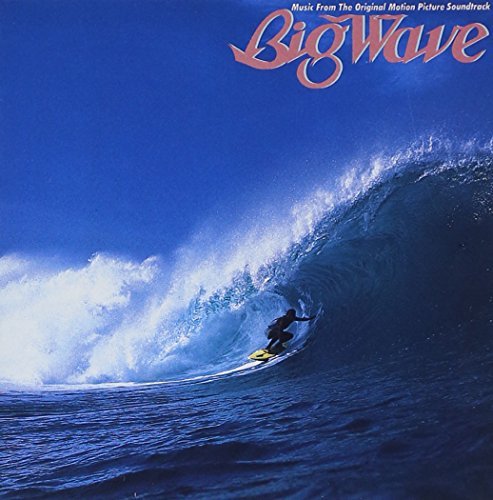 While Yamashita gets sole music credit, the first six songs—which would appear to be the A side of an original vinyl and/or cassette release—also name Alan O'Day as a co-writer.

Since they're all vocal numbers, perhaps O'Day wrote the lyrics. The music is very much in various '80s pop and rock styles. They have nice melodies and lush production. I guess a lot of people would find it cheesy but I like it.

The second half-dozen songs—B side, I guess—is all covers with the exception of a concluding Yamashita song, "I Love You—Part 1". (Part 2 was the last song on the first side.)

The covers, which are done very straight, are all pretty well known songs and mostly from The Beach Boys' catalog: "Girls on the Beach", "Please Let Me Wonder", "Darlin'" and "Guess I'm Dumb".

The other song, very much in the same vein, is Harry Nilsson's "This Could Be the Night".

It's an agreeable record and I wouldn't mind seeing the movie.
---
2021 March 26 • Friday
As long as we're not going to the National Gallery in Scotland to see what must be a truly fantastic Ray Harryhausen exhibit, we might as well consider some other things that are unseen or undone.
To be specific, we're enthralled by John Walsh's brilliant and essential book Harryhausen: The Lost Movies.
This is as gorgeous a book and as deeply researched and engagingly presented as Ray Harryhausen: Titan of Cinema.
In addition to lesser known and forgotten early experimental works, it intriguingly delves into projects that were never realized.
This spread shows some of Harryhausen's concept art for a Food of the Gods movie as well as a drawing for what would have been an Inivsible Man-type of film, an H. G. Wells double feature.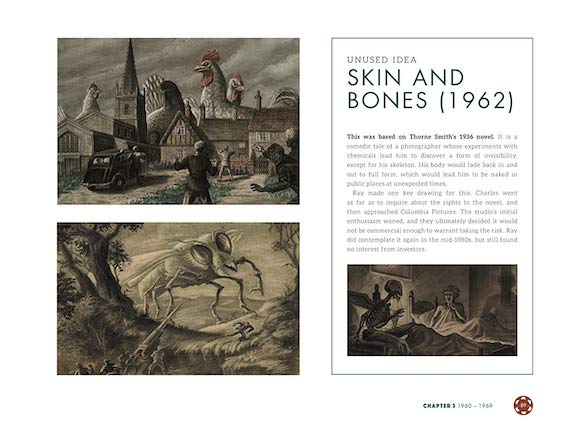 Here you can see traces of an early work by a teenaged Harryhausen.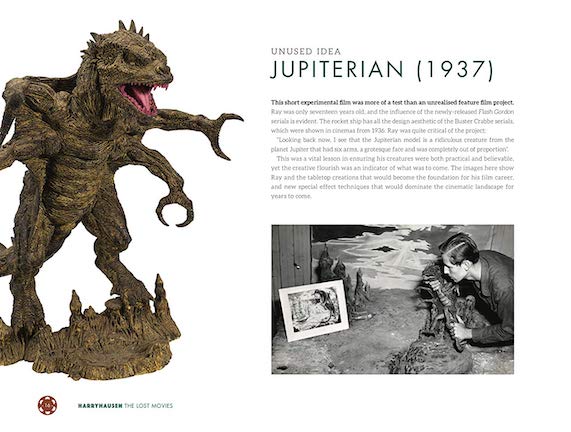 Turn to any page and you'll see something amazing.

Still hoping that the exhibit currently in Scotland finds its way here one of these days!
---
2021 March 24 • Wednesday
There's a great Ray Harryhausen exhibit at the Scottish National Gallery of Modern Art until September 5th. It's not likely we'll be able to go.
But we're fortunate enough to have the book! Ray Harryhausen: Titan of Cinema is by his daughter, Vanessa Harryhausen, and it's must-have for Harryhausen fans.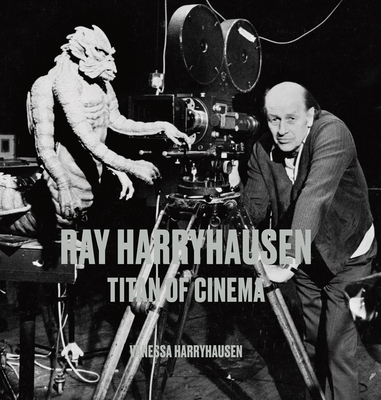 The author selected a hundred items from the Harryhausen archives, the ones most meaningful, and organized them into a book with lavish photographs and illustrations, interviews with her father's co-workers and famous admirers, biographical information and a wealth of fascinating details.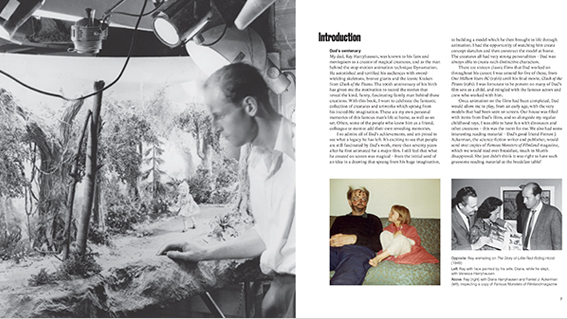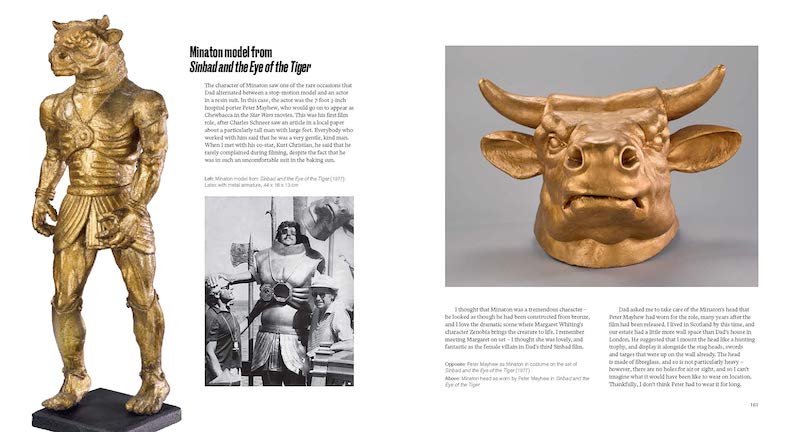 Perhaps this exhibit will travel to the US at some point. I certainly hope so.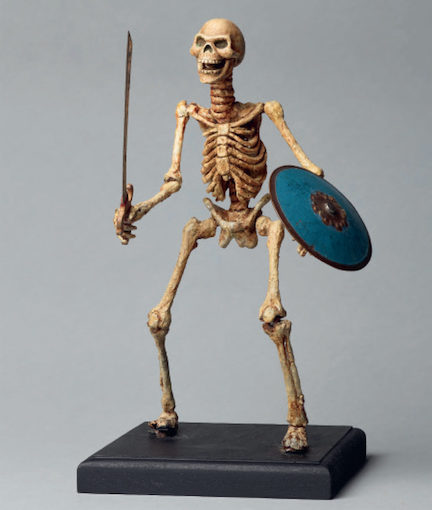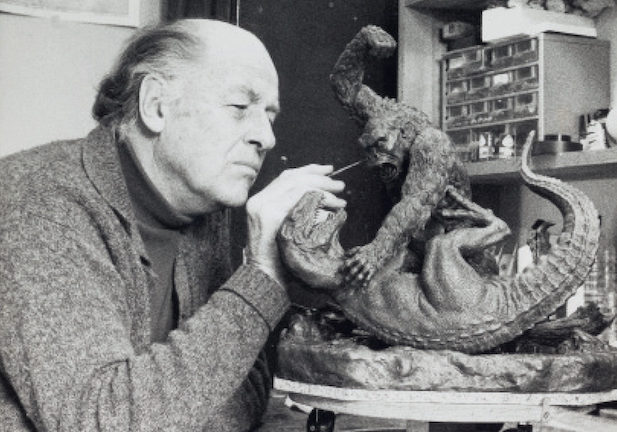 ---
2021 March 22 • Monday
The 666th Soundtrack of the Week is Laurie Johnson's music for the movie The Belstone Fox.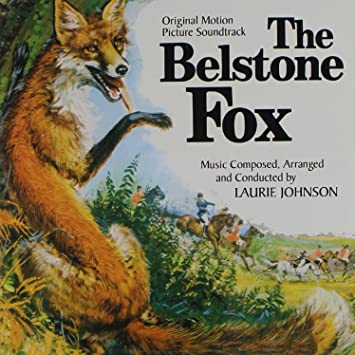 It starts with "The Belstone Fox Theme", a beautiful and sumptuous orchestral piece that suggests longing, mystery, romance and pastoral tranquililty. This is a side of Johnson that's relatively new to me. Knowing him mostly from his action tv music—and glorious it is—I was surprised by the tenderness, depth and sweep of his writing for this project.

The theme is developed further in "Early Days", which has the strings occasionally dropping out to emphasize a few select instruments. The mood is the same as in the main theme, perhaps with some more minor chords, a touch more sadness.

Then things get cheery and jaunty for a sprightly section that uses some blends of instruments that fans of The Avengers tv show will recognize from Johnson's work on that series. The latter part of the cue is a return to the mood and concept of the main theme, however.

"The Friendship" introduces the first note of real heaviness here, with at first all strings, no horns, and then all horns, no strings. Then the strings back up some brisk playing by wind instruments: oboe, clarinet, flute.

"Separation", with its use of harp and layers of orchestral color almost sounds like a Bernard Herrmann cue. Johnson and Herrmann were best friends in real life, so I geuss that's not surprising. It's an eerie, beautiful and stirring piece.

The main theme reappears in a bucolic tone for "Reunion", which quickly shifts into a rousing, galloping piece, another one similar from Johnson's Avengers work.

For "The Legend Starting" we get a simpler and more restrained approach to the main theme, a short and touching cue.

This is followed by two more short ones, "Tag's Escapades", which reprises the cheerful gallop of "Reunion", and "Kennel Woods", a total change of pace, still and shadowy.

"The Belstone Hunt" starts out slow and suspenseful, then explodes into a menacing ostinato with hunting horns blaring and percussion crashing. At the end it resolves into a lush and lovely orchestral section.

The sounds of violence and pursuit return in the next cue, "Vendetta". The use of the propulsive strings and hunting horns might remind you of some scores yet to come: Star Trek II: The Wrath of Khan and perhaps The Lord of the Rings: The Two Towers.

Finally there's "Badger Hill", the longest track on the CD. It sustains strains of mystery and suspense with quiet, rumbling, thundery music before returning to a plaintive reiteration of the main theme.
---
2021 March 19 • Friday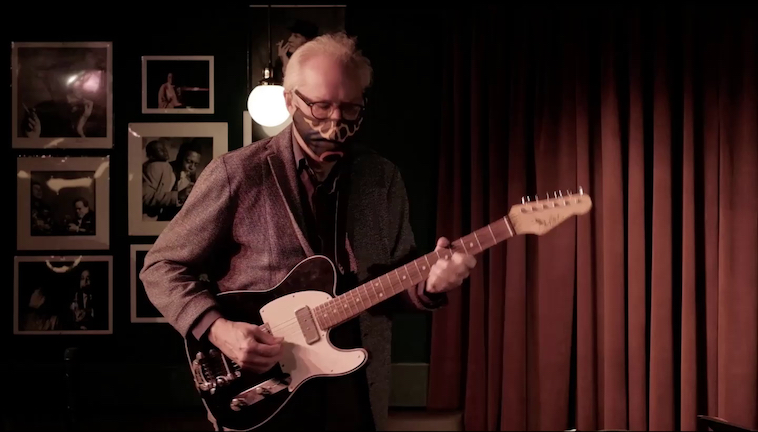 Happy birthday to Mr. Bill Frisell, who turned 70 yesterday!
---
2021 March 17 • Wednesday
Well, here it is St. Patrick's Day, whatever that is—it's been explained to me several times but I can never remember—so let's look at the August 1962 issue of Car Craft magazine and its feature on how to build a model Shamrock Corvair!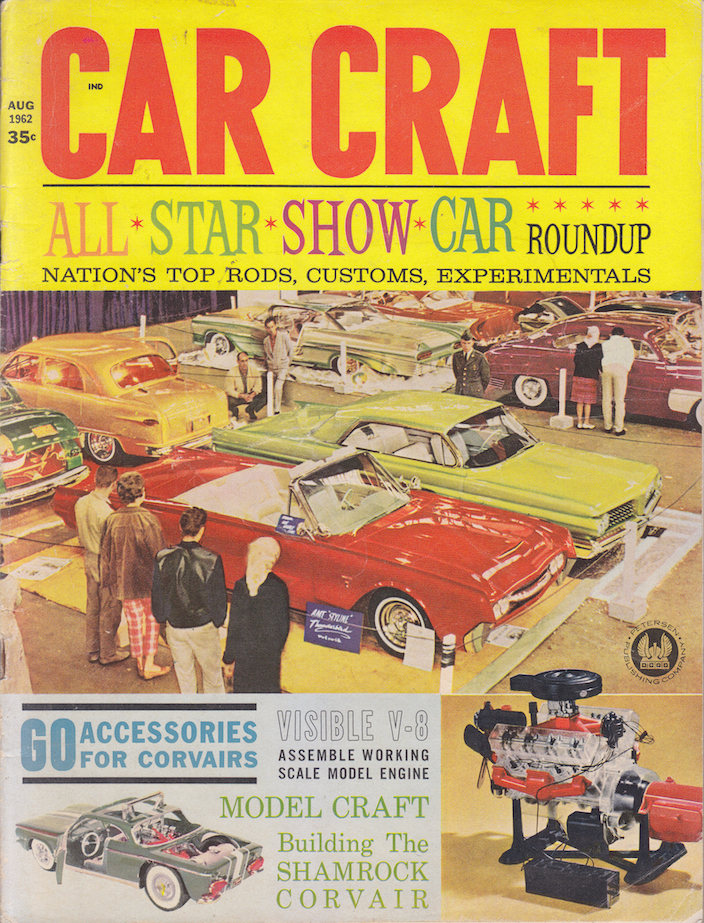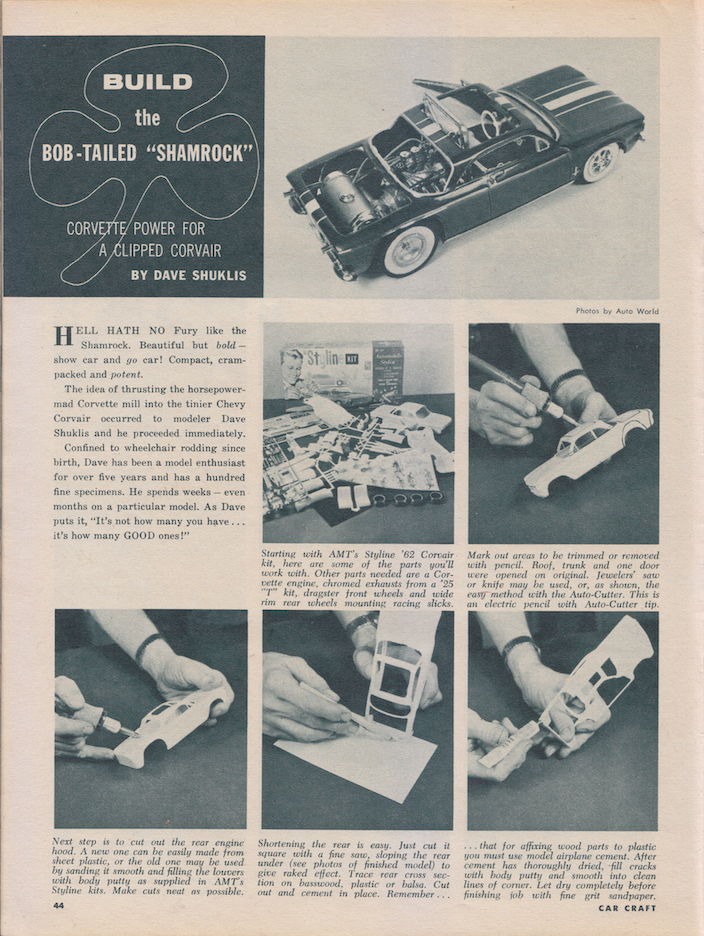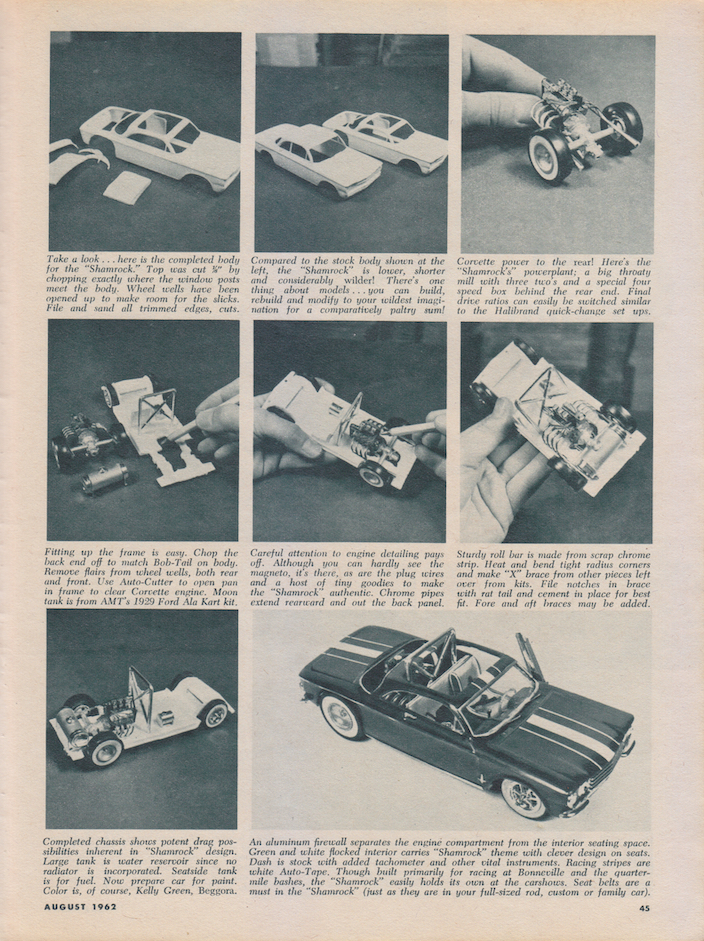 It's hard to discern from the pictures, but I believe there's a shamrock motif on the car seats.
Interestingly, the article concludes that the model requires seat belts, as does "your full-sized rod, custom or family car"! And this is a few years before Unsafe At Any Speed.
---
2021 March 15 • Monday
Andrei Petrov's score for the Russian film A Cruel Romance is the 665th Soundtrack of the Week.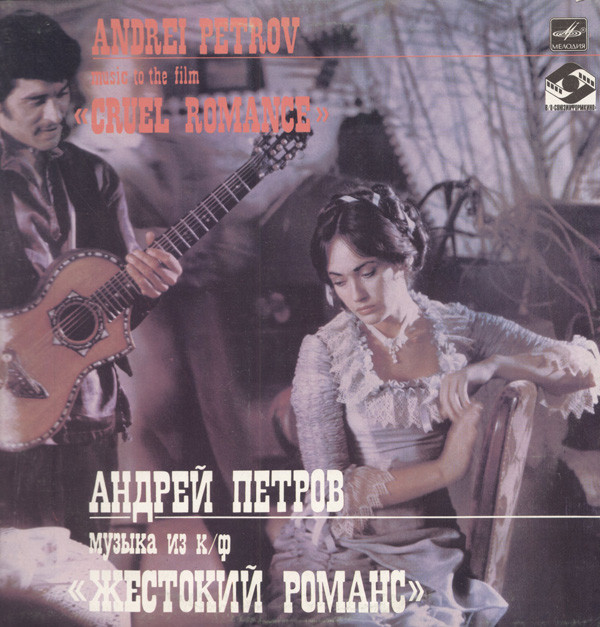 Many of the tracks are lovely Russian vocal numbers with some tasteful accompaniment, often featuring the guitar. The first piece is one of these and I believe the title translates as "Romance on Romance" The female singer has wonderfully clear and relaxed voice and the arrangement brings out many different musical colors, from guitar, harp, strings and piano, building them up to something formidable by the end of the cue.

The next piece is called "Waltz" and sure enough, that's what you get, though the instrumentation has kind of a martial sound in places. In fact, I think it's played by a marching band. It has a bit of a Nino Rota feel, as do a few of the other pieces.

After that comes "Snow Maiden" ("Снегурочка"), a beautiful piece for voice (the same singer as on the first track, whose name might be B. Akhmadulina) and two acoustic guitars, played by A. Kuznetsov and M. Kochetkov (my transliterations). It's a gentle and lilting piece in 3/4, very nice. I should play it the next time it snows.

Then the marching band comes back for another cue, this one called "March". It sounds like what you'd expect.

This is followed by "Love — Magic Land", another beautiful voice and two guitars piece, the same guitarists as before but perhaps a different woman singing. This one has more of pop feel to it, though it's very delicate and understated.

Flip the record and then you'll hear what Google Translate suggets is "Under the Caress of a Plush Blanket", which works for me. It picks up more or less right where the last piece left off, another beautiful song, female vocalist, two acoustic guitars, subtle, romantic, breezy and beautiful.

Next is a mini-suite of three pieces. "A Gypsy Goes" is a feature for a male singer with some acoustic guitar accompaniment that in parts reminded me a little bit of Anton Karas's zither playing.

Things get sprightlier for "Gypsy Dance", a whirling, accelerating, energetic number. Then there's a more somber section with plantive violin playing. It ends up with some minor key guitar playing and singing that builds up speed again.

It ends with "Oh, Thoughtful", a number for a group of vocalists, with some dexterous "Gypsy" guitar playing.

Following in the tradition of "Waltz" and "March", the next cue is "Chase". It's the marching band again but this time with strings and sounding again like Fellini-era Nino Rota. It's at a brisker tempo than most of them music here but it's not frantic. For a chase cue, it's pretty relaxed.

"And in the End I Will Tell" reunites the first woman singer (I think) with our two acoustic guitarists for another beautiful and affecting romantic song. The whole point of the record is these songs, if you ask me. And they are really good.

The record wraps up with a reprise of "Romance on Romance", which was perhaps the main theme for the film.
---
2021 March 12 • Friday
Regardless of their actual quality, which varies quite a bit from film to film, Godzilla movies must be pretty difficult to make.
As the longest running franchise in cinema history—whether you count number of years or number of films, so stop saying James Bond because he loses both races—Godzilla is always going to attract creators and investors.
Given the difficulty and expense of live-action productions, it's not surprising that animated movies and comic books have been cropping up more frequently of late.
The Gutbrain staff has been uncharacteristically and indefensibly late to this party, but we're working on it.
I just read James Stokoe's Godzilla: The Half-Century War and I'm pleased to recommend it without reservation for Godzilla fans.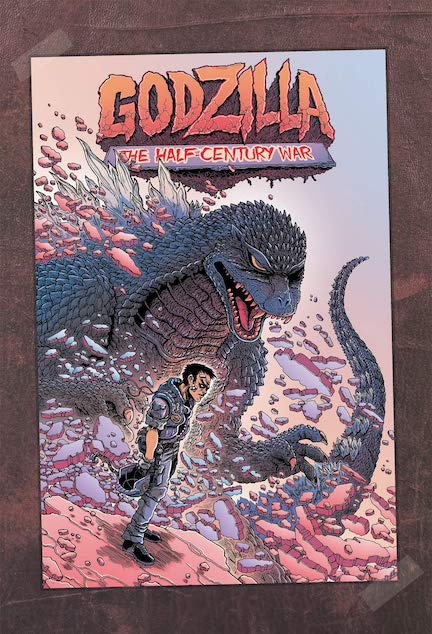 As the title suggests, the book covers a period of about fifty years, following the experiences of a single military officer, Ota Murakami, who, following his first encounter with Godzilla in 1954 Tokyo, joins a special Godzilla unit called the Anti Megalosaurus Force.
The AMF is one of Stokoe's many nods to the extant Godzilla film canon. These are always unobtrusive and seamlessy woven into the narrative. I doubt that Godzilla has ever had a stronger advocate in the comics medium.
One of his best touches is his rendering of Godzilla's famous roar. Originally created by genius composer Akira Ifukube, who left numerous indelible musical marks on Godzilla—a Godzilla movie without Ifukube's Godzilla theme would be as sad as, say, a Mission: Impossible movie without Lalo Schifrin's immortal theme—it's a fairly indescribable sound.
As Stokoe explains in his amusing and agreeable endnotes, while he appreciated the "SKREEEONK" that you see in most Godzilla comics, he wanted to do more. And so he came up with the brilliant idea of stylizing a reproduction of the oscilloscope image of the actual roar sound from the movie. (I'd like to know exactly which roar from which movie, but he doesn't say.)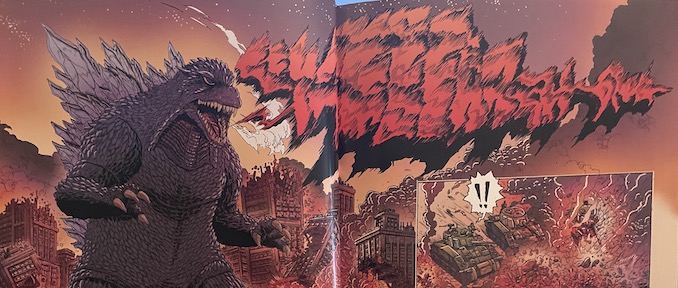 As you can see, Stokoe's artwork is detailed and gorgeous. I'll admit to preferring the brighter and simpler color palette of older comics and I have fond memories of the Marvel Godzilla comics from the '70s.
But the art in Godzilla: Half-Century War is impressive and amazing and perfect for the story. It reminds me of a cross between the hyper detailed looks of some manga and the punk expressionism of Derf Backderf.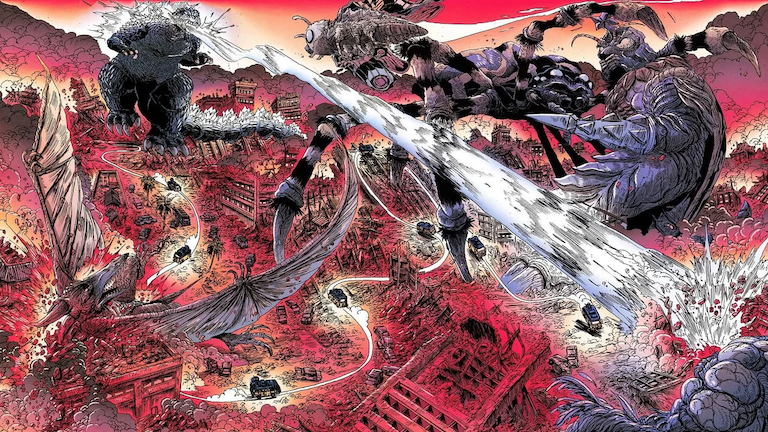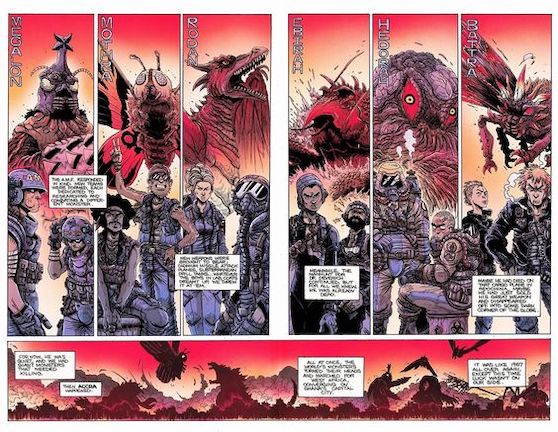 The writing is just as good: evocative, witty, economical. There's a good villain with a crucial role in the story. And the aforementioned endnotes are worth reading, especially for the real Godzilla fans who will find a comrade in Stokoe.
Really, he speaks for all of us when he says, "I've seen a lot of Godzilla movies in my day, but I can't remember a single instance where Masers actually did anything. I still love them, please don't take my Masers away".
Are there other good Godzilla comics? Probably, though it seems less likely that there are others that are this good. Further investigation is merited, though.
---
2021 March 10 • Wednesday
Here's another great book that recently arrived at Gutbrain headquarters: No Speed Limit: Québec Metal 1964–1989 by Félix Despossés.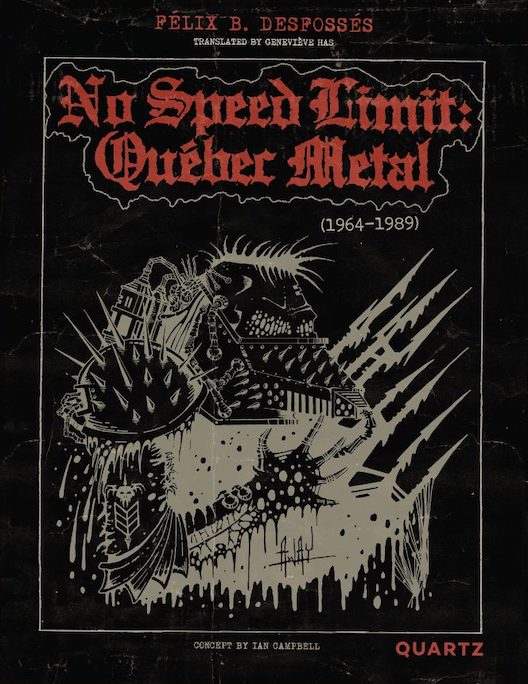 It's meticulously and exhaustively researched—as far as I can tell— and has extraordinary photographs as well as reproductions of demo cassette labels and the like.
Things start auspiciously, with an Editor's Note: "The specific terminology used by metal enthusiasts, in their unique language, has been preserved".
Chapter titles give a sense of the story: "Roots", "Heavy Metal Thunder", "Anti-Rock", "Shock, Glam, Punk", "Pioneers" etc. There's a whole chapter just on Voïvod!
It's fascinating to read about the bands and the scene, especially when the people who were there are quoted.
For example, Denis "Sasquatch" Barthe from the band Aggression, talking about the early days when they were called Asylum:
Asylum was a crappy name. We were going for that 'crazy-insane' concept… We didn't want to go for the Satanist aesthetic everybody else was going for. So, we went for, like a medical, criminally insane concept. Then, a little later, Kiss released Asylum… It sucked. After that, we wanted to go all Satanist… we had names like Antichrist and other nonsense. The manager decided Aggression would be a good name for the band.
The scene gets pretty crowded in the '80s, as you might expect. Detonathrash, Mid-Evil, Dead Brain Cells, Vomit and the Zits…
It's an amazing book! You can buy it here! I'm pleased also to report that they have great and friendly customer service as a bonus!
---
2021 March 08 • Monday
You can satisfy a craving for hearing just about any kind of music by listening to the appropriate soundtrack. Just now, for instance, I felt like listening to Charles Mingus. And so I reached for this LP of Mingus's music for the John Cassavetes movie Shadows. It's our 664th Soundtrack of the Week.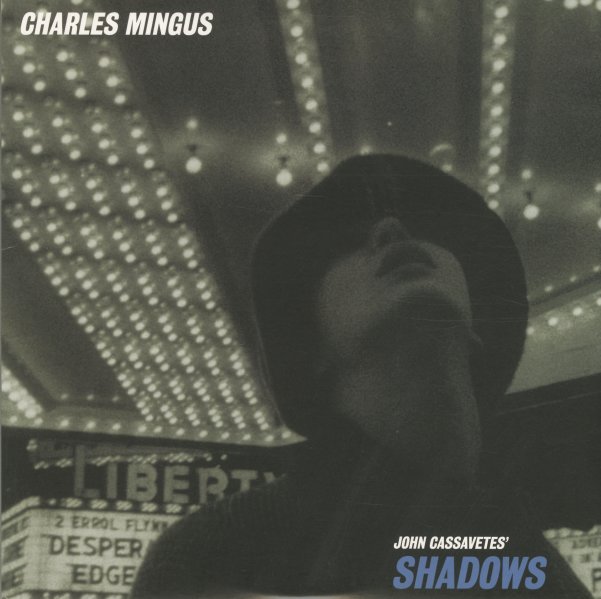 It starts out with "Untitled Percussion Composition", which sounds mostly improvised to my ears, and features Shafi Hadi on flute while Mingus, Jimmy Knepper, Horace Parlan (or possibly Phineas Newborn) and Clarence Shaw play percussion while drummer Dannie Richmond makes contributions from behind his kit. You can also hear Mingus vocalizing a lot and playing a bit of piano.

After that we get two amazing jazz compositions with brilliant soloing by the quintet of Mingus with John Handy on alto sax, Booker Ervin on tenor sax, Richard Wylands on piano and Dannie Richmond on drums.

"Nostalgia in Times Square" and "Alice's Wonderland" are both complex and deeply swinging, the latter being a slower, bluesier piece than the former. They were written for the film and later included on the live album Jazz Portraits, a.k.a. Wonderland, a.k.a. Jazz Portraits: Mingus in Wonderland (same personnel as the Shadows recording).

(Since both of these end with applause, I wonder if these are the same recordings as on the Mingus release.)

A vocal version of "Nostalgia in Times Square" with lyrics appears as "Strollin'" on the record Mingus Dynasty.

Finally there's "Self-Portrait in Three Colors", of which a different recording appears on Mingus Ah-Um. Here it's played by a sextet of Mingus on bass with Booker Ervin and Shafi Hadi on tenor saxophones, Willie Dennis on trombone, Horace Parlan on piano and Dannie Richmond on drums.

This is a lovely meditative piece with haunting horn lines, the two saxophones often in unison with the trombone adding a third layer to great effect, dreamy and sensitive and transporting.
---
2021 March 05 • Friday
One of the surprises of my middle age is how often I find myself in Walgreen's. Specifically Walgreen's, not other drug stores.
I can't even visit the Swedish American Museum in Chicago without learning about the origin of Walgreen's!
It's okay, though, because if I didn't go into Walgreen's I wouldn't have found this commemorative Star Trek 55th anniversary magazine.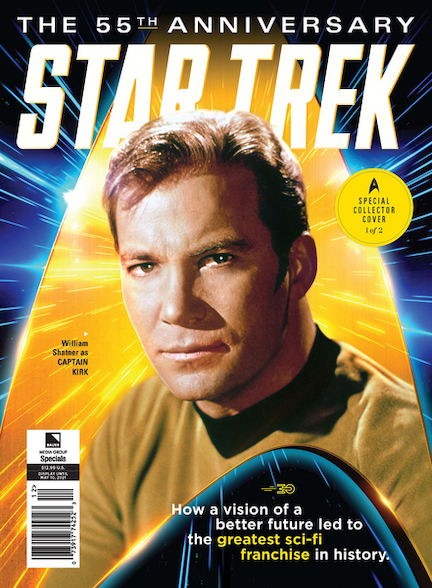 It's nicely produced and designed, with some photographs I hadn't seen before, and well written. It's a very good short history of the show and several of the major players both in front of and behind the camera.
It's diplomatic enough to give a sense of some of the personal and professional conflicts that were at play without drifting into personal attacks.
You could probably also use this publication for a drinking game. Take a shot every time you come across the word "iconic".
It's available with two different covers, which I think shows considerable restraint.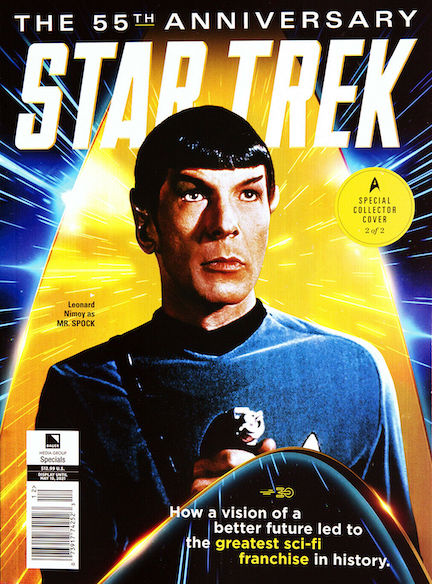 Anyone who asks me which one I bought will be asking the wrong question.
---
2021 March 03 • Wednesday
Once upon a time a MAGA hat-wearing presumably crazy person shouted at photographer Reuben Radding, "You're a demon! You should put your photos in a paper and call it DEMON WEEK!"
And so Reuben did. You can buy Demon Week right here, unless it's sold out!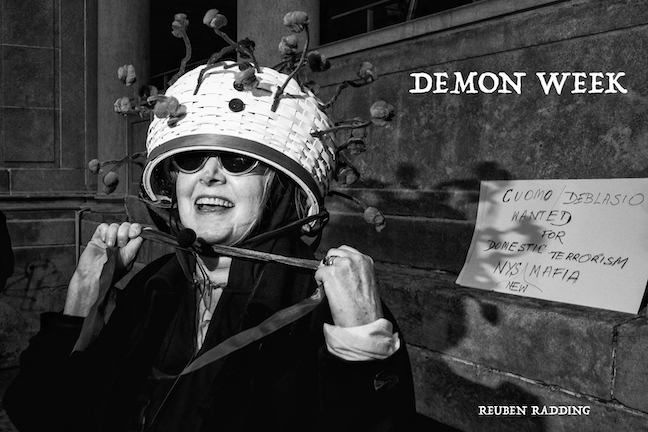 This one has a pretty specific political focus and is typically brilliant street photography as well.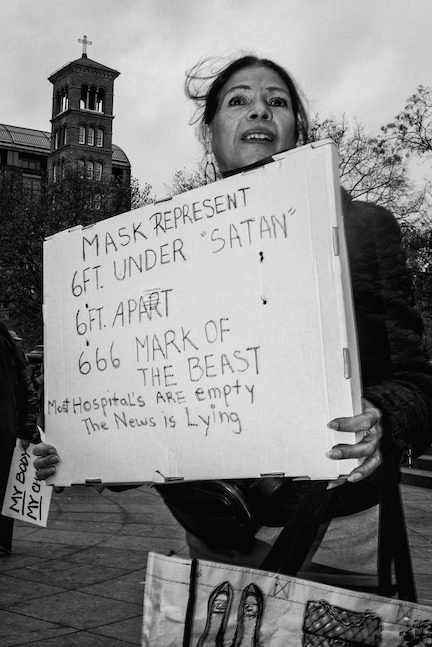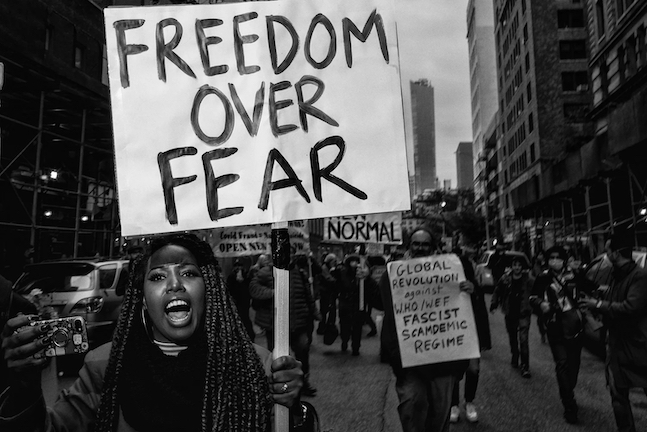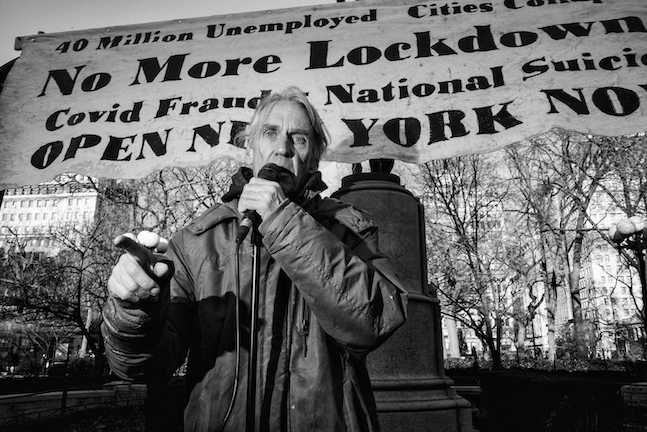 Definitely check it out! I think the Gutbrain library has a complete collection of Reuben's photozines so far!
Highly recommended!
---
2021 March 01 • Monday
The 663rd Soundtrack of the Week is Bill Loose's music for Vixen.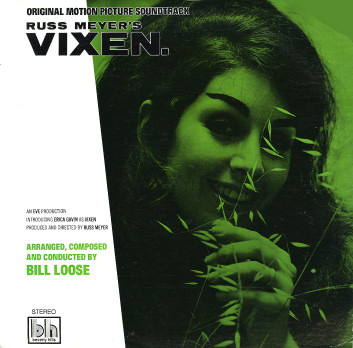 It's on green vinyl!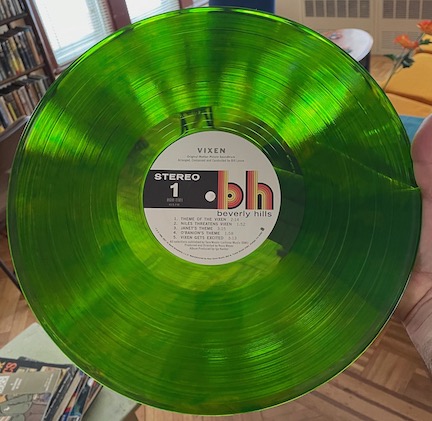 The first track is "Theme of 'The Vixen' (Main Title)" and it's loungey sort of number with nice harmonic movement and also features the harpsichord, which is always appreciated around here.
After that, electric bass and percussion, along with what sounds like electric harpsichord, create a tense cue for "Niles Threatens Vixen".
Then comes a slow 6/8 bluesy late night jazz number, "Janet's Theme", with alto saxophone and electric guitar as the lead voices.
"O'Banion's Theme" brings back the electric harpsichord and borrows a melody from — what? It's incredibly familiar but I can't place it at the moment. Something from the classical world, I think.
Side A ends with "Vixen Gets Excited", a repirse of the main theme, but with a bit more of a denser freak-out approach from the band. It's almost psychedelic but not quite.
The B side opens with "Canadian Romp", a very Vegas lounge-style tune, pretty swinging actually.
Then it's back to that melody that I can't place yet, which we first heard in "O'Banion's Theme" and here it is again, with marimba or xylophone accompaniment, in "O'Banion Spins His Web".
Then there's the aptly named "In a Blue Mood" with, first, some very smoky after-hour trumpet playing and then saxophone, both in a very laid back jazz/blues atmosphere.
Things get a little jumpier for "Niles Confronts Vixen", a rewarding combination of electric bass, electirc harpsichord, percussion, flute, drum set.
"Conversation Piece" returns us to another rendition of the main theme, this time in a sunnyy 6/8 treatment.
Then, finally, there's "Vixen's Dilemma (End Title)", another reprise of Vixen's theme, this time played by jazz/rock combo and a bit chunkier, with more of an edge. It builds to a tense climax.
It's a groovy record and a lot of fun to listen to!
---