Rob Price
Gutbrain Records
rob + gutbrain.com = email
---
This isn't the book that most recently showed up in the mail because I joined whatever crowdfunding thing but it is one of the most beautiful ever to arrive at Gutbrain headquarters.
It's a magnificent reprinting of the 1905 volume Thought Forms by Annie Besant and Charles W. Leadbeater, who were apparently "leaders of the Theosophical Society".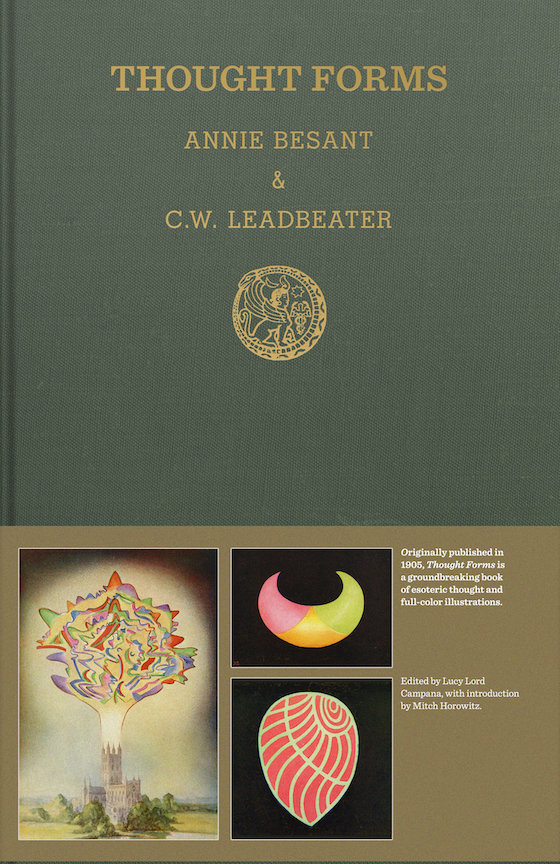 I don't know anything about the Theosophical Society but I guess it was some kind of occult or spiritualist society. The premise of the book is that if you can see people's auras, then you can see colorful expressions of their thoughts and feelings in their auras.
The book certainly looks interesting to read but I'm here for the art. The reason this book is, for me, so wonderful, is for the gorgeous full-color reproductions of these paintings of what Besant and Leadbeater claimed to have seen in other people's auras.
They are truly magnificent works of art, regardless of their provenance or basis in reality. According to the producers of this reprint, the paintings themselves were very influential, particularly in the history of abstract art.
Here are two examples, both being representations of "the intention to know". The first one is the beginning of somebody wanting to know something and the second one shows greater determination as, perhaps, the first efforts resulted in an unsatisfactory answer.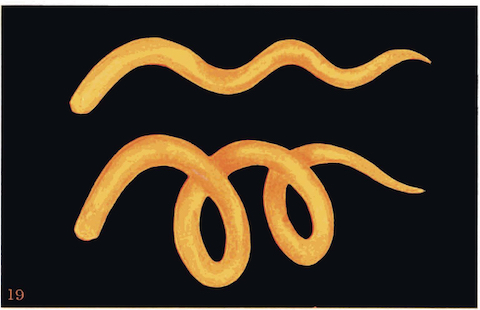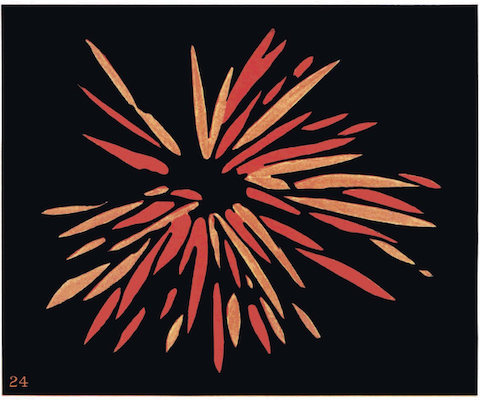 And here's another one I really like, forms "observed simultaneously at the great gambling-house at Monte Carlo".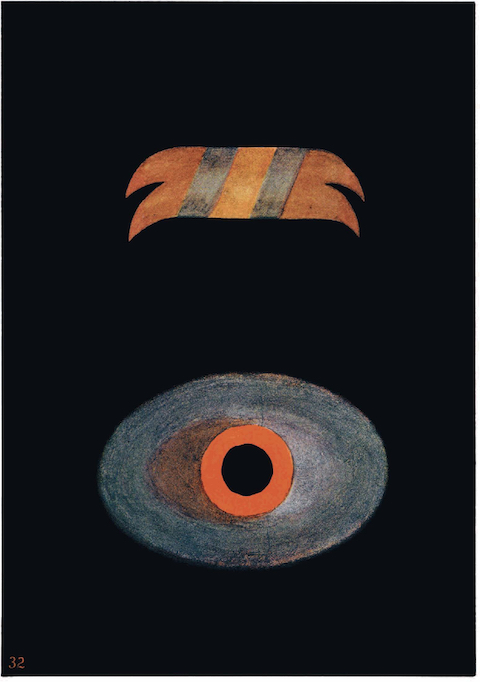 Some of the paintings are much more startling and colorful than these, of course. What you should probably do is get a copy of this book and look at them all!
---
2021 February 24 • Wednesday

Happy birthday!

A. E. Van Vogt's The World of Null-A is a classic and extremely influential science-fiction novel from the 1940s. I just read it, enjoyed it, but don't really know what it's about.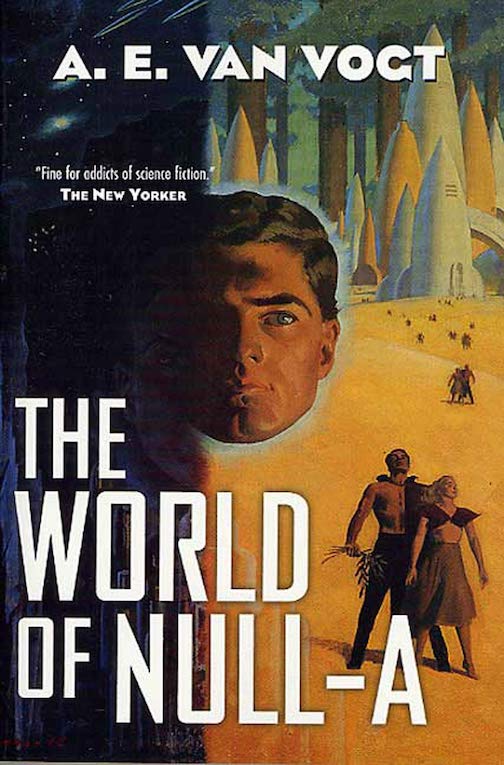 The first line is "'The occupants of each floor of the hotel must as usual during the games form their own protective groups...'" and it seems like we're about to start a Hunger Games sort of story as citizens of 27th century Earth compete in the city of the Machine for positions in the elite levels of government and business. Quite a bit of time is spent on this but don't get attached to it. Every chapter of this breathlessly paced novel abandons whatever its main focus was to jump to something else—often quite literally, as our hero, Gilbert Gosseyn bounces between Earth and Venus every so often, and usually in about as much time as it takes to say the word "Venus". Many of the chapters are introduced with quotes from texts whose authors are usually identified only by initials. (One such is John W. Campbell, Jr., to whom the book is also dedicated.) Sometimes the quote is a remark or a poem but usually it has the tone of a science or philosophy reference book. An example: "Even Leibnitz formulated the postulate of continuity, of infinitely near action, as a general principle, and could not for this reason become reconciled to Newton's Law of Gravitation, which entails action at a distance. H.W." If that makes easy and immediate sense to you, you'll probably get this book more than I did. But it was immensely entertaining, hurtling forward constantly with an ever-shifting plot, a protagonist who can get killed and immediately find himself in another, identical body, memories intact, palace intrigue, inter-galactic war, super powers, genocide, telepathy, blasters, Distorters, hypnosis, brainwashing, poison gas, teleportation, spaceships, robo planes, aliens, a warlord whose name is an anagram of Nero and a memorable description of what it's like on Venus: "Because of the high clouds it never gets too hot. And it never rains except in the mountains. But every night on the great verdant plains, there's a heavy dew. And I mean heavy enough to look after all the luxuriant growth." Equally interesting is that there are still evening papers in the 27th century. Are there even still evening papers now? While I ultimately couldn't really make heads or tails of this story, it was a wild ride and a lot of fun. It's also reputed to be a hugely influential work for innumerable authors and other creators and certainly you can see how ripples from this novel from 1945, are still spreading outwards and reaching, directly or indirectly, people's imaginations today. Here's a powerful passage from a hunting expedition on "the planet of beasts":

It was a bloodthirsty business. There were guns for each type of beast, carried by noiseless machines, one machine for each hunter. The robots were always at hand, holding out just the right weapon, yet they never got in the way. The most dangerous animals were held off by energy screens while the hunters maneuvered for firing positions. There was one long, sleek, powerful, hoofed animal, gray in color, which realized after one burst of effort that it was trapped. It sat down on its haunches and began to cry. Enro the Red himself put a bullet through its nearest eye.



---
2021 February 22 • Monday
When Tobe Hooper made his remake of Invaders from Mars, Christopher Young composed a score that was rejected as "too weird" and hastily replaced by different music from David Storrs. The ten minutes of Young's effort, released on a green 45 as part of the Record Store Day edition of Aaron Lupton and Jeff Szpirglas's book Planet Wax: Sci-Fi/Fantasy Soundtracks on Vinylis our 662nd Soundtrack of the Week.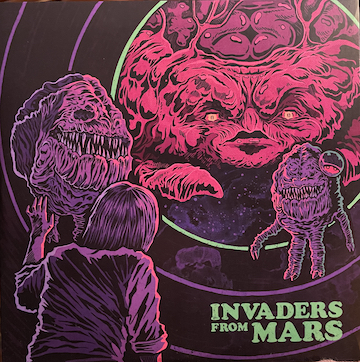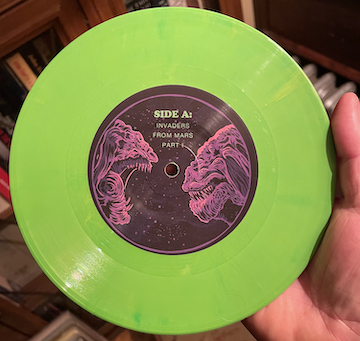 The authors of Planet Wax interviewed Young for their book and he seems to describe his Invaders from Mars effort as "over-experimenting".
We can't judge how it would work in the movie and of course there's only about ten minutes of music for us to listen to, but to my ears it sounds amazingly good.
Young was thinking more in terms of sound design and musique concrète than in more conventional modes and that's certainly what you'll hear on this 45.
He says that he recorded lots of natural sounds—waterfalls, power drills, Grand Central Station at rush hour, etc.—and used those in creating an orchestral-electronic score that was just too out there for whoever was in a position to make decisions about the production.
It's encouraging that at least this bit of it has shown up. Maybe the rest will come out someday!
---
2021 February 19 • Friday
Here's another harp, bass and drums trio record, but this one is from 1977. It's Tadao Hayashi's The Impossible Dream, in which Hayashi is joined by Takao Kusagaya on bass and Koichi Suzaki on drums.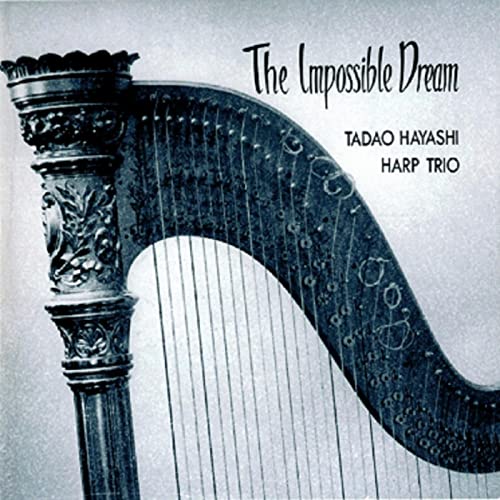 This is a lovely album of mostly very familiar tunes all done in a relaxed and swinging style. One of the highlights is the trio's take on John Lewis's "Django". Antonio Carlos Jobim's "Wave" and Duke Ellington's "Satin Doll" also get nice treatments.
There are a couple of other jazz classics as well: "Summmertime" and "Misty" but they're both played as solo harp pieces and even if you've heard these tunes a million times, these renditions are beautiful and different.
The overlap of musicals and jazz is well represented by "I Could Have Danced All Night", "The Impossible Dream", "My Favorite Things" and Michel Legrand's "Watch What Happens" from The Umbrellas of Cherbourg.
And then there's some seventies gold! Barry White's "Love's Theme" is the Love Unlimited Orchestra disco classic as you've never heard it before: played on solo harp!
"Killing Me Softly With His Song" also gets the solo harp treatment and is a brilliant performance.
This is really quite an amazing record and it's great that it's been released on CD.
---
2021 February 17 • Wednesday
One of the best new records of 2020 was an addition to our collection of jazz harp records. It's really great and it's This Is Not a Harp by the Marcella Carboni Trio.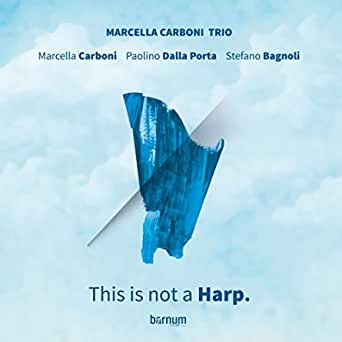 The players are Marcella Carboni on electroacoustic harp, Paolino Dalla Porta on double bass and Stefano Bagnoli on drums.
Most of the tunes are written by Carboni, with two credited to Dalla Porta and one to Bagnoli. There are also four short improvised pieces credited to Carboni and Dalla Porta.
Carboni explains in liner notes (presented in both Italian and English) that she was inspired by Magritte (hence the album title) and conceived of this record as a surrealistic painting.
She followed this idea both in structure and also within the pieces themselves, making use of sonic manipulation to lend appropriately strange and unexpected qualities to the music.
One note for guitarists: One of Carboni's tunes here is a variation on Jim Hall's "Careful" and it's wonderful to hear what she did with her inspiration. She calls her piece "Mindful" and it's an excellent example of her technical skill as well as musicality.
There's a wide range of approaches and feels, from the jazz walts of "The Wheel" to the more tranquil waltz of "La Follia Italiana". "The Treachery of Sounds" has interesting use of electronic effects on the harp while "Resonance" is just a lovely dreamy tune.
The whole record is fantastic and I hope we can hear more from Marcella Carboni soon!
---
2021 February 15 • Monday
Enrique Ubieta's charming and beautiful music for El Super is our 661st Soundtrack of the Week.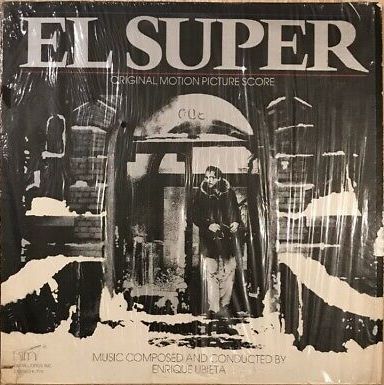 As far as I know, the vinyl release from 1981, which only has about twenty minutes of music on it is the only release of the score. I'd love to find out that I'm wrong and there's more of this music somewhere.
It exists somewhere in an overlap of Latin jazz, chamber music and, of course soundtracks.
The main theme, "New York Rush", gently but firmly pulses all the way through as strings and winds take turns laying back and pushing ahead.
"El Barrio … Family … Friends … Letters from Miami …" has a of call and response playing as well as many unison figures played by small clusters of instruments. A syncopated rhythmic pulse comes and goes in concert with a sprightlier mood and the main theme is quoted in a duet for cello and bass.
That's it for the first side. Side B starts with "¡Y Cambie El Viento! (Cinco), a vocal number. It's got a killer groove but very airy. According to the liner notes, "Cinco" refers to a Cuban rhythm invented by Ubieta. The vocal harmonies are exquisite and the playing by all the musicians throughout the record is impeccable.
It ends with the sound of wind blowing, which is an appropriate lead-in to the last piece on this too short album: "Snow … Windy Chill … Superintendency … Nostalgia … Language Barrier …". This one has more of a "classical" feel to it, though it retains the Latin rhythms and percussion instruments. The wind sound is back, along with a very recverby flute that delivers the most soundtrack-like sounding moment of the record.
It's a brilliant and very unusual work and I'd like to hear more of it.
---
2021 February 12 • Fridaya

Happy birthday!

One of the most interesting, well written and beautiful books we've ever read is Megan Prelinger's Another Science Fiction: Advertising the Space Race 1957–1962.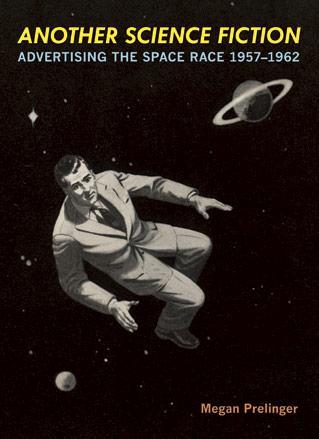 As startling and exciting as that cover image is, you'll find numerous examples of inside of artwork that's bolder and more brilliant. While much of it as a mid-century aesthetic, and was created to realize and sell mid-century ideas and goals, specifically American ones, almost all of it seems vivid, fresh and powerful still.
While professional illustrators tend to be overlooked in favor of "fine artists", in much the same way that the work of soundtrack composers is ignored while the (often lesser and later) compositions of "concert composers" are given intensive scrutiny, it's often in illustration (and soundtrack work) that you find genius and innovation before it appears anywhere else.
A book like this is enough to make me feel optimistic about "art" in general, although this entire field is now practically non-existent and Prelinger herself marks its demise by the end of her remarkable and brilliantly constructed volume.
In addition to tracking the evolution of the United States' space program and its reaching out through various periodicals to members of the industry as well as the general public, Prelinger reveals how blended this particular area of advertising was with new schools of art, from Bauhuas to the artists colonies of New Mexico, the latter of course being rather well placed for the production of work that could be fundamentally linked to activities at Los Alamos.
And not only has she done the excavation and the research to assemble all of this work in its varied artistic, commercial and historical contexts, Prelinger is a brilliant art critic whose writing expresses her analyses perfectly, with elegance, precision and power.
Consider this ad from the August 15, 1960 Aviation Week: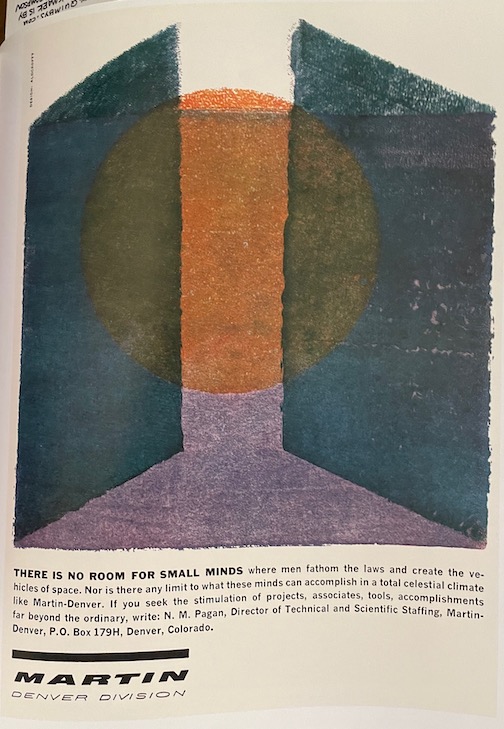 And here is Prelinger's caption for it: "In the ad designed by Aldcroftt for Martin the sun is the central, minimal figure. Parallelograms are the gateways to space, and a lavender square representing space hangs behind. The head, neck, and shoulders of a human form are created by the alignment of the three shapes, linking human imagination and the journey to space".
You'll find something like that on every page of this amazing book.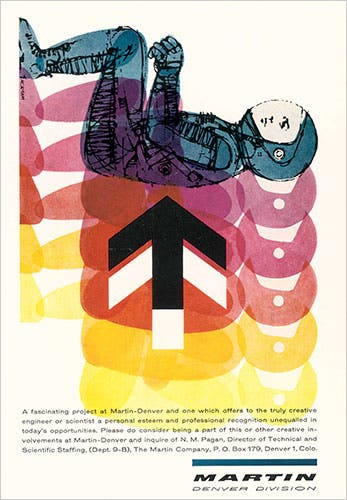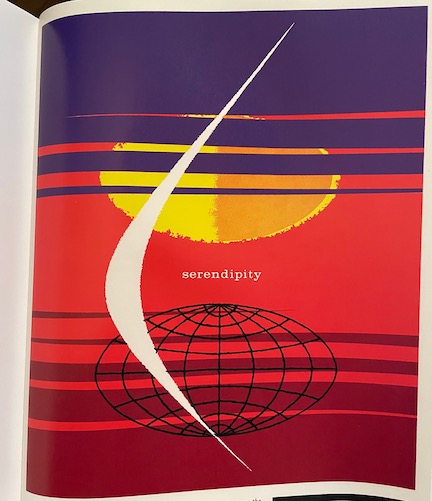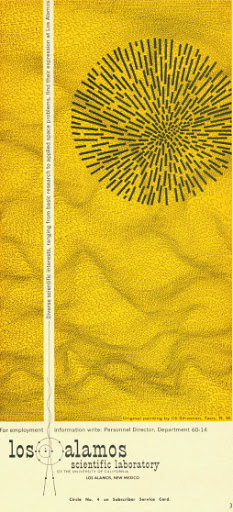 ---
2021 February 10 • Wednesday
Way back in September 2010 this space contained a screen shot from the Stanly Kubrick movie The Killing. Here it is: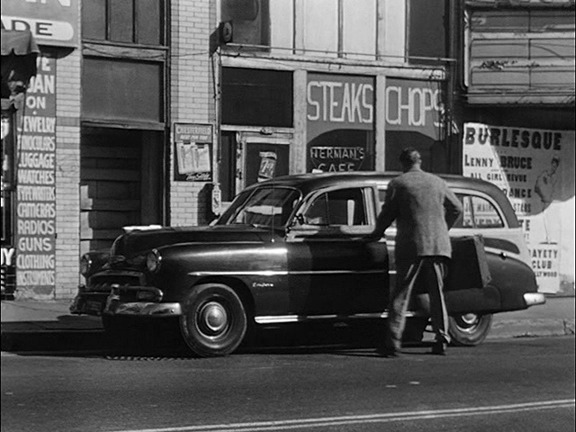 It was notable because of the ad in the background for Lenny Bruce performing at a strip club.
The best thing about writing this blog is hearing from people who have positive reactions to it. One such is Lee Cohen, who recently emailed with more information about this image. He urges us to credit Los Angeles jazz research historian James Harrod, who provided this newspaper clipping, from the Los Angeles Daily Mirror of December 17, 1955.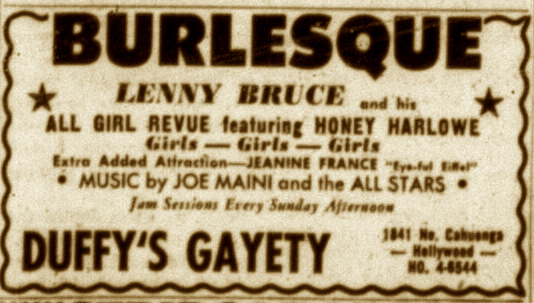 Along with that came this text:
DUFFY'S GAYETY, 1841 N. Cahuenga (HO 4-65111. Genial host and owner, Rocco, presents a well-rounded show that Includes two comics, a stellar singer, and four peppery exotics. Billy "Zoot" Heed, one of the all-time greats of burlesque, heads the current show. "Boots" Malloy doubles as emcee and comedienne. Joyce Manners lends vocal talents. The show Is kept In full swing by strippers Nona Carv- er, Patricia. Lee Bari, Jeannle Carroll and Betty Shay. Just two blocks from the corner of Hollywood and Vine. Rocco keeps the doors open seven nights a week and is always ready with a glad hand for his hundreds of friends.
So it seems that it was, as we thought, promoting Bruce's appearance at the Gayety Club, a.k.a. Duffy's Gayety. Note that Bruce's wife, Honey Harlowe, is also featured.
Cohen also tells us that the bill itself is stuck to the ewall of "a closed theater called The Lux at 827 W. 3rd St, on what was once called Bunker Hill, but flattened in 1967".
Bunker Hill was a very important location for movies in general and film noir in particular and Jim Dawson's book about it, Los Angeles's Bunker Hill: Pulp Fiction's Mean Streets and Film Noir's Ground Zero is well worth a read.
Thanks again to Lee Cohen and James Harrod for enhancing our appreciation of cultural ephemera!
---
2021 February 08 • Monday
The 660th Soundtrack of the Week is some of the music from a movie called Norwood. Most of it is composed by Al De Lory or Mac Davis but probably the only reason this record exists is that it includes eight songs sung by Glen Campbell, who was also the star of the film.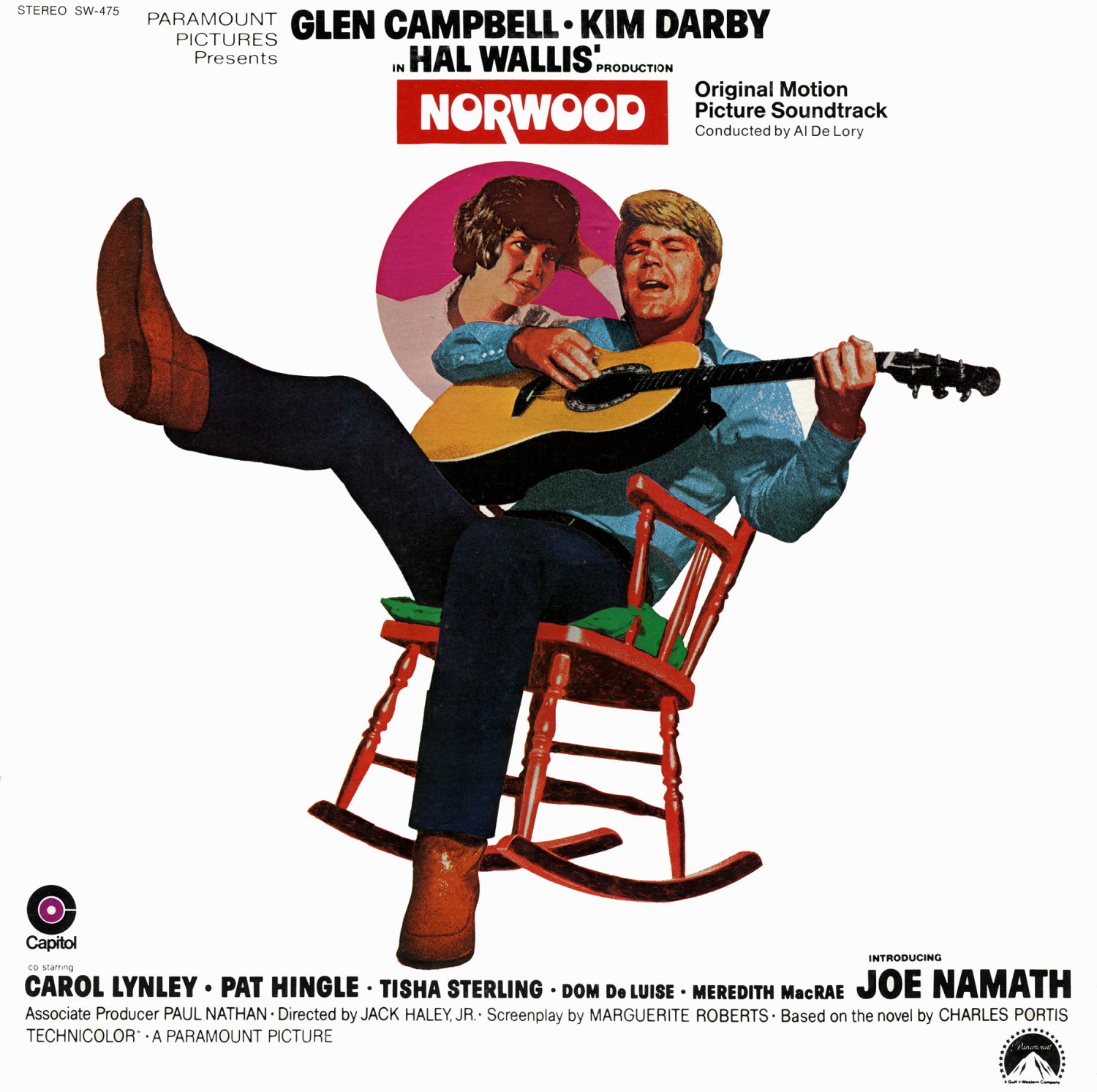 It kicks off with "Ol' Norwood's Comin' Home", a bouncy countryish song with lyrics that presumably inform the movie's story. "He ain't changed though he's a little older / Still wears a guitar around his shoulder." There's some whistling and the major key melody isn't far off from the public domain song that was the source for both "Mind Your Own Business" and "Rock Around the Clock", among others".
After this comes the first of six instrumental pieces. "Country Girl" is a great piano-driven country ballad with some lovely electric tremolo guitar playing.
Campbell's next song is "Marie". Is she the country girl of the previous number? Probably! It's a leisurely love song. "Marie / You're a strange little one / Marie / Always on the run / Marie." It's a good number, lyrical and tender and not overdone though there's a break for the string section that might make you feel like you're in a supermarket. This isn't a problem for me.
Then there's "The Brass Ensemble of Ralph, Texas" which is unexpectedly a groovy number with organ and electric guitar but also some mariachi-like horn playing.
Mr. Campbell is up again after that with "The Repo Man" and while Mr. Iggy Pop has nothing to worry about, it's a really good number with a syncopated rocking rhythm and some fast patter lyrics that might remind you of Jerry Reed's "Lord Mr. Ford" or something like that.
Continuing the pattern of alternating vocal tracks with instrumentals, the next piece is "Hot Wheels", a lively cue with some fast picked guitar and banjo and some harmonica soloing on top of brisk driving music. There are some unexpected breaks and just when you're thinking it's easy to imagine this being the accompaniment for a car chase scene the sounds of car engines and police sirens join the music.
The last track on Side A is "I'll Paint You a Song", a very restrained love song with a delicate acoustic guitar backing and even a vocal choir which sounds pretty good.
The B side starts up with "Norwood (Me and My Guitar)", a somewhat sappy song for Mr. Campbell. "Me and my guitar / Here we go a bummin' / Searching near and far / For the rainbow's end."
"The Fring Thing" is another one that might make you feel like you're in a supermarket, a sort of happy druggy bouncy library music-type cue.
Campbell is then back on again for "Down Home", a swaying and moving sentimental song about returning back home, which I guess is what the movie is about. "Down home / Where smiling faces shine like the morning dew / My fondest memories lie here / I was born here and I'll die here / With my heart full of happiness and you."
After that comes an instrumental with the dreaded saloon piano sound, "Chicken Out (Joann's Theme)". It's typically upbeat and slightly goofy.
Then there's a reprise of "I'll Paint You a Song" followed by "A Different Kind of Rock", which is kind of a soul jazz funk piece with saxophone soloing throughout.
The record ends with one more Campbell song, "Everything a Man Could Ever Need", a brisk and breezy number with a wistful feel to it and lyrics about the singer's contentment. It reminded me of Bobbie Lee Gentry's "Natural To Be Gone" although the two songs have very different stories to tell.
---
2021 February 05 • Friday
After Aaron Lupton and Jeff Szpirglas published their book about horror soundtracks on vinyl, they followed it with Planet Wax: Sci-Fi/Fantasy Soundtracks on Vinyl.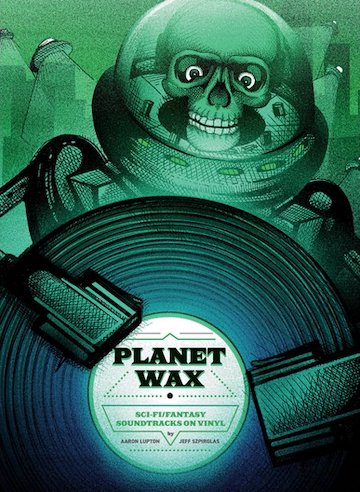 This is pretty much the same book, although of course the content is all new.
But it's just as lovely a volume and does just as much to bring the reader's appreciation to art of the album cover as to the music itself.
And once again the research is impressive, particularly for such short reviews. Always of interest are the interviews conducted exclusively for the book, this time including composers such as Christopher Young, David Newman, Stu Phillips and Brad Fiedel.
Hey, it's even got Xanadu in it!
---
2021 February 03 • Wednesday
Books about soundtrack music don't get too much more specific than Aaron Lupton and Jeff Szpirglas's Blood on Black Wax: Horror Soundtracks on Vinyl.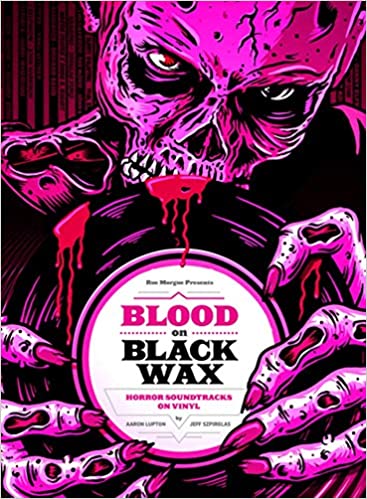 It's a beautiful volume that celebrates the presentation of scores as well as the music itself. Some of the LP covers are quite brilliant and each one take up most of the page (maybe 75%) so you can really admire them.
It wasn't clear to me how the authors chose to sequence their articles. The book is divided into seven sections—"Supernatural Horrors", "Savage Science Fiction", "Creature Features and so on—but within those categories the different movies aren't in chronological order or alphabetical order or composer order or any other order I noticed.
It doesn't really matter. It was both educational and inspiring to read and it left me wanting to revisit certain films and/or scores and to introduce myself to others.
Lupton and Szpirglas even went the extra mile beyond researching the soundtracks to getting exclusive interviews for this book with people such as John Carpenter, Fabio Frizzi and Harry Manfredini.
The only stone left unturned was to hire a proofreader to clean up typos and such. I hate to mention it but there were quite a lot of them.
Don't let that dissuade you, though. This is a great book soundtrack lovers, horror lovers, vinyl lover, possibly even book lovers!
---
2021 February 01 • Monday
The 659th Soundtrack of the Week is this lovely record of Franco Mannino and Sergio Montori's music for the movie Identikit.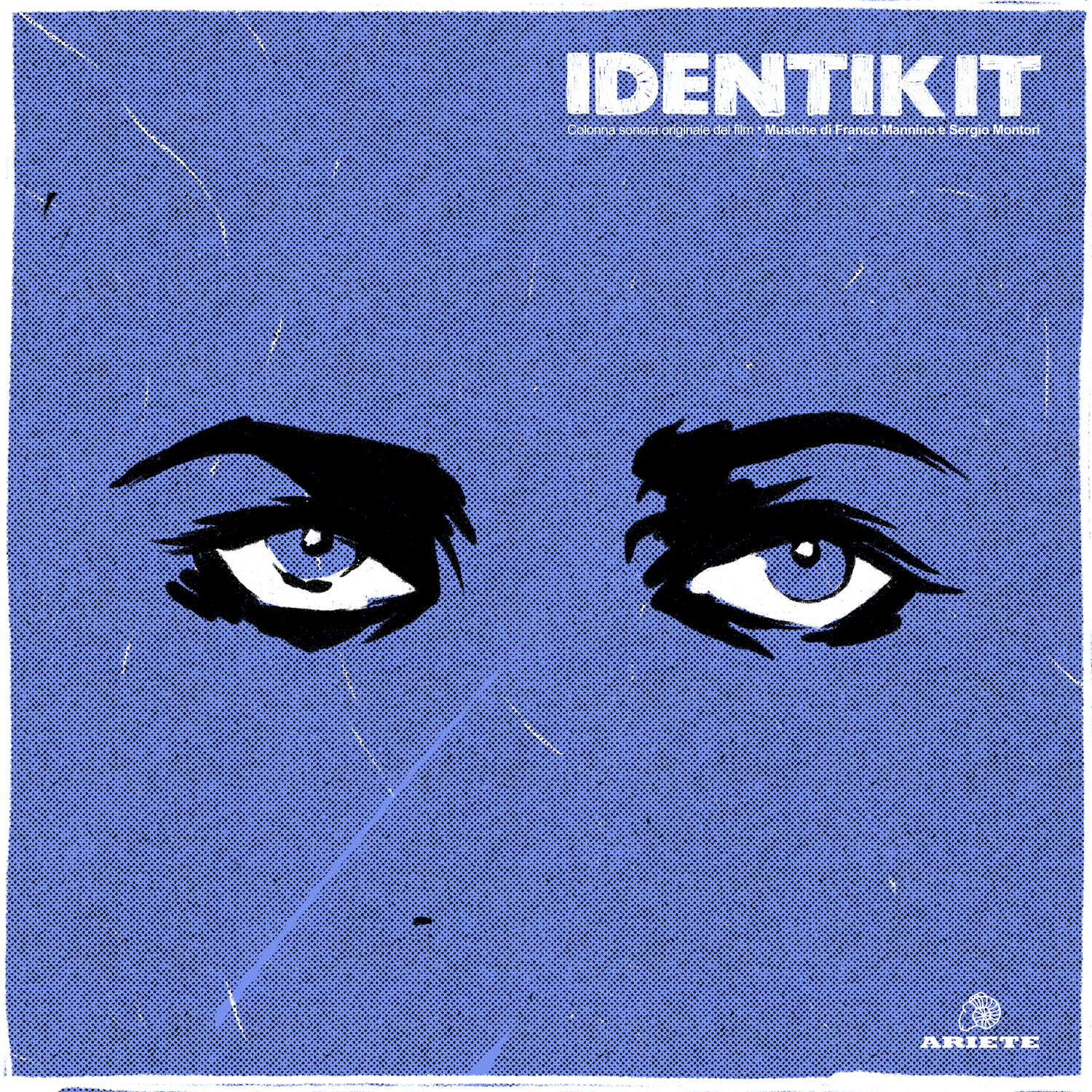 It's on transparent splatter vinyl!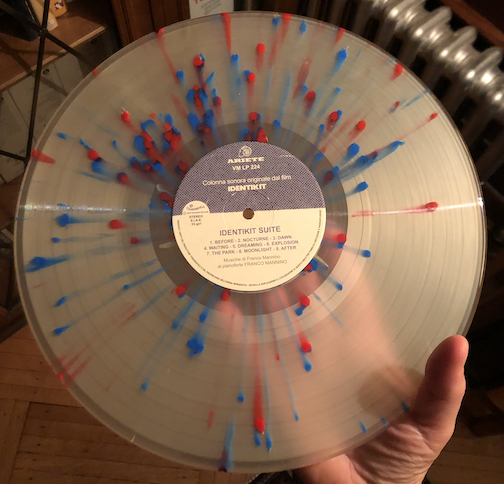 Each side of the record presents a suite.
Side A is the "Identikit Suite", beautiful solo piano music composed and performed by Fanco Mannino. The cues have names like "Nocturne", "Dawn", "Moonlight" and so on and are in the Satie/Debussy zone.
Side B is the "Elizabeth Suite", in which Franco Monnino and Sergio Montori collaborated on a program of relaxed and swinging jazz with electric piano, saxophone, brushes on the snare... The titles are "Liz One", "Liz Two", "Liz Three" etc. It's very loungey and dreamy though there is a rocking shake number, "Liz Five", and "Liz Seven" is more uptempo track with a sunshine pop feel to it.
It's an excellent record, especially nice early in the morning when you're having that first cup of coffee.
---