HAPPY BIRTHDAY!!!

Netz Maeschi's music for Jo Siffert: Live Fast - Die Young, a documentary about the famous racing driver, is the 651st Soundtrack of the Week.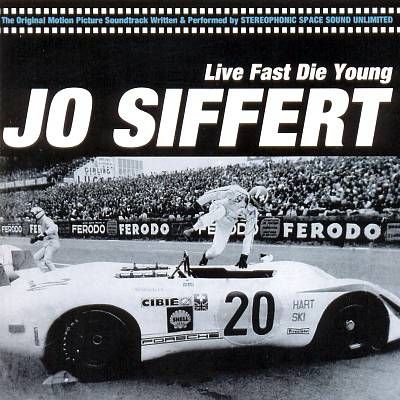 Right off the bat we're in some very cool, groovy, soundtracky territory. "Jo's theme" is like if Lalo Schifrin had been brought on board for a blaxploitation Mission: Impossible treatment.
The 6/8 jazzy intrigue of "Requiem pour un grand pilote", another richly textured swinging number might remind you of John Barry in Ipcress File or Persuaders mode partnered with Angelo Badalamenti's Twin Peaks music.
"Bossa Jo" is sort of a bossa nova but with a tough and assertive sound and with the bossa nova groove not as distinct as it usually is, being one of several rhythmic layers.
After that comes "Highlife at Monza", an energetic sort of neo-psych garage kind of number.
This is such a cool record with great playing, let's meet the band! You'll hear composer Netz Maeschi on guitar, bass, organ and keyboards, Karen Simpson on guitar and percussion, Markus Maggiori on bongos, congas and percussion, Andreas Zitz on upright bass, Benno Bernet on dulcimer and Victor Wanderley (any relation to Walter?) on flute.
Continuing to the next track we now hear "A racer's heart", another slinky and atmospheric and very groovy track, this time with some very nice reverb/tremolo guitar playing.
"The last of the late brakers" mixes several different sounds and ideas, as do several of these tracks. It's kind of like a classic rock groove with Hammond organ and fleshed out with some arrangement ideas that sound influenced by exotica.
Last track on the A side is "On the road to Sicily", one of the more dramatic cues so far, with stinging and reverberent guitar strikes framing the same kind of twangy guitar playing we heard in "A racer's heart". It is, of course, very groovy.
Side B kicks off with "Top speed", which is in the classic surf/hot rod style and very well done, with the lead guitar having a tone similar to Jerry Cole's.
Then there's "70/71", which has a deep kind of surf/soul groove and beautifully shimmering guitar sounds.
"Grid girls 68" is another surf-influenced one with a touch of go-go and again a really great guitar feature. The keyboard sound for this one isn't the best fit, in my opinion, but it works okay.
Next is "Fear theme", which brings a totally different atmosphere to the record. Fear, sure, eeriness, tension, suspense and some sick fuzz guitar playing. This time the keybaord sound seems like the perfect choice to me.
It must be Netz Maeschi playing the electric bass guitar that opens "Young Siffert" since the only bass player is specifically credited with upright bass. It's a bass line that's both slinky and kind of thunky, like a lounge riff on steroids. This one is really a vibes feature, though.
Things get more urgent-sounding with the propulsive "Le Mans nightdrive", which features dulcimer playing over various instruments pushing forward with insistent grooves.
And then finally there's "Brands Hatch 6 a.m", is kind of the Doctor Who theme meets "Immigrant Song" with a bit of the theme from The Saint thrown in, thanks to Victor Wanderley's flute.
This whole record was fantastic.
---