2020 October 28 • Wednesday

Happy birthday!

For pure thrilling escapism, a true passport to another world, you can't do much better than Elizabeth Bishop and The New Yorker: The Complete Correspondence edited by Joelle Biele.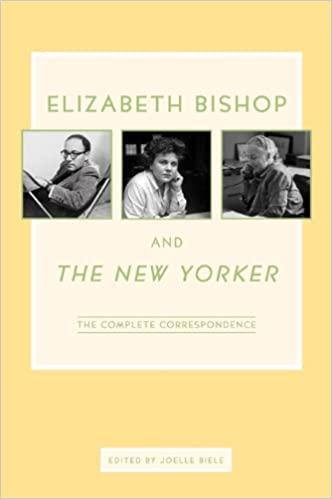 You might think I'm joking being sarcastic or some such thing. You would be wrong.

Around the time our own little world here had more or less come to a complete stop and we were all encouraged not to leave our homes and in fact there wasn't much of anything to leave our homes for, I placed this volume on my bedside table and each night it transported me to a place more magical than any in fiction.

James Bond would have trouble keeping up with this book's movement: New York City, San Francisco, Brazil, Italy, England, Nova Scotia, and numerous other locales.

And I don't expect ever to meet such memorable characters whose efforts in the world of literature are alway somewhere between the Sisyphean and the Herculean.

Biele's invaluable introduction provides the necessary biographical information about the people and their world. By the end of the book you're likely to feel a surprising familiarity with Bishop as well as Katharine White and Howard Moss.

The cadences and phraseology of their writing will seem like those of somebody you've known for a long time.

You'll anxiously await each reply and worry when there's a long gap between letters.

And you'll miss them dearly when they're gone.

The story really starts with Bishop and White and they're dizzingly detailed discussions of poems Bishop submits to The New Yorker for publication.

They can spend weeks and months over points of punctuation or matters of clarity. (I would be shocked to learn that anything even remotely resembling this level of care exists anywhere in any kind of publishing today.)

One of the most exciting experiences in a lifetime of reading occurs on page 51 when, in the fall of 1950, Bishop concludes a letter to White with "I think it would be nice if you called me Elizabeth".

Eventually White regretfully leaves her position at the magazine and Bishop's fellow poet Howard Moss becomes her primary contact there.

The letters exchanged by these two have a different tone. They seem to be more simpatico, I suppose, and the affection expressed by each for the other is genuinely moving, as indeed it was between White and Bishop. (Bishop at one point attempts to persuade The New Yorker to break with policy so that she can dedicate a poem to White.)

Another exciting moment? Moss buys Bishop's clavichord and she sends him sheet music for it, including a Count Basie book! Imagine now, Howard Moss playing Count Basie arrangements on Elizabeth Bishop's clavichord in 1970s Greenwich Village...

Just a few weeks ago we noted Vladimir Nabokov's railing against background music in public, decrying it as "damaging to the majority of people" and having "police state overtones". This was in a 1965 issue of Fact magazine.

Elizabeth Bishop, who, in these letters, mentions meeting Nabokov and admiring his writing, expressed her views on the same subject in a 1950 letter to Katharine White. She felt much the same: "it is really pure torture" and "an infringement on human rights and dignity".

"It is particularly painful here, I think," she wrote from Washington, DC, where she observed "thousands of government workers being carted off to work every morning and being forcibly soothed all the way—as bad as '1984'."

Even if you'd never heard of Elizabeth Bishop before, that phrase "forcibly soothed" is enough to signal her poetic gift.

This was a wonderful book. It went so well that maybe I'll try to tackle Samuel Beckett's letters before too long. After, say, a few dozen more trashy mid-century paperback novels.
---