Hyena's music by The The (Matt Johnson) is our 641st Soundtrack of the Week.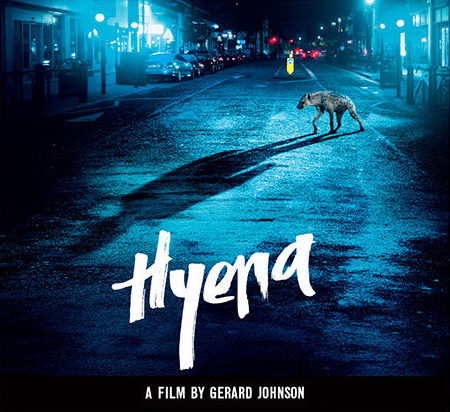 It's on blue vinyl!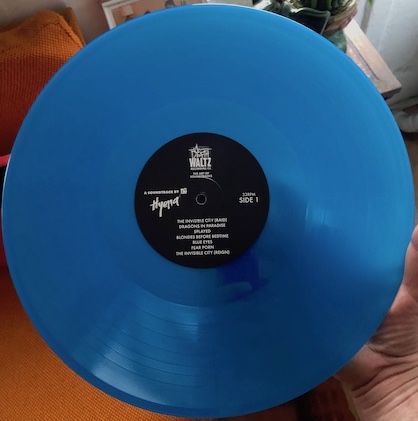 It starts with "The Invisible City (Raid)", a shadowy and atmospheric piece that creates a mood of intrigue while also being strangely soothing.
After that comes "Dragons in Paradise", a simple electronic piece that's very lyrical and gently pulsating.
With "Splayed" things start to sound more menacing, with throbbing low electronic notes that rev up and down like a musical chainsaw.
Then thumping rhythms set a dance club sort of mood for "Blondes Before Bedtime", which has effervescent synth figures at first and then longer synth string lines and then both at once. It's another very lyrical and pretty composition.
"Blue Eyes" keeps this mood going but with a different groove and some different synth sounds and textures.
There's another insistent pulse but with less of a dance feel and more an air of suspense and tension in "Fear Porn" and then the first side wraps up with "The Invisible City (Reign)", which has clouds of electronic sounds, some even sounding like distant thunder, swelling in and out, a bit reminiscent of some of the music for Blade Runner.
The second side starts with "A Woman's Wound", which reminded me somewhat of music for Videodrome, being electronic music that sounds like it's inhaling and exhaling.
Hand percussion or something that sounds a lot like it starts "People in the Rain", over which is a smooth melodic line, occasionally joined by some ominous low tones.
"The Invisible City (Rogue)" is a spare electronic groove, subtly beating forward while textural synth figures float in and out on top of it with more of the low chainsaw like tones as well.
"Then there's a change of pace in "Take Me Away from All This" as some lyrical figures start by themselves, sounding desolate in the space even after being joined by some other sounds and tones. Eventually a lightly percolating undercurrent is added and then a more overt pulse.
Resonant electronic sounds that resemble plucked string instruments blossom in the cystalline space of "Tiny Blue Sirens".
Things get ominous again, with a combination of sound and texture that suggests a gentle helicopter, in "Death Nest".
The last piece on Song 2 is "Bait & Switch", which is an unexpectedly funky/groovy tune, kind of outer space discotech.
The third side opens with "The Invisible City (Reap)", a slinky and eerily atmospheric cue. Like many of the pieces here, it uses space effectively and is very definite in its assertion of mood and momentum while maintaining a delicate precision of statement.
From the airiness of that track we proceed to something thicker and serpentine with the sinuous and swelling "Feeding the Fire".
"Harvest of Souls" starts out with some minimalist piano playing, once again music that suggests delicacy and care. Low and shadowy synth tones come rolling in like fog, eventually joined by some roughly textured other sounds.
This leads to the return of more insistent and muscular tones in "Bathing in Flame", which sounds as ominous as its title.
And then there's "Killers & Concubines", which mostly sounds like wind blowing, rising and falling and circulating, eventually with the inclusion an electronic falling tone. It ends abruptly.
The last number is "Everybody Wants To Go to Heaven (But Nobody Wants To Die)", which begins as a bittersweet piano piece and eventually gets other instrumental and human voices and a subdued back beat added to it.
Since the music only takes up three of the four album sides, the fourth side has "The The" etched on it.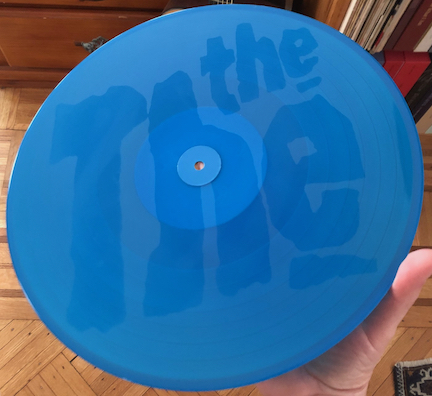 ---