The 650th Soundtrack of the Week is courtesy of several different people. It's music from the movie Wild on the Beach.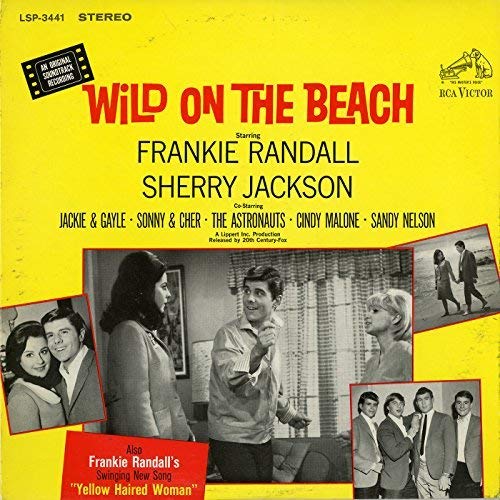 The big draw for us is four numbers by The Astronauts, one of our favorite surf bands ever.
They first show up on Side 1 with "Rock the World", a vocal number, and it really doesn't sound like them. There's a backing chorus, which I don't associate with them. It's a decent song but nothing extraordinary.
"Little Speedy Gonzales" has a "Wipe Out"-sort of groove and lyrics that name check Peter Gunn. It's a cute song.
"Pyramid Stomp" features some fuzzy overdriven guitar and is an actual instrumental that's really cool and driving.
The last contribution by The Astronauts is "Snap It", another instrumental with great energy especially from the drummer.
Frankie Randall, a name new to me, has three songs on the record. He's what you hear first, starting things off with "The Yellow Haired Woman", a peppy pop novelty song with some silly onomatopoeiac lyrics ("My heart went tick ticky ticky tack").
Then he returns a few tracks later with "The Gods of Love", a nice pop love song, kind of like Bobby Darin maybe.
Randall's third song is on the second side, "The House on the Beach". It has a 3/4 intro but the song itself is in common time and sounds like it could be the main title theme for a movie of the same name. It's very up and poppy in a late-'50s/early-'60s way. It has some nice strings that sound like the strings in the Route 66 theme music.
And then there are a few artists with one number each.
Cindy Malone's "Run Away from Him" is an enchanting and somewhat mysterious soul pop number, with a slower pace and an air of mystery to it.
"Drum Dance" by Sandy Nelson is one of his great drum-heavy instrumentals. It's very simple but it has monstrous energy. It could be improved with a louder, thicker, heavier guitar sound, though.
Sonny & Cher, of all people, are on here with "It's Gonna Rain", a real '60s shake with a "Dancin' in the Street" feel to it.
And finally we've got "Winter Nocturne" by Jackie & Gayle, an ethereal and lovely song in 6/8, gentle and wistful.
---