A lot of different people contributed to our 636th Soundtrack of the Week: music from the surfing movie A Sea for Yourself.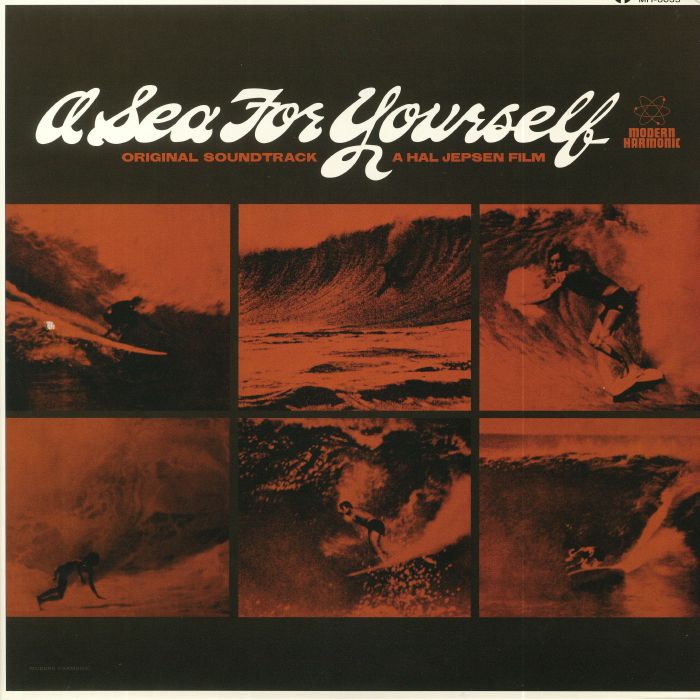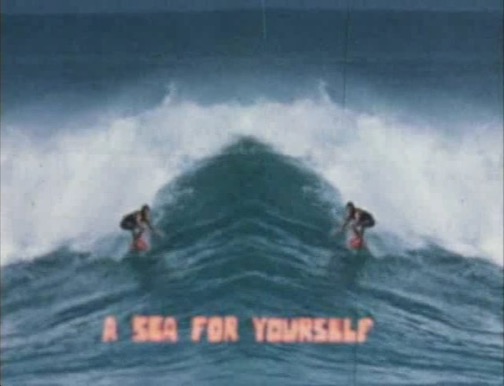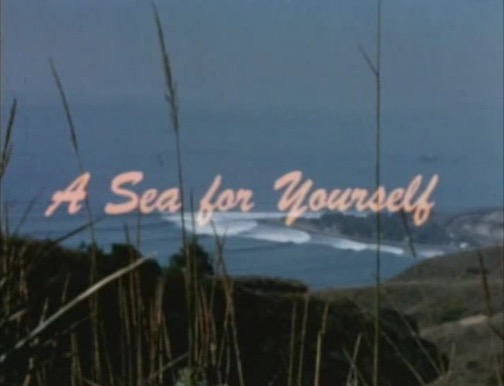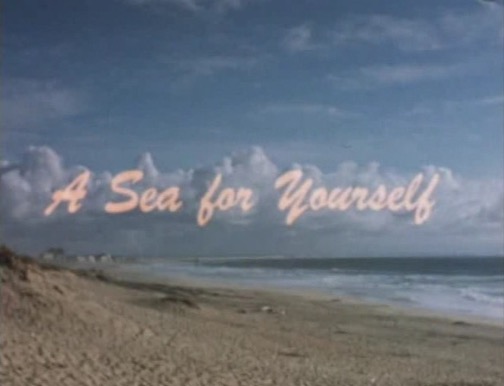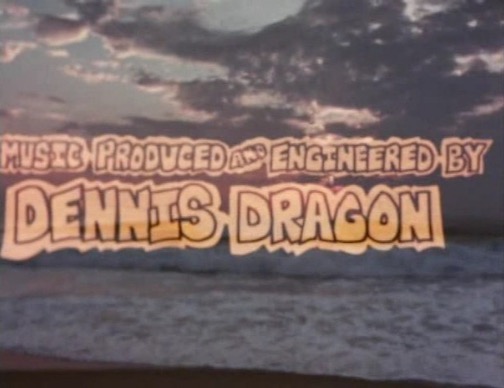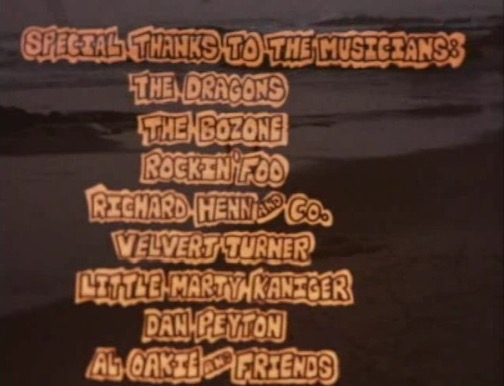 It's on aquatic blue vinyl!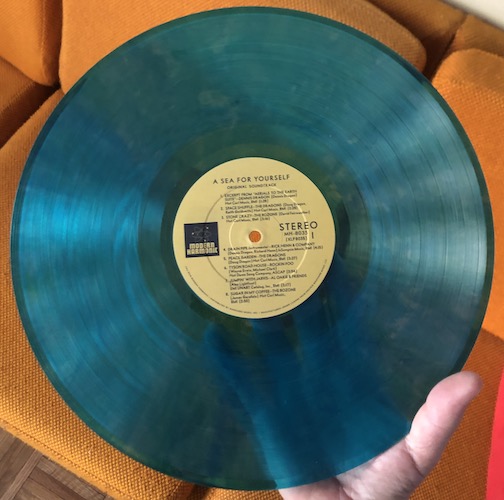 There's some interesting soundtrack lineage here. Dennis Dragon, who plays drums on a lot of these tracks in addition to producing and engineering, is the song of Carmen Dragon, who scored the original Don Siegel-directed Invasion of the Body Snatchers.
Dennis's brother Daryl is on here as well, just about a year before he became the Captain in Captain and Tenille.
So what about this soundtrack?
It opens with "Excerpt from 'Aerials to the Earth Suite' by Dennis Dragon, a cool electronic ambience with synth drones and throbs, tinkling chimes, sirens and other electronic noises.
Next is The Dragons' "Space Shuffle", a pretty straightforward blues rock psych number. As you might guess, Dennis and Darly Dragon are on here, as is their other brother Doug.
Dennis Dragon is also the drummer for The Bozone and Daryl also contributes synth to this track, "Stone Crazy", a heavy and somewhat cloudy funk/rock song.
Drummer Dennis is also on the next track, Rick Henn & Company's "Drain Pipe", a classic rock instrumental with a Steppenwolf vibe.
Then it's The Dragons again with "Peace Garden", a floaty 6/8 with a beautifully sunny and dreamy quality.
Rockin Foo is the first band without Dennis Dragon on drums here, and their "Tyson Road House" is an agreeably tipsy country rock song that might remind you of The Lovin' Spoonful's "Did You Ever Have To Make Up Your Mind".
Al Oakie & Friends also doesn't have Dennis Dragon on drums, although Daryl plays synth on it. "Jumpin' with Jarvis" is definitely on the "up" side, a fast blues with Mr. Oakie's harmonica playing taking the spotlight.
The first album side concludes with "Sugar in My Coffee" by The Bozone, with the ludicrously named Hugh Jorgasm on vocals. It's a country rock/jug blues type of song that I'm pretty sure I've heard before so possibly a cover.
Side Two kicks off with The Bozone's "Zorro's Revenge" which is kind of like an acid prog Santana song.
Then it's The Dragons again with "Hear the Truth/Everybody Needs", a laidback but grooving hippy rock number with really cool keyboard playing.
Rick Henn & Company show up next with "Squeeze Box", an ethereal, late-night, soulful slow burner, different from everything else we've heard so far.
"Karma Cue" is the first tune by Dan Peyton, assisted by Daryl Dragon and a Rhythm Ace drum machine. It's kind of like a surf band doing a cover of a piece of classical music but with different instrumentation (other than electric guitar). It's pretty cool.
The Bozone return to end Side Two with "Bahama Hop", a high-energy party song with a happy druggy bounce.
It's a two-record set so onto Side Three, where Rick Henn & Company get things started with "Rain Ride One & Two", which features Dragon sister Carmen on harp. It starts out as a lovely track with harp and flute creating an airy and peaceful atmosphere and then segues into a mid-tempo funk soul lounge number featuring saxophone and electric piano.
Fast strummed acoustic guitar kicks off "Little" Marty Kaniger's "Wish I Knew", a post-'60s folk/rock number with infectious energy.
Then we get two in a row by The Dragons: "Night Cruzer Two" and "Cataclysm", the former being a short funk groove lounge instrumental and the latter a sort of neo-classical rock piano- and other keyboard-driven piece with lots of arpeggiated playing.
"Fair Thee Well" is another one by Rockin Foo and another classic rock song with a strong backbeat and slide guitar.
Two more by The Dragons, "Soul Teacher" and "Urantia Plains" wrap up the third side. "Soul Teacher" is a groovy and swinging rock song with a real feel good energy to it. ("Soul teacher, won't you teach us more?")
"Urantia Plains" is quite different, a spacy groovy instrumental with a pleasant driftiness to it.
And then we're on the last of the four record sides and The Dragons once again with "Cosmosis", kind of a proto-prog funk number that's partly in 7/4.
"Slidin'" by Dan Peyton comes next, a kind of goofy number that sounds like, I don't know, cartoons or ice cream trucks or something.
We then get one more Rockin Foo track, "When the Money Comes", a piano driven country rock song that's a bit like The Grateful Dead or something like that, though without electric guitars. It's very similar to something that I can't remember right now.
The Dragons have two more songs to give us after that, "Power Jam One & Two" and "Food for My Soul". The first one is a hard-driving keyboard-centric funk soul prog whatever number and one of the best tracks on the record with a truly wailing guitar solo.
"Food for My Soul" is another deep groove piece with great energy and great musicianship, with piano and vocals being the main focus though there's also a great organ solo.
And finally the last two tracks of the record are both by Rick Henn & Company.
"Cholo" is a very fast proggy number with great drumming, tricky syncopations and invaluable contributions from the horn section.
"Rain Ride Three" features Carmen Dragon on the harp again and is a beautiful, dreamy piece with a strong element of wistfulness to it and some Edda Dell'Orso-like wordless singing courtesy of Cheryle Brandon.
---