Our 635th Soundtrack of the Week is Vic Mizzy's music for Don't Make Waves.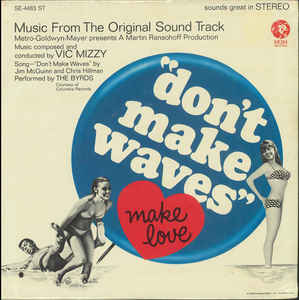 While we haven't seen the movie, we found just its trailer to be hard to sit through. Seriously, halfway through the trailer, we wanted to bail. It's hard to imagine watching this whole movie, even though it has Claudia Cardinale and Sharon Tate in it. (Tony Curtis is not a draw for us.)
But the music is really cool, so it might be worth it for that.
The record opens with the main title theme, not by Vic Mizzy but composed by Jim McGuinn and Chris Hillman and sung by The Byrds. It sounds like The Byrds but with a slightly harder edge and aggressive bass and drum presence. And maybe I'm projecting but it also sounds like they're not really into this. It's a good song but somewhat lacking in energy. It fades out on the electric 12-string guitar solo, which seems like a really bad decision.
Then we got to Mizzy's score with "Daybreak in Malibu". Now this has much more positive energy, with a popping rhythm section, great surfy electric guitar sounds and Mancini-ish strings and horns swooping in and out, as well as some subtle use of organ. I bet that this was originally the main title theme but the financial incentive of getting a hit single from a pop band was irresistible.
Sultry saxophone and beautiful tremolo guitar introduce the slow burning organ combo blues of "Malibu". This sounds like it might be Plas Johnson in places and there are a few different electric guitar sounds, all great.
Peppy, humorous, determined and almost martial-sounding music, or perhaps music for a hunt, set the scene for "Confidence Man" but it segues into very light and buoyant moods perhaps for some comedic bit of business.
"Stradella" is a laid-back Italian folk music-flavored waltz.
"Zip Zip" is something of a call back to "Confidence Man" but with a very different feel, jazz brushes on the drums, very swinging but not fast, great use of electric guitar, particularly whichever one appears to be using some kind of early example of a wah-wah's pedal, and precise placement of statements by the various instruments.
Side 1 wraps up with "Vox Box", a classic '60s guitar-driven "shake" number. Love the drums on this one and they even throw in a "cha cha cha" a few times!
The second side opens with the "Love Theme From—'Don't Make Waves'", a very Mancini-like lounge number with velvety strings and flutes creating a lush and cushiony atmosphere.
A somewhat similar melody gets a very bright and chirpy treatment in the next cue, "Driverless", which also features an overdriven electric guitar sound that I don't think has been heard prior to this. This is a very sprightly cue with a melody that scampers all over the place.
Things then calm down for "Madame Lavinia", which as a really solidity and weight to it while also being gently swinging. This is another one that features that weird, possibly was, guitar sound, as well as the usual expert deployment of flutes and organ.
After this come reprises of both "Daybreak in Malibu" and "Malibu", great cues both and I won't complain about hearing them again but since we have heard them before, wouldn't the space be better allocated to different cues?
And then we come to the last number, "Girl on a Trampoline". This is another awesome shake piece with some crazy electric guitar sounds, extremely unusual. It starts really frantic, immediately switches gears to a "Peter Gunn" bass break, then goes into a dreamy, spacey, surf-lounge zone.
---