The 635th Soundtrack of the Week is music from The Surfer Girls, mostly by Michael Gabbert.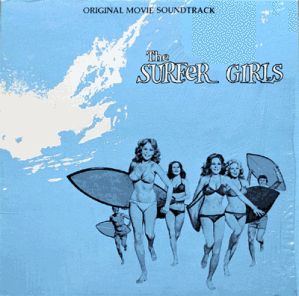 According to the LP sleeve, the movie itself "was filmed in the sensational new StereoVision 4-D". "In order to exhibit this film the theaters must install a special screen in addition to the StereoVision 3-D lenses and special effects equipment installed in the projection booth, lobby and auditorium of each selected theater."
That's some serious ballyhoo right there.
The movie itself is pitched as a drama-comedy as well as "one of the most bizarre stories of adventure ever filmed".
With "gorgeous teenage girls and savage island splendor" as well as "shocking jungle rituals never before presented in any motion picture, 'THE SURFER GIRLS' in StereoVision 4-D [is] destined to become the entertainment event of 1979".
Was it? It has a 4.8/10 on IMDb and, according to that site, "was released in 3-D as Surfer Girls in 1978 and Kahuna! in 1981, but issued 'flat' as The Senior Snatch in 1982".
So it doesn't sound like it was the entertainment event of any year, though they took a shot at it in three different years.
And none of this concerns us here. It has music. What's that like?
The first song is "Ocean Girls", a bouncy and swaying song that's a bit like The Grateful Dead's "Rambiln' Rose". "Looking for love and feeling so alive." The singers are heavy on the vibrato at times. So it's like a '70s surf Dead dance Joan Baez? Not really.
The kind of hippie classic rock feel continues in "Love's Fool", which has a CSN&Y and/or Simon & Garfunkel sound to it, with pretty and delicate male vocal harmonies and gentle acoustic guitar support. "I think I've always loved you and I think I always will." They repeat the words "always will" a lot which makes me think that the track listing is wrong and that this is the song "Always Will". It would makes sense.
Slinky and sensuous electric guitar and keyboard set the mood, for the third song, which is supposedly "Always Will", according to the sleeve. (The LP itself has two Side 2 labels on it, so consulting it doesn't help.) The melody line at times has a shape and length more suited to musicals and at other times is simpler. It's a nice song.
Again there's a very mellow country rock sound to the next song, "My Love". Melodically and harmonically it's likely to remind you of some classic '60s song that I can't think of right now. Something like "Me and Bobby McGee", for instance.
"Grateful Daydreams" doesn't stray too far from this model either, reminiscent of "Our House", perhaps. The lyrics clearly have the words "grateful daydreams" in them, so no confusion here.
And then side one ends with "Seaview Shuffle", one of two numbers by Kendall Keyes, which are also the only two instrumentals on the record. This one is a mellow lounge jazz tune that features the saxophone.
"Surfer Girls" starts the second side and mostly features women singing about a "spirit man of the island". They're going to miss him and kiss him, they say, and always remember his mystical wonder. I guess that's good.
Another hippie sort of number comes next with "Good Place To Be", harmonically simple and familiar but with a nice melodic line and lovely vocal blend of men and women singers.
"When I met you, you were falling / For that same old come-on line" starts what might be the song "Brotherhood". It might be worth while to look at the song titles and lyrics and come up with a more plausible sequence than what's presented here. We're not doing it now, however. This is a simple, stripped down song, just quiet vocals with some soft backing by guitar and keyboard.
The next song is called "Sunflower" and that must be right because the lyrics mention sunflowers glowing in the dark while ladybirds sail through the park (unsure of their destination), or something like that. This one has a very strong resemblance to Simon & Garfunkel.
A cross between disco and jazz fusion informs "Sailin' On", which has a lovely lyrical melody and lovely vocals. This is the only song on here written by Victoria van Tamelen & Derek Bianchi. Except for the previously mentioned "Seaview Shuffle" and the upcoming "Disco Stretch", which were written by Kendall Keyes, all the songs are by Michael Gabbert.
And here's "Disco Stretch", which is a straight-up disco number for sure. If you've heard disco, you know what it sounds like, though this is a somewhat minimalist approach to the genre.
---