2020 July 13 • Monday
The great maestro Ennio Morricone, one of the titans of music in general and soundtrack music in particular, left us last week. But we still have hundreds, perhaps thousands of hours of his music to listen to. for our 630th Soundtrack of the Week, we sat down with Morricone's Dedicato Al Mare Egeo.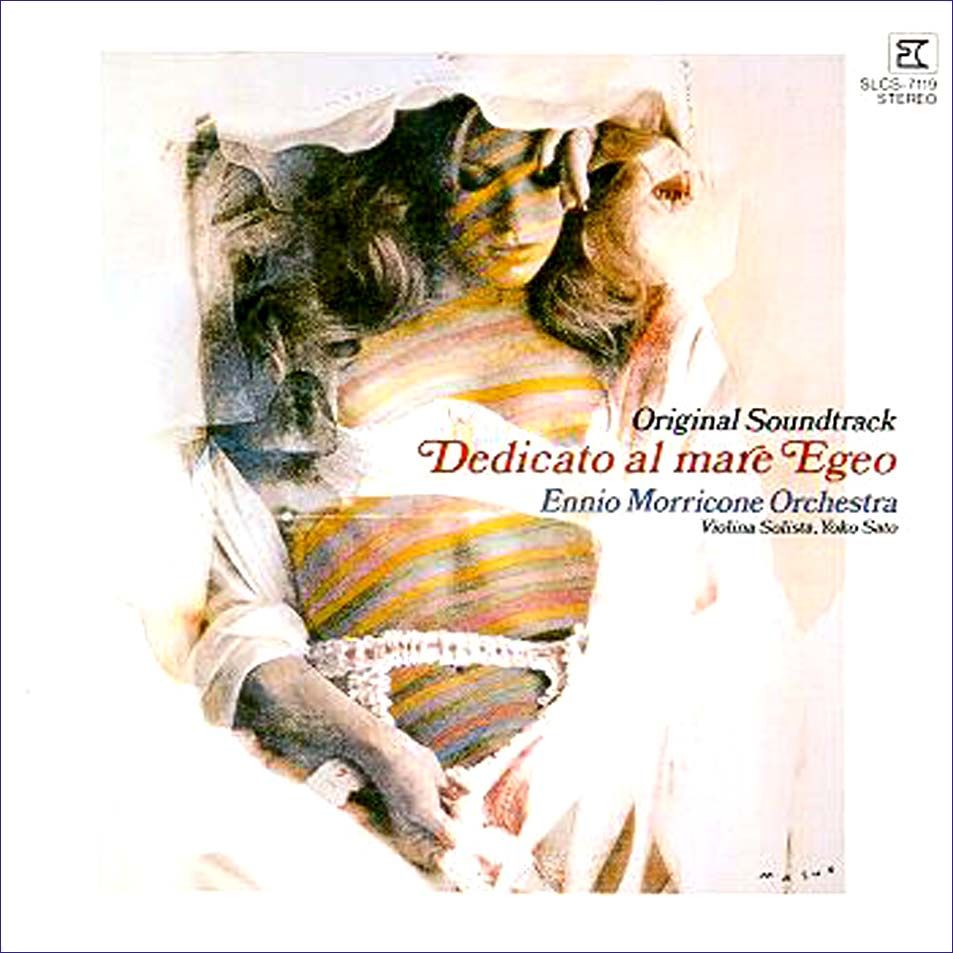 The main title theme is a delicious fusion or pop, jazz, classical and exotica with one of the meastro's most beautiful and stirring melodies—from a career with dozenss of devastatingly brilliant melodies and lyricism. The theme is first presented by violin and then given a wordless vocal rendition by the incomparable Edda dell'Orso.

"Un Grido" gives us the same theme but this time from a strong, gutbucket saxophone while the rhythm track is a hybrid of crime tension and prog jazz. Naked City could have done a great cover of this. The ethereal and swirling arrangement of the title theme returns in "Lisa e Nikos" but the tempo is a little faster, the groove a little loungier and the melody played by either an unusual electronic instrument or an electronically treated violin playing in the upper register. Ms. Dell'Orso returns, magnificently as always. The sound of a woman's laughter suffuses the beginning of the poppy, peppy and almost disco-y "Cavallina a Cavallo", whose wordless vocals have a silly, sunny and childlike quality to them. "E Fuggi Via" is a short cue that begins with solo violin, becomes a classical chamber piece and ends as an emotional vocal reprise of the theme that concludes with a dramatic flourish that has a slight baroque feel. Morricone's ease with avantgarde arrangements, particularly regarding use of space and unusual sounds, is demonstrated vividly in "Un Sogno al Sole", in which breathy vocals and plaintive violin playing weave in and out of harps with delay effects (seemingly), sporadic upright bass figures and percussion statements as well as gasps and occasional strident vocal outbursts. A different theme arrives in "Lisa Del Mare Egeo", a bright and cheery number with buoyant electric bass guitar, relaxed and gentle disco-funk groove, soaring string section and a strongly optimistic-sounding melody. The main theme gets its most powerful treatment in "Vedere e Non Sapere", in which Morricone gives it an "Ecstasty of Gold"-like arrangement. The first time I ever heard this theme, I loved it, but when I got to this point of the record, I was devastated by it. No more fooling around. For "Tre Per Tre" Morricone launches a funk disco dance salvo with some sick sounds from guitar and keyboard. Your body will move. From here on in it's mostly different arrangements of the cues we've already heard, presumably original soundtrack recordings vs album recordings or alternates. One highlight is "Dedicato Al Mare zegeo (Spot)" a short and madcap blast of samba rhythm and steel drum-sounding instrumental voice. And then there's a closing pop single version of the theme, wih lyrics and sung by a male vocalist. The rhythmic foundation is kind of like a funk version of a classic Morricone tension track, like if Battle of Algiers had been about a nightclub named Algiers.
---