R.I.P., Maestro Ennio Morricone.

Carlo Savina's music for the Eurospy movie Goldsnake Anonima Killers is our 629th Soundtrack of the Week.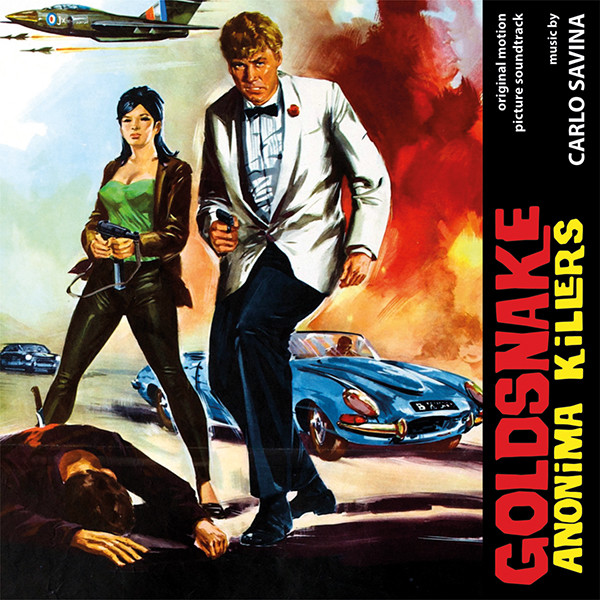 It starts out with a forceful but slinky theme song in which a female vocalist sings in fairly heavily accented English. I can't make out all the words. "I can not stay longer / But my dream is stronger / Than —". I can't tell what it is that her dream is stronger than. But it's a cool song, kind of like a spaghetti western version of "Thunderball".
Next, while "Oriental Mood" hits the usual notes of a gong here and what sounds like maybe a harpsichord trying to imitate shamisen and koto there, it's a rich sonic landscape, deep and complex, and an excellent cue. It quotes the main title theme.
The main title theme then returns as "Instrumental Shake". I love these types of cues and this one is especially good. Not much to it and it barely passes the one-minute mark but it's great.
Then there's "Crazy (Instrumental Version). This is a romantic lounge slow dance number featuring the violin and it's lovely. Naturally there's a vocal version of it as well a few tracks later on, with breathy and ethereal post-Astrud singing. "Crazy / I am crazy / When I see charming eyes / Oh dear, oh me, oh my." It's a cool song that made me consider what a Henry Mancini/Astrud Gilberto team-up might have sounded like.
There's also "Crazy (Instrumental Version 2)", not much different but no violin and more prominence given to guitar, vibes and saxophone.
"Funny Shake" is goofy clown music with some jazz combo lounge elements in the foundation. Whatever scene needed this music probably should have been cut from the film.
Fast Man with the Golden Arm high-hat playing starts out "Action" and sets the scene pretty quickly. This tough and tense mood is diverted by the addition of scatting vocal chorus and use of harpsichord. The vocal part of it isn't a favorite flavor of mine but this track is quite good.
"Action 2" is nothing like it, being more pounding ostinato and cool keyboard lines floating on top while somebody keeps hitting a gong really hard.
The next track is "Suspence" [sic], an atmopsheric piece with lots of space and a use of organ that might remind you of old radio shows. "Suspence 2" is similar but quite a bit longer.
Then the main title theme gets an "Instrumental Reprise" with some great electric guitar sounds.
Strangely there then appears to be a second "Action 2" cue. It's like the first "Action" cue but with instruments taking the place of the singers. A later "Action 3" is similar but has a slightly different ending.
These movies often have night club scenes and here's "Night Club", a surprisingly cheery and buoyant number almost insipid in its happy simplicity. It's hard not to love the use of the harpsichord in this combo, though, and the sounds of all the instruments.
"Lounge Mood" starts out with a simiarly buoyant and perky energy but downshifts to brushes on the drums and romantic piano with more beautiful electric guitar sounds.
Finally there's "Finale", which starts out in "Suspence" mode before returning to the vocal version of the main theme.
---