The 627th Soundtrack of the Week is Bert Kaempfert's music for A Man Could Get Killed.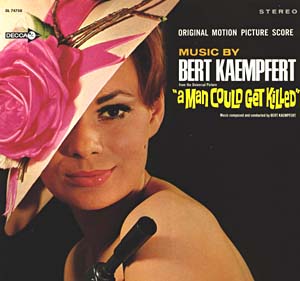 The main title starts with explosive blasts of horns and some of the intervals suggest what a 1960s Bond score written by Akira Ifukube might have been like. Pretty soon it settles down into an atmospheric and mellow zone with prominent electric bass guitar.
Then it sways and some plucked instruments that sound like they might be East European in origin create a totally different setting and it's only then that we get the main title theme.
You've heard this theme before. You'll hear it many times on this record but the theme itself was so catchy that after it had lyrics added to it it became a little song called "Strangers in the Night".
"Explosive Welcome/Bi-Naveled/Key Note" is a fairly elaborate three minutes of dramatic underscore that suggests some comic hijinks as well as some suspenseful action and romance.
Lush, Mancini-esque orchestrations follow for "Beddy Bye", which reprises the main theme after some "laughing" trumpets.
Then, for "Beddoes Shadows", things get slinky and Mancini-like again with the electric bass guitar suggesting The Pink Panter and Peter Gunn while once again we hear the main title theme. The rhythm section really swings in this one.
Pizzicato strings start off the gently swaying "Clues Dropper/A Tape Sandwich/Rude Awakening". You'll also hear a quote of "Rule Brittania" and some high-tension dramatic music before the inevitable return to the main theme.
Spanish classical guitar with some flamenco flourishes opens "Noted Arrival" There's a little bit of support from strings but it's really the acoustic guitar's show.
The B side starts with "Taking De-Tour", which is a jaunty number that certainly sounds like it accompanies a scene of characters on the move.
Again we have the kind of Eastern European or possibly Mediterranean-sounding strummed instruments, this time with upright bass and jingled bells, as well as the rest of the orchestra, for the tranquil "Sale Fish".
"Down to the Docks/A Deadly Game" is another one with a Mancini-like bounce to it. This time the flutes are the principal voice until the strings take over for a reprise of the main theme. After that comes the tenser and more adventurous "Deadly Game" part that nonetheless resolves into a placid and romantic cue.
Sprightly intrigue music with a definite Middle Eastern touch, and a bit of Tchaikovsky's sugar plum fairies, describes the driving 3/4 piece "Foiled in Oil".
Another two-parter is next, "Handy Brandy/Hail the Azalea", which has perhaps a Russian dance flavor—or Star Trek fight music—quality to it. It winds things up in a velvety, loungey, late-night mood with lush string arrangements.
And then we get the main theme one more time for "No a Go Go (End Title)", which presents it as you've already hears it but builds to a big finish.
---