New releases don't get played a lot around here but those that do tend to be pretty impressive.
One of the most impressive by far is this moving and beautiful and startlingly original record by Gabriela Martina: Homage a Grämlis.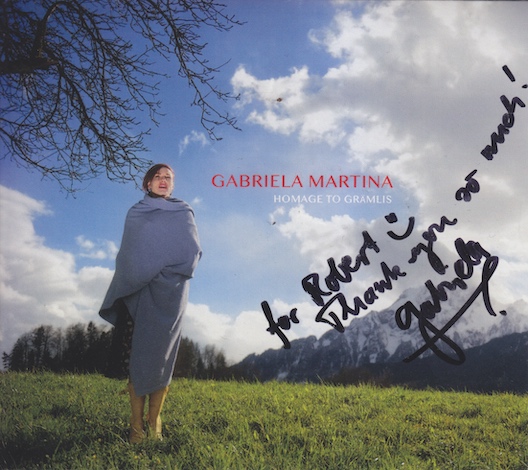 As you can see, I've got an inscribed CD!
I'm honored to know Ms. Martina and even more honored to have performed with her. I wasn't worthy but it happened anyway.
You only need to hear her once to realize she's an astonishingly powerful musical force.
Listen to this incredible record, which is really hard to describe but has been more or less adequately described as soul jazz yodel, and you''ll also realize that she's a genius.
And of course she's struggling to survive this pandemic as a musician. She had invested a lot in a European tour that, of course, ended up being canceled.
So buy her record, check out her web site, watch her live streams (of both music performances and her seemingly indefatigable "Dinner with My Neighbor" cooking series!) and donate to help her out.
She deserves it and you'll love this music.
---