It's the great Australian composer Brian May again for our 624th Soundtrack of the Week: Thirst.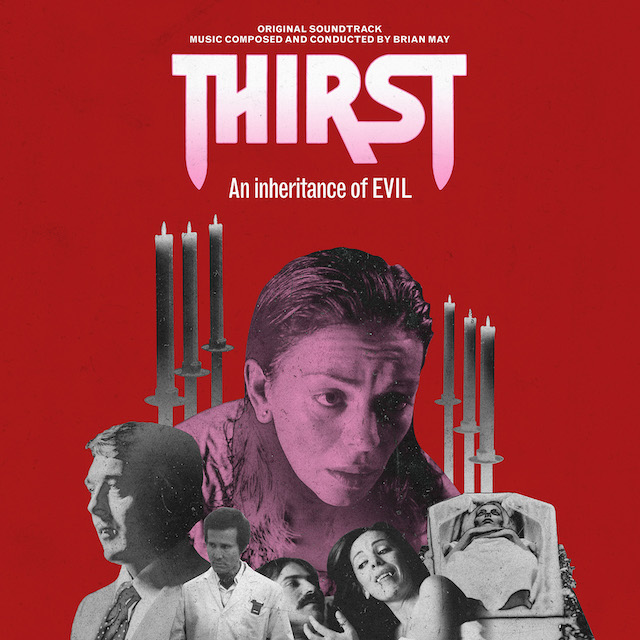 This isn't the Brian May who was in Queen.

And the record is special bloody vinyl!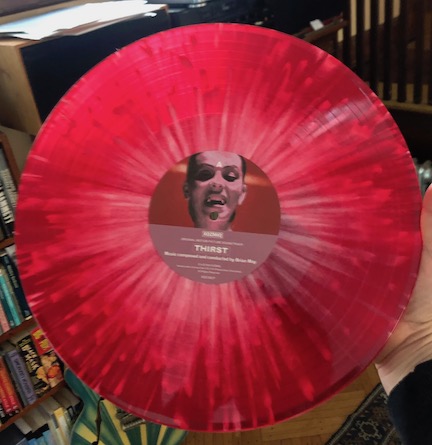 The "Main Title" is a dreamy and haunting piece that blends acoustic piano with electric guitar for an ear-catching contrast. Strings come in, as well as electric bass and drums, making things groovy, but they're gone very quickly. Then after a bit more spacious sound, the whole orchestra comes in for some dramatic horror underscore. But then the mood shifts again as the electric guitar responds to some long string tones. There's a lot of call and response and alternating atmospheres in this short piece as you hear all these ideas come in and out. It's a remarkable cue.
"Someone's Watching" is a very pretty and loungey number with strings playing the melody while the piano embellishes.
Things get much more recognizable "horror movie" with the next track, "Full Cream Blood—The Brotherhood". There's a lot of tension and dread, stabbing and explosive sounds from the orchestra and just a lot of scary atmosphere in general.
After that, "The Blood Farm" starts off sounding a lot gentler and more laidback than you might expect. About halfway through, though, it gets urgent and driving with shrieking strings and pounding winds.
This feel smoothly morphs into "Kate Escapes", which has som Lalo Schifrin-like touches, nice piano and flute playing and a slightly more hopeful air to it.
Very harmonious and classical-sounding incantations make up most of "Vampire Ceremony" The orchestra joins them for some dynamic and urgent music at the end.
The A Side concludes with "Injected", which sounds like more trouble and peril and suspense.
Side B begins with "Kate Hallucinates", in which I first notice this theme' that you can hear a few times's come up before on Side A. A solo flute performance of it starts this track and then piano comes in, then the orchestra. It's quite lovely but soon we're back in horror tension land!
Some very pretty piano and celeste (or glockenspiel?) playing are highlights of "Blood Shower—Kate as Child". Also the mysterious howling sound that accompanies the descending piano line at the end of the cue.
"Evil Forces" definitely sounds like evil forces with a see-sawing bass line and stabbing and shrieking horn lines, violins bowing notes about as high as they go and, I think, some subtle use of electronics.
Fans of John Barry will admire some of the arranging of "Kate Gives In", which has some richly layered horn parts. Then there's a genuinely creepy combination of strings and voices, both sliding down scales. The use of chorus with orchestra here is very good throughout.
"Initiation Ceremony" is another choral piece, similar to "Vampire Ceremony". Again, the orchestra comes pounding in, building things to an exciting climax.
I guess the initiation must have happened because now "Kate Thirsts". This uses more or less the same instrumentation as the preceding two cues and has musical similarities to them, both in the writing and the blend of chorus and orchestra.
And finally, "Dr. Fraser Helps—End Titles" starts off with a reprise of the lovely, loungey theme we heard on the first side of the record before going on to run through several different moods and atmospheres, of which most recall what's come before in one way or another (though May is excellent at deploying new approaches and arrangements). There's also a two-note horn bit that reminds me of a favorite Star Trek cue and a very '70s groove at the end.
---