For our 623rd Soundtrack of the Week we're listening to more songs, this time by the redoubtable Serge Gainsbourg: Serge Gainsbourg et Le Cinéma.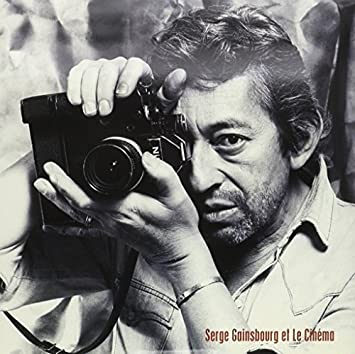 Only three of the pieces on this record have vocals, two by Gainsbourg himself and one by Juliette Gréco, so this shows off Gainsbourg's talents as a composer, especially for jazz combo. Credit must also go to occasional co-composer and more than occasional arranger Alain Goraguer. (Goraguer arranged all but four of these pieces. Michel Colombier handled the remaining four.)

First on the Side A is the theme from L'Eau à la Bouche, one of Serge's slinkiest and grooviest numbers, very relaxed with some Afro-Cuban percussion adding a light and dry contrast to his mellow honeyed voice.

"Angoisse" starts with a bouncy jazz guitar intro that's completely surprised by a slow burning trumpet entrance. Then we settle into a mid-tempo jazz groove, the guitar comes back and it all fits together and makes sense. No vocals, just a really coo, jazz atmosphere.

This mood continues, though slightly more relaxed and featuring saxophone as well as trumpet, in the next piece, also instrumental, "Black March".

Next up is "Les Loups Dans La Bergerie (Final)", a serence and romantic chamber piece and so far the most "soundtracky" sounding track. Near the end it seamlessly morphs into a jazz combo and starts to swing.

After that the Afro-Cuban percussion comes back for the bouncy and swaying "Cha-Cha Du Loup", something I think I remember hearing on a Gainsbourg compilation back in the '90s.

Juliette Gréco sings the next track, "Strip-Tease", a crystalline yet shadowy number which has Gréco's wonderful voice unobtrusively supported by guitar, bass and percussion.

The last number on the A side is called "Some Small Chance", another scintillating small combo jazz piece, this time with vibes and piano helping to set the mood.

The second side starts off with another cool jazz tune, "Rendez-Vous À La Calavados. This one has a West Coast feel to it with really nice alto playing and the pleasing addition of conga.

"Wake Me At Five" is an interesting blend of jazz, dramatic underscore and somewhat dirty blues/rock electric guitar. It's something of a gem, certainly unusual!

After that comes "Solitude", features the piano and is an emotive and swelling cue, one of the few that really suggests a conventional film soundtrack sound here.

After that we go back to a more driving, large combo swing with conga sound for the danger jazz sounds of "Crazy—Horse Swing".

A pretty fast and impressive upright bass line introduces the last vocal number here, "Comment Trouvez-Vous Ma Soeur?", kind of a perky novelty song and not a favorite of mine, to be honest.

"Érotico-Tico" is another one I remember liking from long ago, sort of a bossa lounge number very tastefully arranged and with a great feel.

Then there's the somewhat Mancini-ish "No Love for Daddy", with lush strings and elegant piano playing wrapped around what sounds like a classic jazz standard.

Some weird-sounding electric keyboard along with spaghetti western electric guitar, drums and vocal bursts bring the record to a close with the aptly named "Rocking Horse". This one is really a surprise!
---