Continuing this month's theme of compilations of interpretations, the 619th Soundtrack of the Week is Bud Shank's Bud Shank Plays Music from Today's Movies.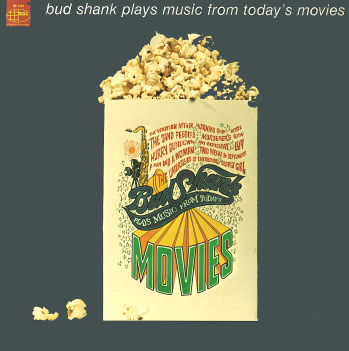 Who's in the band? Well, Shank plays only alto on this record. Dennis Budimir and Herb Ellis are the guitarists, Ray Brown on bass and Frank Capp on drums. Jimmy Zito plays flugelhorn, Victor Feldman on vibes and percussion and then there's Mike Melvoin on organ and harpsichord (including electric harpsichord as well as the regular unplugged harpsichord). Bob Florence did the arrangements and also plays piano.

They hit the ground running with one of my favorite pieces, Jerry Goldsmith's "Theme from Warning Shot". They take it at a very up tempo which nonetheless has a relaxed and swinging feel to it. Shank has a great solo in it and there's some nice organ playing as well.

Next is "Georgy Girl", which I didn't think I wanted to hear again. But with the harpsichord and the breezy feel of the band, along with more excellent improvising from Shank, it's wonderful.

The theme from Any Wednesday is a new one to me, and is a laidback number with a Mancini-ish quality to it though the composer is George Duning.

"Watch What Happens", from The Umbrellas of Cherbourg, is another one I hadn't heard before. As played here it also has a late-night Mancini in "Dreamsville" mode sound to it.

Michael Magne's "Two Weeks in September", the theme from the movie of the same name, is a very delicate piece, starting out with just sax and guitar. The bass joins them after a bit, and then other musicians. It's a very restrained and quietly intense number.

"Venice After Dark", from Lalo Schifrin's score to The Venetian Affair (a spy movie with Robert Vaughn but he's not Napoleon Solo), is a lightly grooving 6/8 piece, very cool.

Lalo Schifrin returns to open Side B, with the funky and rocking "The Pin" from his score to Murderers' Row, another spy movie. The organ almost gives it a gospel feel but not quite. Everybody plays great, as usual, but what stands out in this one is the rhythm section and the flugelhorn.

Francis Lai's music for A Man and a Woman is represented here by "Love Is Stronger Than We Are (Plus Fort Que Nous)", a sweet and slow love song, another late-night, soft atmosphere. Shank can blow fast through changes and play very gently and softly with equal agility.

The next tune I'm really curious about. It's the theme from a movie called Luv, which was scored by Gerry Mulligan. I would like to hear this actual soundtrack so I ordered the movie, since the soundtrack itself doesn't seem to have been released.

The tune itself is a jazz waltz with an interesting and somewhat haunting melody, though the feel in general is more or less sunny. About halfway through they switch to a walking feel for the flugelhorn solo. Really cool tune.

After this we get another Jerry Goldsmith piece, "And We Were Lovers", a.k.a. the theme from The Sand Pebbles. It's a gentle loungey piece with a bit of a bossa feel to it. And it features the electric harpsichord, which sounds fantastic!

"This Year", from Johnny Keating's music for the movie Hotel, starts out very somber and maybe somewhat reminiscent of Nino Rota's magnificent theme for The Godfather (which of course didn't exist yet). It's another soulful slow burn of a tune with compelling power in check from Shank's saxophone and wonderful atmosphere provided by Feldman's vibes.

Finally it ends with the theme from Hurry Sundown, another favorite of mine. Hugo Montenegro wrote this jazzy and dramatic cue and Shank's combo goes into full pop-jazz-soul dance mode with it, turning it into an irresistible organ and sax-driven groove tune.
---